Shuckers' Ponce tosses gem in Double-A debut
Brewers No. 21 prospect allows two hits in 6 1/3 shutout innings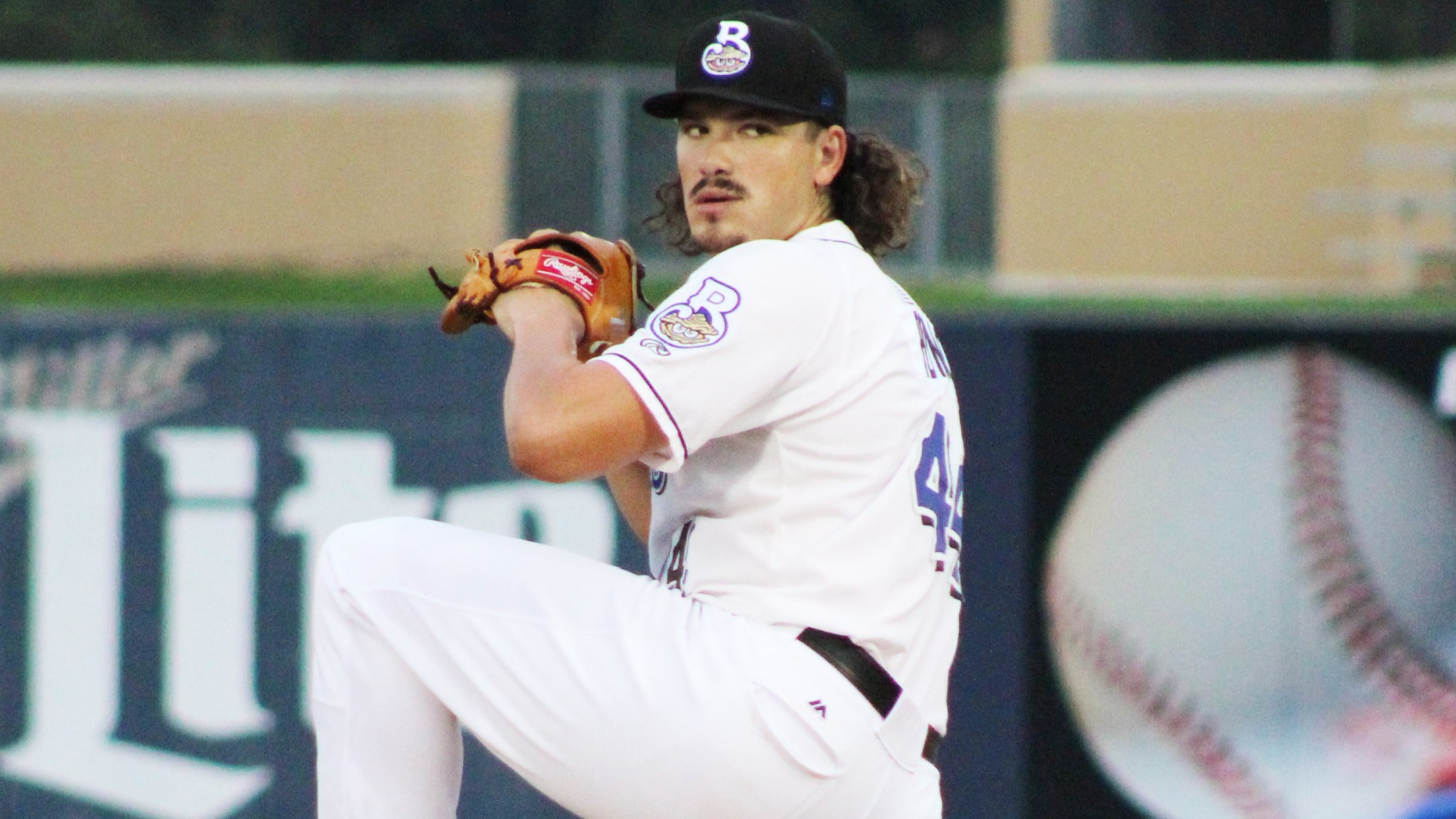 Cody Ponce is 9-8 with a 3.28 ERA and one complete game in 23 starts across two levels this season. (Hunter Reed/Biloxi Shuckers)
Before coming to Double-A Biloxi for his first Southern League start, Cody Ponce got some sound advice from Class A Advanced Carolina manager Joe Ayrault. "My manager told me, 'Don't change anything, kid. Keep going up there and pound the zone,'" the Brewers' No. 21 prospect said.Adhering to those words, Ponce
Before coming to Double-A Biloxi for his first Southern League start, Cody Ponce got some sound advice from Class A Advanced Carolina manager Joe Ayrault.
"My manager told me, 'Don't change anything, kid. Keep going up there and pound the zone,'" the Brewers' No. 21 prospect said.
Adhering to those words, Ponce carried a no-hitter into the sixth and ended up allowing two hits and two walks while striking out three over 6 1/3 innings as Double-A Biloxi topped Mobile, 4-0, on Friday night at MGM Park.
The right-hander said he had no additional nerves as he took the mound for the first time with his new club.
"Feeling good, pretty happy to be here with the guys and happy to get things going in Double-A," he said. "It's still the same game I've been playing my whole life. It's still 60 feet, six inches, and you have to throw a white baseball over a white plate. Definitely just located my fastball today. I didn't try to overdo anything, just kind of stuck with my game plan and trusted my catcher, Dustin Houle, who called a good game. Can't really say much else."
Ponce earned a promotion this week after going 8-8 with a 3.45 ERA, 1.30 WHIP and 94 strikeouts over 120 innings in the Carolina League. In each of his last two starts for Ayrault and the Mudcats, the 2015 second-round pick logged at least seven frames, pitching into the eighth on Sunday against Frederick. Those outings helped provide some momentum heading into Friday.
"It was nice. I had a great manager and pitching coach with the team down in Carolina," Ponce said. "I can't say enough about Joe [Ayrault] and [pitching coach] Dave [Chavarria] helping me out for the last year and getting me right and ready for up here."
The right-hander got off strong start, retiring the first six batters he faced. After Bo Way drew a leadoff walk in the third, Tim Arakawa lined out to right and Alberto Triunfel bounced into an inning-ending double play.
Gameday box score
With the no-no intact, Ponce used 21 pitches to record back-to-back clean frames in the fourth and fifth. Even as the Shuckers scored in their half of the fifth and kept their starter on the bench longer, Ponce never let the chance at history creep into his thoughts.
"It definitely is nice to have a little bit of a break from getting up and down," he said. "Getting some runs on the board and men on base allows you to get a little bit of rest, lets your legs recover a little bit. I definitely didn't think much about the game. Everybody knew what I had and I knew what I had going in. I was just up there and said I was going to pitch to contact and not change my game plan and try to go for swings and misses. I was going to go up there and let them hit the ball and put it in play."
After Way grounded out to second to start the sixth, Arakawa laced a single to right to break up the no-hit bid, although he was thrown out trying to stretch it into a double. Triunfel grounded to third to end the inning.
Back out for the seventh, Ponce got into trouble after Forrestt Allday led off with a single to center. After Angels No. 3 prospect Matt Thaiss lined to right, No. 11 prospect Taylor Ward walking, spelling the end of the night for the California native.
Ponce faced two batters over the minimum and threw 49 of 87 pitches for strikes.
"That's my goal out there every time, to try to get seven or eight innings so we don't have to use our bullpen as much," he said. "I think Max Scherzer said it best in an interview that I saw. You can go out there and give five solid innings and give up no runs and have a good outing, but it's not what you want. You want to go deeper into the ballgames, so that way you don't have to use your bullpen as much and they stay fresher for the rest of the series."
After spending time together in the Carolina League, Ponce has been reunited with seventh-ranked Brewers prospect Corbin Burnes and No. 11 Freddy Peralta. The 6-foot-6, 265-pound hurler is ready to prove his worth on a talented staff.
• Get tickets to a Shuckers game »
"It's great to be with guys and have the support," Ponce said. "There's camaraderie and it's a fun team, we have a lot of fun. I knew coming up here I had some big shoes to fill. So far, I haven't filled the shoes yet, I'll tell you that. I gotta keep working and keep going. But hopefully, I have another outing like this and keep it rolling."
Nick Ramirez issued a walk and struck out three over the final two innings to preserve Biloxi's 13th shutout.
Offensively, Clint Coulter drove in two runs with a double, while Dustin DeMuth and Angel Ortega collected two hits apiece for the Shuckers.
Andrew Battifarano is a contributor to MiLB.com. Follow him on Twitter, @AndrewAtBatt.