Hummel makes Mudcats debut in style
Brewers catcher misses cycle by a single in first game of season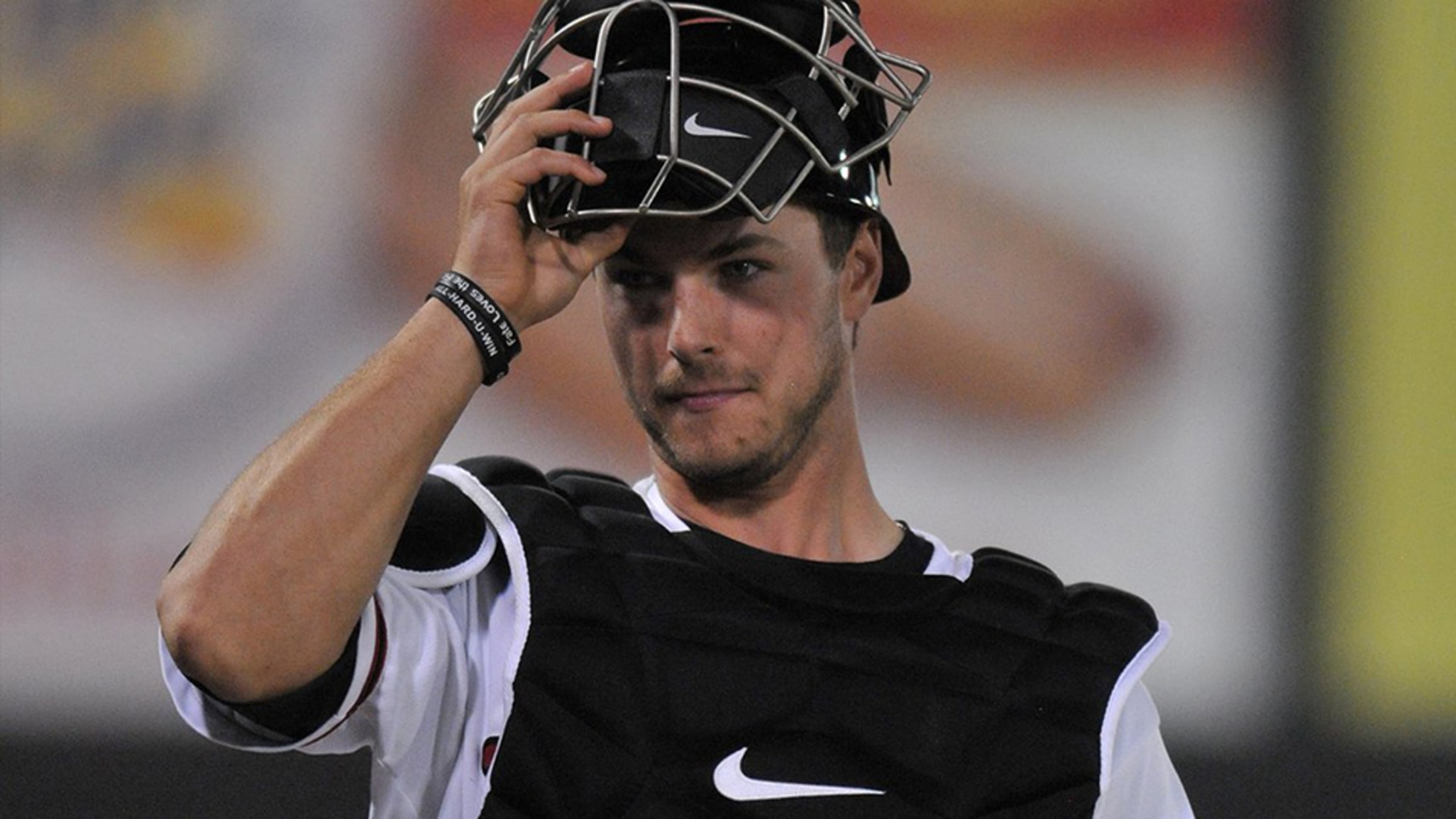 An 18th-round pick in 2016, Cooper Hummel collected three of his 11 career extra-base hits on Thursday. (Carolina Mudcats)
Catcher Cooper Hummel technically began 2017 on the Rookie-level Helena roster but spent most of the season's first two months with Class A Advanced Carolina, where he got bullpen duty and bided his time as the club's de facto third catcher. He was told he'd be insurance in case backstops
Catcher Cooper Hummel technically began 2017 on the Rookie-level Helena roster but spent most of the season's first two months with Class A Advanced Carolina, where he got bullpen duty and bided his time as the club's de facto third catcher. He was told he'd be insurance in case backstops Max McDowell or Mitch Ghelfi were injured or if anyone at Class A Wisconsin went down, but that opportunity had yet to come.
Finally, when infielder Wendell Rijo's promotion to Biloxi opened up a roster spot Wednesday, Hummel was officially added to the Mudcats, and he admitted he didn't sleep much given the chance he'd make his full-season debut.
"To be honest, I was joking around with my girlfriend last night and saying, 'Wouldn't it be funny if I went something like 3-for-3 with maybe a bomb or something in there?'" Hummel said. "She just told me to be less amped."
As it turned out, those words were prophetic.
Gameday box score »
The 22-year-old went 3-for-3 with a homer, a triple, a double, a walk and three RBIs in his full-season debut Thursday to lead the Mudcats to a 7-5 win over Down East at Five County Stadium.
It was the first time he had collected multiple extra-base hits in his brief Minor League career and matched his high of three hits, set Aug. 6 last season with Helena.
"It was an awesome day," said Hummel, who hit .176/.359/.275 in 35 Pioneer League games in 2016. "I don't want to say I ever lacked confidence or especially in the guys on this team to make it easy for me today. But they were all excited for me to get the opportunity. All 25 -- or even 30 if you count the guys on the DL -- had my back and were there for me today, and I think that's the biggest thing that helped me, knowing I had them with me."
The double came first for the 2016 18th-rounder, leading off the third inning, and it didn't take long. Batting from the left side against Wood Ducks righty Emerson Martinez, the switch-hitter ripped a line drive to center on the first pitch he saw. Although it would have been tough to predict, that set the tone for the rest of the afternoon.
"When I stepped into the box, I was just trying to clear my mind," he said. "My head was going a million miles an hour since I knew I might play, and everyone was joking around with me that I was being super antsy. I just wanted to see a pitch I could hit. I know what I can do with the bat, and I've tried to refine my approach some. But when it came down to it, I saw something I could hit and made good contact."
Hummel added an RBI triple as part of a three-run fourth inning -- that time on a 2-0 count -- and took a free pass in the sixth. Brimming with confidence, he stepped in against right-handed reliever Jacob Shortslef with a runner on in the eighth and swung hard at the first pitch he saw. This time, he lined the ball over the wall in right for his first Class A Advanced home run.
"He was attacking the zone pretty well from what I could see, and some of my teammates gave a scouting report that he had good velocity -- I think someone said mid- to upper-90's -- with a cutter," he said. "I happened to get something middle in that I think cut a little bit on me, and I was able to pull my hands in and whack it pretty good. Thank the Lord it went out."
With his homer and triple Thursday, Hummel matched his totals in both categories from the entire 2016 season. The University of Portland product said he put in work this spring and into the season with Mudcats hitting coach Dave Joppie to improve his ability to drive the ball.
"To be honest, the homers are always going to loom large over anyone, but I love singles and doubles," he said. "This is a fun sport, and getting those can be fun, too. But yeah, a homer and a triple on Day 1, can't ask for anything better."
Beyond his performance at the plate, Hummel also worked behind it Thursday as Mudcats starter Cody Ponce allowed two earned runs on seven hits and a walk while fanning four in seven innings. The Brewers' No. 15 prospect improved to 4-3 with a 3.35 ERA in the victory.
"Yeah, I was lucky to get a great start with him," Hummel said. "He's got confidence in all four of his pitches and really attacks the zone. Today, all four of them were on and he was hitting his spots. That makes my job easy."
As busy as Hummel's day was on the field, it still wasn't over as texts flooded in from those who had been following his perfect season debut. There might be an "I told you so" going the other way before the day is over.
"I checked my phone after the game and saw a text that said, 'Sorry, that wasn't the game you wanted,'" he joked. "We had a team meeting right after the game, but I know there were messages from my parents and grandparents and a whole bunch of people. My phone blew up. I'll get back to them all."
Sam Dykstra is a reporter for MiLB.com. Follow and interact with him on Twitter, @SamDykstraMiLB.