Shuckers' Ray goes on power-speed trip
Brewers No. 2 prospect first to top SL in homers, stolen bases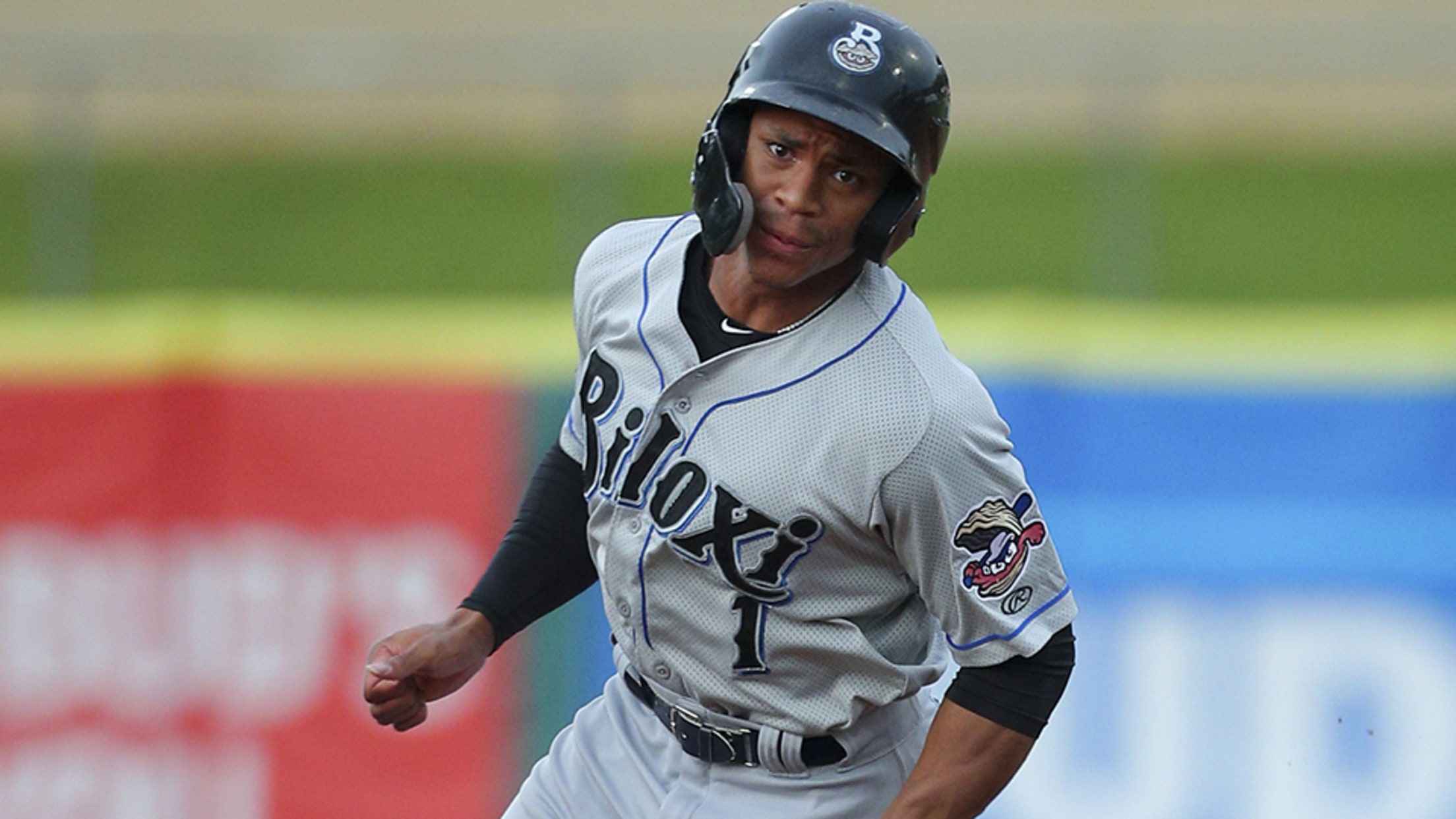 Corey Ray led the Southern League with 27 home runs and 37 steals this season. (Danny Parker/MiLB.com)
Corey Ray had just finished up a regular season in which he became the first player to lead the Southern League in homers and stolen bases. But he wanted to talk about his team first."The fact that we, as a team, the Shuckers, won both halves," the second-ranked Brewers prospect
Corey Ray had just finished up a regular season in which he became the first player to lead the Southern League in homers and stolen bases. But he wanted to talk about his team first.
"The fact that we, as a team, the Shuckers, won both halves," the second-ranked Brewers prospect said when asked what he was most proud of. "We ended up with the best record in the Southern League. I say that because last year, everybody said that we were talented in [Class A Advanced] Carolina and we could do good things. But in Spring Training, we thought we were good in Carolina, and this year, we thought we were good as well. We thought we had a chance to win the whole league and it actually came into fruition. You can have all the stats in the world, but showing up to the ballpark knowing that you have a chance to win that day, there's nothing better in my opinion."
Gameday box score
The Shuckers didn't win Monday, falling 6-4 to Birmingham at MGM Park, but they finished 81-59 overall and won the first- and second-half titles. Biloxi opens the playoffs Wednesday, playing host to Pensacola.
Ray, the fifth overall pick in the 2016 Draft, came into the season off two disappointing years. Knee surgery following his pro debut delayed the start of his first full season, and he never got on track after returning and continued to struggle in the offseason Arizona Fall League.
But the Brewers pushed him to Double-A and he responded, leading the league with 27 homers and 37 steals. He doesn't quite consider 2018 to be a redemptive year, though.
"I think it was a season in which I just stayed healthy, and I was healthy the entire year," he said, crediting his stint in the Arizona Fall League as acting as a springboard for 2018.
"I think just the reps," he said. "I was in the cage every single day, trying to figure out what would work and what wouldn't work. I could work on it without worry about numbers, without worrying about what people thought of me and what scouts were saying. I was just tring to figure out something I was comfortable with in the cage and trying to to work on it in the game. And I took that into the offseason and few other things I worked on at the end of the Fall League, I ended up working on more in the offseason. In Spring Training, I just chose a swing and a mechanic, and I think that it's worked for me this far."
That was evident in his power numbers, which jumped from seven long balls a year ago to 27 this season. Nine came leading off a game and 11 were belted in July alone.
"I think what happened was, if I'm not mistaken and I could be wrong, we played new teams," Ray said about July. "And when we play new teams, they don't really know you yet, so they're trying to figure out how to pitch you. I think I took advantages of the mistakes I was getting. But I don't think there was anything different. It was becoming later in the season, the ball was carrying a little bit more and I found a few holes. When you find a few holes, the confidence goes up and you're a better hitter overall."
Another factor for his success was his ability to stay healthy. The knee surgery slowed the 23-year-old at the start of 2017, but he played 135 games this season.
"I focused more on my body, as far as not lifting so many weights and getting bulky. But I started to do more yoga, so I got stretched out, which I think over the long run would allow me to stay healthy and limber the entire year," Ray said. "But my goal going into Spring Training and toward the end of the Fall League last year was to find swing mechanics, a swing that I agreed with, that I liked that I was comfortable with and could stick with the entire year.
"I think last year and throughout my younger career as a hitter, whenever I went into a slump or whenever I wasn't hitting, I would look for what was wrong with a swing mechanically and change. And I never got comfortable. But this year, I wasn't looking for quick fixes, I continued to be adamant about what I was doing at the plate and I did it the entire year."
The playoffs are next on the docket, but after a dynamic season, Ray acknowledged he's thought about taking the next step toward his goal of playing in the Major Leagues.
"I think that, as a competitor, it's been in the back of my head the whole year, when I would get the call, if I would get the call," he said. "I think there were times when I would have stretches where I thought I was good enough to, if not get the call, move up, but you don't and you can't control it. You just have to continue to play. If this year's taught me anything, it's just it's that you cannot worry about the things you cannot control, because when you start to worry about the things you cannot control, the things you can control start to lapse."
In addition to Ray's two singles Monday, top-ranked Brewers prospect Keston Hiura singled twice and walked.
Former Shuckers left-hander Kodi Medeiros, the No. 19 White Sox prospect, allowed three runs on three hits and five walks in 2 1/3 innings in the start for the Barons.
Vince Lara-Cinisomo is a contributor to MiLB.com. Follow him on Twitter @vincelara.