Sky Sox's Hager posts third five-hit game
Brewers infielder scores winning run after ninth-inning double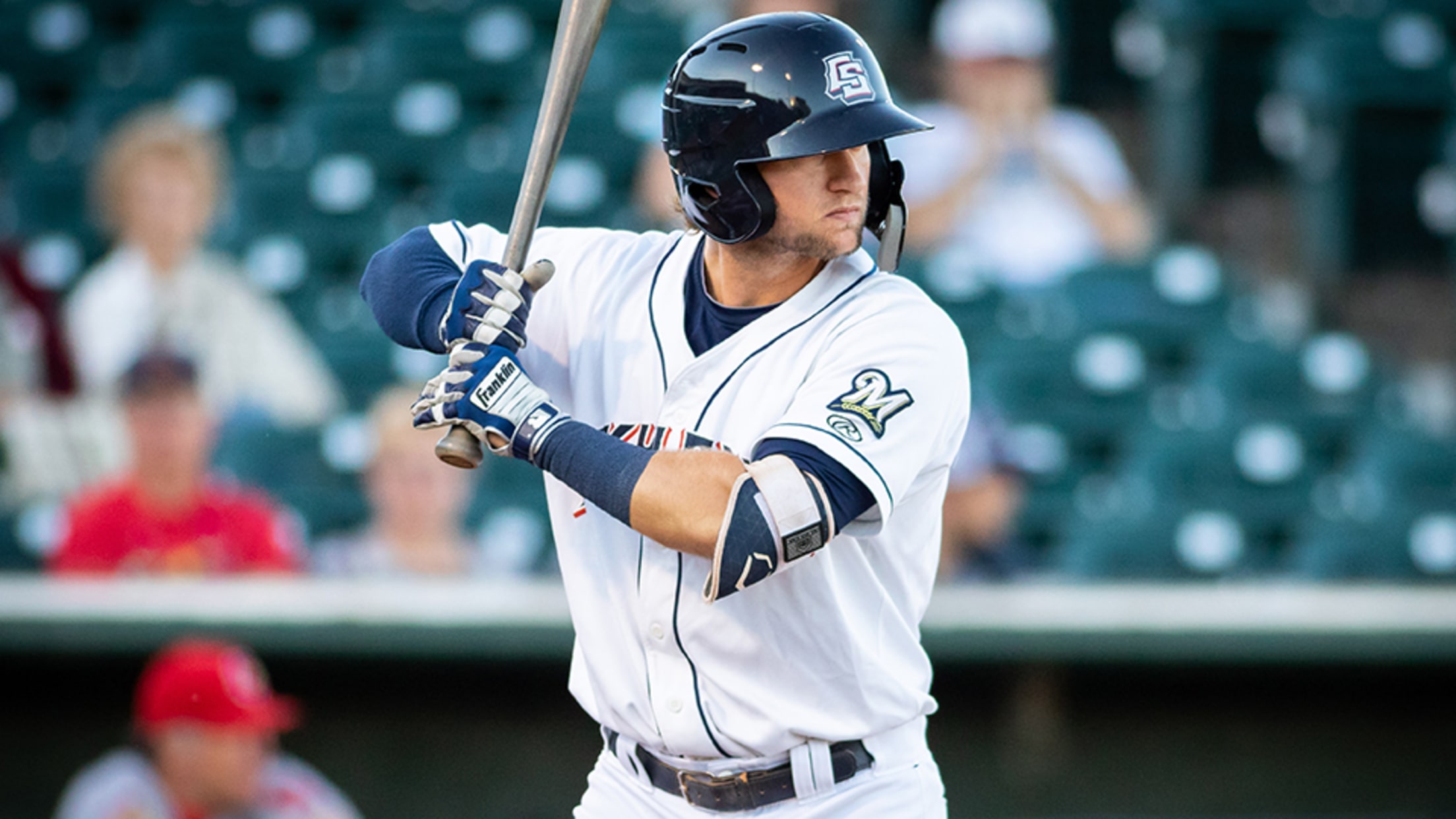 Jake Hager raised his batting average 50 points to .231 with his third career five-hit game. (Bobby Stevens/MiLB.com)
In his third Triple-A stint, Jake Hager was still looking for a career-defining game at the Minors' highest level. After his performance Tuesday night, he 32nd overall pick from the 2011 Draft can call off the search.Hager capped his third career five-hit with a ninth-inning double and scored the winning
In his third Triple-A stint, Jake Hager was still looking for a career-defining game at the Minors' highest level. After his performance Tuesday night, he 32nd overall pick from the 2011 Draft can call off the search.
Hager capped his third career five-hit with a ninth-inning double and scored the winning run as Colorado Springs rallied for an 11-10 victory over Round Rock at Security Service Field. The five-hit night was his first since going 5-for-5 for Double-A Montgomery on April 26, 2016. He also was perfect in his first five-hit game on June 29, 2012 for Class A Bowling Green.
"I've been feeling really good recently and been having some good at-bats, seeing the ball well," he said. "We've had great vibes all around. We have a solid team, a great pitching staff and a group that can hit. We're never out of a game. We're in first place and we're trying to win the whole thing."
After more than six years in the Rays system, Hager became a free agent in the offseason. A knee injury sidelined him for all of 2015 and he saw his role in the organization change as he was moved from his regular position at shortstop into a utility role. In February, he jumped on an opportunity to sign with Milwaukee.
Although Hager played all of last season with Triple-A Durham, hitting .229 average in 73 games, he began this spring in the Southern League with Double-A Biloxi, although not without an extra spark.
Gameday box score
"I came into this spring with a chip on my shoulder," he said. "I think I've proven I can play at the big league level and I have the talent to be able to do that and be a guy for them. I want to do whatever I can to win."
Hager put up a .292/.371/.521 slash line through June 15 with the Shuckers. A week later, he returned to Triple-A with Colorado Springs but took a .181 average into Tuesday night's game.
"With this stint, I'm getting more of an opportunity, and that's helping me out a lot. In Double-A this spring, I was starting nearly every day at shortstop," he said. "It was good to get at-bats and I felt more confident going in the lineup pretty much every day. So far, it's been all about the opportunity and I tried to make the most of it tonight."
After popping out in his first at-bat, Hager provided a spark with the Sky Sox trailing, 3-0. He knocked a two-out RBI single to right field in the second. In the fourth, the 25-year-old grounded another single to left and scored on Tyrone Taylor's base hit.
Hager singled again in the fifth and seventh, and the Sky Sox scored twice in the eighth to knot things at 10-10. With one out in the ninth, he said he ignored the possibility of a fifth hit, seeing instead another opportunity to help the team. After falling behind, 0-2, against right-hander Chris Jensen (1-1), the Nevada native turned on a fastball and doubled to right. Orlando Arcia was intentionally walked and Taylor foiled the strategy with a game-winning single to left.
"The game was so fun, battling back and forth with both teams combining for more than 30 hits," Hager said. "I was fortunate to come up in that situation and score the winning run. It can do a lot with momentum.
"I think I have a good opportunity to get to the big leagues and I just want to do whatever I can down here to get up there. Hopefully, that call comes sometime soon."
While Hager keyed a 19-hit attack, Domingo Santana homered twice and drove in four runs and Jett Bandy doubled twice and contributed three RBIs.
Hanser Alberto led the Express with two hits and three RBIs, while Willie Calhoun stayed hot with a double, single, two runs scored and an RBI. The Rangers' second-ranked prospect has a .455/.538/.673 slash line with 13 RBIs in 14 games in July.
Nathan Brown is a contributor to MiLB.com. Follow him on Twitter @NathanBrownNYC.