Mudcats' Harrison headlines week's top hitters
Brewers No. 14 prospect builds on breakout campaign in Carolina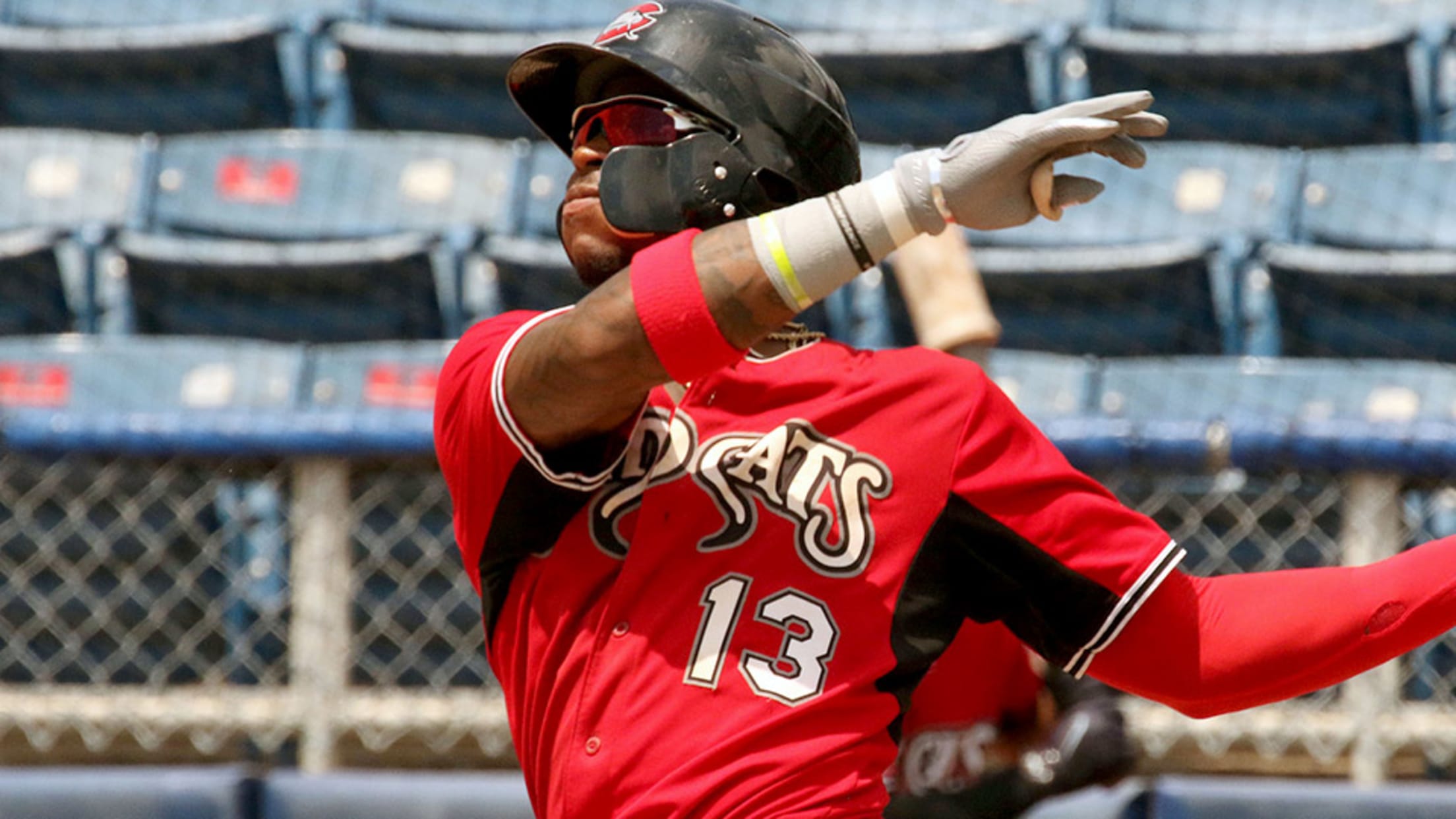 Monte Harrison's .828 OPS across two levels this season is 108 points above his career high. (Carl Kline/MiLB.com)
This time last year, Monte Harrison was getting ready to return from a stint on the Class A Wisconsin disabled list, the result of a broken hamate bone in his left hand. Two years ago, he had just been placed on the Timber Rattlers' DL with a broken ankle. In
This time last year, Monte Harrison was getting ready to return from a stint on the Class A Wisconsin disabled list, the result of a broken hamate bone in his left hand. Two years ago, he had just been placed on the Timber Rattlers' DL with a broken ankle.
In the first week of August 2017, not only is he healthy and out of the Midwest League, he's performing well enough to win his first Minor League weekly award.
The Brewers' No. 14 prospect went 11-for-32 (.344) with three homers, three doubles and seven RBIs in seven games last week for Class A Advanced Carolina to take home Carolina League Offensive Player of the Week honors for July 31-Aug. 6. After going the first 15 weeks of the season without an Offensive Player of the Week, the Mudcats have won the last two awards after Lucas Erceg took the prize last week.
"I'm definitely a different player than I was [last August]," Harrison said. "At the end of the day, I think a lot of it is between the ears, and I can feel myself definitely growing in that aspect. The more at-bats I'm getting, playing the outfield every day again, that's all helping. ... I'm just trying to get one percent better every day. Someone once told me you're either getting better every day or you're getting worse. You're never the same. Now I'm trying to prove how much better I can really be."
• View the Pitcher of the Week winners »
Harrison, who entered the week with six multi-hit games in his first 27 contests for Carolina following his promotion from Wisconsin on June 22, had multiple hits in four of his seven games last week. As a result, the 21-year-old outfielder improved his Class A Advanced slash line from .222/.306/.424 on July 30 to .252/.319/.496. His most impressive performance came last Tuesday when he went deep twice at home against Down East -- his second two-homer game of 2017 after also hitting that mark April 20. He followed that up with another blast the next day, giving him 19 on the season through 97 games between both stops -- most in the Brewers' farm system.
"Honestly, even before that I thought I was hitting the ball hard, but it just went right at people," he said. "Or maybe the wind would be blowing in or something like that. My coaches were telling me before the week that the hits were going to start coming, if I kept at it, so that's what I kept thinking about. Just keep focusing on hitting the ball hard, and something like this was possible."
Along with his red-hot performance at the plate, the 2014 second-rounder did plenty to stand out in the field as well. On Monday -- one day before his two-homer game -- he made a spectacular diving play in left-center field to take away a hit from the Wood Ducks' LeDarious Clark.
Harrison, who has split time between center and right in the Carolina League, is just one piece of perhaps the Minors' most talented outfield. When he joined the Mudcats, Harrison slid in next to No. 2 Brewers prospect Corey Ray and No. 13 Trent Clark -- all three of whom have received at least an above-average 55 grade for their fielding on the 20-80 scale from MLB.com.
"Anywhere I can go in this game, I'm just trying to be myself," Harrison said. "When I got here, I think they noticed that and saw that I was able to play at a high level already. I've wanted to work with them, learn from them, help us make each other better. Honestly at this point, when a ball drops in the outfield for a hit, we all get pretty [ticked] off."
Taken 50th overall in the 2014 Draft for his potential five-tool abilities, Harrison saw his stock drop after back-to-back Midwest League seasons in which he didn't bat higher than .221.
Back in April, he talked about adding a leg kick and moving his hands to get the most out of his bat speed, and the results took hold quickly. He still has a 26.9 percent strikeout percentage this season, but with his power and plus speed on the basepaths, Harrison is just one homer and two steals away from joining Phillies prospect Scott Kingery as the Minors' only members of the 20-20 club this season. He's risen nine spots in the Brewers' prospect rankings this season, and a strong finish to August could send that stock even higher.
"I'm just going to keep sticking with it," Harrison said. "Once I made those changes going back to instructs, I've felt really good. Sure, some slumps will come here and there, but I want to keep them to two- or three-game spells. For me at this level with the way I can hit, it's more about approach. You're only as good as the pitches you swing at, so I'm focusing on getting some good ones and doing damage from there."
Below is the complete list of Minor League Offensive Players of the Week for July 31-Aug. 6:
| League | Player | Team | MLB | Stats |
| --- | --- | --- | --- | --- |
| International | Neftali Soto | Syracuse | WAS | .444/.448/.926, 7 G, 12-for-27, 1 2B, 4 HR, 10 RBI, 6 R, 1 BB, 3 K |
| Pacific Coast | Breyvic Valera | Memphis | STL | .483/.516/.828, 6 G, 14-for-29, 4 2B, 2 HR, 7 RBI, 8 R, 2 BB, 2 K |
| Eastern | Josh Fuentes | Hartford | COL | .481/.481/.630, 6 G, 13-for-27, 4 2B, 0 HR, 6 RBI, 5 R, 0 BB, 6 K |
| Southern | Yasiel Balaguert | Tennessee | CHC | .423/.483/.615, 7 G, 11-for-26, 2 2B, 1 HR, 3 RBI, 4 R, 2 BB, 3 K |
| Texas | Matt Beaty | Tulsa | LAD | .563/.559/.844, 7 G, 18-for-32, 6 2B, 1 HR, 10 RBI, 4 R, 1 BB, 1 K |
| California | Jonah Arenado | San Jose | SF | .480/.567/.880, 7 G, 12-for-25, 5 2B, 1 3B, 1 HR, 8 RBI, 8 R, 4 BB, 1 K |
| Carolina | Monte Harrison | Carolina | MIL | .344/.364/.719, 7 G, 11-for-32, 3 2B, 3 HR, 7 RBI, 6 R, 1 BB, 10 K, 1 CS |
| Florida State | Colby Lusignan | Jupiter | MIA | .500/.520/.818, 6 G, 11-for-22, 4 2B, 1 HR, 5 RBI, 5 R, 2 BB, 5 K |
| Midwest | Jared Walker | Great Lakes | LAD | .444/.474/1.278, 5 G, 8-for-18, 3 2B, 4 HR, 11 RBI, 6 R, 1 BB, 2 K |
| South Atlantic | Isiah Gilliam | Charleston | NYY | .385/.500/.769, 7 G, 10-for-26, 4 2B, 2 HR, 7 RBI, 6 R, 5 BB, 7 K |
| New York-Penn | Evan Mendoza | State College | STL | .481/.483/.852, 7 G, 13-for-27, 2 2B, 1 3B, 2 HR, 6 RBI, 7 R, 1 BB, 6 K |
| Northwest | Orlando Garcia | Salem-Keizer | SF | .583/.600/1.167, 3 G, 7-for-12, 1 2B, 2 HR, 8 RBI, 4 R, 0 BB, 3 K |
| Appalachian | Luis Bandes | Johnson City | STL | .476/.522/1.048, 5 G, 10-for-21, 0 2B, 4 HR, 9 RBI, 5 R, 2 BB, 1 IBB, 1 K |
| Pioneer | Anthony Villa | Great Falls | CWS | .533/.611/1.133, 4 G, 8-for-15, 1 2B, 1 3B, 2 HR, 6 RBI, 5 R, 3 BB, 1 K |
Sam Dykstra is a reporter for MiLB.com. Follow and interact with him on Twitter, @SamDykstraMiLB.