Brewers Prospect Primer: Still rising
Burnes, Woodruff top pitching stable; Hiura set for first full season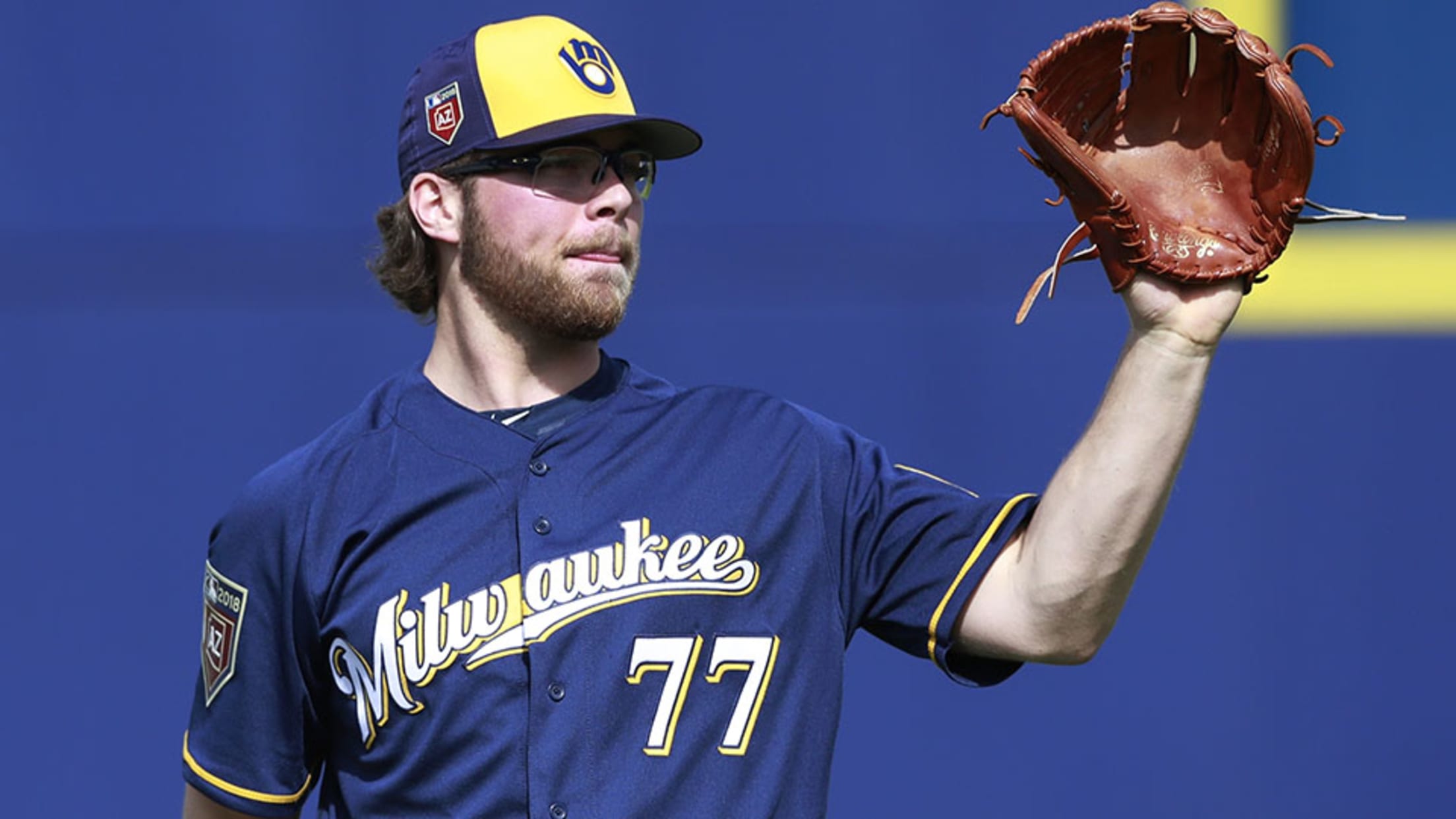 Corbin Burnes allowed one earned run over four innings with three strikeouts during Spring Training. (Carlos Osorio/AP)
Some players are on the verge of stardom, others are entering a crucial phase of their development and still others are getting their first tastes of full-season ball. With the 2018 season approaching, MiLB.com takes a look at the most intriguing prospects from each MLB organization.Shining Star: Corbin Burnes, RHP As
Some players are on the verge of stardom, others are entering a crucial phase of their development and still others are getting their first tastes of full-season ball. With the 2018 season approaching, MiLB.com takes a look at the most intriguing prospects from each MLB organization.
Shining Star: Corbin Burnes, RHP
As the Brewers' No. 2 prospect, MLB.com's 69th overall, it's possible that a strong beginning to the 2018 season with Triple-A Colorado Springs could have him in the Majors sooner rather than later.
Burnes might have an ETA of 2019, but there's a real chance he contributes to the big league club sometime this season. Between Class A Advanced Carolina and Double-A Biloxi in 2017, he went 8-3 with a 1.67 ERA, striking out 140 batters over 145 2/3 innings. Opponents hit .200 against him across the two levels. A 2016 fourth-round pick, Burnes might not throw the hardest -- his fastball velocity sits between 92-95 mph -- but he has good control, which is rated at a 60 on the scouts' scale of 20-80, and is constantly pounding the strike zone and challenging hitters. Burnes possesses a four-pitch arsenal, but his best secondary pitch is his curveball.
The 23-year-old has moved through the system quickly and figures to continue that trend in 2018.
"He brings a lot to the table in terms of his pitch arsenal," Brewers farm director Tom Flanagan said. "But his makeup and the way he attacks on the mound, pitches with an edge, that type of mentality, I think could be a big separator for him as he finishes off in the Minor Leagues and makes his way to the big leagues.
"You want to have that balance of a guy that gains confidence, but he doesn't lose that competitive edge where he pushes himself. I think he's that guy. He's not going to get comfortable with any success he has or any progress he makes. He's going to increase his confidence based on the advances he's made. But I think he's going to be a guy that pushes himself, even as he makes the big leagues."
Major League-ready: Brandon Woodruff, RHP
Ranked third among Brewers prospects and 96th overall, Woodruff already has contributed at the Major League level and is expected to be back with the big club this year.
With Milwaukee last season, the 25-year old started eight games, allowed 23 earned runs over 43 innings and accumulated a 6.70 K/9 ratio. At Triple-A Colorado Springs, he went 6-5 in 16 starts with a 4.31 ERA (75 1/3 innings).
The organization's 2016 Minor League Pitcher of the Year, Woodruff has a power sinker that sits between 92-96 mph and has made him a ground-ball pitcher. He also owns an above-average slider that helps get swings and misses.
Woodruff is in line for a bigger role at the Major League level this season, having won the competition for the final spot in the rotation.
"He's kind of in a way similar to Burnes with the work he puts in and the competitive nature. ... I think he'll impact the big league club at some point," Flanagan said.
At this time, the Brewers see Woodruff -- a former 11th round pick -- as a starter and would keep him stretched out at Triple-A, even if a bullpen spot for him in the Majors presented itself. He has options available for Milwaukee to take advantage of.
"I think we see him as a starter," Flanagan said. "He has enough pitches. He has a big, workhorse-type physique. I think he can handle that load."
Loudest tool: Keston Hiura, 2B
Hiura is the organization's top prospect for a reason. The main impetus behind the Brewers drafting him in the first round (No. 9 overall) last year was his bat, and he hasn't given the Brewers any reason to doubt what he can do at the plate. The 21-year-old has hit like a monster since being drafted. With Class A Wisconsin, he hit .333 with 11 doubles and 15 RBIs in 105 at-bats. In 15 Arizona Fall League games, his power numbers significantly picked up and he built on his previous Minor League success, hitting four homers, driving in 18 runs and posting a .435/.500/.839 slash line.
Slated as a second baseman, Hiura -- MLB.com's No. 56 overall prospect -- has an estimated arrival time in the Majors of 2019. The right-handed hitter has a short, compact swing and a knack for barreling the ball, making him a candidate to hit high for average, along with some power potential.
"When he showed up, he quickly validated the scouting thoughts on his bat -- definitely a big-time, advanced, impact bat," Flanagan said. "He's going to make some noise with double and home run power. It's fun to watch. I've been around here a long time and the only bat I remember coming in so advanced ... was way back when Ryan Braun arrived."
Hiura's confidence at the dish, along with his intelligence, makes him a serious threat.
Full-season debutant: Tristen Lutz, OF
Lultz was a compensation round pick in the 2017 Draft and followed that with a strong Rookie League campaign. The Arlington, Texas, native hit .311 (.957 OPS) with nine homers and 27 RBIs between the Arizona and Pioneer leagues.
"He's a physical bat," Flanagan said. "He can run a little bit.
"He's got a physique to him and size and really a swing that works for him. It's pretty impressive, his power to pretty much all fields."
Flanagan expects Lutz, Milwaukee's ninth-ranked prospect, to contribute in the Midwest League at some point if he doesn't start the season in Wisconsin.
Back from injury: Adrian Houser, RHP
Coming off Tommy John surgery, Houser threw a combined 17 2/3 innings in the Arizona League and for the Timber Rattlers last season. An emergency appendectomy in January slowed the Brewers' No. 13 prospect's workload this spring, but he made one appearance and threw one inning in Cactus League play.
"We'll obviously monitor his innings this year," Flanagan said.
The plan is to have him as part of a pitching tandem, likely at Double-A Biloxi, Flanagan said. As a member of the 40-man roster, there's a chance Houser could be a factor in the Majors at some point this season.
Others to keep an eye on:
Former first-round pick Corey Ray (2016 Draft, No. 5 overall) hit .238 with a 31 percent strikeout rate with Class A Advanced Carolina last season. Flanagan said the organization isn't too concerned with the numbers; rather, management is pleased with his work ethic. The Brewers' No. 7 prospect battled the nagging effects of a knee injury after he was drafted that might have impacted his first full season. The tools that caused the Brewers to fall in love with Ray remain, but 2018 will be pivotal to see if he can live up to the potential of a top-five pick. ... Right-hander Caden Lemons didn't pitch much last season because the organization didn't want to push him after drafting him in the second round. His fastball-curveball combination makes Milwaukee's No. 17 prospect intriguing. "He's a guy you can really dream on in terms of his body," Flanagan said. "He's going to put on a lot of size in terms of weight as he moves forward, and he can handle it. He's got a huge frame." ... Thomas Jankins, a right-hander out of Quinnipiac, posted solid numbers with a 9-8 record and 3.62 ERA over 141 2/3 innings at Wisconsin. The fact he improved as the season went on excited Flanagan. "He's a guy that sinks the ball a lot, a lot of ground balls," he said.


Predictions:

Most home runs:Lucas Erceg
Most stolen bases:Troy Stokes Jr.
Most strikeouts: Burnes
Current prospect to get most Major League playing time: Woodruff
Non-Top 100 prospect to end 2018 in the top 100:Luis Ortiz
Chris Bumbaca is a contributor for MiLB.com based in New York. Follow him on Twiter @BOOMbaca.