Brewers Prospect Primer: Brinson bides time
Milwaukee's toolsy top prospect pushing toward Major League debut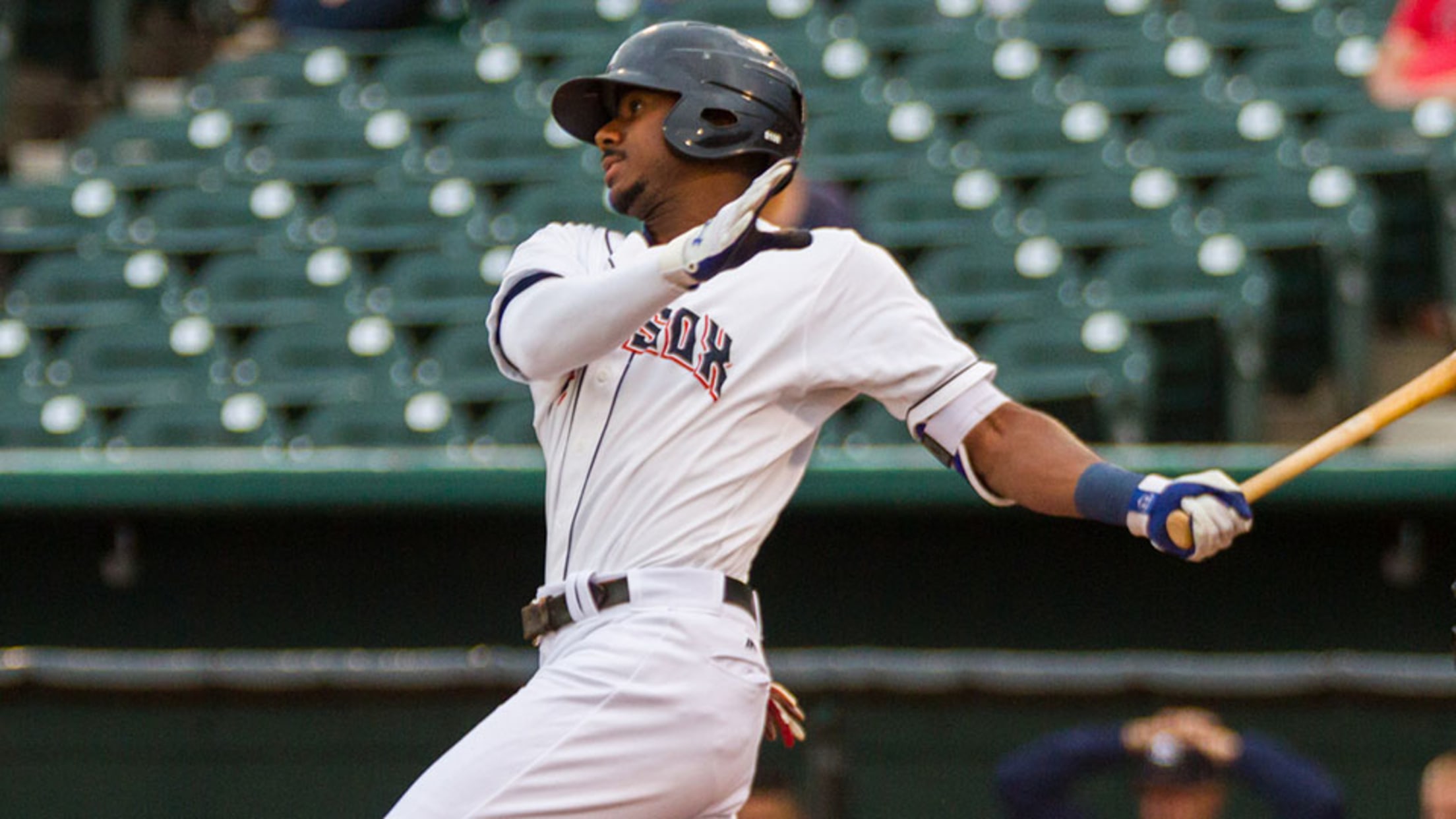 Lewis Brinson delivered this spring with a slash line of .294/.385/.588, two homers and eight RBIs. (Bobby Stevens/MiLB.com)
Some players are on the verge of stardom, others are entering a crucial phase of their development and still others are getting their first tastes of full-season ball. With the 2017 season approaching, MiLB.com takes a look at the most intriguing prospects from each MLB organization.Major League-ready: Lewis Brinson ,
Some players are on the verge of stardom, others are entering a crucial phase of their development and still others are getting their first tastes of full-season ball. With the 2017 season approaching, MiLB.com takes a look at the most intriguing prospects from each MLB organization.
Major League-ready: Lewis Brinson , OF
Brinson looked to be on the cusp of making his Major League debut last offseason after a dominant 2015 campaign that earned him two promotions and saw him finish the season with an eight-game stint at Triple-A Round Rock. The 22-year-old outfielder compiled a slash line of .258/.309/.419 at Double-A Frisco in April -- a far cry from his .332/.403/.601 line across three levels the season before -- and watched teammate Nomar Mazara, one year his junior, race off to a hot start with the big league club after getting called up from Round Rock in the wake of Shin-Soo Choo's early April injury.
Texas' 2012 first-round pick slumped in May and June, posting a .200/.255/.415 line in 141 plate appearances before a shoulder strain landed him on the disabled list. Less than a month after returning to the field, he was included in the trade-deadline deal that sent Jonathan Lucroy and Jeremy Jeffress from Milwaukee to Texas. Brinson wasted no time showing off for his new organization, going 4-for-4 with three runs and a stolen base in his first game at Triple-A Colorado Springs and notching multiple hits in his first four games with the Sky Sox.
"Since Lewis came over in last year's trade deadline deal with Texas, all he has done is hit," Brewers farm director Tom Flanagan said. "He has continued that this spring as he has worked to enhance his game. He's a five-tool player and brings a business-like approach to the park every day."
After his walks decreased from 44 to 21 from 2015 to 2016, Brinson drew four passes while striking out seven times in Spring Training with a slash line of .294/.385/.588 and two home runs in 39 plate appearances. MLB.com's No. 18 prospect may not reach the Majors as quickly as Mazara did last season, but he's set to make an impact in Milwaukee sooner than later.
Shining star: Josh Hader, LHP
Hader enjoyed the breakout season predicted in last year's Prospect Primer, finishing fourth in the Minors with 161 strikeouts over 125 innings along with the second-highest K/9 among all pitchers with 150 or more strikeouts. His 0.95 ERA and 1.94 batting average-against in 11 starts at Double-A Biloxi led to a promotion to the hitters' haven Colorado Springs in early June.
The 22-year-old left-hander struggled with his new assignment, but his 1-7 record and 5.22 ERA in 14 starts belied an 88-to-36 strikeout-to-walk ratio in 69 innings. A portion of his inflated numbers can be traced to a BABIP jump from .291 with the Shuckers to .345 with the Sky Sox, but his 90.4 percent strand rate and 0.16 HR/9 rate at Biloxi were bound for regression regardless of location. Hader will get the chance to prove his struggles at Colorado Springs were a fluke, and his 1.92 ERA with five strikeouts over 4 2/3 spring innings seem to be small steps in the right direction.
"Josh will begin the year in the Triple-A rotation. He made good strides last year and had a nice start to the spring in Major League camp this year," Flanagan said. "He is working hard to continue to improve his secondary stuff, and we see him as a big part of our starting rotation down the road."
At the crossroads: Brett Phillips, OF
The shining star of Milwaukee's system last offseason along with Orlando Arcia, multiple high-profile prospect additions and his own struggles pushed Phillips into a different classification heading into 2017. The 2012 sixth-round pick of the Astros compiled a slash line of .229/.332/.397 with 16 home runs and 154 strikeouts in a full season at Biloxi, a campaign which dropped him from No. 2 in the organization to No. 10 and from No. 32 overall to out of the Top 100.
Despite the down season, Phillips shattered his previous career high in walks with 67 free passes and continued to show good patience at the plate this spring, walking six times while striking out 10 times in 35 plate appearances. Whiffs will always be part of the equation for Phillips, but he made it a point to work on his pitch selection this offseason, which hasn't gone unnoticed by the organization.
"Brett may not have put up the numbers that he would have wanted, but it was a big year of development for him," Flanagan said. "He battled and continued to make some adjustments, and he has brought that approach into this spring. He will be in Triple-A this year and we see him having a lot of success there."
Count on Phillips bouncing back at Colorado Springs with a stat line resembling something closer to his .278/.360/.464 career mark in a loaded Sky Sox outfield that will feature Brinson, Phillips and No. 16 prospect Ryan Cordell.
Full-season debutant: Corey Ray, OF
Since being selected fifth overall out of Louisville in the 2016 Draft, Ray has had an inauspicious beginning to his Brewers career. He amassed a slash line of .247/.307/.385 with five home runs and nine steals in 57 games after an aggressive assignment to Class A Advanced Brevard County before suffering a torn left meniscus in instructional league, which required surgery in early October and limited him throughout Spring Training.
"Corey was challenged over his first offseason, having to rehab from a knee injury that occurred during instructional league. But he has worked extremely hard to rehab and will begin 2017 with the Carolina Mudcats," Flanagan said. "Beyond the big tools that he possesses, he goes about his business in a manner far beyond his years."
A repeat of Class A Advanced -- albeit for a different affiliate -- should allow a healthy Ray's talent to take over. He possesses a plus hit tool along with plus power and speed, and he should have no issue sticking in center field in the long run. Keep an eye on Ray as a 22-year-old college product -- a hot start could lead to a quick promotion up the ladder with an eye on eventually taking over for Brinson in center field with the Sky Sox if all goes well.
Loudest tool: Josh Pennington, RHP
Acquired from Boston along with Mauricio Dubon in a December trade that sent right-handed reliever Tyler Thornburg to the Red Sox, Pennington has been on the shelf since an elbow scope he had with Boston. The 21-year-old right-hander was viewed as one of the top high school pitchers in the Northeast entering the 2014 Draft, but he underwent Tommy John surgery in April, fell to the 29th round and missed the 2015 season.
Another year removed from the procedure, Pennington will have his first opportunity to put his 70-grade fastball on display for the Brewers. Sitting at 94-98 mph after his high-school career topped out in the low-90s, the 6-foot, 175-pound New Jersey native will look to build off last season's 2.86 ERA in 13 starts for Class A Short Season Lowell.
"Josh is continuing to work his way back from [his] elbow scope. We haven't been able to see him face hitters, but the reports we heard from our scouts back when we acquired him were glowing," Flanagan said. "He knows that he can have a great deal of success just with his fastball. But moving forward, he realizes that he needs to continue to use all of his pitches, and he is eager to get back so he can begin that process."
Brewers general manager David Stearns noted that full-season ball was an option for Pennington in 2017 after acquiring the young fireballer, but also mentioned the possibility of an innings limit. While his future as a starter depends on the development of his secondary pitches, he could turn into a power option of the bullpen with his big fastball and a curveball that has plus potential.


Others to keep an eye on: No. 5 prospect Isan Díaz led the Midwest League with 20 home runs last season en route to being named Milwaukee's Minor League Player of the Year. The 20-year-old middle-infield prospect also paced the circuit with 72 walks and could get an opportunity to start the season with Carolina. ... Luis Ortiz, the other piece of the Lucroy deal, impressed his new organization almost as much as Brinson by posting a 1.93 ERA in six starts for Biloxi. Surprisingly polished for a 21-year-old, Ortiz could make his way to the Majors sooner than his age would imply. ... Seventh-ranked prospect Lucas Erceg made waves at Spring Training with a .417/.481/.708 slash line and by homering twice and plating five on March 6. Milwaukee's second-round pick in 2016, Erceg hit nine homers and drove in 51 in 68 games for Rookie-level Helena and Class A Wisconsin in 2016.
Chris Tripodi is an editor for MiLB.com. Follow him on Twitter @christripodi.