Grisham starts next chapter with new name
Brewers No. 13 prospect honors mother during journey to 'Show'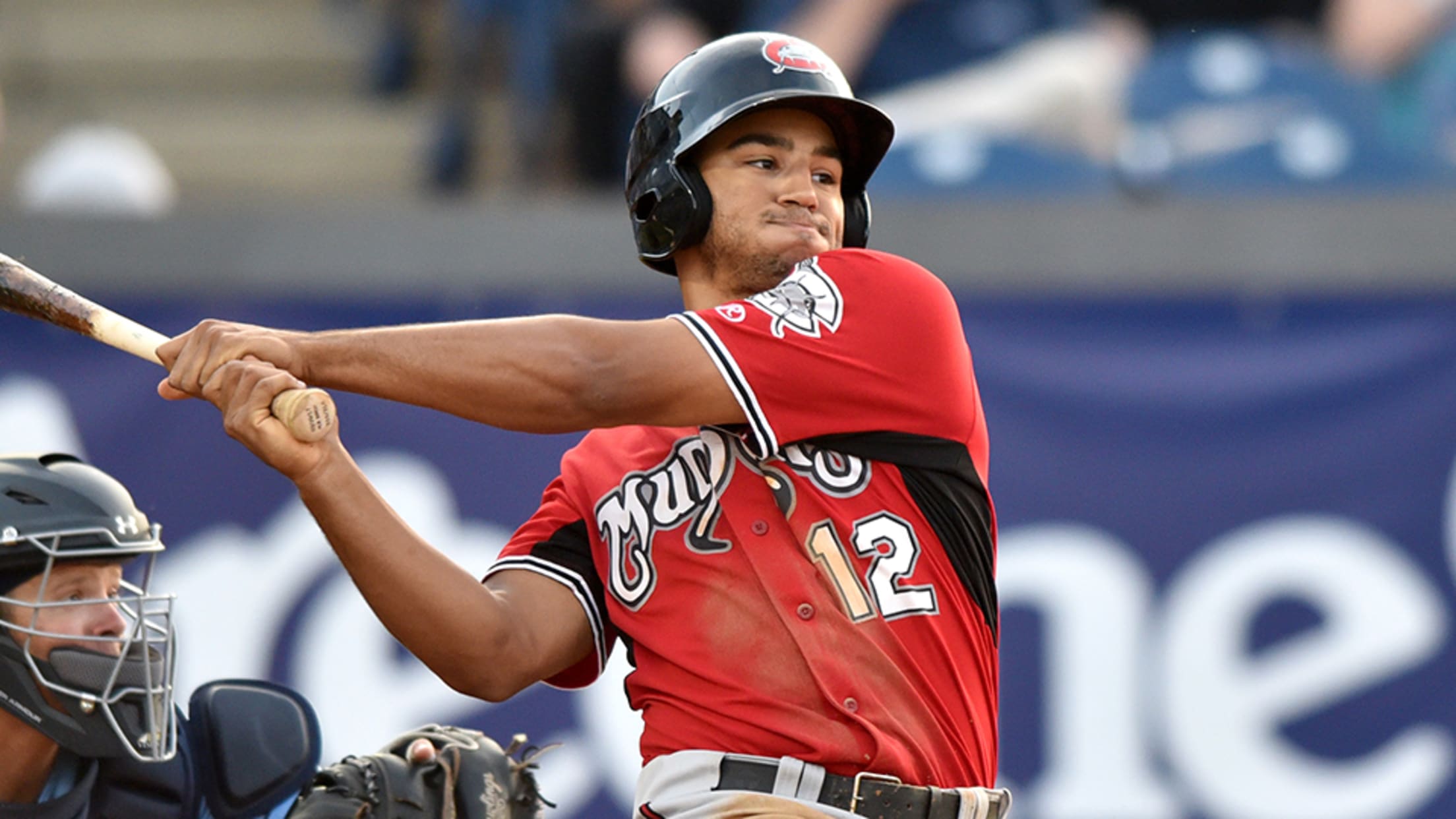 Trent Grisham finished second in the Minors with a career-high 98 walks for Carolina in 2017. (Ken Inness/MiLB.com)
Selected in the first round of a 2015 Draft class filled with promising talent and top prospects, Milwaukee's Trent Clark has flown under the radar. Part of that has been the result of an inconsistent start to his career and more time on the disabled list than on the field
Selected in the first round of a 2015 Draft class filled with promising talent and top prospects, Milwaukee's Trent Clark has flown under the radar. Part of that has been the result of an inconsistent start to his career and more time on the disabled list than on the field prior to 2017.
But with a new name, renewed confidence and a desire to be one of the crown jewels of a talented system, Trent Grisham, as he is now known, is already counting down the days to the start of the 2018 campaign. And he'll do so with the last name of the most important person in his world stitched on his jersey for the first time.
"The name has always been a big deal to me," Grisham said. "My mom [Michelle] raised me and has been there for me through everything. She was there for every game, taking me to every tournament when I was younger. She even drove my truck across the country so I could avoid having to pay to have it shipped. She's the greatest person on Earth, and I wanted to honor her for all that she's done for me."
Selected 15th overall in 2015 out of Richland High School in North Richland Hills, Texas, Grisham signed quickly with the Brewers and began his pro career in the Rookie-level Arizona League. In a scary foreshadowing of an injury-plagued season to come, the outfielder ran headfirst into the wall while attempting to make a catch in the first inning of his second game as a professional. After being tended to by trainers for nearly 15 minutes, Grisham was removed from the field on a stretcher, fortunate to have suffered only a bad bruise on his forehead.
Despite the inauspicious start to his career, Grisham hit .309/.424/.430 with 25 stolen bases and 15 extra-base hits over 55 games in the Rookie-level Arizona and Pioneer Leagues. He displayed a patient approach at the plate with 39 walks in just over 250 plate appearances.
But Grisham wasn't able to carry that success over the following year in the Midwest League. He injured both hamstrings and missed more than two months during two separate stints on the disabled list. Grisham managed a .231/.346/.344 slash line in 59 games with Class A Wisconsin.
Despite the time he spent away from the field, the No. 13 Brewers prospect looked at 2016 as an opportunity gained, not lost.
"I injured my right hamstring in May and missed about a month," Grisham said. "About a week after returning, I hurt the left one. Even so, I would say being hurt didn't affect my development. If anything, it helped me. I was able to learn a lot about what is needed to take care of my body. You need to balance performance with trying to stay healthy while playing every single day.
"It was the first time I had really ever injured myself for a long period of time and it stunk, but I don't think it hindered my development at all. It taught me a much bigger lesson."
According to Grisham, a big part of his development from 2016 to this past season was the realization that professional baseball is an everyday affair. Unlike in high school or college where only a few games are played each week, full-season Minor League ball is a day-in, day-out proposition.
"That was really the biggest difference for me," the Fort Worth, Texas native said. "The competition is certainly a step up but that's something you can get used to. Playing daily and knowing the importance of keeping your body is such a big change. It takes a toll mentally and physically and forces you to balance everything. You need to find and set the routines that work for you and stick with them."
Health wasn't an issue for Grisham in 2017. Promoted to Class A Advanced Carolina prior to the season, the 21-year-old batted .223/.360/.348 with 37 stolen bases and 78 runs scored. Grisham also walked 98 times, the second-highest total in the Minors behind Double-A Corpus Christi's Jon Singleton.
"Staying healthy and lasting the entire season was my primary goal last spring and I was able to do that," Grisham said. "I beat myself up a little bit on the drive home after the season was over. I thought about if I had done things differently, maybe my numbers would have been better, but I realized about halfway through my drive that I accomplished a lot. I learned so much this season and I'm proud of some of the things I was able to do. Sure, the batting average isn't great to look at, but I took a lot of positives from this year that I can use as a springboard into 2018."
The icing on the cake for Grisham was playing with fellow prospects Lucas Erceg, Corey Ray and Monte Harrison.
"It really was fun," he said. "All of those guys are great friends of mine. We've grown together as players and it's great to just be around each other and learn from each other. I'll push them and they'll push me, and that's where a lot of the improvement comes from. This is a great organization to be a part of. I really love it."
While Grisham is ready to get back to the grind of baseball and continue his journey toward the Majors, the offseason afforded him the time to make that sought-after change he and his mom had been discussing for years.
"When I turned 18, I told her that I wanted to change my last name from Clark to Grisham," he said. "She was honored by it and was totally behind it. With baseball and other things in life, it always ended up on the back burner. But I finally found time to make the change official a few weeks ago. I couldn't be prouder to have done it."
Michael Avallone is a contributor to MiLB.com. Follow him on Twitter @MavalloneMiLB.