Southern notes: Twins' Jorge shows resiliency
Lookouts righty bouncing back after Double-A struggles in 2016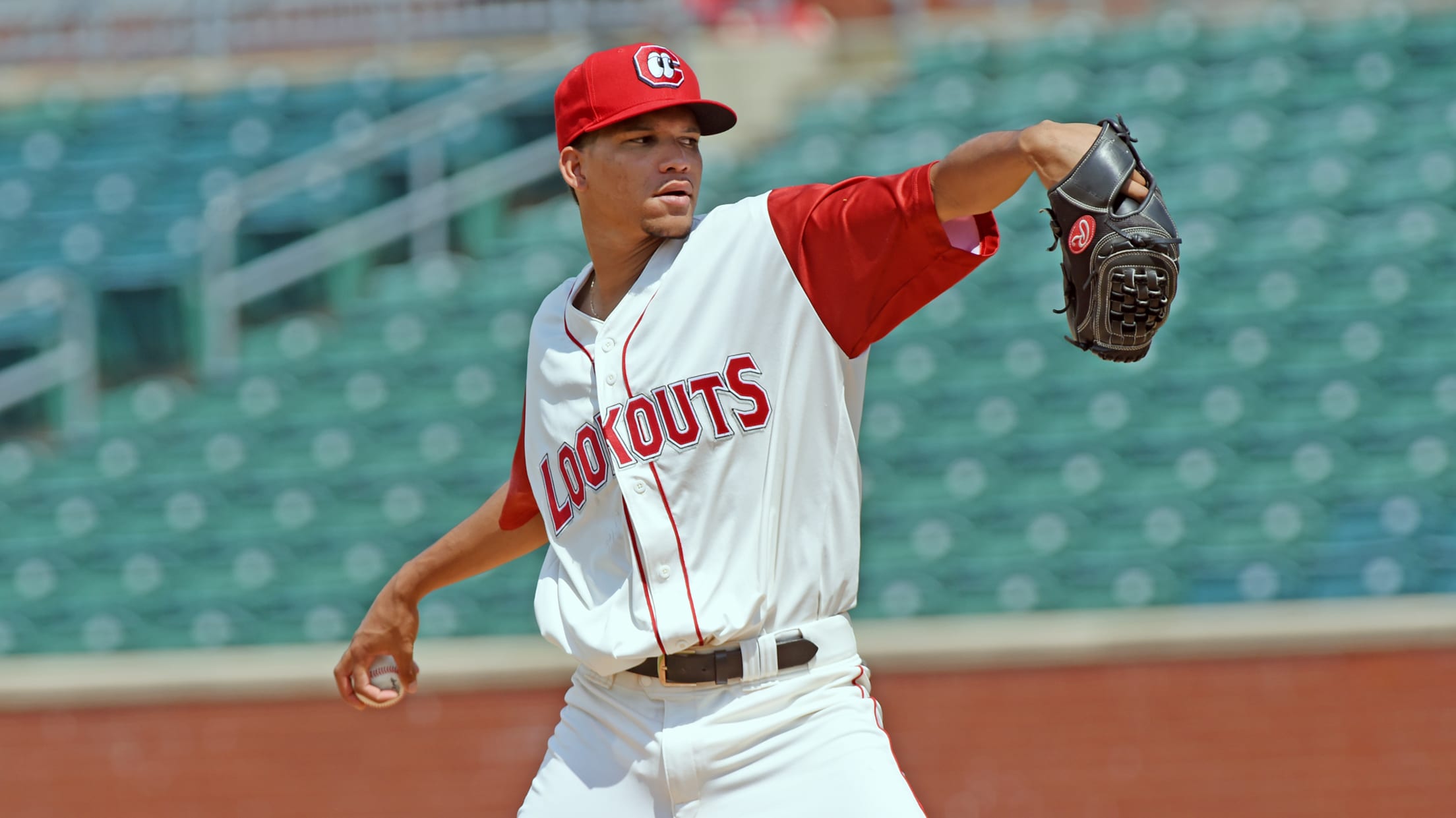 Felix Jorge is 8-1 with a 3.26 ERA over 14 starts this season with Chattanooga. (Brian McLeod/MiLB.com)
Felix Jorge hasn't always had instant success in his trip up the Minnesota Twins farm system. In fact, it's frequently been just the opposite.None of the struggles, though, have derailed the Twins' No. 8 prospect. It's just brought out the right-hander's resiliency.
Felix Jorge hasn't always had instant success in his trip up the Minnesota Twins farm system. In fact, it's frequently been just the opposite.
None of the struggles, though, have derailed the Twins' No. 8 prospect. It's just brought out the right-hander's resiliency.
Chattanooga manager Jake Mauer has been the beneficiary this season; the Lookouts won the first-half title in the North Division of the Double-A Southern League.
After taking his share of lumps in the second half a year ago following a dominant performance with Class A Advanced Fort Myers, Jorge is 8-1 with a 3.26 ERA after 14 starts in 2017, his victory total the second best in the Southern League.
"He's had some really good outings, and we look to him to kind of have that consistent approach throughout," Mauer said. "We know there are going to be those games where he's not going to have his stuff. He needs to continue to be a pitcher and in a tough situation maybe allow just one run compared to four or five runs and still give us a chance."
Jorge has been able to do just that, not taking a loss since April 28 -- 10 starts ago.
In the Class A Midwest League, Mauer saw Jorge take a step back to take a step forward, beginning his pitching education. That process in still ongoing, but the grades are positive.
"He's a young man that doesn't back down from a challenge, which is good because there have been a few instances in his career where he was hit very hard," Mauer said. "Some guys run from contact in that situation, and he took it as a challenge to make himself better and get better."
The slender 23-year-old from the Dominican Republic has met every challenge in time.
"I had him as a young guy in Cedar Rapids, and he had a really hard time there the first year," Mauer said. "He went down to the [Rookie-level] Appalachian League and was pitcher of the year. He worked on things. The following year he was the pitcher of the year for me back in the Midwest League."
After posting a 2.79 ERA in his second try at Cedar Rapids, Jorge was 9-3 with a 1.55 ERA over 14 starts in the Florida State League a year ago.
That was enough for the Twins to promote him to their 40-man roster despite a so-so performance for Chattanooga to finish the season. They knew if they didn't, another team would likely snatch Jorge up in the Rule 5 Draft.
Jorge pitched just twice in the Cactus League, recording only two outs while giving up a homer and two runs. It was yet another learning process, though, and he has flourished in his second try at the Southern League.
Jorge, who has recorded 61 strikeouts to 22 walks, is just off the league lead with 85 2/3 innings and has gone at least seven innings in four of his last seven starters. He allowed three hits over one seven-inning scoreless outings and five hits over another.
Maybe just as impressively, he allowed only two runs despite 11 hits while working 7 2/3 innings in his most recent start against Pensacola. That showed his ability to avoid a bad inning and stay focused.
Jorge does it with a fastball that can reach the mid-90s, a slider and a changeup. Although it may not wow, his stuff is certainly good enough.
"His slider is coming along and his changeup is pretty good," Mauer said. "But for me, when he's really good it is all about commanding his fastball. That's what it starts and ends with for about any pitcher. His goal is to command his fastball and spot it in and out. If he can do that, he is going to be right where he wants to be."

In brief
Welcome back:
Following
Tyler Mahle
's promotion to Triple-A Louisville,
Austin Ross
returned to Pensacola and picked up right where he had left off with the Blue Wahoos. Ross, 28, allowed one run on six hits over six innings at Chattanooga to improve to 6-0 with Pensacola and continue to lead the Southern League with a 1.23 ERA over 10 starts. The former Milwaukee farmhand didn't fare as well with Louisville, going 2-2 with a 4.91 ERA in five outings. No. 8 Reds prospect Mahle, who had a perfect game for the Blue Wahoos, left Pensacola with a 7-3 record, 1.59 ERA and league-best 0.87 WHIP.
Switching sides:
Braxton Lee
, leading the Southern League with a .321 average, moved from Montgomery to Jacksonville after being part of the Adeniy Hechavarria trade from Miami to Tampa Bay. The left-handed hitting center fielder was a 12th-round choice of the Rays in the 2014 Draft out of Ole Miss and had been in his second season with the Biscuits after batting just .209 in 2016. Lee, 23, had a .391 on-base percentage with 14 extra-base hits and 12 stolen bases this year.
Strong start:
First baseman
Gavin LaValley
hit two homers in the Florida State All-Star Game and continued his power surge after being promoted from Daytona to Pensacola. Cincinnati's No. 25 prospect homered in his first game with the Blue Wahoos and went deep again in his fourth, finishing the second-half opening series at Chattanooga batting .353 with two doubles, two homers and six RBIs. LaValley, 22, was second in the Florida State League with 15 homers and 45 RBIs prior to the promotion and had a .291 batting average.
Winning debut:
Left-hander
Génesis Cabrera
had an impressive first start for Montgomery, limiting Birmingham to two hits and an unearned run over seven innings in a 2-1 victory by the Biscuits. Tampa Bays' No. 28 prospect struck out eight and walked two. Cabrera, 20, was 4-5 with a 2.84 for Charlotte of the Florida State League prior to his promotion, striking out 60 and walking 25 over 69 2/3 innings. The native of the Dominican Republic was 11-5 with a 3.88 ERA in the Midwest League a season ago.
Guy Curtright is a contributor to MiLB.com.