Gordon records second career five-hit game
Twins second-ranked prospect misses out on cycle by a homer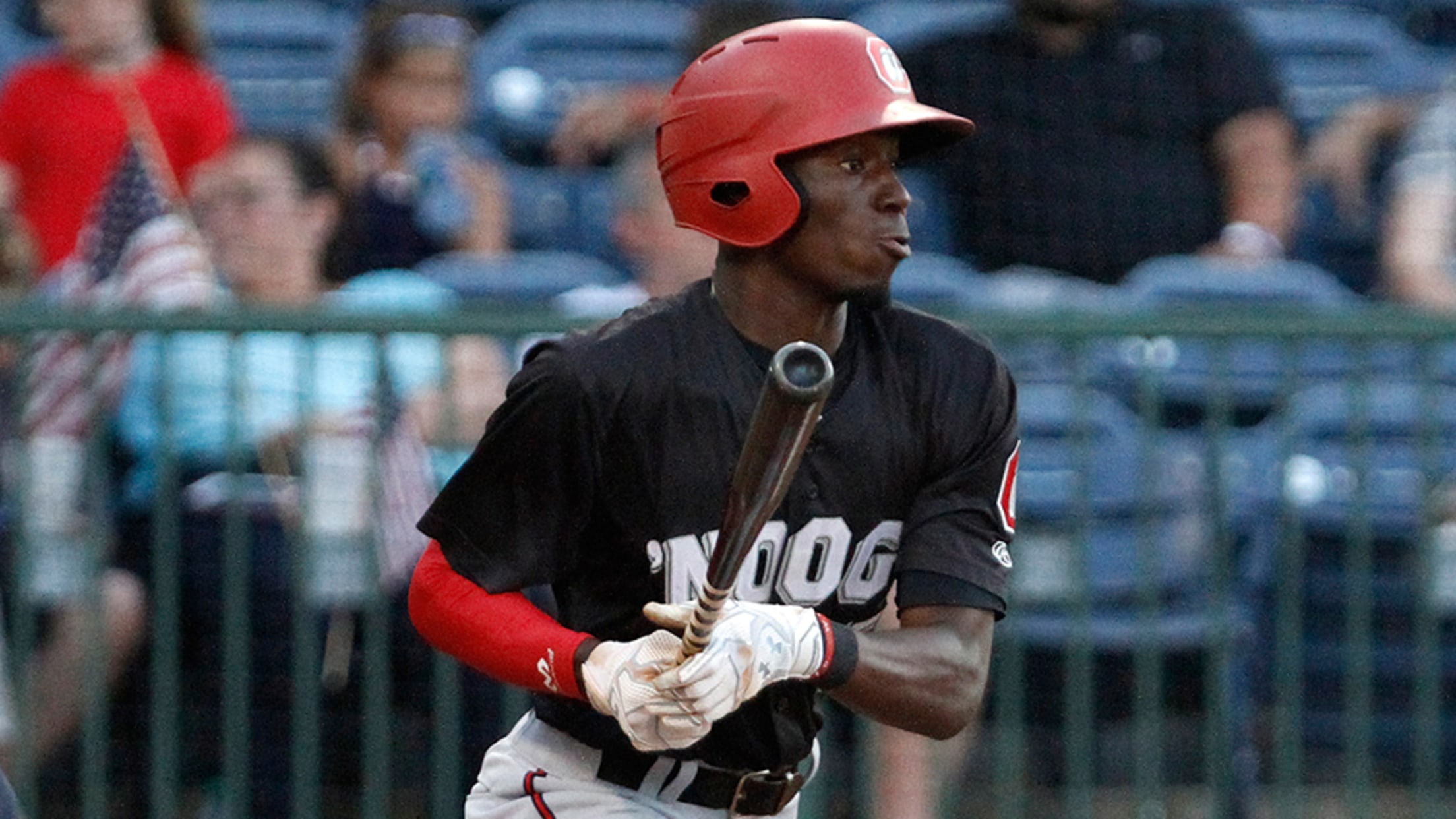 Nick Gordon is hitting .375 with eight runs scored and four RBIs in his last seven games. (Ed Gardner)
Nick Gordon has already hit more home runs this season than he had in his first three years combined.Although the roundtripper he probably wanted most proved elusive Monday night, it didn't dampen what was arguably the best overall game in the professional career of MLB.com's No. 34 overall prospect. 
Nick Gordon has already hit more home runs this season than he had in his first three years combined.
Although the roundtripper he probably wanted most proved elusive Monday night, it didn't dampen what was arguably the best overall game in the professional career of MLB.com's No. 34 overall prospect.
Gordon matched his career high with five hits and fell a homer shy of the cycle as Double-A Chattanooga blanked Birmingham, 9-0, at Regions Field. The 21-year-old scored three times and drove in two runs in the second five-hit game of his career. He's recorded four multi-hit efforts in his last seven contests after notching one in his previous 16.
"I noticed as I was heading up to bat [in the sixth] that I need a homer [for the cycle]," the 21-year-old said. "I took a big a big swing, but it didn't happen. But that's all right. That last at-bat, I got ahead, 2-0, so I tried again, but I swung at a bad pitch. I calmed myself down, stayed aggressive and took a good swing for the fifth hit. It was a fun night."
Gordon got the Lookouts' offense going when he led off the game with a double to left field and scored on LaMonte Wade Jr's single. The Twins' second-ranked prospect stroked a two-run triple to right in the third and scored on Edgar Corcino's three-bagger. He beat out an infield single to first and scored in the fifth, but struck out in the sixth.
Needing a homer to complete the cycle, Gordon lined a single into right for his first five-hit game since Aug. 29 with Class A Advanced Fort Myers in the Florida State League.
Gameday box score
"This game will humble you, so it's all about trusting the process and taking it all in -- the good and the bad," Gordon said. "You learn from it that way. [In Double-A], you start to see a lot of guys who have played in the bigs and many who are ready or almost ready to do so. They trust themselves and know the game as opposed to the lower levels where guys are still figuring things out. Everybody is good in pro ball, but it's the mental side where players separate themselves."
The game turned around what had been a rough six-week stretch for Gordon. He hit .308 through the first three months of the season, but entered Monday's contest batting .221 in 31 games since July 1. The five hits hiked his average up to .288 for the season.
"I'd had a lot of games where I was hitting the ball hard, but right at people," the Orlando, Florida native said. "It definitely can get frustrating, but it's just part of the game. If you're hitting the ball hard, sooner or later they'll fall in, so you just need to keep grinding. Honestly, that's the biggest thing for me. It's easy to go into a funk at this level. You need to trust yourself and trust in the process so that a little funk doesn't mess you up. You need to know how to get out of those slumps and make the adjustments."
• Get tickets to a Lookouts game »
Jonathan Rodriguez hit his team-leading 16th homer and drove in three runs while Brian Navarreto chipped in three hits for Chattanooga. Wade, Minnesota's No. 17 prospect, added two hits and an RBI.
Spencer Adams (7-13) allowed six runs on 10 hits and a walk over 3 2/3 innings for Birmingham. The No. 16 White Sox prospect struck out three during his fifth consecutive loss.