IL notes: Garver has eyes on Twin Cities
Deadline deal could smooth Twins prospect's path to big leagues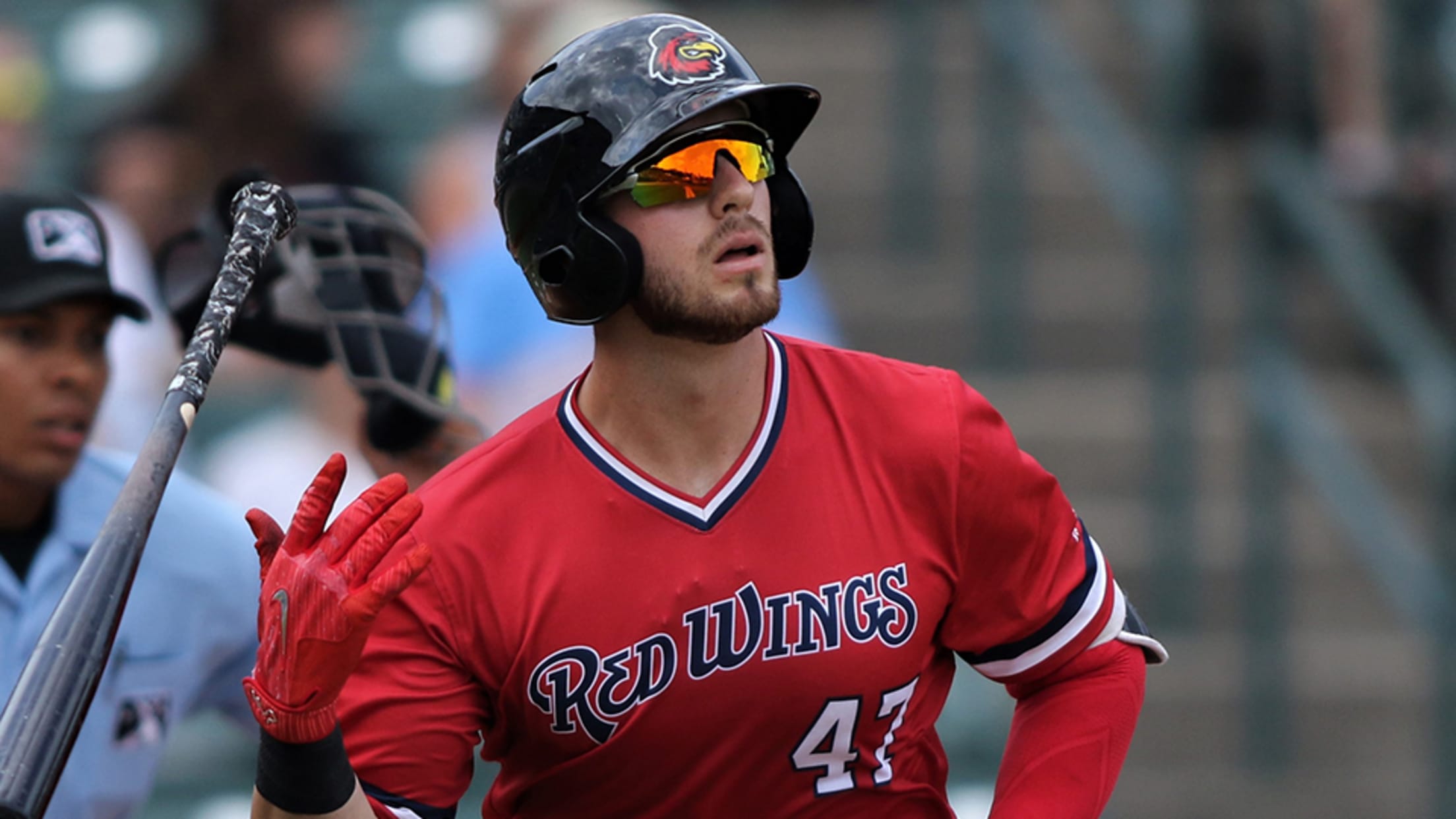 Mitch Garver ranks fourth in the International League with a .524 slugging percentage. (Joe Territo/Rochester Red Wings)
Just before the Trade Deadline, the Twins shipped catcher John Ryan Murphy to the D-backs.When Murphy's Rochester Red Wings teammate, Mitch Garver, heard about the trade, he was shocked."I knew there were trade rumors involving both of us," Garver said. "We had four catchers on the roster all year, so
Just before the Trade Deadline, the Twins shipped catcher John Ryan Murphy to the D-backs.
When Murphy's Rochester Red Wings teammate, Mitch Garver, heard about the trade, he was shocked.
"I knew there were trade rumors involving both of us," Garver said. "We had four catchers on the roster all year, so we knew something would have to happen at some point.
"I'm happy for him. He's going to get a fresh start, probably get a September callup, and have success with a new team."
But the unspoken thought was that Murphy's trade has given Garver, the Twins' 23rd-ranked prospect, an inside track to claiming a spot behind the plate at Target Field for years to come.
The questions that have surrounded Garver since he was selected in the ninth round of the 2013 Draft have involved his defense.
"I've always been tabbed as an offense-first catcher who may not be able to defend at the Major League level," he said with a shrug. "I think I've shown people I can be a good receiver, I can block the ball and I can control a game and a pitching staff."
Garver has committed three errors in 59 games behind the plate for the Red Wings. More impressively, he's thrown out 15-of-48 would-be basestealers for a 31.3 percent mark that ranks sixth in the IL.
"He's come a long way and he does a good job at the mental aspects of catching," Rochester manager Mike Quade said. "He's got plenty of arm strength and he's working at blocking and footwork. He's such a hard-working guy, you expect him to get better -- and get the most out of his ability."
Garver also has worked on making sure his hitting, which always has been his calling card, did not suffer.
"I think I can always separate defense from offense," he said. "I don't like to take my at-bats into the field, and vice-versa. I also know that hitting at the catching position is at a premium."
And Garver has continued to hit, batting .278 in 80 games with a team-best 16 homers and 43 RBIs.
"He sees a ton of pitches every at-bat, has great discipline and has great power," Quade said. "There's plenty to like."
• Get tickets to a Red Wings game »
If the 6-foot-1, 220-pound Garver continues to contribute offensively and defensively for the Red Wings, he may reach his goal for the 2017 season.
"I'd like to go up [to Minnesota] this year and have an impact," he said. "Then I'd like to compete for the starting job in Spring Training."

In brief
Mahle delivers
: Louisville RHP
Tyler Mahle
lost his first three starts for the Bats, surrendering 19 hits and 14 runs -- eight earned -- over 14 1/3 innings for a 5.02 ERA. But the 22-year-old has put things together in his last four starts, allowing 14 hits and five runs in 28 innings. Mahle won two of those starts while lowering his ERA to 2.76. He's also struck out 37 over 42 1/3 frames.
Robinson keeps rolling
: While the Syracuse offense has struggled at times, 1B
Clint Robinson
has been a constant source of production. He's hitting .255 with 17 homers and 68 RBIs in 105 games, ranking fourth in the league in RBIs.
Quality starts for Lopez
: Charlotte RHP
Reynaldo López
has started six games since the start of July and has an 0-2 record in that span. But the 23-year-old has pitched better than that record would indicate, yielding no more than two runs in those six starts. During that stretch, the
No. 6 White Sox prospect
has given up 23 hits and 10 walks over 35 innings for a 2.31 ERA. What's more, he's fanned 43 and allowed opponents to bat .181 over that stretch. For the season, Lopez is 6-6 with a 3.65 ERA in 21 starts.
He said it
: "I'm not trying to strike out a certain number of guys. I'm just trying to keep myself in good situations. Everything felt like it was working, my slider or curve, I was able to do some damage, which was nice, especially against a lineup like that." --Durham LHP
Ryan Yarbrough
to the
Durham Herald-Sun
July 21 after striking out 13 in a 5-3 victory over Lehigh Valley. The
Rays' No. 23 prospect
is 11-5 with a 3.46 ERA that ranks eighth in the league and is tied with Bulls teammates
Yonny Chirinos
and
Brent Honeywell Jr.
for second in the IL in wins. Yarbrough also is third with 125 strikeouts.
John Wagner is a contributor to MiLB.com.