Twins Prospect Primer: Lewis to build on debut
No. 1 pick of 2017 leads youth wave on a fast track to Twin Cities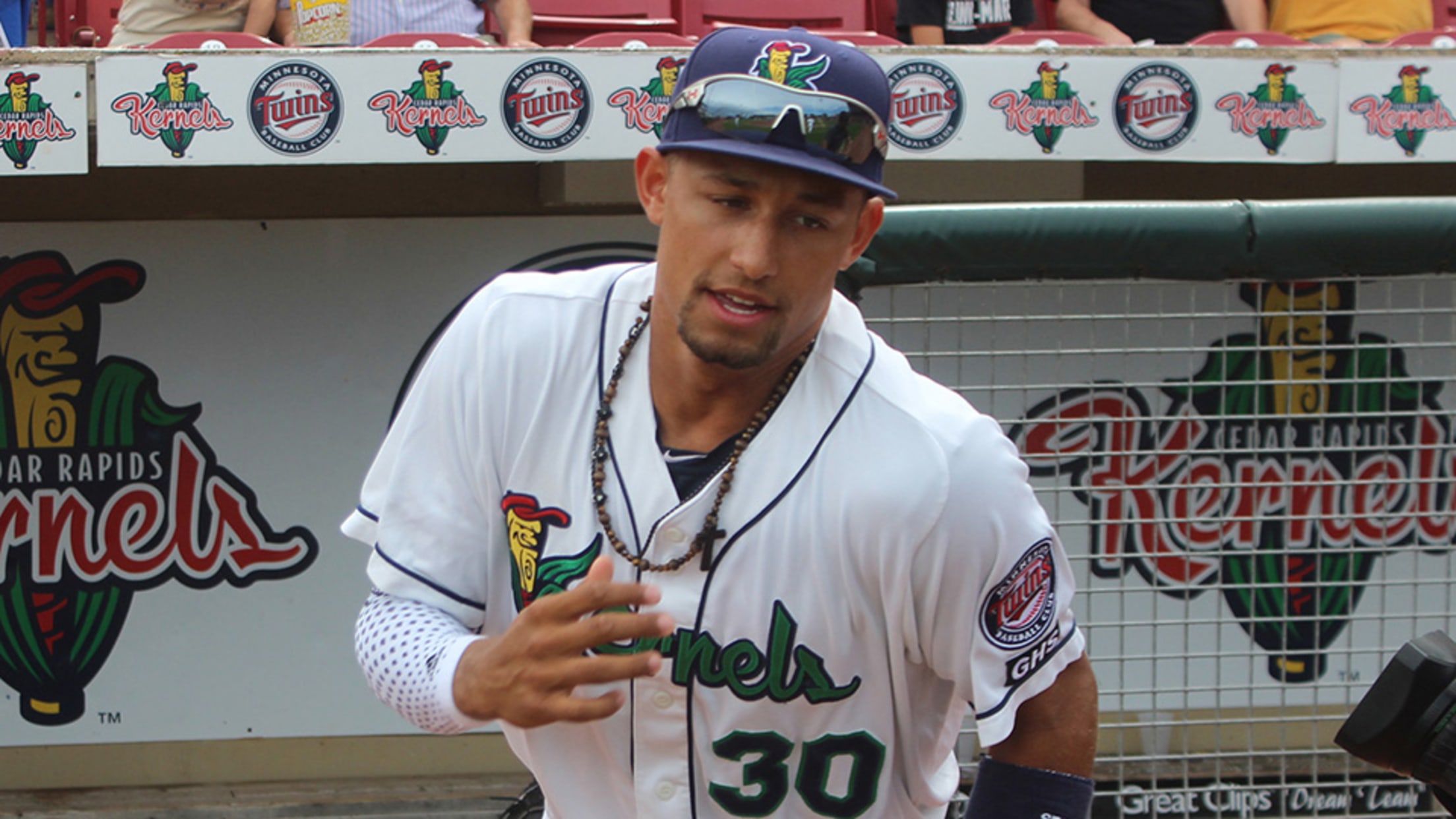 Royce Lewis will enter his first full pro season after hitting .279/.381/.407 in 2017. (Andrew Dodson/Cedar Rapids Kernels)
Some players are on the verge of stardom, others are entering a crucial phase of their development and still others are getting their first tastes of full-season ball. With the 2018 season approaching, MiLB.com takes a look at the most intriguing prospects from each MLB organization.Shining star: Royce Lewis, SSBeing
Some players are on the verge of stardom, others are entering a crucial phase of their development and still others are getting their first tastes of full-season ball. With the 2018 season approaching, MiLB.com takes a look at the most intriguing prospects from each MLB organization.
Shining star: Royce Lewis, SS
Being the first overall pick in the Draft certainly has its perks, but it also carries the burden of great expectations. Seven weeks' worth of professional baseball won't answer any questions definitively, but in Lewis' case, the debut campaign didn't temper Minnesota's immense hopes for the young shortstop.
"We're obviously very excited about Royce," Twins vice president of player personnel Mike Radcliff said. "He impressed us the moment he stepped on the field and had a nice debut. One question surrounding him was if he would be able to stick at shortstop, and we definitely believe he will. He has a high offensive ceiling which we think will include the ability to hit for average and hit with power. That equates to a top three or four man in the lineup."
The 18-year-old California native opened with the Twins' Rookie-level Gulf Coast League squad and finished the year with a jump up to Class A Cedar Rapids. Along the way, he hit .279/.381/.407 and swiped 18 bases in 54 games. Lewis also showed off a smooth glove, committing seven errors in 49 appearances in the field.
Aside from the obvious physical gifts, MLB.com's No. 20 overall prospect also has an advanced baseball IQ and approach that gives him the look and feel of a future star.
"Obviously, he's extremely talented," Radcliff added. "But there is also so much more there. He has a leadership and clubhouse presence that will impact the rest of the players on and off the field. A No. 1 pick carries a lot with it, but we think he has the overall talent and makeup to handle the expectations and flourish. Royce is a special guy in our mind and nothing he's done so far has changed our opinion."
Back and healthy: Alex Kirilloff, OF
Offseason MiLB include
Although not as common as with pitchers, Tommy John surgery does befall position players. Kirilloff had to undergo the procedure last March. Prior to his injury, Minnesota's 2016 first-round Draft pick (15th overall) proved to be an impact hitter. The lefty-swinging outfielder batted .306/.341/.454 with 18 extra-base hits and 33 RBIs in 55 games with Rookie-level Elizabethton. That performance earned him Appalachian League Player of the Year honors, beating out notable names such as No. 3 overall prospect Vladimir Guerrero Jr. of the Blue Jays. When Kirilloff takes the field in 2018, it will be his first game action since Aug. 28, 2016.
"Our excitement towards Alex hasn't waned," Radcliff said. "Yes, he missed a year, but it wasn't wasted. A lot of guys go through an injury that includes an extended period of inactivity and negative things can happen. But that hasn't been the case with Alex. He's gotten stronger, physically, emotionally and mentally. He got married and has really focused his approach on his baseball future. He's taking care of his body, focusing on his nutrition and what he needs to do to succeed as a pro moving forward."
Kirilloff will likely jump to Cedar Rapids in 2018, where he'll team with Lewis. Prior to being injured, the Pittsburgh, Pennsylvania native displayed a knack for squaring up the baseball consistently and driving it to all fields, giving him middle-of-the-order potential. As he matures, he should develop more power, graduating from doubles to home runs.
"It's been a real positive to see him in [fall] instructs and now in Spring Training," Radcliff added. "He's stronger, bigger and fully healthy. He just needs to see pitches and get back into games. We're excited to see him back out there for a full season."
Major League-ready: Stephen Gonsalves, LHP
There is little left for Gonsalves to prove in the Minors, although he may benefit from a little more seasoning in Triple-A. Since the Twins selected the southpaw in the fourth round of the 2013 Draft, he's compiled a 41-17 record with a 2.39 ERA, a 1.09 WHIP while fanning 514 batters in 478 1/3 innings.
Although he started last season six weeks late due to left shoulder soreness, Minnesota's No. 3 prospect still made 20 appearances, including 19 starts, and posted a 9-5 record and a 3.27 ERA with 118 strikeouts in 110 innings between Double-A Chattanooga and Triple-A Rochester. Ranked 78th overall, Gonsalves surrendered two earned runs or fewer in 11 of his 15 starts with the Lookouts before his promotion in August. He experienced a hiccup in five late-season appearances (four starts) with the Red Wings, but 10 of the runs he allowed came in two outings. The 23-year-old lefty gave up four runs over 19 innings in his other three Triple-A starts.
Gonsalves isn't a flamethrower -- he'll sit mostly in the low-90s with his fastball -- but he can reach back for a bit more when needed, and his 6-foot-5 frame creates great deception to go along with a solid changeup and emerging curveball. His improved command last season sent his stock soaring and brought him to the cusp of his Major League debut, which will almost certainly take place in 2018.
"Stephen's been successful at every level he's pitched," Radcliff said. "He's one of our top starting pitchers and a true big arm. Not many organizations are blessed to have someone like him. He's close now [to the Majors] and he really doesn't need much more Minor League time before he's ready to go. He's an important piece of our future and on track to be a quality big leaguer."
Full-season debutant: Akil Baddoo, OF
If Kirilloff's injury was the biggest disappointment for Minnesota from a developmental standpoint, then Baddoo's emergence was probably the most pleasant surprise. A raw but talented hitter taken in the supplemental portion of the 2016 Draft, Baddoo broke out in 2017 with a .323/.436/.527 slash line between the GCL and Elizabethton Twins. The No. 11 Minnesota prospect added 28 extra-base hits, 57 runs scored and 29 RBIs in 53 games.
"Maybe the guy that came as far in one year as someone in the lower levels of the Minors can," Radcliff said. "We signed Akil based on his physical talent, but last year he showed great instincts and a real feel for the game. His on-base percentage and isolated power greatly improved ... a lot of things you wouldn't expect to see from someone with his background and level of experience."
Baddoo came to camp last year stronger and with a better approach at the plate, walking more times (36) than he struck out (32). Although he doesn't have a build of a typical power hitter at 5-foot-11, 185 pounds, Minnesota expects the graduate of Salem High School in Conyers, Georgia to develop gap power, which should translate into more home runs as he matures. While Baddoo still needs to learn the nuances of basestealing, he's already an above-average to plus runner.
"He's more advanced than we thought and his production showed that," Radcliff said. "He's got a high ceiling because of his physical talent, but his personality is starting to shine through, which is great. It's a big step up from high school to the pros and he went through a period of trying to figure out his place and where he fit in. But he seems to have done so and is starting to flourish. Maybe he's not the project we thought he was."
At the crossroads: Kohl Stewart, RHP
A star football player in high school who decided to forgo the gridiron, Stewart took a step back in 2017 after going 12-8 with a 2.88 ERA in 25 starts a year earlier. The Twins No. 18 prospect's season also was interrupted by three separate stints on the disabled list with left knee tendinitis that limited him to 17 starts, 16 with Chattanooga and one with Rochester. Overall, Stewart posted a 6-6 record with a 4.28 ERA and walked nearly as many as he struck out -- 46 to 57 -- in 82 innings last season.
The Houston native throws both four- and two-seam fastballs, the former topping out around 95 mph. His two-seamer generally sits in the low-90s with sink that enables him to generate a healthy amount of ground balls. But a reliance on that pitch has also kept his strikeouts down -- 305 in 462 Minor League innings. The reliance on contact has been more of a detriment than a benefit in Stewart's case. Coupled with his high walk rate in 2017, the right-hander's WHIP spiked to a career-high 1.52.
"I don't think we considered [2017] a year where his stock dropped," Radcliff explained. "He was so far behind as a baseball player when he entered the sport because his focus was largely on football. He had the physical talent but the intricacies of pitching, his approach and all the things involved with it weren't as advanced. He's addressed a lot of things metrically. Personally, I think this year will be his best year yet. It's a big year for him. The clock is starting to tick, but I think it's motivated him."


Others to keep an eye on: Right-hander Fernando Romero struck out 120 batters in 125 innings while allowing four home runs with Chattanooga in 2017. Over the past two seasons, the 23-year-old has carved out a 2.84 ERA while fanning 210 in 215 1/3 frames across three levels. ... Nick Gordon may not be the flashiest player on the field, but he remains a consistently sound one who is smooth on both sides of the ball. After a solid year in Double-A, the younger brother of Dee Gordon figures to start 2018 in Triple-A. ... Mitch Garver made his time in the Minors count last year, which ultimately led to a 23-game stint in the bigs. Old for a prospect, the 27-year-old backstop hit a career-high 17 homers and drove in 45 runs in 88 games with Rochester. He entered Spring Training as a favorite to be the Twins' backup catcher in 2018, a role he ultimately won.
2018 organization predictions:
Most home runs: Brent Rooker
Most stolen bases: Lewis
Most strikeouts: Romero
Current prospect to get most Major League playing time: Garver
Non-Top-100 prospect to end 2018 in the Top 100: Wander Javier