Miracle turn franchise's first triple play
Twins prospects Lopez, Miller, Paul make history in 10-inning win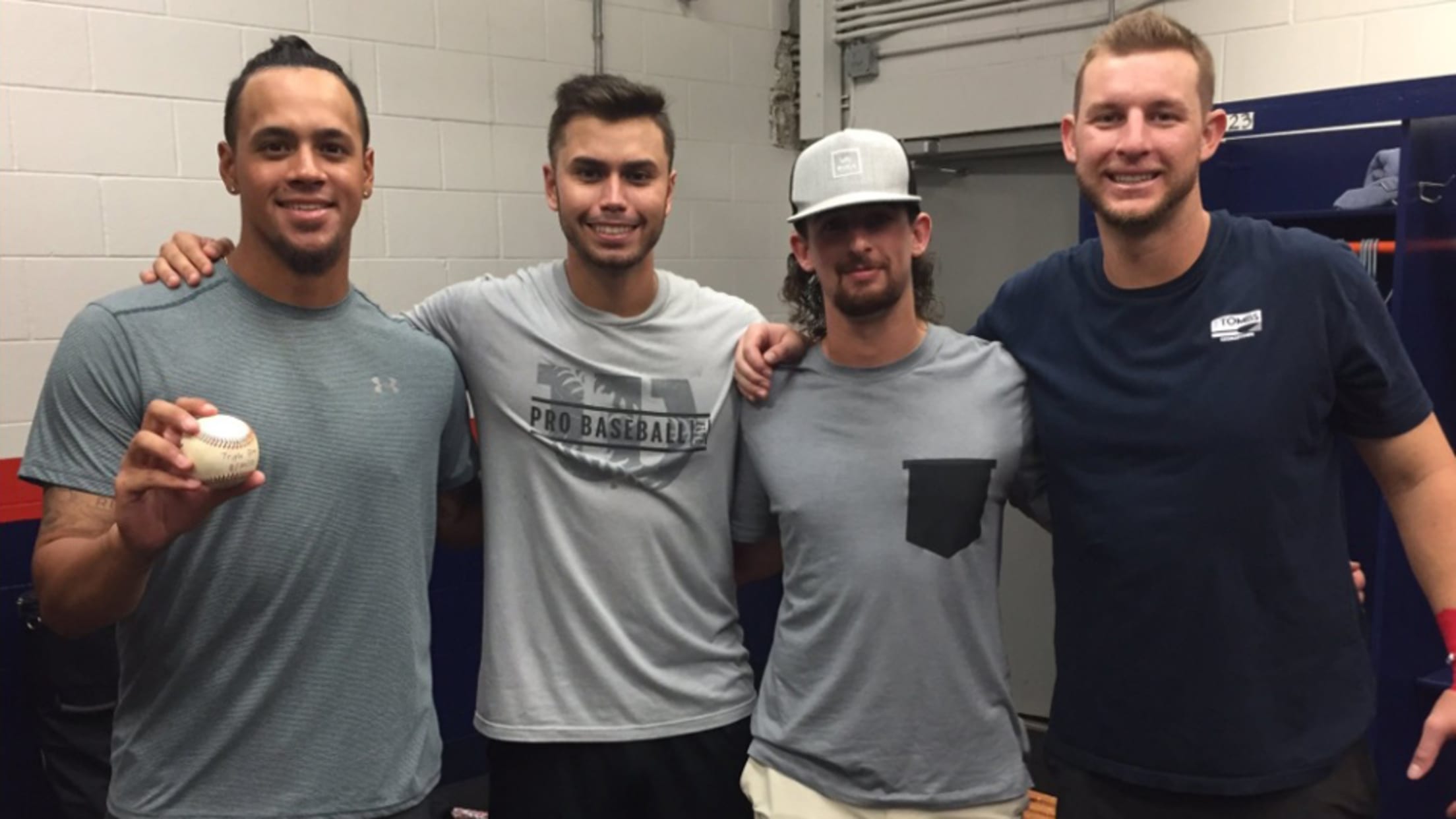 Pitcher Alex Robinson holds the ball after Brandon Lopez, Sean Miller and Chris Paul turned a triple play. (Fort Myers Miracle)
With two men on and nobody out, Sean Miller saw his third baseman, Brandon Lopez, get one quick out, then turn toward him. The second baseman immediately thought two words as the ball was heading his way."Oh, no."Adding that it was an "excited 'Oh, no,'" the 22-year-old made the catch
With two men on and nobody out, Sean Miller saw his third baseman, Brandon Lopez, get one quick out, then turn toward him. The second baseman immediately thought two words as the ball was heading his way.
"Oh, no."
Adding that it was an "excited 'Oh, no,'" the 22-year-old made the catch and fired to first baseman Chris Paul for the final out of the first triple play in Class A Advanced Fort Myers history. The Twins prospects rode the momentum to a 4-3, 10-inning win over St. Lucie on Wednesday night at First Data Field.
Gameday box score
"I was pretty pumped up. I think everyone was in shock on the field," Paul said. "I just wanted to get the out and it was a big momentum turn for us, so it was an awesome play by Brandon, a good turn by Sean and just overall an awesome play."
It started in the bottom of the seventh inning, with the game tied at 3-3. Wuilmer Becerra hit a leadoff single and, after the Mets' No. 14 prospect stole second, Nick Sergakis walked to put the Miracle in baseball's version of the glass half-full/half-empty situation.
Instead of seeing trouble, Lopez saw an opportunity. So when Michael Paez knocked a ground ball to the hot corner, the 23-year-old was ready.
"[Paez] gave me a hard ball toward the line and I just said, 'I'm going to go for it,'" Lopez recalled. "So I tagged the base, I jumped and thank God Sean was there at second because I was already airborne. I was going to second regardless."
After erasing Becerra, Lopez threw to Miller, who was ready to step on second.
"I just wanted to make sure I got rid of it as fast as I could, trying to give him a chance to get the guy at first," the second baseman said.
After forcing Sergakis, it all came down to the throw to first and the speed of Paez.
"I just made sure I caught the ball, to be honest," Paul said. "I knew it was going to be a bang-bang play probably, so I tried to stretch as far as I could and made sure I caught it."
The trio recorded the ninth triple play in the Minor Leagues this season and first in the Florida State League. Relieved as he walked off the mound, reliever Alex Robinson told his teammates that was the coolest thing he had ever been part of on a baseball field. And even though Lopez knew it could happen, it took a little time for him to realize it actually did.
"It happened very quickly, I was kind of shocked," the University of Miami product said. "We were running back to the dugout and it hit me that it happened."
• Get tickets to a Miracle game »
With both offenses quiet following the rare feat, the game headed to extra innings. In the 10th, Miller knocked a leadoff single, took second on a sacrifice by Tanner English third on a passed ball by Jose Garcia. Lopez followed with a sacrifice fly to center field that put the Miracle ahead for good.
"Pitcher was throwing very hard," Lopez said, referring to Gerson Bautista (0-1). "So I was looking for a fastball over the plate and I got one, so I was able to drive him in."
Twins No. 8 prospect Tyler Jay (2-0) struck out two in two scoreless innings for the win and Michael Kohn worked around a hit with a punchout for a scoreless 10th for his first save since Aug. 18, 2014.
Kelsie Heneghan is a contributor to MiLB.com. Follow her on Twitter @Kelsie_Heneghan.