Southern notes: Littell does little else but win
Well-traveled Twins prospect continues stellar run with Lookouts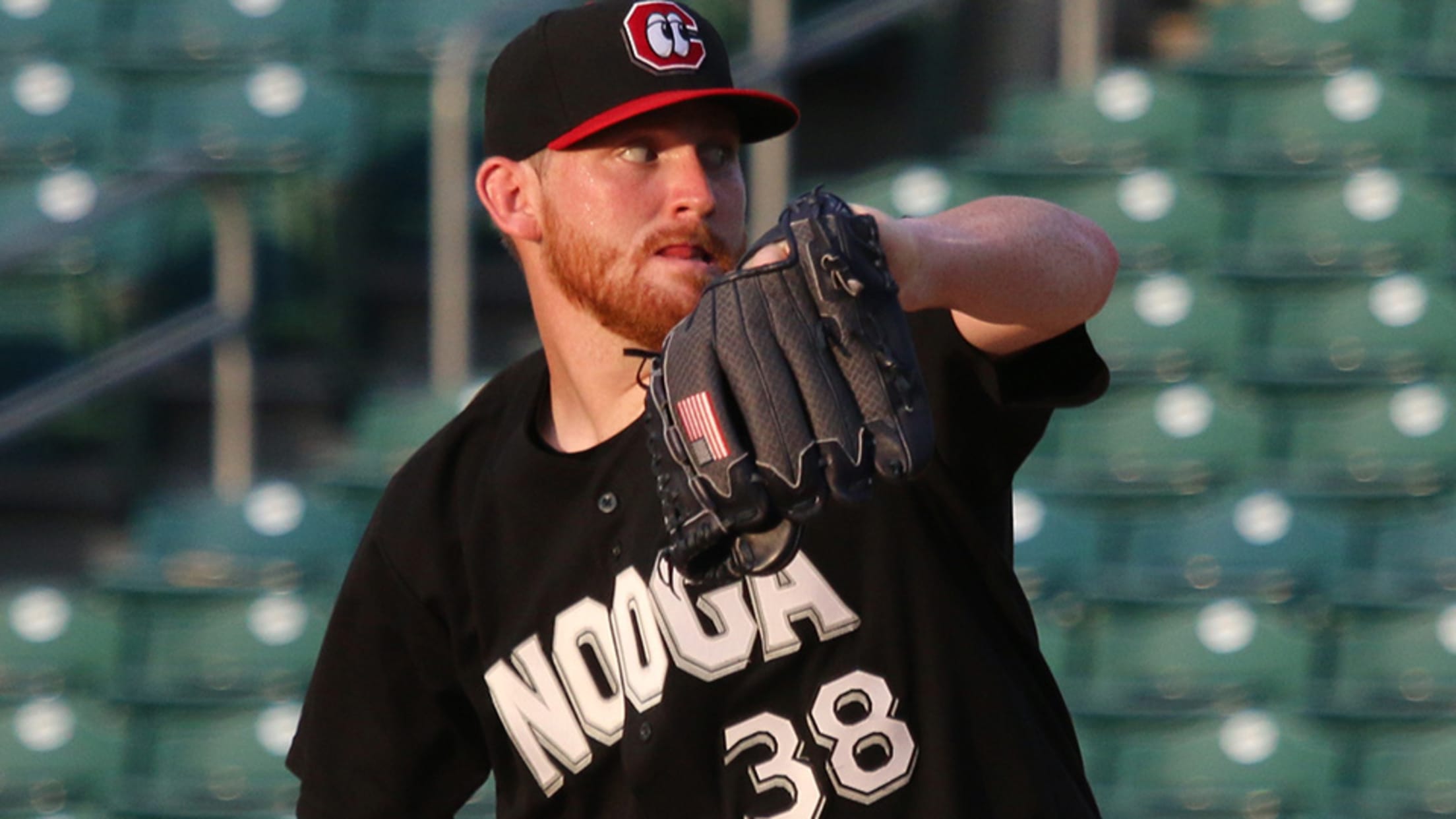 Zack Littell has played for three different Minor League teams in 2017 and sports a 17-1 record with a 2.11 ERA. (Alan Wolfe)
A 20-win pitcher, a rarity in the Majors, is all but nonexistent in the Minors, where the season is shorter and workloads monitored closely.Zack Littell, though, has been approaching the milestone -- last achieved in the Minors by Quad City's John Fritz in 1992 -- and could still reach the
A 20-win pitcher, a rarity in the Majors, is all but nonexistent in the Minors, where the season is shorter and workloads monitored closely.
Zack Littell, though, has been approaching the milestone -- last achieved in the Minors by Quad City's John Fritz in 1992 -- and could still reach the mark with a win or two for the Chattanooga Lookouts in the Southern League playoffs.
Littell, traded twice over a nine-month period, is 17-1 with two starts likely remaining in the regular season as he tries to build on one of the best -- and most traveled -- years in the Minors recently.
"It's been a little crazy," said the 21-year-old right-hander from North Carolina.
Littell was traded by Seattle to New York last November for reliever James Pazos, then shipped by the Yankees to Minnesota in July for veteran starter Jaime García, who had just a brief stop with the Twins.
Littell could have a long stay with Minnesota if he is able to continue his 2017 success.
While with the Yankees, Littell was 9-1 with a 1.77 ERA in 13 games for Class A Advanced Tampa and 5-0 with a 2.05 ERA in seven games for Double-A Trenton. Since switching to the Southern League from the Eastern, Littell is 3-0 with a 3.03 ERA in five games for Double-A Chattanooga. Littell's only loss came April 21 with Tampa, and the only two runs he allowed over five innings in that game at Lakeland were unearned.
Minnesota's No. 16 prospect has won 15 straight decisions and has a 2.11 overall ERA with 133 strikeouts to 36 walks in 145 innings. Opponents are batting .239, and he has two complete games.
Littell has put up numbers most could just dream about, despite not lighting up radar guns.
Throwing 97 mph helped him get taken in the 11th round of the 2013 Draft by the Mariners as a raw 17-year-old. Throwing hard, but right down the middle of the plate got him lit up in Rookie ball and prompted a transition that is serving him well now.
"I don't think velocity is worth sacrificing for command," Littell said.
His fastball now usually sits around 91-92 mph. It is rarely thrown anywhere near the middle of the plate, though, and regularly generates ground balls.
"He can manipulate the location of the ball within the zone, which is huge for him," Chattanooga manager Jake Mauer said.
Littell uses an effective curve and changeup combination that he can also command to set up his fastball, making for a mix that has been tough for hitters to barrel up.
The Chattanooga rotation this season has featured the Twins' top four pitching prospects -- Stephen Gonsalves, Fernando Romero, Felix Jorge and Kohl Stewart. Gonsalves and Romero are part of MLB.com's Top 100 list.
Littell offers a bit of a different dimension.
"He's been a good addition for us," Mauer said. "It's obviously nice to add a more polished guy into your rotation and know what you're going to get."
Littell, who is 6-foot-4 and 220 pounds, looks like the power pitcher he once was and just might be again at some point as he matures.
"I think it's in there," Littell said of an eventual uptick to the speed of his fastball to where it once was.
He's not willing to push the issue right now, though.
"Velocity is just like a bonus," said Littell, who finished last season at 8-1 with a 2.51 ERA in the hitter-friendly Class A Advanced California League. "If you have it and command it, then you are just that much harder to hit. But I think I've showed that you don't need velo to be successful.
"At the end of the day, the big thing is getting outs. It doesn't matter if you do it throwing hard or spotting up your fastball and working off your curve or change. Velocity isn't even one of things I look at after a game. I really don't pay attention to it."

In brief
Breakout year:
Montgomery's
Dalton Kelly
would be leading the Southern League in hitting if he had enough plate appearances to qualify, but the first baseman didn't join the Biscuits until late June. The 23-year-old UC Santa Barbara product has a .338 average in 43 games after batting .305 in 69 games with Class A Advanced Charlotte. Kelly, acquired by Tampa Bay from Seattle over the winter, had just two homers with the Stone Crabs but has gone deep seven times for Montgomery. The left-handed hitter has a .429 on-base percentage and .599 slugging mark with the Biscuits.
Racking up Ks:
The promotion of Birmingham's
Michael Kopech
to Triple-A opens up the Southern League strikeout title for Pensacola's
Deck McGuire
, who already led the circuit with a 2.63 ERA. McGuire, 28, moved into a tie with Kopech with 155 strikeouts in 157 1/3 innings and potentially has two more starts remaining. The former first-round Draft choice by Toronto has a 9-8 record and is second in the league with a 1.08 WHIP in his first year in the Cincinnati organization. The right-hander has had bad luck lately, getting four no-decisions and a loss in his past five starts.
Back on track:
Mississippi catcher
Alex Jackson
, Atlanta's No. 17 prospect, was 1-for-23 in his first seven games after being promoted from the Class A Advanced Florida State League, casting a shadow on his previously bright first season in the Braves system. But the former first-round pick by Seattle was 16-for-43 with two homers and 12 RBIs in his next 10 games to get back on track. Jackson, 21, had 20 doubles, 16 homers and 58 RBIs in 83 games overall, posting a .269/.332/.480 line. Jackson, the sixth overall pick in the 2014 Draft, is making the transition back to his high school position after playing the outfield for three seasons with the Mariners
Waiting for No. 1:
Mobile first baseman
Matt Thaiss
, the Angels' No. 3 prospect, had a .316/.416/.404 line since his promotion from the Class A Advanced California League but didn't hit a homer in his first 37 games with the BayBears. The Angels' first-round pick in the 2016 Draft out of the University of Virginia hit six homers in 67 games between Rookie ball and Class A last year, and eight for Inland Empire in 84 games this year. Thaiss, 22, had 12 doubles and 21 RBIs for Mobile. The left-handed hitter was converted from catcher to first base by the Angels.
Guy Curtright is a contributor to MiLB.com.