Prospect Roundup: Games of July 8
Giants' Bart, Orioles' Mountcastle continue to slug Sunday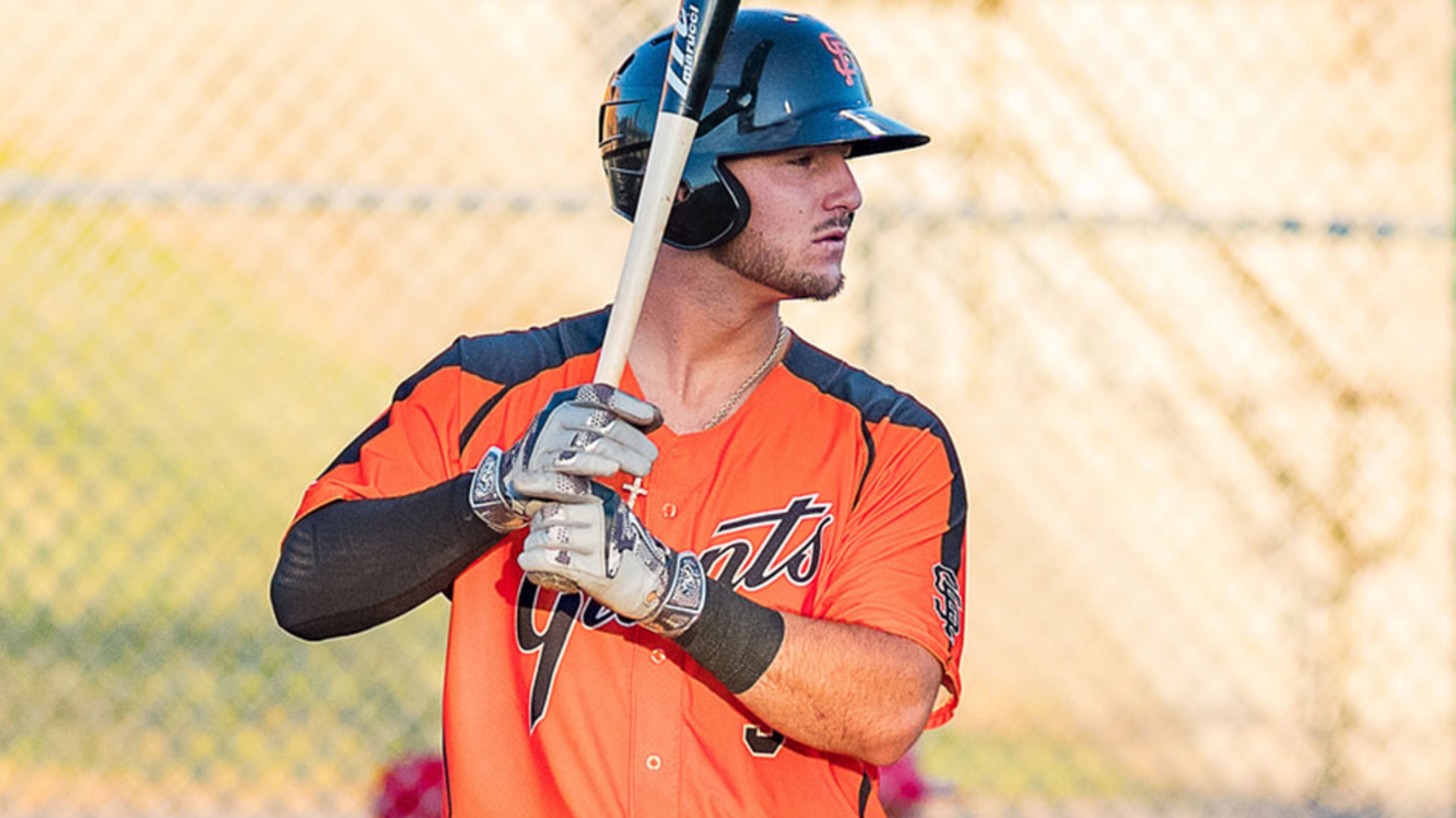 Joey Bart played six games in the Arizona League before moving up to Class A Short Season Salem-Keizer. (Freek Bouw/Phrake Photography)
Theme of the dayBeads? Bees. Beads? Bees. Beads? Corpus Christi's not on board: Sunday provided one of the wackiest delays of the 2018 season. A swarm of bees overtook the Double-A Corpus Christi dugout just before first pitch, causing an 85-minute delay. Someone should have told them Triple-A Salt Lake
Theme of the day
Beads? Bees. Beads? Bees. Beads? Corpus Christi's not on board:
Sunday provided one of the wackiest delays of the 2018 season.
A swarm of bees overtook
the Double-A Corpus Christi dugout just before first pitch, causing an 85-minute delay. Someone should have told them Triple-A Salt Lake has Bees in the dugout and bullpen and even on the field all the time, and that club has never had an issue.
Who stayed hot
Giants C Joey Bart, Class A Short Season Salem-Keizer: 3-for-5, HR, 2B, 3 RBI, 3 R, K --
The 2018 No. 2 overall pick is doing just fine in pro baseball. Four days after homering twice in his Salem-Keizer debut, Bart notched another three-hit game and added another dinger in the process. (Full disclosure: he went 0-for-9 over the two games in between.) Over his first 10 games in pro ball between Salem-Keizer and the Arizona League, the Georgia Tech product is 12-for-42 (.286) with half of those hits going for extra bases. The Giants grabbed Bart with their first pick because of the potential he shows both at and behind the plate, and so far, his power has had no issues translating to the Minor Leagues.
Who needed this one
Padres RHP Cal Quantrill, Double-A San Antonio: 6 1/3 IP, 4 H, 1 R, 1 ER, 4 BB, 3 K, 104 pitches, 57 strikes --
There's something to be said for consistency, but when consistency involves giving up four earned runs in three straight starts, it loses its allure. The
Padres' No. 4 prospect
had allowed 12 earned runs over his previous 14 innings entering Sunday and saw his ERA jump from 3.94 to 4.52 as a result. Although he walked more batters than he struck out, Quantrill bounced back nicely against Arkansas, the same team he faced six days earlier, to bring that number back down to 4.32. His 3.73 FIP and 44.4 percent groundball rate -- both bests for the right-hander with a full-season affiliate -- do a better job of quantifying how solid Quantrill has been, but his stock is slipping because he hasn't missed as many bats as expected, having fanned 88 batters over 98 frames.
The unexpected
Brewers RHP Marcos Diplan, Double-A Biloxi: 6 1/3 IP, 4 H, 0 R, 1 BB, 10 K, 97 pitches, 65 strikes --
The Brewers' No. 11 prospect dominated with his longest outing of the season and tied his 2018 best with 10 K's, matching the amount he collected in his first two appearances combined. But what was astounding was the fact that he achieved all that while showing much-improved control. Dating back to 2016, Diplan had averaged 5.0 BB/9 over 230 1/3 career innings at Class A Advanced, but he's issued only one free pass in two of his three Biloxi starts so far. The 21-year-old right-hander has received good marks for his fastball and slider, and those two offerings allow him to post strikeout-heavy outings. His control had been the only thing holding him back, and if that improves, the Brewers might have another special starting-pitching prospect.
Best matchup
Triston McKenzie vs. Luigi Rodriguez:
Now that he's fully healthy, McKenzie's starts for Double-A Akron are becoming must-follows. On Sunday, he was tested by Richmond leadoff hitter
Luigi Rodriguez
, who ranks ninth in the Eastern League with an .861 OPS and will head to the circuit's All-Star Game on Wednesday. The Indians' No. 2 prospect passed with flying colors, getting Rodriguez to strike out swinging in the first and third innings and getting him to pop out to second base in the fifth. McKenzie finished with one earned run allowed on two hits and two walks while fanning six over six innings, but the Flying Squirrels downed the RubberDucks, 2-1. The two sides won't have to wait long after the All-Star break to see each other next; Akron hosts Richmond from July 19-22.
Who strengthened their promotion case
Orioles 3B Ryan Mountcastle, Double-A Bowie: 2-for-3, HR, 3 RBI, 2 R, BB, K --
It's going to be a big week for the O's top prospect, who is scheduled to participate in the Eastern League All-Star Game in Trenton on Wednesday and in the All-Star Futures Game in Washington on Sunday. With his two hits Sunday, Mountcastle is now riding a 12-game hitting streak, and he pushed his season line to .316/.366/.509 through 57 games with Bowie. After missing all of April with a broken hand, the 21-year-old third baseman has seen his OPS climb each month since, showing significant improvements over last season, in which he hit just .222 with a .605 OPS. Though he'd be young for the level, the 2015 first-rounder is pushing for a promotion to Triple-A Norfolk.
Sam Dykstra is a reporter for MiLB.com. Follow and interact with him on Twitter, @SamDykstraMiLB.