Prospect Roundup: Games of May 7
Brewers' Hiura collects more hits; Mets' Peterson polishes gem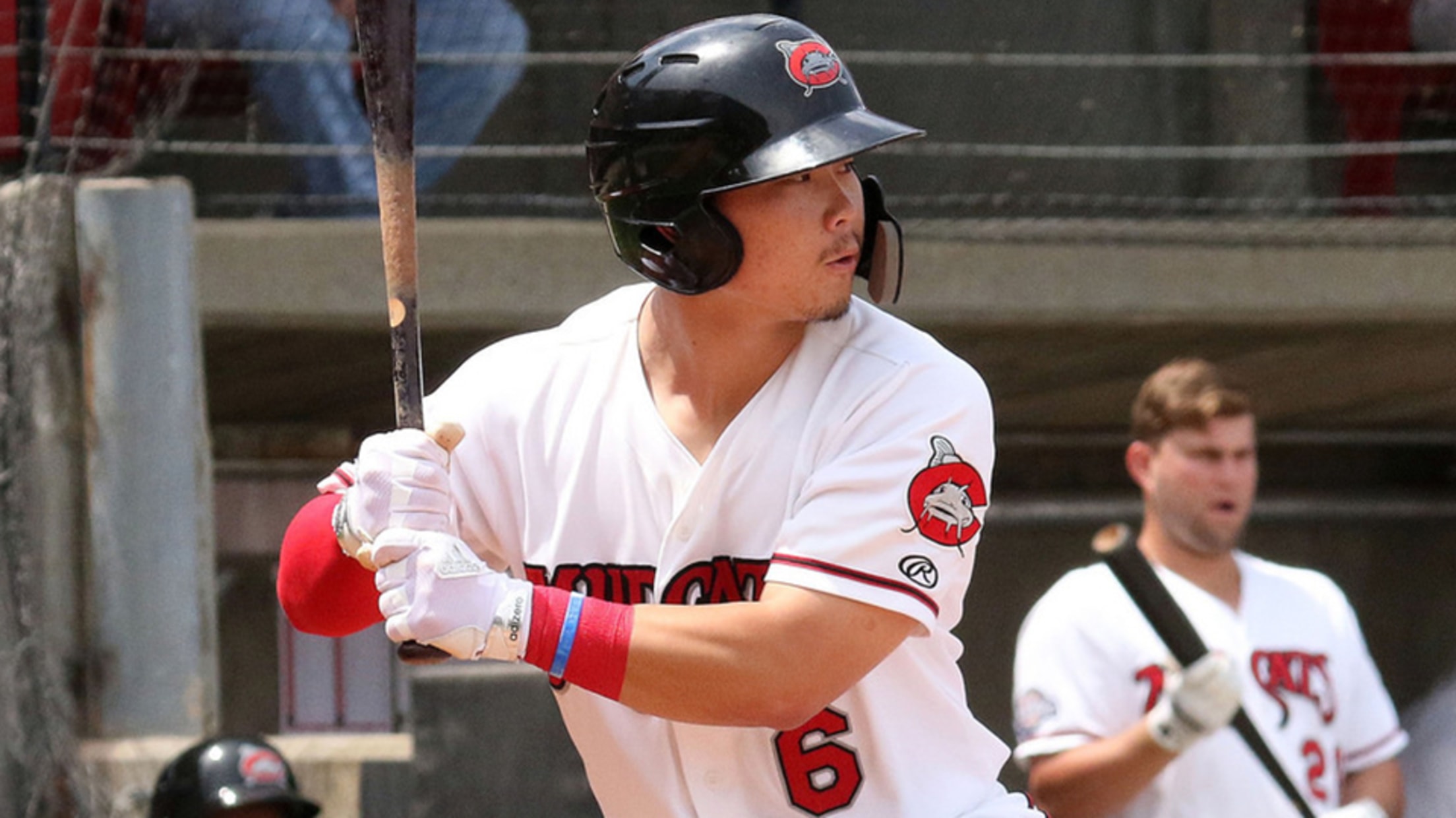 Keston Hiura owns a .337 batting average over 70 career games in the Minors dating back to last season. (Carl Kline/MiLB.com)
Theme of the dayLet's talk about Vlad:Vladimir Guerrero Jr. was already becoming a viral sensation Monday when he hit an opposite-field home run off the tee in front of MLB Network cameras. How did he follow that up? With two homers that actually counted, including one that hit the hotel
Theme of the day
Let's talk about Vlad:
Vladimir Guerrero Jr.
was already becoming a viral sensation Monday when he hit an opposite-field home run off the tee in front of MLB Network cameras. How did he follow that up? With two homers that actually counted, including one that
hit the hotel
beyond the left-field fence at Northeast Delta Dental Stadium. (More on that in Chris Bumbaca's story
here
.) Whenever the
Blue Jays' top prospect
steps up to the plate, it's becoming must-watch stuff. The 19-year-old third baseman is hitting .398/.453/.673 with 16 extra-base hits, 12 walks and 12 strikeouts in 25 games with the Fisher Cats. Despite his age, a more challenging assignment can't be too far away, so look out International League-area places of lodging.
Who stayed hot
Brewers 2B Keston Hiura, Class A Advanced Carolina: 2-for-5, HR, 2B, RBI, 2 R, 2 K --
On April 25th, the Brewers' top prospect had a .180 average and .517 OPS. Following Monday's performance, Hiura is up to .288 and .805 after hitting .404/.433/.684 with three homers and seven doubles in his last 13 games. That's much more characteristic of the 2017 ninth overall pick, who many believed had the best hit tool in last year's Draft. Defense remains a question with Hiura -- he's played DH exclusively for Carolina due to worries about his elbow -- but his bat is real and spectacular.
Who needed this one
Brewers RHP Freddy Peralta, Triple-A Colorado Springs:
5 IP, 2 H, 0 R, 3 BB, 8 K, 94 pitches, 57 strikes -- The Brewers' No. 9 prospect posted a 1.29 ERA through his first four Pacific Coast League starts but saw it jump to 4.25 after yielding a combined 11 earned runs over 8 2/3 innings in his next two outings. He got back on track at Oklahoma City, setting a new season high with eight strikeouts in his third scoreless appearance of 2018. The 21-year-old right-hander's 31.1 percent strikeout rate is tops in the PCL while his 3.11 FIP ranks fourth. Peralta has three above-average pitches in his fastball, slider and changeup, but has struggled with his control. Despite his 17 walks in 34 2/3 innings, he's getting more than enough whiffs to thrive in Triple-A.
The unexpected
Braves RHP Kyle Wright, Double-A Mississippi: 5 2/3 IP, 8 H, 5 R, 5 ER, 4 BB, 8 K, 97 pitches, 54 strikes --
The Braves have been aggressive in pushing their prospects, and Wright was no exception, jumping right to Double-A in his first full season out of Vanderbilt. But unlike the success stories of
Ronald Acuña Jr.
,
Mike Soroka
and others, Wright has struggled with the tough assignment. The 22-year-old right-hander has posted a 4.94 ERA, 1.55 WHIP and .271 average-against in 31 innings with the M-Braves. At No. 29 overall, Wright is the Braves' top-ranked pitching prospect, and with four above-average pitches, he was expected to rise quickly. That doesn't appear to be the case for now, but player development isn't always linear, and the lessons the right-hander learns from these struggles should help him in the long run.
Best matchup
Dane Dunning vs. Shed Long:
Coming off a scoreless six-inning outing in his second start with Birmingham, MLB.com's No. 89 overall prospect faced a big test in Long, the No. 5 prospect in the Reds system. Dunning struck out the the left-handed hitter on three pitches in the first inning and got him swinging on four offerings in the third. Long had his revenge on the right-hander with a leadoff double the other way to left in the fifth. Fans in Birmingham were robbed of a chance to see the two meet a fourth time when Dunning was pulled with two outs in the sixth and Long coming to the plate with two runners on base. The double was Long's only hit of the night, and he's now batting .311 with an .829 OPS in 27 games. Dunning was charged with three earned runs on 10 hits and two walks and fanned six over 5 2/3 innings in a no-decision. Pensacola and Birmingham don't face each other again, so if Dunning and Long are going to see each other again in 2018, it might have to take place at Triple-A when Charlotte hosts Louisville from Aug. 16-19.
Who strengthened their promotion case
Mets LHP David Peterson, Class A Columbia: 7 IP, 3 H, 0 R, 1 BB, 8 K, 76 pitches, 55 strikes --
The Mets have taken a cautious approach, sending Peterson, a 2017 first-rounder who is also coming out of college (Oregon), to Class A. Peterson has responded with impressive results in his first four starts, none more so than latest against Lakewood. The 6-foot-6 left-hander completed seven innings for the first time as a pro and did so efficiently, needing only 76 pitches. His eight strikeouts also represent a new career high, trumping the six he collected in his previous start. After opening the season in extended spring training with a minor injury, Peterson has put up a 2.28 ERA with 21 strikeouts and eight walks in 23 2/3 innings with the Fireflies. With his four-pitch mix and special control, the Mets' No. 2 prospect probably isn't too far from a promotion to Port St. Lucie.
Others of note
Twins SS Royce Lewis, Class A Cedar Rapids: 3-for-5, SB --
The Twins' top prospect is 11-for-21 through five May games and is hitting .372/.417/.423 in 19 games overall. The power hasn't arrived -- only two of his 29 hits have gone for extra bases -- but with 10 steals, it's been a fantastic start to the 2017 No. 1 overall pick's first full season.
Mets SS Luis Guillorme, Triple-A Las Vegas: 2-for-5, HR, 3B, 3 RBI, 2 R --
The Mets' No. 10 prospect hit his first homer and his first triple of 2018 in a 10-8 win at Salt Lake, giving him his sixth straight two-hit game and extending his overall hitting streak to nine games. In that stretch, he's gone 15-for-33 (.455) with five extra-base hits and only six strikeouts. The 23-year-old shortstop, who is known primarily for his glove, is putting himself on New York's radar with this offensive run.
Tigers OF Christin Stewart, Triple-A Toledo: 3-for-4, HR, 2B, 2 RBI, R --
The Tigers' No. 10 prospect moved into a tie for the International League lead with
Dylan Cozens
with his seventh home run of the season. His .608 slugging percentage and .998 OPS each rank second in the circuit.
Rockies RHP Peter Lambert, Double-A Hartford: 6 IP, 6 H, 0 R, 2 BB, 6 K, 93 pitches, 63 strikes:
This was the third scoreless appearance in six 2018 starts for the Rockies' No. 5 prospect. He's posted a 1.83 ERA and 1.17 WHIP with 31 strikeouts in 34 1/3 innings.
Sam Dykstra is a reporter for MiLB.com. Follow and interact with him on Twitter, @SamDykstraMiLB.