Prospect Roundup: Games of May 8
A's Fowler mashes before callup; Phils' Medina back on track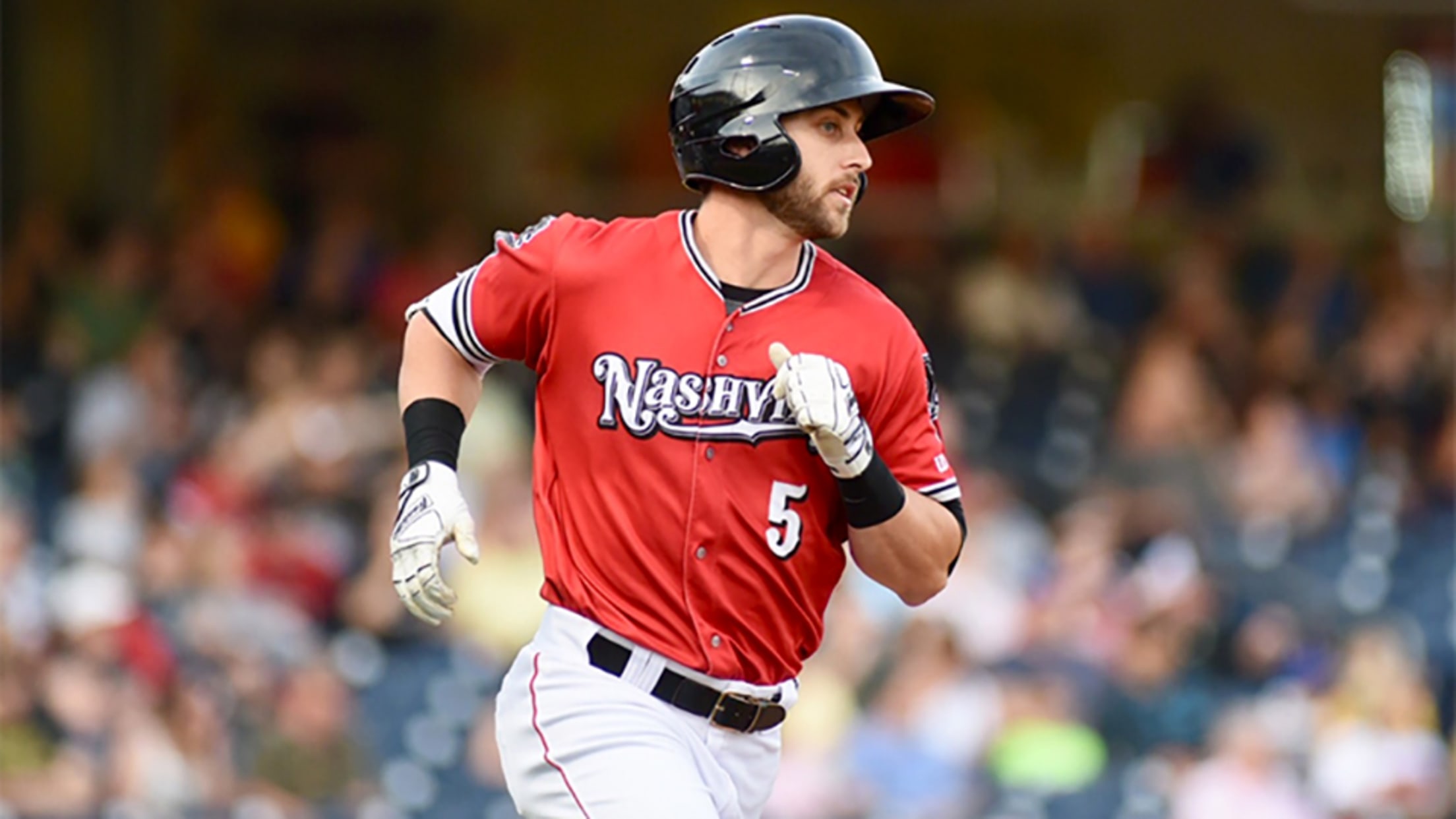 Dustin Fowler collected 13 extra-base hits in 30 games with Nashville before his promotion to Oakland. (Bobby Stevens/MiLB.com)
Theme of the nightNo stopping Eloy: What's it going to take? MLB.com's No. 4 overall prospect homered as part of his eighth straight multi-hit game for Double-A Birmingham. He's gone 17-for-36 (.472) with three homers and five doubles in that span. Any time any Minor Leaguer goes on a run
Theme of the night
No stopping Eloy:
What's it going to take?
MLB.com's No. 4 overall prospect
homered as part of his
eighth straight multi-hit game
for Double-A Birmingham. He's gone 17-for-36 (.472) with three homers and five doubles in that span. Any time any Minor Leaguer goes on a run like this it should grab everyone's attention, but coming from a top-five prospect who was already known as one of the Minors' most powerful hitters makes it particularly special. A promotion to Triple-A Charlotte, which has a real hitter's park, can't be too far away.
Who stayed hot
Angels OF Brandon Marsh, Class A Burlington: 3-for-4, 2 2B, 3 RBI, R, BB --
No. 2 Angels prospect
Jo Adell
got plenty of attention for
his four-hit performance
in his return from the disabled list, but his teammate added three hits of his own. Marsh, the Angels' No. 5 prospect, is now hitting .327/.423/.538 in his first 28 games with Burlington. On a loaded roster, Marsh's 161 wRC+ is tops among qualified Bees hitters, and a noted improvement over his still-impressive 125 wRC+ with Rookie-level Orem last season. With speed and a good arm in the outfield, Marsh could give Adell a run for his money as the Angels' most well-rounded outfielder. Well, Minor League outfielder.
Who needed this one
Phillies RHP Adonis Medina, Class A Advanced Clearwater: 7 IP, 4 H, 1 R, 1 ER, 2 BB, 5 K, 91 pitches, 60 strikes --
MLB.com's No. 86 overall prospect began the season with 5 1/3 scoreless innings on April 6 but has struggled ever since. He entered Tuesday's game with a 5.66 ERA and 1.65 WHIP through his first five starts with the Threshers. But the 21-year-old right-hander found his form at Lakeland, setting a new season high for both innings and pitches thrown. Medina jumped into the top-100 discussion last season with added velocity that helped him strike out 133 batters in 119 2/3 innings at Class A Lakewood. His strikeout rate (21 in 27 2/3 innings) is down in the Florida State League, even after Tuesday's gem, but he's returning to his bread and butter of living on the ground. Nine of his 21 outs recorded Tuesday were groundouts.
The unexpected
Orioles OF D.J. Stewart, Triple-A Norfolk: 2-for-5, HR, 4 RBI, R, 2 BB, K, 2 SB --
This comes from the good folks at
MLB Pipeline
: there have been only 10 Major Leaguers since 1908 with at least two hits, one homer, four RBIs, two walks and two stolen bases in a game, and only one of those did so in the last 20 years -- Alex Rodriguez. Getting Minor League data on the feat is much more difficult, but it puts Stewart's performance into context. The homer and all four of the RBIs came on a grand slam in the ninth inning of the Tides' 13-0 win at Durham. It's a garbage-time feat, but a feat nonetheless. The O's No. 13 prospect is hitting .256/.337/.389 with three homers and four steals in 25 games.
Best matchup
Freicer Perez vs. Taylor Trammell:
In another system, Perez, who can hit the upper-90s and has shown an above-average curveball and changeup, would be a standout pitching prospect. With the Yankees, he's just the fifth-ranked arm on the farm. He's had trouble in his first season with Tampa, posting a 7.20 ERA with 20 strikeouts and 19 walks in 25 innings so far, and Trammell didn't make things any easier for him. MLB.com's No. 42 overall prospect walked on eight pitches in a tough plate appearance in the first inning and then hit an RBI double to right in a five-pitch at-bat in the third. (He would later be caught trying to steal third base.) Perez was chased from the game in that frame and finished with three earned runs on six hits and three walks in just 2 2/3 innings while Trammell went 1-for-3 with the two-bagger to push his season OPS to .923. Tampa and Daytona don't cross paths again until Aug. 17..
Who strengthened their promotion case
Athletics OF Dustin Fowler, Triple-A Nashville: 2-for-4, HR, 2B, 2 RBI, R, 2 K --
The No. 5 A's prospect has had some rough games -- he was 0-for-8 with six strikeouts in his previous two games -- but this latest performance was not one of them. Fowler continued to pile up extra-base hits in bunches with two more in a 9-3 loss and is now 16-for-39 (.410) with two homers, three triples and four doubles in his last nine games. The A's called up the outfielder Wednesday morning.
Others of note
Braves LHP Kolby Allard, Triple-A Gwinnett: 6 IP, 8 H, 1 R, 1 ER, 3 BB, 2 K, 92 pitches, 55 strikes --
A bend-but-don't-break performance from the Braves' No. 6 prospect. He now owns a 2.12 ERA and 1.24 WHIP with 24 strikeouts in 34 innings to open his first season at Triple-A.
Indians RHP Elijah Morgan, Class A Lake County: 5 IP, 3 H, 0 R, 1 BB, 8 K, 85 pitches, 61 strikes
The gems keep coming for the Indians' No. 28 prospect. Despite having below-average velocity, Morgan leads the Midwest League with 50 strikeouts in 38 1/3 innings and ranks second with a 0.83 WHIP.
Giants OF Chris Shaw, Triple-A Sacramento: 2-for-4, HR, 2B, 2 RBI, 2 R --
The Giants' No. 2 prospect continues to show off his power in the Pacific Coast League. The home run was his ninth of the season, putting him in a three-way tie for fourth in the league.
Sam Dykstra is a reporter for MiLB.com. Follow and interact with him on Twitter, @SamDykstraMiLB.