Around the Minors: Opening Week
Sights and sounds from action across Minor League Baseball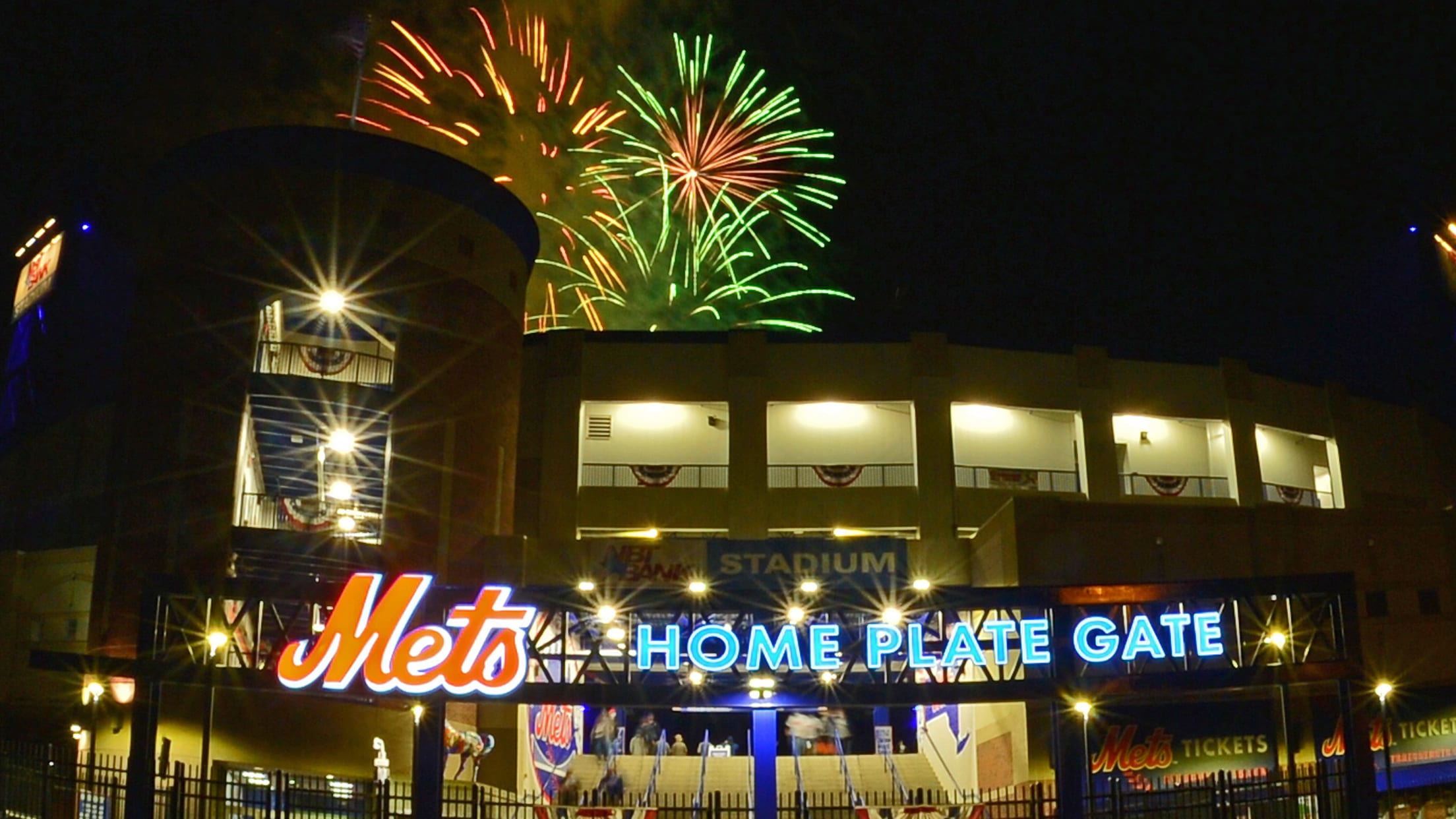 May 9 No pain, no gain Julio Rodriguez doesn't mind getting a bit banged up if the AquaSox come home with the victory. The No. 5 prospect in baseball picked up a triple, an RBI single and a couple of stolen bases en route to this one.
May 9
No pain, no gain Julio Rodriguez doesn't mind getting a bit banged up if the AquaSox come home with the victory. The No. 5 prospect in baseball picked up a triple, an RBI single and a couple of stolen bases en route to this one.
That left a mark🥴 but we got the W though so it's all good🤪 https://t.co/4zWsSV05qe

— Julio Y. Rodriguez🇩🇴🦁 (@J_RODshow) May 10, 2021
Who loves Inland Empire in springtime? Kyren Paris, the No. 6 Angels prospect, caps off a career-high four-hit afternoon with a walk-off for the 66ers.
Don't even think it
We've seen sixth-ranked Marlins prospect Jesús Sánchez hit this season -- he's batting .556 through six games for the Jumbo Shrimp. Now check out his arm.
Hopping to it
Top Arizona prospect Corbin Carroll smokes a triple, but heads-up baserunning gets him home for Hillsboro.
Funky hot Medina
The second straight scoreless outing for seventh-ranked Yankees prospect Luis Medina was filled with more strikeouts -- seven, to be exact.
Man on a Mission
San Diego's CJ Abrams, the No. 8 prospect in the game, delivers his first Double-A long ball for San Antonio.
History can be a four-man job
Triple-A Iowa's Shelby Miller, Tommy Nance, Brad Wieck and Ryan Meisinger combine forces for the first no-no of the Minor League season.
First no-hitter of the season goes to the @IowaCubs!

pic.twitter.com/Na9vjwAU89

— Minor League Baseball (@MiLB) May 9, 2021
May 9
Four years in the making
It's been four years since Sam Carlson took the bump and faced a live hitter in game action, but the Mariners' 25th-ranked prospect did just that for Low-A Modesto. The right-hander added an exclamation point on the moment by picking up his first strikeout since 2017 too.
Facing his first batter since 2017, @Mariners prospect @samcarlson33 notches a strikeout for Modesto. pic.twitter.com/gKGajzFaM5

— Minor League Baseball (@MiLB) May 9, 2021
The journey continues
Drew Robinson notched his first hit since returning to baseball. The 2010 fourth-round selection punched a single the other way in the third inning for Triple-A Sacramento.
Drew Robinson's (@Drewrobbb) inspirational story continues as he collects his first hit since returning to baseball.

The @SFGiants outfielder went the other way for @rivercats. pic.twitter.com/jERNGdHBEN

— Minor League Baseball (@MiLB) May 9, 2021
Mr. 1:1 returns
Mark Appel, the No. 1 overall pick in the 2013 Draft, returned to the mound for Double-A Reading. The Phillies hurler took an indefinite break from the game in February 2018.
.@Phillies' Mark Appel struck out four in his first official outing since 2017.https://t.co/KjuMht82GB pic.twitter.com/lUryJhx1MP

— Minor League Baseball (@MiLB) May 8, 2021
Passing the baton
Low-A Augusta scored eight runs in the top of the first inning and every batter but one contributed a hit, and every batter but one scored a run, but everyone in the starting lineup contributed at least one of those things in the frame. The GreenJackets also put up a seven spot before an out was recorded.
Soaring Cardinal
Nolan Gorman connected with his first Double-A homer -- a two-run shot the other way in the bottom of the third for Springfield -- on Saturday. MLB Pipeline's No. 32 overall prospect went yard 15 times across two levels of the Minors in 2019.
Here's to you Mr. Robinson
A little over a year since he lost an eye as he tried to take his life, Drew Robinson returned to baseball on Friday. On Saturday, the Giants outfielder singled to left for Triple-A Sacramento for his first hit since his inspirational return.
May 7
Rocketsss City
Orlando Martinez secured the first milestone of the Minor League season with three home runs for the Trash Pandas. The Angels' No. 17 prospect had not previously registered a multi-homer game.
Up by two touchdowns
Dunedin and Tampa combined for 35 runs on 33 hits in a Low-A Southeast showdown. Six players across the two teams got at least three hits.
Things got a little wild in the Low-A Southeast 😮

📦 https://t.co/IXFftublkF pic.twitter.com/enz6PlLYmT

— Minor League Baseball (@MiLB) May 8, 2021
Doubling down
Christian Lopes has had two at-bats in 2021 with Triple-A Reno, and both ended with the ball in the seats for the D-backs prospect. The 28-year-old clubbed 13 dingers in 2019 between Double-A Frisco and Triple-A Nashville.
Christian Lopes:
2nd AB of 2021 ✅
2nd HR of 2021 ✅ https://t.co/zzRjXOrnwL pic.twitter.com/54d6QJ8qhm

— Reno Aces (@Aces) May 8, 2021
Tulsa Droners
The Sod Poodles-Drillers game had an unexpected flyover when a drone visited the ballpark. After a 14-minute delay, the game was able to get back on track.
Ladies and gentlemen... a drone delay. pic.twitter.com/gsySgpgAdc

— Tulsa Drillers (@TulsaDrillers) May 8, 2021
RBI machine
Rangers' sixth-ranked prospect Luisangel Acuña now has seven RBIs through his first four games for Low-A Down East after clobbering a two-run moonshot against Kannapolis.
Ronald Acuña Jr. has 22 RBI in his first 30 games this year. Little brother Luisangel now has seven in his first four games for @GoWoodDucks.

Here's a look at the @Rangers' No. 6 prospect: https://t.co/OwtrBUfMwG pic.twitter.com/bR27yUDXP5

— MLB Pipeline (@MLBPipeline) May 8, 2021
Powering up
Jo Adell blasted off for his first dinger of the season with Triple-A Salt Lake on Friday night. The 2017 No. 10 overall pick went yard three times with the Angels last season.
Flashing the leather
Everyone knows about Austin Martin's bat, but MLB Pipeline's No. 18 overall prospect also boasts a 50-grade fielding tool which he had on display here at short with Double-A New Hampshire.
Austin Martin: also good at shortstop pic.twitter.com/P83hA5qIGM

— New Hampshire Fisher Cats (@FisherCats) May 8, 2021
May 6
Living up to the hype
Jarred Kelenic's Triple-A debut with Tacoma was twice as good as anyone could have expected. The game's No. 4 prospect went yard off lefty Nick Ramirez and righty Mason Thompson.
'Welcome back, Espy!'
After multiple Tommy John surgeries, Anderson Espinoza whiffs the first batter he faces for High-A Fort Wayne -- his first action since 2016.
To be continued...
Bowie was thrilled by Adley Rutschman's first homer at the Double-A level. And almost as excited when it was later followed by his first double there.
We could watch @RutschmanAdley's first Double-A home run all night. pic.twitter.com/rLVlahNU8M

— Bowie Baysox (@BowieBaysox) May 6, 2021
Preserving history
The inaugural homer by a Double-A Rocket City player -- Matt Jones' solo shot in the first game of Thursday's doubleheader -- is in protective custody.
Our Clubhouse Manager, Bubba Hearn, is the MVP of @trashpandas thus far. pic.twitter.com/ptWMT8d6YI

— Josh Caray (@BigPoppaPanda) May 7, 2021
Jitters be gone
After running into trouble in the first, Nick Lodolo settled in for the rest of his first Lookouts start. The top Reds prospect sat down 12 straight and whiffed 10 over five frames.
What's he going to do for an encore?
In the first inning of his first professional start, Marlins lefty Jake Eder struck out four for Double-A Pensacola. Yes, four.
Let's keep it clean
Making his first Low-A appearance, Cleveland left-hander Andrew Misiaszek came out of the bullpen with an immaculate inning. He pitched two hitless frames overall, walking one and fanning five.
A great oppo-rtunity
Adley Rutschman hits the first pitch he sees in the game out for his first Double-A homer with Bowie.
May 5
Twice as much fun
When Twins' No. 19 prospect Jose Miranda launched a two-run homer against Springfield, it not only was his first Double-A homer, but the first in Wind Surge history.
He's already making history
It would be a massive understatement to say Hunter Greene brought the heat in his first start for Double-A Chattanooga.
Hunter Greene threw 37 pitches over 100mph. Most ever by a starter in a @MiLB or @MLB game since the statcast era began in 2015. WOW! 🔥🔥🔥 pic.twitter.com/OkitTXcZwl

— Chattanooga Lookouts (@ChattLookouts) May 6, 2021
It was only a matter of time
Bobby Witt Jr., the No. 7 prospect in the game, drops one in for his first hit of the season for Double-A Northwest Arkansas.
Playing the role of spoiler
Down to the last strike in the Double-A Smokies' five-pitcher no-hit bid, Rene Pinto crushed a ball to change the Biscuits' fortunes.
The grand openings
The Double-A SeaWolves belted homers with the bases loaded twice for the first time in their history. Josh Lester lofted a grand slam in the third and the Tigers' No. 2 prospect Riley Greene followed suit in the ninth.
GRAND SLAM RILEY GREENE! 14-2 SeaWolves in the ninth! Two grand slams tonight for the 'Wolves. pic.twitter.com/rcPlouyX7b

— Erie SeaWolves (@erie_seawolves) May 6, 2021
The first of many
Asa Lacy, the fourth overall pick in the 2020 Draft, started off his pro career by striking out the side for High-A Quad Cities. The No. 3 Royals prospect allowed four runs but posted five whiffs in 2 1/3 innings before exiting the game.
Talk about a perfect afternoon
Miami's No. 6 prospect Jesús Sánchez delivered a career-high five-hit performance, finishing a double shy of the cycle. After two games, he's 7-for-10 for Triple-A Jacksonville.
Has it been that long? Charleston and Myrtle Beach take first things second during matinee action in the Low-A East.
"Ladies and gentlemen, this is why I love Minor League Baseball."@ChasRiverDogs and @Pelicanbaseball were so eager to get things going that they skipped over the national anthem.

"The Star-Spangled Banner" came in the middle of the first inning instead. https://t.co/w12ZTWZfWy

— Minor League Baseball (@MiLB) May 5, 2021