Minors clubs to light up Fourth with charity efforts
Without baseball, teams looking to make Independence Day count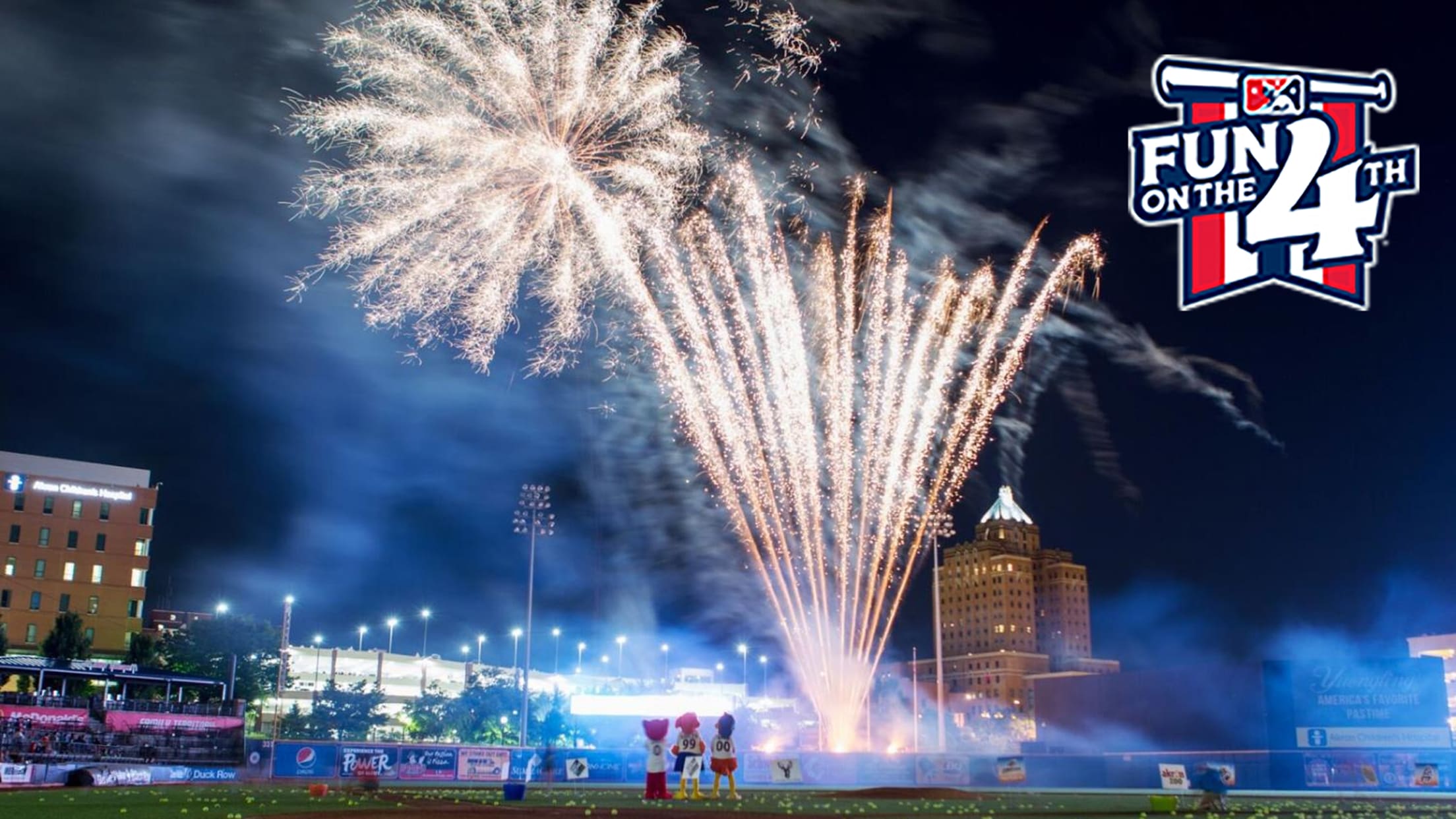 With precautionary measures in place, the Akron RubberDucks will welcome a smaller-than-usual crowd into Canal Park on Saturday.
In a season without precedent, it's still possible to make tradition count for something. This Independence Day weekend, several teams across the Minors are finding safe ways to enjoy the holiday with their respective communities as part of #MiLBFunOnThe4th, all the while contributing to local nonprofit organizations during a time
In a season without precedent, it's still possible to make tradition count for something. This Independence Day weekend, several teams across the Minors are finding safe ways to enjoy the holiday with their respective communities as part of #MiLBFunOnThe4th, all the while contributing to local nonprofit organizations during a time of economic hardship.
On Tuesday, due to the COVID-19 pandemic and its widespread effects, Minor League Baseball officially announced the cancellation of the 2020 season. On Saturday, the Double-A RubberDucks nonetheless will be at the center of the (socially distanced) action in Akron, Ohio. There won't be a baseball game, but the RubberDucks are typically on the road for Independence Day anyway.
"Every year, we haven't been home. Usually, we're home on July 3," RubberDucks general manager Jim Pfander said.
But that doesn't mean the ballpark has been empty on July 4.
"I remember being here when I moved back to Akron in 2013 and seeing the ballpark dark and everybody outside the stadium. ... There would be lawn chairs lined up on the sidewalks," Pfander said. "Everybody was out on the block outside the ballpark, but not at the ballpark. I kept thinking this would be a great way to be do something with the community. We are the community's park, so to have everybody in only made sense."
And so, the team began a holiday tradition. On the Fourth of July, Cleveland's Eastern League affiliate opens its gates for not one, but two shows. The finale belongs to the City of Akron's fireworks. Before the sky is alight with pyrotechnics, though, fans are treated to a motion picture. This year's double spectacle will be a little bit different on both ends.
"We still want to do this event that everybody knows and loves," Pfander said. "This year, not as many people are going to be allowed to come. It's going to be limited, but we're still going to do it."
On a Saturday night benefit for the United Way of Summit County, the RubberDucks will screen "Frozen 2," opening Canal Park to a fraction of their typical Fourth of July crowd. Admission will be capped at 2,000, with strictly designated seats and blocked off areas to ensure plenty of space for each party. Those in attendance will have a view, as usual, of a fireworks display. But that'll also be much smaller.
"The City of Akron also usually has one main [pyrotechnics] shoot, but this year they're going to have five shoots in all different neighborhoods," Pfander explained. "The people in this area can still come down and use the stadium [for the shoot here]."
The event's reach will extend far beyond those who are able to attend.
"The United Way of Summit County is awesome. They were the beneficiary of this event last year, and they've been a big partner with us," the RubberDucks GM said. "In March, when all this was starting, we created QuAkron Cares, which is a program that we use to help raise money for COVID relief funds. ... I believe that we're going to be able to do a check presentation to some of their staff [on Saturday] for the COVID fund and a portion of the proceeds from the night."
As eager as the club is to deliver such an event both for their fans and the benefit of the United Way of Summit County, getting it onto the calendar was no sure thing. A few months ago, Pfander thought the club would be forced to skip it this year. But in working with the offices of Akron Mayor Daniel Horrigan and Ohio Governor Mike DeWine, Pfander was satisfied he and his staff could pull off the event in a safe environment.
"Fans will be required to wear face coverings as they enter and to sanitize their hands, and we'll have sanitize stations all over," he said. "And it's going to be socially distanced. It's going to look a lot different than previous years, but we're excited to be able to do it."
Some 45 miles up the road, the Indians' Class A affiliate also is raising funds, some of which likely will make their way to another United Way chapter, in addition to contributing to other important causes. The Captains host an annual Independence Day 5K race which raises money for their in-house nonprofit organization, Captains Charities.
"We get grant requests, and there are lots of things in our county or Northeast Ohio [that receive funding]," said Captains GM Jen Yorko. "And some of [the charity] goes through United Way of Lake County. It helps with youth sports, and we also give to the Lake Health Foundation -- our local hospital system that provides care for those who can't afford it or doctors' equipment -- or all kinds of different things that help in our community. We look for where we can make the biggest impact locally."
In a typical year, Lake County's race welcomes as many as 1,000 runners. In 2020, it's going to be significantly less than half that number, with groups of 50 spaced out over varied starting times to create a socially distanced race.
"They're going to have enough space to kind of distance them -- more than enough room to make sure people can keep their distance and run without being side by side with anybody else," Yorko said. "And we'll have no big awards ceremonies or anything like that. In years past, there were burgers and beers and a big thing [after the race], but this year, you get a popsicle at the finish, and we'll be announcing the winners online later.
"This is going to be the first live run in the area ... so we really want to go by the book and make sure it's safe so that other runs can happen. We've been working with the Lake County Health Department pretty closely, and we're also touching base with the city. ... We're working with the local police department to close a lane of traffic to provide space for the run."
Meanwhile, in Iowa, the Clinton LumberKings are fully engaged in a two-day event raising money for the Friends of Riverview Stadium. The nonprofit entity is dedicated to keeping the publicly owned home of the Marlins' Class A affiliate in good shape, therefore ensuring a future for Minor League Baseball in town.
The LumberKings' festivities also will be a pandemic-adjusted variation of an annual tradition. On Friday, the team is slated to host a concert featuring the locally beloved band Bowman, Pickney & Evans, just as it does every year. On Saturday, fans will be able to play carnival-esque games and watch a fireworks show, also just as they do every year.
But all in all, it's going to be a lot different. For one thing, the Clinton nine usually takes to the diamond to go head-to-head with a Midwest League rival before a single peony is shot into the night sky. This year, of course, there is no Clinton nine and there will be no baseball game.
"It's going to be slimmed down," LumberKings GM Ted Tornow admitted, noting pre-fireworks entertainment options will be limited to socially distanced attractions (think axe-throwing booth). And the Clinton staff already has arranged the third-base side of the stadium into a picnic area that can hold a large number of carefully spaced people.
"We've figured we're going to get 500 people, 550 people into that area. ... And in the seating... we can have 450, with caution taping over rows and rows, and leave these four open, and 6 feet of this and 6 feet of that…"
The club is prepared to add capacity without reducing safety by drawing circles for seats on the outfield grass. If it sounds like the LumberKings have the spacing down to a science, that's partially because the club has already hosted 13 socially distanced events, from concerts to high-school baseball games to a luncheon. Tornow has encouraged advance ticket sales for both weekend events so the team knows how big a crowd to expect. Whatever the turnout, the club is eager to help Friends of Riverview stay afloat in a lost season.
In Oklahoma, the Double-A Tulsa Drillers will host two days of high-school baseball to benefit the Tulsa Area Baseball Coaches Association, with COVID-19 restrictions and limitations in effect. In Pennsylvania, the Triple-A Lehigh Valley IronPIgs will have two nights of drive-in fireworks, raising money for IronPigs Charities in the process, and the Class A Short Season State College Spikes' socially distanced fireworks show will double as a food drive.
It isn't going to be a "normal" Independence Day anywhere, but Minors teams just about everywhere are working to make it a decent one.
"You can't have the Fourth of July without some kind of celebration of some sort. We need that," Tornow said. "So if we can bring a little laughter with 22 or 23 minutes of fireworks ... if we can make somebody smile and have a grandfather and grandkids get together -- socially distanced, safely -- and leave out of here having had a good time, mission accomplished. Baseball game or not."
Josh Jackson is an editor for MiLB.com. Follow and interact with him on Twitter @JoshJacksonMiLB.