Missed Chances Cost Bees
Manoah allows one run in loss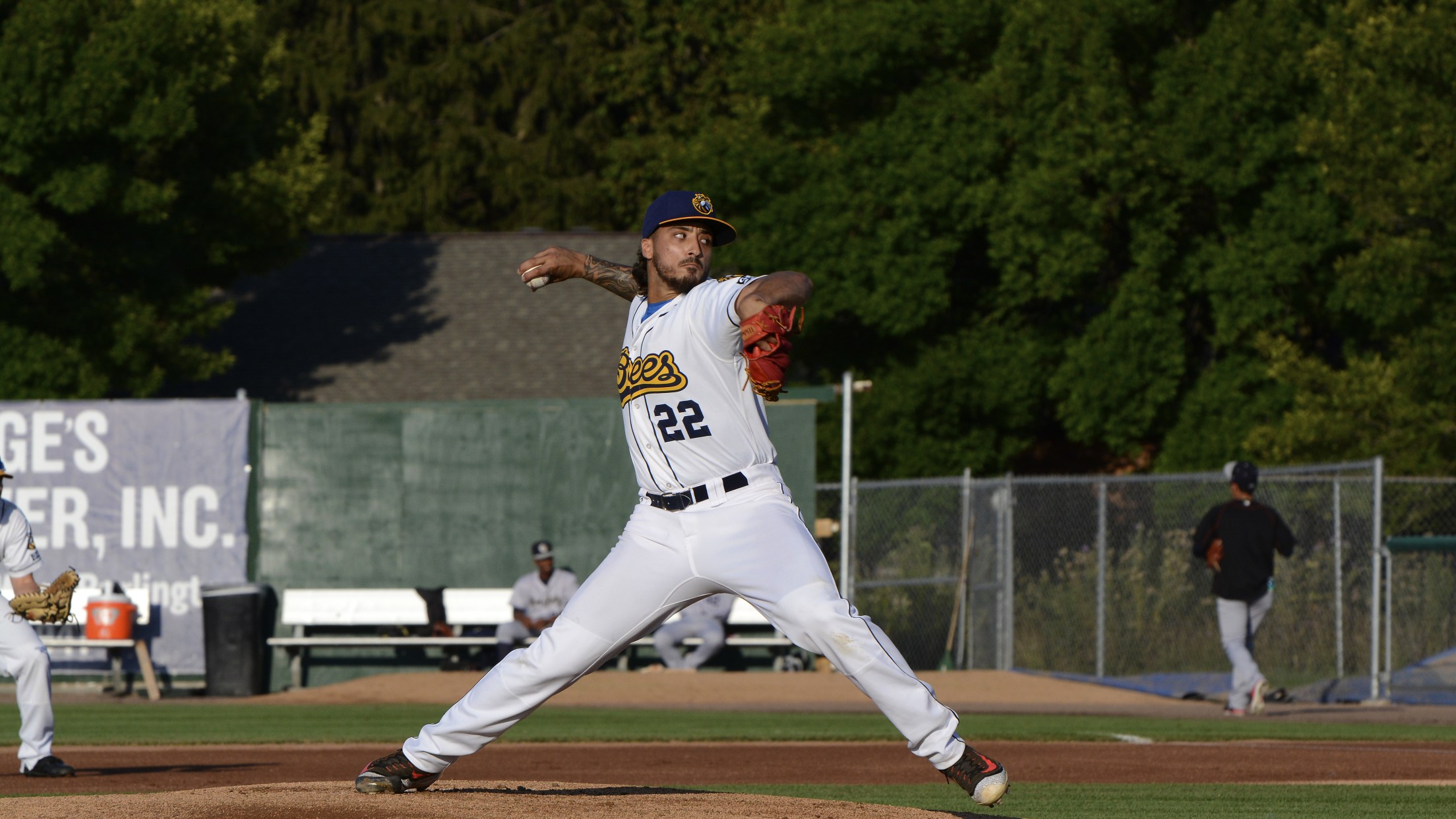 (Stephen A. Cirinna)
(Burlington, IA) - The Burlington Bees (47-66) were dropped their second straight game, losing 1-0 to the Kane County Cougars (62-49) on Monday night at Community Field. 
(Burlington, IA) - The Burlington Bees (47-66) were dropped their second straight game, losing 1-0 to the Kane County Cougars (62-49) on Monday night at Community Field.
Kane County opened the scoring for the third straight game in the series. Yan Sanchez led off the second inning with a triple and then came home to score when Cole Thompson hit a sacrifice fly, giving the Cougars a 1-0 lead.
The Bees put runners at the corners with one out in the fourth inning thanks to a walk drawn by Jonah Todd and a Richie Fecteau single. Sam McWilliams then would retire the next two batters as the Bees stranded a pair of runners. The next big chance for the Bees came in the eighth inning. Derek Jenkins opened the frame by drawing a four-pitch walk. Juan Moreno then reached first on an error, putting runners at first and second. Leonardo Rivas then reached on a fielder's choice, loading the bases. Cougars' reliever Junior Garcia then struck out the next three batters, keeping the Bees off the board.
Kane County starting pitcher, Sam McWilliams (11-5) earned the win while Erik Manoah Jr. (5-8) was charged with the loss. Junior Garcia (3) earned the save. The Bees and Cougars will wrap up the series on Tuesday at 6:30 p.m. at Community Field. Andrew Vinson makes the start for the Bees against Mack Lemieux for Kane County. It's a Hawk Eye Two-for-Tuesday, look for a coupon good for two-for-one general admission tickets in the Hawk Eye newspaper. For tickets, visit gobees.com or stop by the Bees' office. For more information, call the Bees at (319)-754-5705.