Harrison bringing impressive tools to Marlins
No. 71 prospect preparing to continue ascension in new system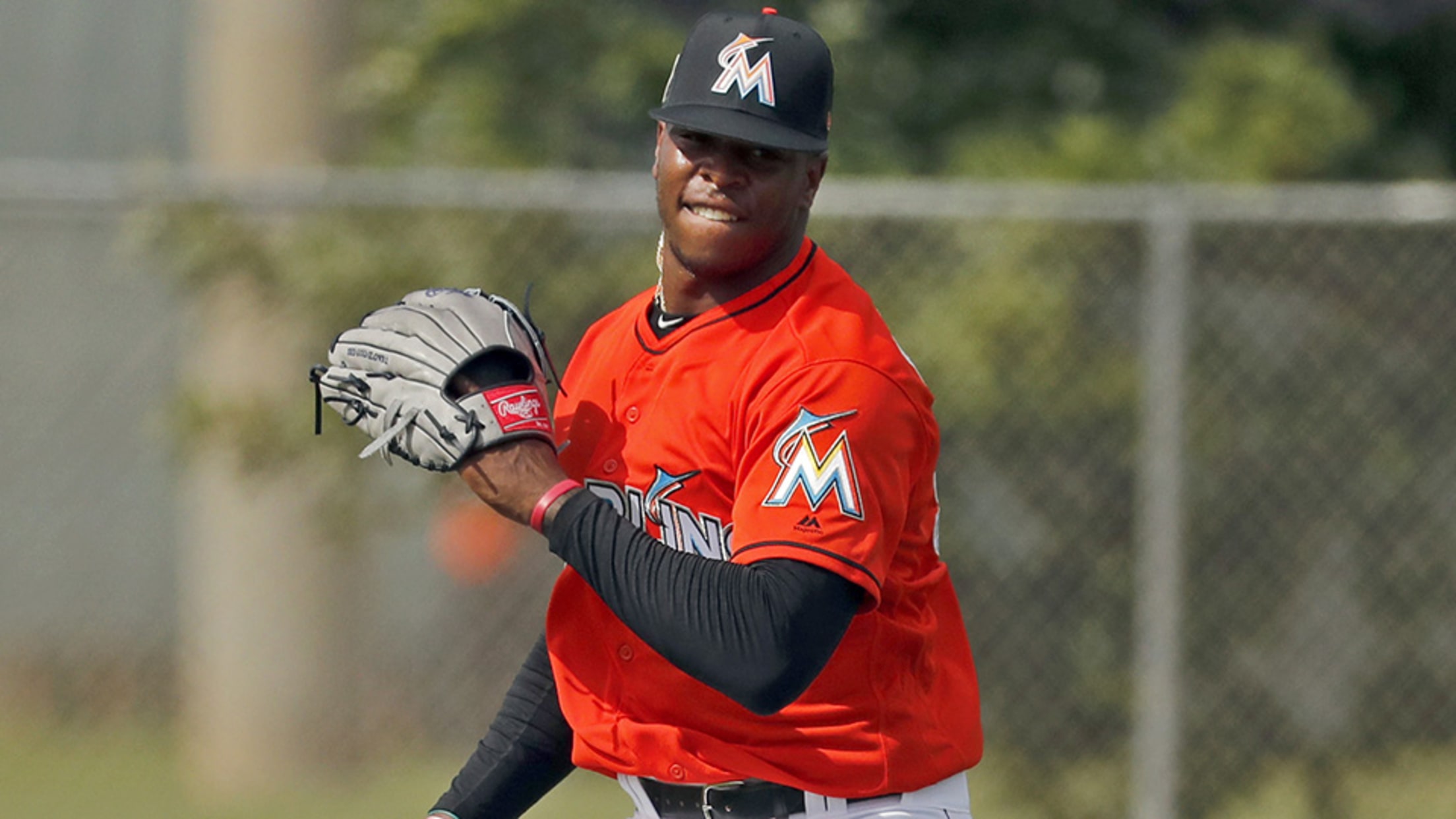 Monte Harrison's first Major League Spring Training invitation came from the Marlins this year. (Jeff Roberson/AP)
JUPITER, Florida -- Monte Harrison missed the call that changed his life. He was on the phone already, and his device pushed the incoming call straight to voicemail. He got a text from Brewers director of player development Tom Flanagan instead:Hey Monte, I've got some big news for you. Give
JUPITER, Florida -- Monte Harrison missed the call that changed his life. He was on the phone already, and his device pushed the incoming call straight to voicemail. He got a text from Brewers director of player development Tom Flanagan instead:
Hey Monte, I've got some big news for you. Give me a call back as soon as possible.
"I knew exactly what that meant," Harrison said. "You hear the rumors, and especially when you get a phone call from somebody like that, my mind immediately went to that I'd been traded. So I called him right away, and that's exactly what he told me."
The 22-year-old outfielder had been dealt, along with Lewis Brinson, Isan Díaz and Jordan Yamamoto, to the Marlins for Christian Yelich on Jan. 25. Mere minutes later, Harrison dialed up Brinson, who had been through a trade before when he was dealt from the Rangers to the Brewers in August 2016 for Jonathan Lucroy and Jeremy Jeffress. There can be a lot to figure out in the immediate aftermath of a January trade -- travel plans to a new Spring Training home; rental agreements; introductions to players, coaches and staff; figuring out the organizational fit. With all that running through Harrison's mind, Brinson kept his advice as simple as possible.
"Honestly, he didn't really tell me anything," Harrison said. "Just go out there and be yourself, be the player they wanted. That's pretty much it."
The player the Marlins wanted is one of the game's most promising prospects after a breakout 2017. And in his first Spring Training with the club, it's clear he'll be a big part of the Marlins' rebuilding process.
Harrison famously jumped into the world of prospectdom in 2014 when Milwaukee drafted him in the second round after a decorated three-sport career at Lee's Summit (Missouri) West High School. The Brewers were able to talk him out of a football scholarship at the University of Nebraska with a $1.8 million signing bonus -- almost $700,000 above the slot value -- and got to work molding the toolsy but raw outfielder.
That ended up being a three-year process, mostly due to injuries. Harrison missed time in 2015 with a broken ankle suffered on the basepaths and in 2016 with a broken hamate bone in his left hand. Even when he was on the field, things weren't clicking at the plate. He was reassigned to Rookie-level Helena in 2015 after hitting .148 and striking out in 41.8 percent of his plate appearances in 46 games at Class A Wisconsin. He returned to the Timber Rattlers in 2016 and fared only slightly better, posting a .221 average with six homers and a 32.6 percent strikeout rate in 75 contests.
Despite the struggles, expectations remained high for Harrison, a premium athlete giving his all at one sport for the first time. He entered Spring Training last year still only 21 with the determination of someone who would make the third trip to the Midwest League his last.
"I came in, and it was just different," Harrison said. "Everyone was calling me Grandpa because I'd been on the team for a while, but technically, I was still one of the youngest. That was weird. But I walked into Spring Training with the mindset of, 'Hey, you're a leader now. Just do what you do.' I was so comfortable with that that it just made everything else easier. I could go about my work every day as just a regular day, whether it was a big league game or Rookie ball."
In addition to feeling relaxed in his new role, the right-handed slugger supplemented his batting approach with a leg kick and dropped his hands a little lower to find a better rhythm. Results came quickly. Harrison was a Midwest League midseason All-Star, hitting .265/.359/.451 with 11 homers and 11 stolen bases in 63 games. On June 22, he was promoted for the first time to Class A Advanced Carolina, where he continued to shine and finished with a .278/.341/.487 line, 10 homers and 16 steals. In all, Harrison played a career-high 122 games and hit 21 homers (the most by a Brewers prospect) with 27 stolen bases, making him the organization's only 20-20 player. He rounded out the profile with plus speed that helped him defensively in both center and right, and a plus-plus arm that allowed to him record nine outfield assists.
But what really sealed Harrison's place as one of the best prospects in an impressive Milwaukee system was his performance in the Arizona Fall League. Having completed a healthy 2017 regular season, he was ready to be tested further with games against advanced pitching. Again, he passed those tests. Harrison homered five times in 13 games, becoming one of five AFL sluggers -- all of whom had at least 70 at-bats -- to reach that mark. He hit his five in 53 at-bats while producing a .283/.333/.604 line.
Having begun the season as the Brewers' No. 21 prospect, Harrison became MLB.com's No. 71 overall prospect in its latest update. He enters his first season with Miami as its No. 2 prospect, behind only Brinson.
"The Fall League, it's a lot of hype around it," Harrison said. "A lot of things can go astray. I took it as the idea that I was coming off a really good year, so why not finish it off great? That's what I was telling a lot of Brewers guys over there. I'm going to step into it with a great mindset, a great work ethic and go about it right the way. I got the results I wanted. The stock definitely rose a little bit, so I'm trying to do the same thing over here with Miami."
The Marlins wasted little time showing Harrison he'll have a big role in the organization. Last month, he was invited to Captain's Camp, a program that vice president of player development Gary Denbo carried over from the Yankees meant to produce lasting leaders like Derek Jeter, who happens to be entering his first season as an owner in Miami. The Fish gave Harrison his first non-roster invitation to big league Spring Training, a rarity for someone who's played only half a season of Class A Advanced ball. Harrison appeared in nine games before being reassigned Friday.
As welcoming as Miami has been, the transition hasn't been perfectly smooth. Harrison admits he's still getting used to seeing new faces and getting accustomed to new drills and terminology used by Marlins Minor League staff. One thing that has remained, however, is his belief that he can tap into even more of his offensive potential in 2018, specifically when it comes to power.
"It's always been there," he said. "It's just learning how to use it. I had power in high school. But it took learning to hit. Once I can hit hit, I can be a guy that can hit for average and power. So I'm definitely going to try to get there with the best of my ability. It just comes down to little things like learning my body, staying within my frame and letting my body do what it can do and trusting it.
"Honestly, it's a lot of simplifying. I try to be slow early and let my approach take care of everything. I have a tendency of getting too happy with my swing and chasing out of the zone. I've definitely gotten better at that over the years, and it's only going to continue to improve."
Harrison seems like a candidate to start the season at Double-A Jacksonville. And if he can thrive at the Minors' upper levels, he could even earn a big league callup sometime this summer. If and when it comes, that's a phone call Harrison will make sure he doesn't miss.
"When Tom explained it, he was sad they had to let me go," Harrison said, referring to Flanagan. "But at the end of the day, it's a business decision. They had to do what's best for the team, and right now, I don't blame them. They're in a good race to win. But it's cool to see Miami wanting me even more. It was a win-win situation."
Sam Dykstra is a reporter for MiLB.com. Follow and interact with him on Twitter, @SamDykstraMiLB.