More coming from Mets pitching pipeline
New York already has deep rotation but prospects could break through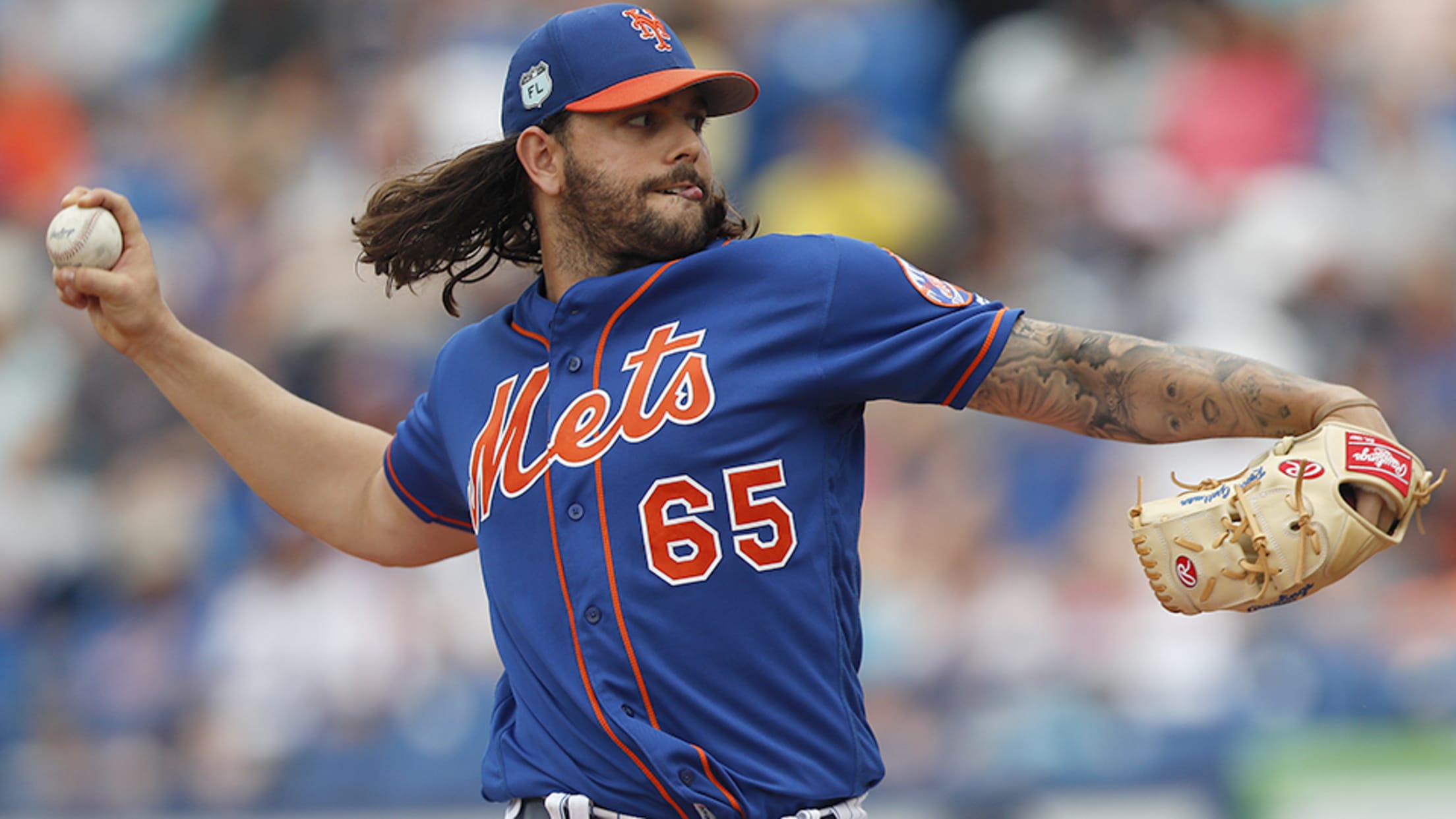 Robert Gsellman owns a career 3.10 ERA in the Minors and made eight appearances with the Mets in 2016. (John Bazemore/AP)
PORT ST. LUCIE, Florida -- You can never have too much pitching, so the saying goes. Yet it doesn't take a long look at the Mets' roster to be tempted into thinking that they might be set with their rotation for some time, thanks to high-upside hurlers who have spent
PORT ST. LUCIE, Florida -- You can never have too much pitching, so the saying goes. Yet it doesn't take a long look at the Mets' roster to be tempted into thinking that they might be set with their rotation for some time, thanks to high-upside hurlers who have spent much of their development time in the club's Minor League system.
In fact, each of the club's five projected Major League starters for 2017 has stuck at the game's highest level in four of the past five seasons -- Matt Harvey (2012), Jacob DeGrom (2014), Noah Syndergaard (2015), Steven Matz (2015) and Robert Gsellman (2016) -- a testament to the team's ability to consistently develop talent on the mound. Harvey, DeGrom, Matz and Gsellman each joined via the Draft, while ace Syndergaard was acquired as a Class A pitcher from the Blue Jays system prior to the 2013 season. Of this youthful group, Harvey will be the first free agent following the 2018 campaign, meaning there's at least two more years to have this band fully together.
What's more, Seth Lugo (2.67 ERA over 64 innings in the Majors last season) and one-time top prospects Zack Wheeler and Rafael Montero also wait in the wings as depth while remaining as options in big league Spring Training. That could come in handy with Harvey, deGrom and Matz all having injury issues in years past.
The Mets' ability to develop young pitching into quality Major League pieces doesn't get lost on the Minor League clubhouse.
<jsp:include page="/milb/include/spring_2017.html">
"They said when I was on the other side [at Minor League camp] that there was only one person who didn't come up through the organization," said Gsellman, referencing former Mets pitcher Bartolo Colon, who has joined the Braves. "They made us all think, 'Wow, that's pretty amazing.' It's obvious they're doing a great job."
It's not lost on the front office, either.
"I think it's a total team collective," said Mets director of player development Ian Levin. "I first give credit to our scouts, whether it's our amateur scouts, international scouts or even pro scouts, because we've traded for some pitching as well. They've identified the right pitchers to Draft or to sign or to trade for. It starts there. Our pitching development program here is second to none. Our pitching coordinator Ron Romanick has done a great job of developing a plan, and our individual pitching coaches executed it and add their own nuances. When they get to the big league level, [pitching coach] Dan Warthen puts finishing touches on guys."
So what are the makings of a nearly finished Mets pitching prospect? Gsellman himself proved a pretty solid case study last season. The Mets' No. 5 prospect climbed three levels from Double-A Binghamton to Triple-A Las Vegas to the Majors in his sixth pro campaign, posting a 3.99 ERA with a 6.9 K/9 and 2.4 BB/9 in 115 Minor League innings before taking off with the Mets with a 2.42 ERA, 8.5 K/9 and 3.0 BB/9 in 44 2/3 frames. (He'll lose his prospect eligibility with 5 1/3 more innings.)
The most notable improvements were an increase in velocity and a major improvement in his slider. Previously known as a low-90's pitcher, Gsellman averaged 93.7 mph on his fastball in the Majors and has hit 97 with some frequency. The same was seen in Harvey, Matz and DeGrom during their ascensions, and Syndergaard has become the game's hardest-throwing starter with an average velocity of 98 mph, tops among qualified pitchers.
"I think it's always been in there with these guys," Levin said. "At the Minor League level, we teach guys to be pitchers first as opposed to trying to get too far in front of things. I think that is what attributes to some of that, too. I think the guys have it in them. They've developed their pitchability first, and then, they're able to execute at the higher velocities."
With Gsellman in the Majors, all five projected Mets starters throw some version of the "Warthen slider," named after the Mets pitching coach. In Gsellman's case, he threw the pitch 20.5 percent of the time, according to Pitchf/x, with no other off-speed offering breaking 10.7 percent usage in the Majors.
As much as each pitcher has his own strengths and weaknesses, the road has been well laid out in terms of what it takes to crack the Mets' Major League rotation. As much as this staff looks set in stone for the foreseeable future, depth can prove vital given the potential for injury.
Below are three lower-level Mets prospects who could follow this path to the Majors in the coming years:
Justin Dunn: The 19th overall pick in last year's Draft out of Boston College enters his first full season as New York's top pitching prospect, checking in at No. 3 on MLB.com's list. A reliever this time last year, the 6-foot-2 right-hander moved to the rotation and never looked back. Utilizing four pitches -- two of which are considered above-average in his, you guessed it, fastball and slider -- Dunn posted a 1.50 ERA with 35 strikeouts and 10 walks in 30 innings for Class A Short Season Brooklyn. Though his time in the bullpen limited him before the Draft, the Mets have no doubts in his ability to handle a full-season workload this summer.
"I think he'll be ready for it," Levin said. "He's very athletic with a great pitcher's build. Four quality pitches that he throws for strikes -- fastball, curve, slider and changeup. For him, it's a matter of continuing to build that five- or six-day routine that our other starters have and find ways to have him find success over a long period. We'll put him in our program, and that speaks for itself."
Levin was hesitant to discuss exactly where Dunn would begin his first full season, noting he needs more time in his first Spring Training. The smart bet might be on Class A Advanced St. Lucie, where Harvey -- a fellow first-rounder out of college in 2010 -- began his first full season back in 2011. But no matter where Dunn begins, Levin cautions against the idea that he could fly up the chain simply because he's more advanced as a college arm. (A deep collection of Major League-ready starting pitchers should help New York prolong Dunn's development as well.)
"I don't like categorizing it as quick movers because ultimately guys will dictate their own path based on their and performance. So with him, it's just a matter of taking this year and trying to work on becoming more successful and more consistent, so whenever he goes to the next level, he's ready for it, as opposed to rushing anybody."
Marcos Molina: At first blush, the 22-year-old right-hander seems like a prime candidate to fit the mold created by his Mets' predecessors. Molina's two above-average offerings, according to MLB.com, are his fastball and slider with the former hitting the mid-90's on occasion already. Unlike Dunn, he's already got Class A Advanced experience, and a trip to the upper levels should be in the cards, should everything go well. What's more, he was added to the 40-man roster in November and has made four Grapefruit League appearances this spring.
But there's one problem. The 2017 regular season will be his first since undergoing Tommy John surgery in 2015, a procedure that cost him the entire 2016 campaign. He was healthy enough to pitch in the Arizona Fall League, posting a 3.78 ERA with eight strikeouts in 16 2/3 innings, and the Mets saw enough there to be encouraged.
"I think last year the Fall League was key for him," Levin said. "I saw him out there, and he was up to 95. He looked strong. He looked healthy. If nothing else, it wasn't even the mental hurdle of saying, 'OK, I'm ready to go out there again and pitch.' It was a normal offseason, so I think he's ready to go for this year."
Even if the No. 14 Mets prospect returns to St. Lucie to begin 2017, his stuff and roster status could give him some rocket fuel this summer.
P.J. Conlon: This is where things get a little funky -- and that's only partly a reference to Conlon's odd southpaw delivery.
The Mets' No. 24 prospect put himself on the map in a big way last season by leading the Minors with a 1.65 ERA while posting a 0.95 WHIP with 112 strikeouts and 24 walks in 142 innings between Class A Columbia and St. Lucie. Those are some eye-popping numbers. Where this gets a bit different is that the 23-year-old doesn't fit the hard-throwing skill set of every Mets pitcher previously mentioned here. His fastball is lucky to get into the 90's and earned a 45 grade on the 20-80 scale from MLB.com, and his best pitch is his 55-grade changeup. What Conlon has done extremely well is throw the ball in the zone and induce weak contact, as evidenced by his opponents' .268 batting average on balls in play last season.
A college pitcher from the University of San Diego, the 2015 13th-rounder has a chance to see the upper levels in 2017 and has gotten some extended looks this spring with four outings, each 1 2/3 innings or longer.
"He knows how to pitch," Levin said. "That's a huge credit to him. He has a great feel for when to use certain pitches, location, command and overall pitchability. While the stuff may not be overwhelming -- you look at a Noah Syndergaard and P.J. can't do that -- but he has a great changeup and great pitchability and great feel for pitching."
Thomas Szapucki: First, a reality check. Don't dream of Szapucki climbing to the Majors this season. Sure, the Mets' No. 4 prospect was a strikeout machine with 86 punchouts in 52 innings last season -- a fact covered extensively in a Toolshed from September. But those came at Rookie-level Kingston and Class A Short Season Brooklyn, making 2017 his first at a full-season level. Still, he has the impressive markers with a 60-grade fastball and a curve -- though it's not the Warthen slider -- that has been roundly praised as a plus pitch already.
The Mets don't believe 2016 was a breakout for Szapucki. Instead, they preach patience that the best is yet to come.
"I can't say a leap forward," Levin said. "I can say he was very, very good. In order to say leap forward, I think you have to say he wasn't very good before that. Coming out of high school, he was a good prospect for us in the Draft. It was just his opportunity to get on the field consistently and let his stuff speak for itself. He has the potential to have three plus pitches. His fastball is in the mid-90's with a lot of life. The breaking ball is a wipe-out breaking ball. He came a long way. I'll say his changeup was maybe his biggest piece of improvement. He really started to throw it and feel comfortable with it and have a lot of success with it.
"He did it at the short-season level. The key for him now is to do it at the full-season level for a year and find ways to continue to improve, whether it's PFP's or the pickoff move or throwing more strikes, whatever it may be. Just find ways to become a consistent pitcher every five days."
Sam Dykstra is a reporter for MiLB.com. Follow and interact with him on Twitter, @SamDykstraMiLB.