Mudcats End Losing Streak with 7-3 Victory
Cameron Wagner struck out six over four and 2/3 in relief to help Carolina end its three-game skid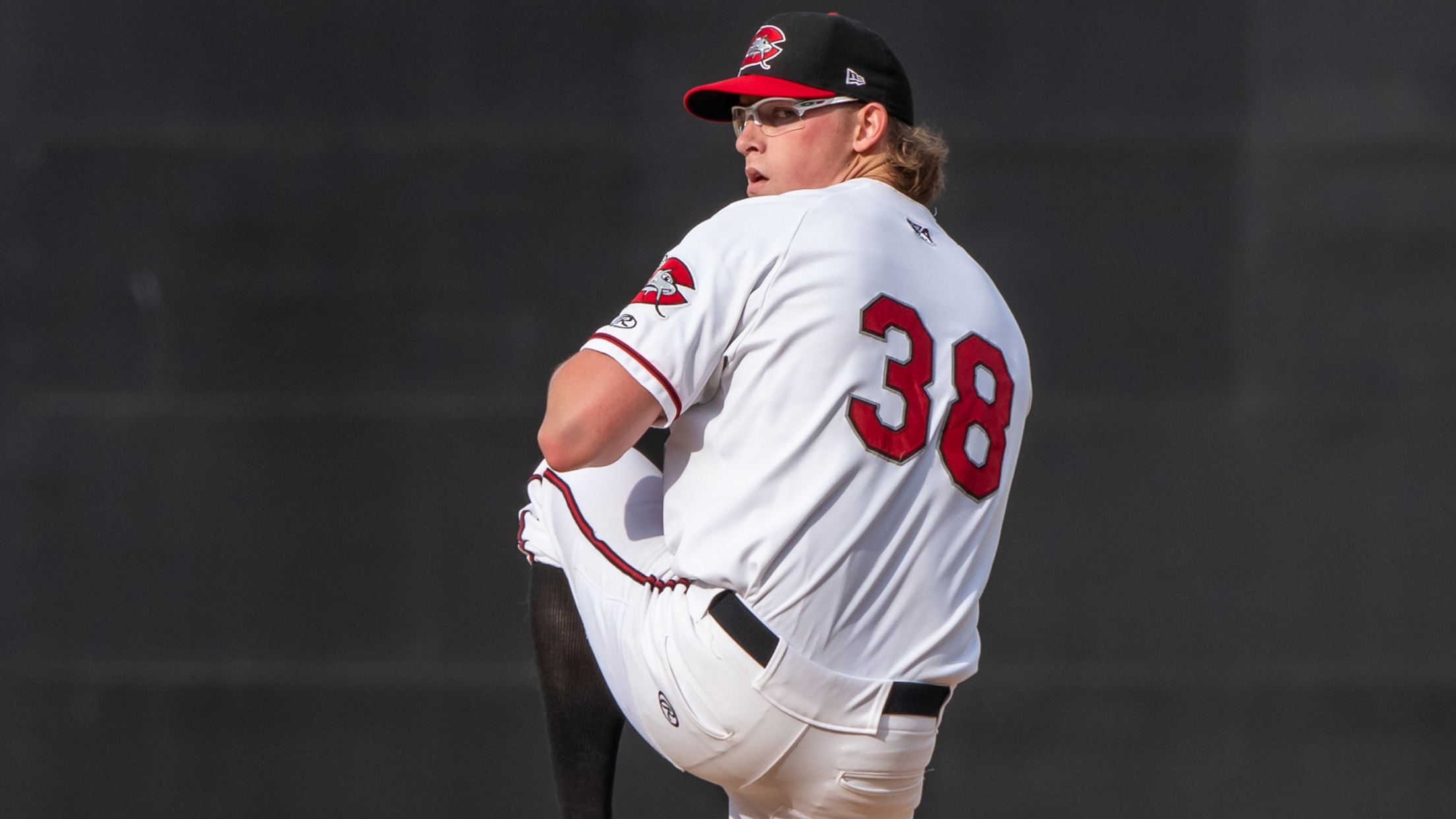 Carolina 7 @ Myrtle Beach 3 September 10, 2022 | Venue : Pelicans Ballpark | First pitch : 6:09 PM | Att : 3,078 | T : 3:05 CAR: 0 0 4 0 0 0 2 0 1 7 10 0 MB: 1 0 0 1 0 0 1 0
Carolina 7 @ Myrtle Beach 3
September 10, 2022 | Venue : Pelicans Ballpark | First pitch : 6:09 PM | Att : 3,078 | T : 3:05
CAR: 0 0 4 0 0 0 2 0 1 7 10 0
MB: 1 0 0 1 0 0 1 0 0 3 8 0
WP: Cameron Wagoner (2 - 0) LP: Nick Hull (0 - 1)
MYRTLE BEACH – Jace Avina had two hits and drove in three runs, both Robert Moore and Eric Brown Jr. extended their hitting streaks, and Cam Wagoner struck out six over four and 2/3 while leading the Carolina Mudcats to a 7-3 losing streak snapping victory versus the Myrtle Beach Pelicans on Saturday night at Pelicans Ballpark.
The Mudcats (34-30, 68-62) originally trailed 1-0 before scoring four times with four hits in the third against Myrtle Beach (31-33, 78-52) starter Nick Hull. That rally included a leadoff double from Branlyn Jaraba, a RBI double from Moore, a two-run double from Avina and a RBI single from Luis Castillo.
Avina struck again in the seventh with a RBI single while going 2-for-5 with three RBI and a run scored. Moore also scored again in the seventh after coming across on a bases loaded walk. Moore went 2-for-2 with two runs and three walks while extending his current hitting streak to eight straight games. Brown scored his second of two runs in the game in the ninth on a wild pitch while going 1-for-3 with two walks and extending his hitting streak to seven consecutive games.
Logan Henderson started worked into the third with just a run and three hits allowed. In all, Henderson walked three, struck out three while reaching 63 pitches (42 strikes) over two and 2/3 innings. Henderson left in the third with the bases loaded, but Leoni De La Cruz took over and stranded all three while stifling the Myrtle Beach rally. De La Cruz went on to work through an inning and a 1/3 with a run, one hit and one strikeout.
De La Cruz's lone run allowed came in the fourth when he allowed a solo home run to Ethan Hearn. Hearn also homered against Wagoner (2-0) in the seventh while hitting two home runs.
Wagoner finished the game with four and 2/3 solid innings where he allowed just one run, scattered four hits and struck out six while picking up the victory. He also reached a career-high 68 pitches and totaled 50 strikes before leaving with two outs in the ninth. Trevor Tietz entered and finished the game with a strikeout while facing one batter and leaving one inherited runner on base.
Sunday's series finale is both the last game of the current series and the final game of Carolina's 2022 season.
HOME RUNS:
Myrtle Beach: Hearn 2 (12, 4th inning off De La Cruz, 0 on, 2 out, 7th inning off Wagoner, 0 on, 1 out).
*
TOP PERFORMERS - BATTERS:*
Avina, RF (Carolina): 2-for-5, 1 R, 1 2B, 3 RBI
Moore, SS (Carolina): 2-for-2, 2 R, 1 2B, 1 RBI
Brown Jr., 2B (Carolina): 1-for-3, 2 R
Castillo, LF (Carolina): 2-for-4, 2 RBI
Hearn, C (Myrtle Beach): 3-for-4, 2 R, 2 HR, 2 RBI
Ramirez, P, 2B (Myrtle Beach): 3-for-4, 1 R
TOP PERFORMERS - PITCHERS:
Henderson (Carolina): 2.2 IP, 3 H, 1 R, 1 ER, 3 BB, 3 SO
De La Cruz (Carolina): 1.1 IP, 1 H, 1 R, 1 ER, 0 BB, 0 SO
Wagoner (W, 2-0) (Carolina): 4.2 IP, 4 H, 1 R, 1 ER, 0 BB, 6 SO
Tietz (Carolina): 0.1 IP, 0 H, 0 R, 0 ER, 0 BB, 1 SO
Cabrera (Myrtle Beach): 1.2 IP, 1 H, 0 R, 0 ER, 2 BB, 0 SO
Oquendo (Myrtle Beach): 1 IP, 1 H, 1 R, 1 ER, 0 BB, 2 SO
SCORING:
Pelicans 1st (Pelicans 1, Mudcats 0) -- Parker Chavers grounds out, Eric Brown Jr. to Branlyn Jaraba. Pedro Ramirez singles to shallow center field. Pedro Ramirez steals 2nd base. Ezequiel Pagan flies out to Jace Avina in foul territory, Pedro Ramirez to 3rd. Haydn McGeary singles through the hole at second base, Pedro Ramirez scores. Jacob Wetzel walks, Haydn McGeary to 2nd. James Triantos pops out to Robert Moore.
(1 Runs, 2 Hits, 0 Errors, 2 LOB)
Mudcats 3rd (Mudcats 4, Pelicans 1) -- Branlyn Jaraba doubles to right field. Alex Hall strikes out swinging. Robert Moore doubles to left-center field, Branlyn Jaraba scores. Eduarqui Fernandez flies out to Parker Chavers. Eric Brown Jr. walks. Jace Avina doubles to left-center field, Robert Moore scores; Eric Brown Jr. scores. Wild pitch by Nick Hull, Jace Avina to 3rd. Luis Castillo singles to left field, Jace Avina scores. Jadher Areinamo grounds into a force out, Reginald Preciado to Pedro Ramirez, Luis Castillo out at 2nd.
(4 Runs, 4 Hits, 0 Errors, 1 LOB)
Pelicans 4th (Mudcats 4, Pelicans 2) -- Moises Ballesteros flies out to Jace Avina. Reginald Preciado grounds out, Jadher Areinamo to Branlyn Jaraba. Ethan Hearn hits a home run to right field on a 2-0 pitch. Parker Chavers grounds out, Jadher Areinamo to Branlyn Jaraba.
(1 Runs, 1 Hits, 0 Errors, 0 LOB)
Mudcats 7th (Mudcats 6, Pelicans 2) -- Alex Hall walks. Robert Moore singles to right-center field, Alex Hall to 2nd. Eduarqui Fernandez flies out to Ezequiel Pagan. Eric Brown Jr. walks, Alex Hall to 3rd; Robert Moore to 2nd. Pitcher Change: Yovanny Cabrera replaces Luis Angel Rodriguez. Jace Avina singles to center field, Alex Hall scores; Robert Moore to 3rd; Eric Brown Jr. to 2nd. Luis Castillo walks, Robert Moore scores; Eric Brown Jr. to 3rd; Jace Avina to 2nd. Jadher Areinamo pops out to Haydn McGeary in foul territory. Hedbert Perez flies out to Ezequiel Pagan.
(2 Runs, 2 Hits, 0 Errors, 3 LOB)
Pelicans 7th (Mudcats 6, Pelicans 3) -- Reginald Preciado grounds out, Robert Moore to Branlyn Jaraba. Ethan Hearn hits a home run to left field on a 3-1 pitch. Parker Chavers struck out looking. Pedro Ramirez singles to left-center field. Ezequiel Pagan grounds out, Eric Brown Jr. to Branlyn Jaraba.
(1 Runs, 2 Hits, 0 Errors, 1 LOB)
Mudcats 9th (Mudcats 7, Pelicans 3) -- Pitcher Change: Johzan Oquendo replaces Yovanny Cabrera. Eric Brown Jr. singles to deep shortstop. Eric Brown Jr. steals 2nd base. Jace Avina strikes out swinging. Luis Castillo flies out to Parker Chavers, Eric Brown Jr. to 3rd. Wild pitch by Johzan Oquendo, Eric Brown Jr. scores. Jadher Areinamo strikes out swinging, Ethan Hearn to Haydn McGeary.
(1 Runs, 1 Hits, 0 Errors, 0 LOB)