Muncy's three shots lead homer barrage
Stockton, Lancaster match Cal mark with total of 11 long balls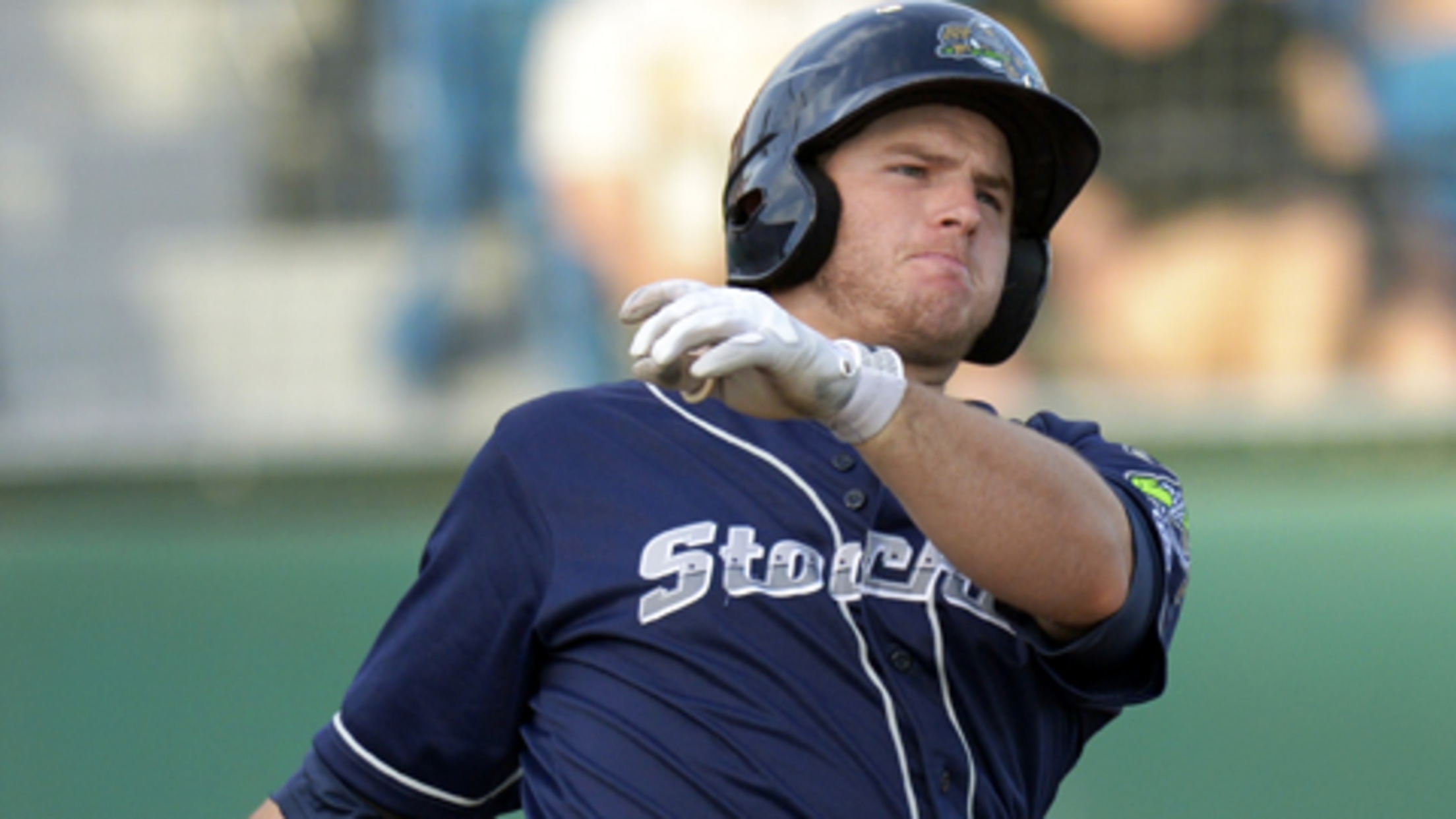 Max Muncy has 21 extra-base hits in 58 games this season. (Kenny Karts/MiLB.com)
The final box score said the wind was blowing 16 mph to center field Wednesday and Class A Advanced Stockton's Max Muncy thought it was a relatively still night in Banner Island Ballpark. "At this ballpark, usually the wind is blowing out pretty hard," Muncy said. "It was blowing a
The final box score said the wind was blowing 16 mph to center field Wednesday and Class A Advanced Stockton's Max Muncy thought it was a relatively still night in Banner Island Ballpark.
"At this ballpark, usually the wind is blowing out pretty hard," Muncy said. "It was blowing a little tonight, but it was actually one of the calmer nights I've seen here."
The pitchers in Wednesday's Lancaster-Stockton showdown might disagree. The teams combined to tie a California League record with 11 home runs, with Muncy supplying a career-high three roundtrippers as the Ports outslugged the JetHawks, 13-7.
The home run total tied a record set in 1962 in a game between Bakersfield and Reno. Stockton accounted for seven of the blasts, one shy of the Cal mark set by Modesto against San Jose on Aug. 14, 1999 and matched a day later by Lancaster against Lake Elsinore.
Muncy's three-homer performance was the first by a Ports player since Josh Whitaker hit three on June 25, 2012 at San Jose. It was the first of the first baseman's career at any level.
Muncy has four homers in his past three games after a 28-game dinger drought. The left-handed hitter began the season on a torrid pace, slugging eight in his first 17 games -- including a pair of multi-homer games. He ended the longball famine with a go-ahead grand slam in the eighth inning of Lancaster's 6-3 win over San Jose on Sunday.
The turnaround has come as Muncy has adjusted to strategies adopted by the league after his sweltering start. Opposing pitchers began making predictable adjustments against the pull-happy slugger, attacking with soft stuff on the outer half.
"In the first month, he banged a lot of home runs," Stockton skipper Webster Garrison said. "Then pitchers started pitching him differently. … He was seeing a lot of soft stuff away."
Teams also adopted a shift in which he'd either have to blast the ball over everybody to right or settle for lesser damage by going the other way.
"The shift is one of the biggest challenges I've faced," Muncy said. "I had a lot of balls that I'd hit up the middle, and the shortstop would be right there, making plays."
The 2012 fifth-round Draft pick by Oakland out of Baylor University hit just four homers with 20 doubles in 64 games at Class A Burlington after signing last season. The big-shot barrage early in the season unintentionally caused him to alter his style.
"I think I let that get to my head a little and got away from my approach," he said. "My approach is to be a line-drive hitter. The home runs will just come when I get a little underneath the ball and get it into the air.
"I started struggling when I started trying to put the ball in the air instead of sticking to line drives. The last couple weeks, I've been trying to get back to that, and I think I've done a good job of that."
This week has put Muncy back on the breakout track. He displayed an excellent approach in the Midwest League last year, hitting .275 with a .383 on-base percentage. The power was all that was lacking for the first-base prospect, and by adjusting his swing in the offseason to create more backspin, he thinks he's made a move toward solving that issue.
"Last year, I had a lot of doubles," he said. "I can honestly say a lot of those balls were with topspin. I'd topspin balls down the right-field line over the first baseman's head, and even the ones I'd hit into right-center field, I'd be getting some topspin on them."
The backspin has been working and now Muncy's challenge is to maintain that adjustment while continuing to improve his approach. One big step will be learning to better send balls to the opposite field, something he accomplished by homering to left in the bottom of the third Wednesday.
"I don't know if I've hit too many home runs to that side of the field," he said. "I think I can count on one hand how many home runs I've hit out there.
"I've hit a lot of doubles that way, but usually, I don't have the power to get it out. It's good to get a home run like that."
Stockton scored seven runs in the bottom of the third. Muncy started it off with his solo homer, which was followed by Tony Thompson's roundtripper. After Antonio Lamas doubled, Rashun Dixon belted a homer to left. A batter later, Myrio Richard doubled to left field, and after a pitching change and B.A. Vollmuth's single, Philip Pohl capped the scoring with a two-run shot.
Vollmuth capped the home run derby with a two-run blast in the seventh.
Houston's No. 5 prospect Delino DeShields, No. 11 prospect Nolan Fontana, Matt Duffy and Telvin Nash homered for Lancaster.
Jake Seiner is a contributor to MLB.com. Follow him on Twitter at @Jake_Seiner.