Jaye continues high-wire act for SeaWolves
Tigers No. 15 prospect strikes out 11 over six scoreless frames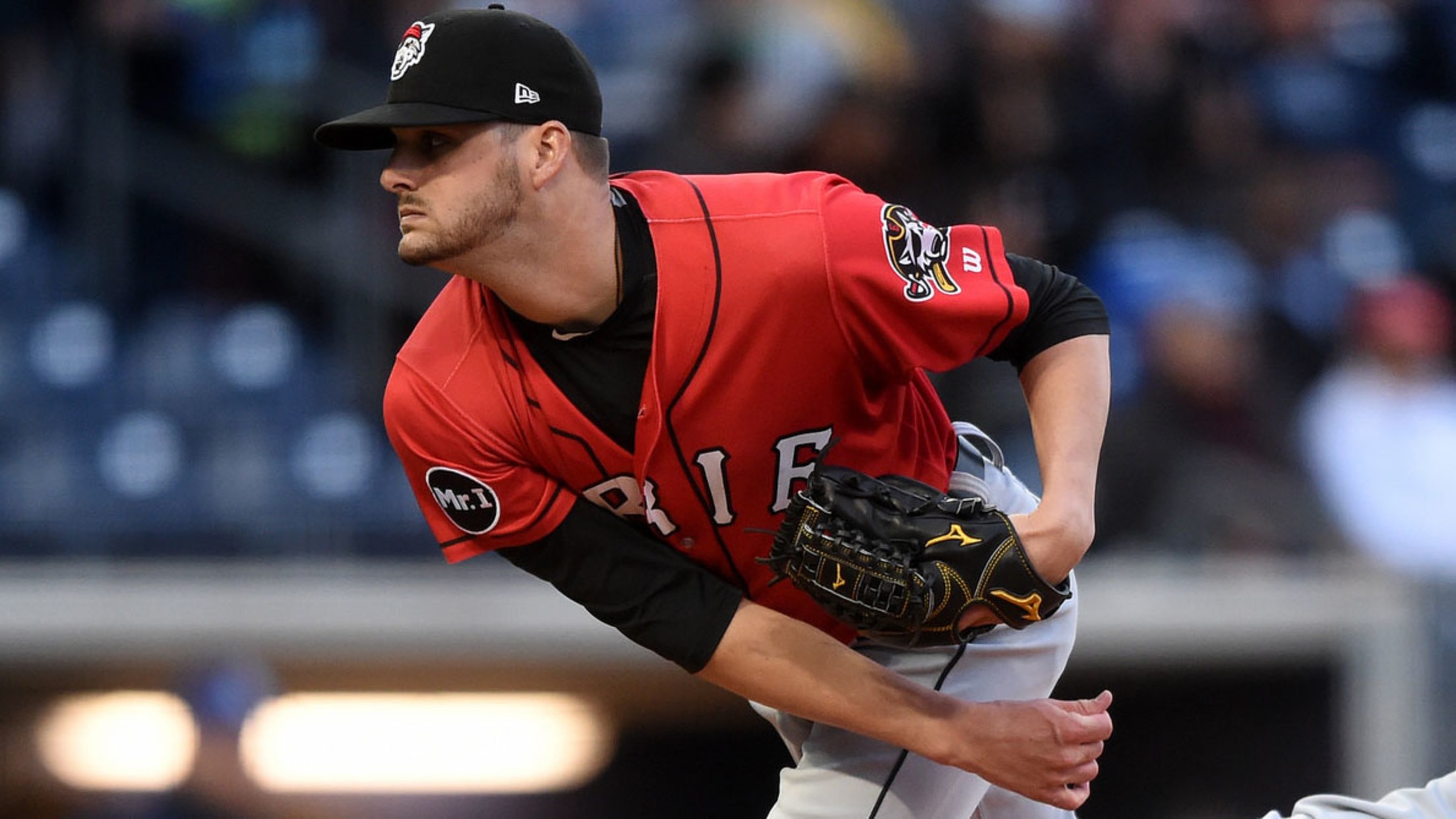 With 39 punchouts and nine walks on the season, Myles Jaye has a 4.3-to-1 strikeout-to-walk ratio. (Kevin Pataky/MiLB.com)
It's been a Jekyll-and-Hyde season so far for Myles Jaye."I'll have a good one and then I'll have a bad one," the Tigers No. 15 prospect said. "The good ones are really good and the bad ones are really, really bad."Jaye delivered the former on Monday, tying a career high
It's been a Jekyll-and-Hyde season so far for Myles Jaye.
"I'll have a good one and then I'll have a bad one," the Tigers No. 15 prospect said. "The good ones are really good and the bad ones are really, really bad."
Jaye delivered the former on Monday, tying a career high with 11 strikeouts while allowing four hits and two walks over six scoreless innings in Double-A Erie's 2-1 win over Harrisburg at UPMC Park.
Gameday box score
"I made a lot of quality pitches," the 25-year-old right-hander said. "My fastball had an extra tick or two in velocity. Both of my breaking balls -- slider and curveball -- were as good as I can remember them being in my career."
Jaye breezed through a pair of 1-2-3 innings to begin the game, but relied on his swing-and-miss stuff to work out of situations with runners in scoring position in three of his remaining four frames.
"It's a big confidence-booster, especially when you have guys in scoring position with less than two outs, knowing you can get that strikeout when you need to get it and work yourself out of jams," he said
Jaye recorded seven of his strikeouts between the fourth and sixth to match the professional best he set July 16, 2016 with Erie. It also marked the Georgia native's fourth scoreless outing in eight starts this season, with all 18 of his earned runs coming in the other half.
"I kind of found a couple of keys," he said. "I feel like I was getting really good extension on the ball and I was able to spin both breaking balls for strikes and putout pitches. So at this point, it's just finding that consistency that I had last year and even the year before."
The 2017 17th-round pick was in line for his first win of the season, but didn't factor into the decision after a ninth-inning rally by the Senators knotted the game. Tigers No. 24 prospect A.J. Simcox delivered a walk-off single that plated Ross Kivett with two outs in the bottom frame.
"I think the win-loss category on a pitcher's line is more a team stat than anything. It can definitely get skewed sometimes," Jaye said. "I'm just happy we walked away with a win. If we win on days that I pitch, then that's a win for me. If we lose the days that I pitch, then I take it a lot harder."
Ruben Alaniz picked up the win despite blowing the save, while Kurt Spomer and Mike Zagurski combined for two scoreless innings of relief.
Kody Eaves collected the other RBI for Erie.
Michael Peng is a contributor to MiLB.com. Follow him on Twitter @MichaelXPeng.