Nate Griep, Corey Ray and Zack Brown Named Southern League Postseason All-Stars
Trio Joins Arcia, Lopez and Davis As Shuckers All-Time Postseason All-Stars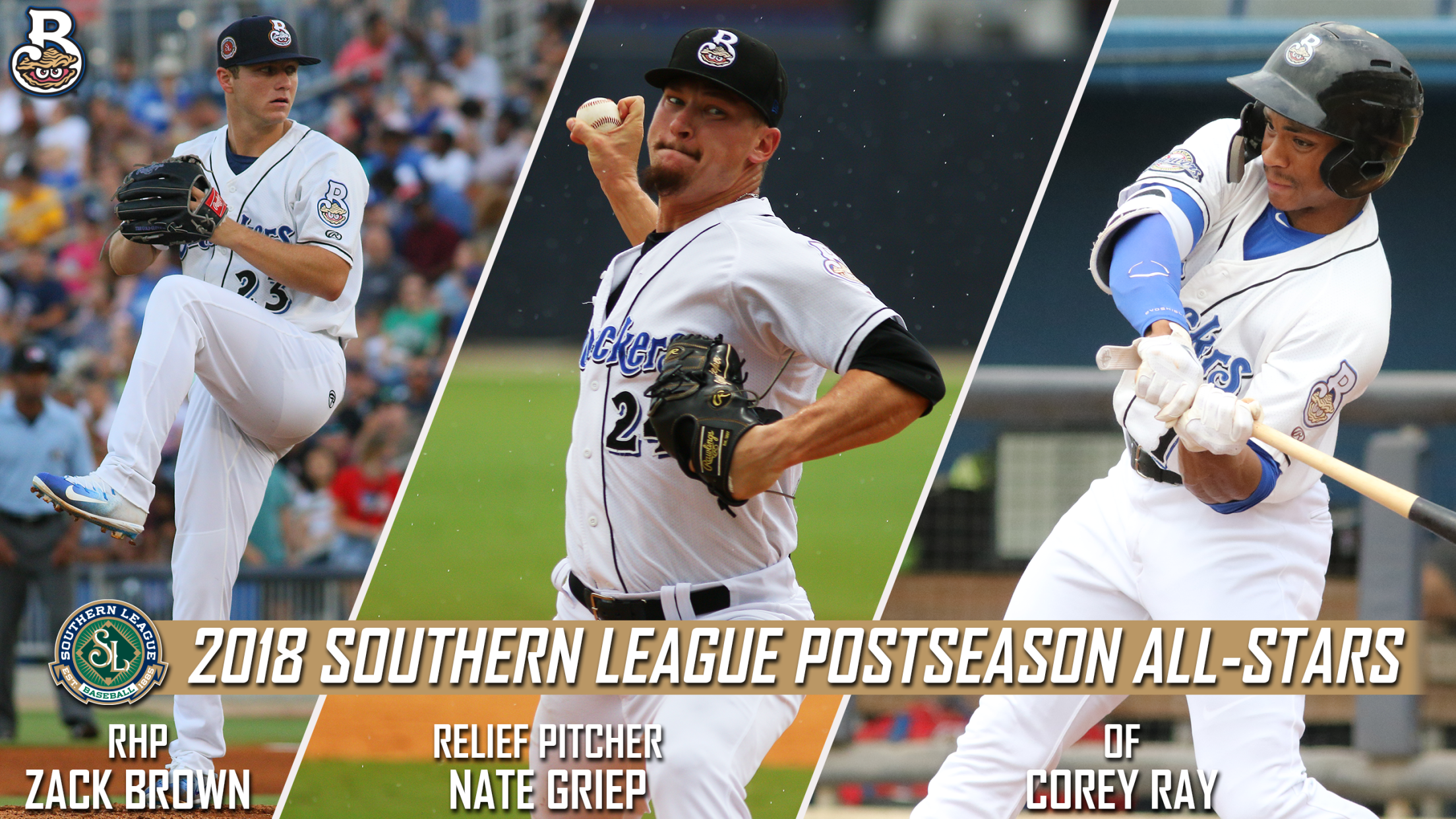 Biloxi Shuckers RHP Nate Griep, RHP Zack Brown and outfielder Corey Ray have all been named 2018 Southern League Postseason All-Stars, the league announced on Wednesday. It is the first time the Shuckers have had three players named to the Postseason All-Star team.Griep, the Shuckers all-time saves leader, has been
Biloxi Shuckers RHP Nate Griep, RHP Zack Brown and outfielder Corey Ray have all been named 2018 Southern League Postseason All-Stars, the league announced on Wednesday. It is the first time the Shuckers have had three players named to the Postseason All-Star team.
Griep, the Shuckers all-time saves leader, has been the most dominant closer in the Southern League, recording a league-leading 33 saves while also leading the Southern League in games by a pitcher (50) and games finished (45). His 33 saves are the most in the single season in the Southern League since Matt Petersen recorded a league-record 37 saves in 2009. Griep is also tied for the Minor League-lead in saves. This is the third consecutive season he has been named a Postseason All-Star, after he was a Postseason All-Star in the Midwest League in 2016 and a Carolina League Postseason All-Star in 2017.
Ray, who was also named the Southern League MVP on Wednesday, earns his first Postseason All-Star nod. The Milwaukee Brewers' #2 prospect paces the league in Home Runs (27), Stolen Bases (35), Games Played (130), At-Bats (513), Doubles (32), Extra-Base Hits (66), Slugging Percentage (.485) and Total Bases (249) while also ranking second in RBI (73) and Runs Scored (83).
It is also the first Postseason All-Star honor for Brown, who was awarded the 2018 Southern League Most Outstanding Pitcher on Wednesday as well. In his third professional season, Biloxi's right-handed ace has produced career-best numbers in Wins (9), ERA (2.48), Innings Pitched (119.2), Strikeouts (113), Games Started (20), Batting Average Against (.208), WHIP (1.05), and Hits per 9 IP (6.8) with five games remaining in the regular season. His ERA and winning percentage lead the Southern League in 2018, while his WHIP and Batting Average Against rank second. The Shuckers have also compiled an 18-2 record in games that Brown has started this season, and a 19-2 record in games in which he makes an appearance.
The Shuckers are home for the final five games of the regular season beginning on Thursday night. The Shuckers then stay in Biloxi for Games One and Two of their South Division Championship Series matchup next Wednesday and Thursday nights at 6:35 PM CT at MGM Park.
Single game tickets for the Biloxi Shuckers 2018 season can be purchased at the MGM Park box office or over the phone through Ticketmaster at (800) 745-3000. Playoff tickets and group outings are also available and can be reserved by calling 228-233-3465 or visiting www.biloxishuckers.com.
ABOUT THE BILOXI SHUCKERS:
The Biloxi Shuckers are the Double-A Affiliate of the Milwaukee Brewers. The Shuckers play at MGM Park in Biloxi, Mississippi. For more information please visit biloxishuckers.com and follow us on Twitter @biloxishuckers and at facebook.com/biloxishuckers.com.