Nats top Cards in 20-inning marathon
First baseman Fields homers, pitches three key innings for win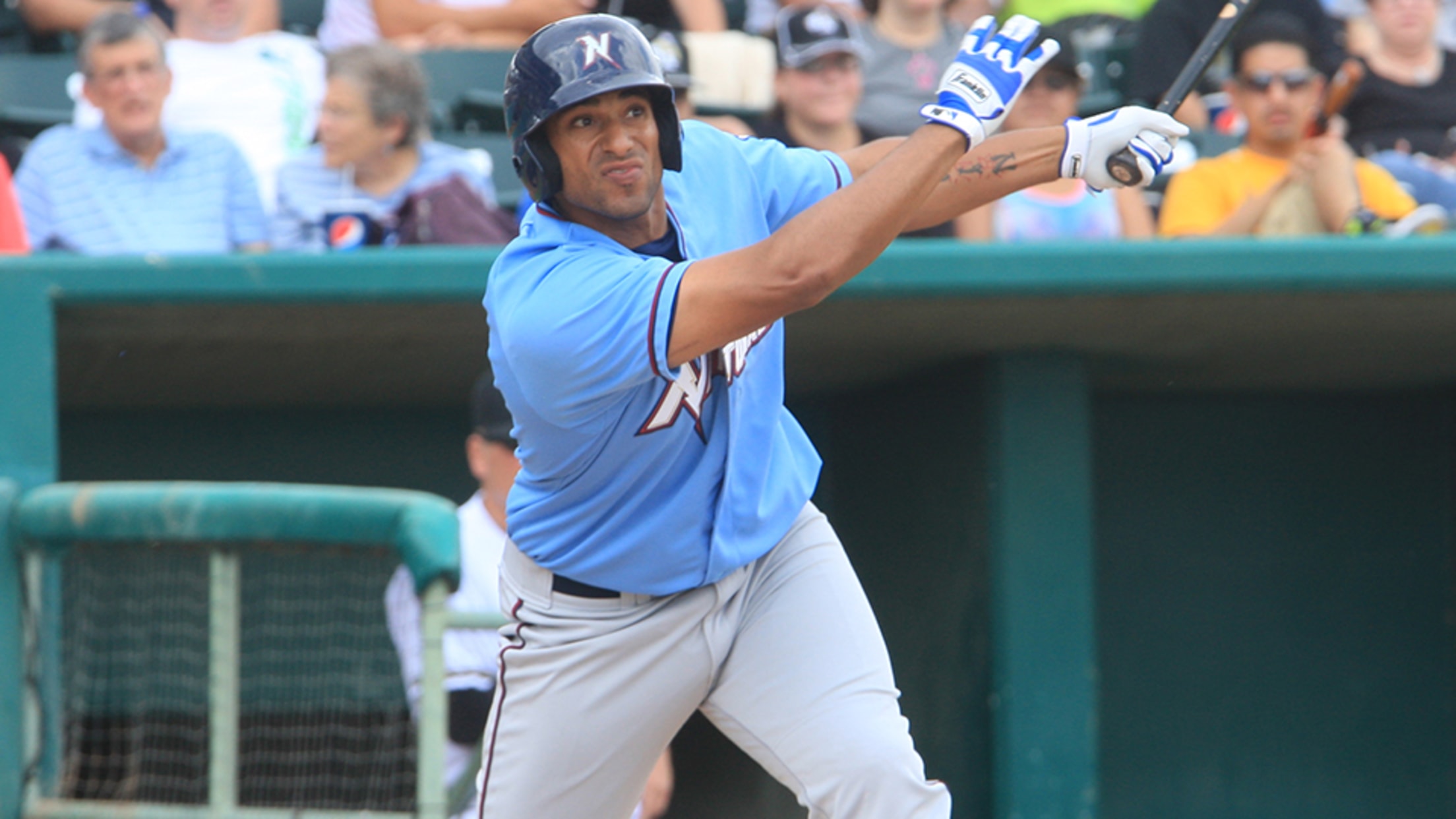 Matt Fields hit his ninth homer of the season and pitched three innings for the win. (Shawn E. Davis/MiLB.com)
At the beginning of each season, Northwest Arkansas manager Brian Poldberg makes it a point to ask if any of his veteran position players have any pitching experience in case he finds himself with a shorthanded bullpen in an extra-inning game. When his bullpen came up dry after 14 innings
At the beginning of each season, Northwest Arkansas manager Brian Poldberg makes it a point to ask if any of his veteran position players have any pitching experience in case he finds himself with a shorthanded bullpen in an extra-inning game.
When his bullpen came up dry after 14 innings Saturday night, Poldberg turned to Mitch Canham and Matt Fields. The pair of position players delivered six one-run innings as Double-A Northwest Arkansas posted a 5-4, 20-inning victory over Springfield.
The game was the longest in the history of both teams, spanning 5 hours and 38 minutes.
"My arm is literally, it's done," Fields said. "It's gone."
Fields relieved Canham to begin the 18th inning, with Canham replacing Fields at first base. The right-hander, who hadn't pitched since high school in 2004, promptly allowed an infield single and two walks, then got consecutive popups and a fly ball to center to escape the jam.
"At first, I was kind of nerve-racked," Fields said. "I hadn't pitched in so long, so it took me a while to find the strike zone."
Fields pitched cleanly through the 19th, then scored ahead of Juan Graterol's homer in the top of the 20th.
Graterol caught all 20 innings for the Naturals but almost left the game after taking a tumble down the dugout steps while chasing a foul ball in the third inning. Due to other injuries, Northwest Arkansas went into the game with only two bench players available, so Graterol toughed it out for 17 more innings.
"When he went down, I thought he was going to come out of the game," Fields said. "For him to take that type of leadership role and dig it out and keep going, it showed a lot of character."
Fields returned to the mound in the bottom of the 20th, noticeably more aggressive.
"At one point, I actually caught myself looking up at the [radar] gun expecting to see a big number," Fields said. "It said, '84.'
"I was like, 'Oh, man, this is a shame.'"
Fields got Major League veteran Ruben Gotay to ground out to shortstop, then allowed consecutive singles to Chris Swauger, Mike O'Neill and Starlin Rodriguez, with Swauger scoring on Rodriguez's single. With runners at first and second and one out, Fields retired Luis Mateo on a fly ball and got Audry Perez to ground out to end the game.
"I think he was able to relax a little and throw some strikes when he wasn't trying to overpower the ball," Poldberg said. "You have to stay within yourself, get out there and don't start thinking you're a pitcher."
The relief outing capped an exciting two-day stretch for Fields, who homered in both ends of Friday's doubleheader and added a two-run jack in the fourth inning Saturday. Five of his nine homers have come in the last 11 days after a sluggish April.
"I had been trying to guess what pitchers will throw me and thinking too much instead of just relaxing and seeing the ball, hitting the ball," Fields explained. "The last few days, I've literally just been going to the plate with the mentality of, 'See ball, hit ball.' That's all I can control right now. I've been doing that and everything right now is going pretty good."
Infielder Vance Albitz tossed three scoreless innings for Springfield and was followed by Gotay (0-1), who bounced his first pitch 15 feet in front of the plate and walked Fields to begin the 20th.
Gotay got Alex Llanos to fly to right and struck out Alex McClure swinging. After Graterol homered, Roman Hernandez also struck out to end the inning.
Northwest Arkansas had threatened in the 19th. Rey Navarro's two-out double brought Canham to the plate, but Springfield manager Mike Shildt opted to have the right-handed Albitz walk Canham, a lefty, so Albitz -- a natural second baseman -- could pitch to right-handed-hitting Yem Prades. The strategy worked as Prades flied to left to end the threat.
In the bottom of the 19th, Navarro made a sliding catch at second base and zipped the ball to first for an inning-ending double play.
The Naturals left 17 runners on base and the Cardinals stranded 16. For Northwest Arkansas, McClure went 0-for-9 with five strikeouts and designated hitter Angel Franco was 0-for-7 with five strikeouts. Perez was 0-for-9 and Tommy Pham went 0-for-8 for the Cardinals. Rodriguez was 1-for-9 and left 10 batters on base.
"I think 16 innings was the longest game I had ever been in," Poldberg said. "And I had enough pitchers in that game for the whole 16, didn't have to have position players throw six innings. That was really strange."
Jake Seiner is a contributor to MLB.com. Follow him on Twitter at @Jake_Seiner.