Near Perfect Pitching Tops Smokies 5-1 In Chattanooga
Smokies One-Hit in Loss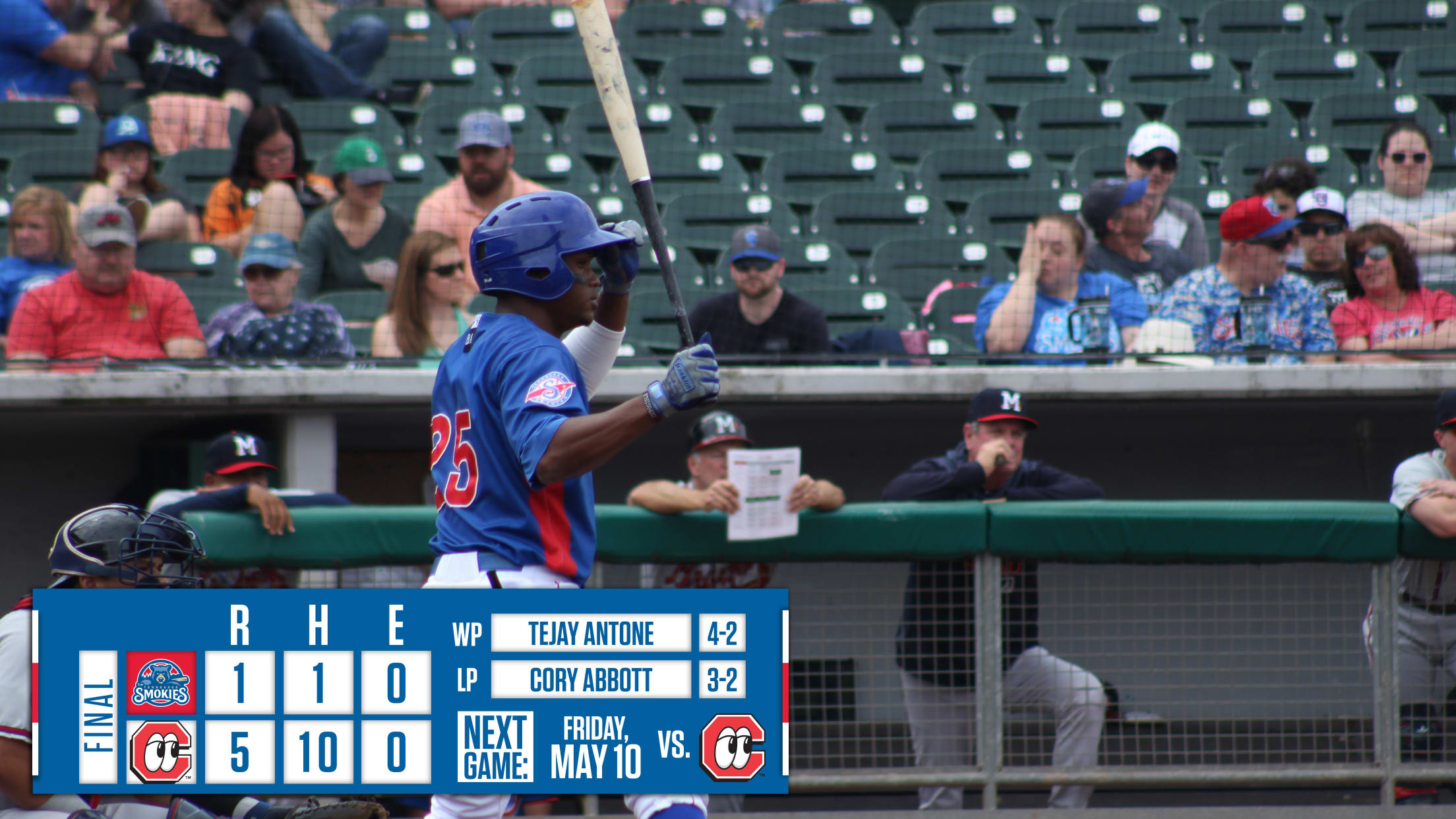 CHATTANOOGA, TN - The Tennessee Smokies (16-17) found themselves on the wrong side of a perfect game for the first six innings in Chattanooga before losing 5-1 to the Lookouts (18-13) on Thursday evening in Chattanooga. Chattanooga jumped out to an early 2-0 lead in the first inning. Jose Siri dashed to
CHATTANOOGA, TN - The Tennessee Smokies (16-17) found themselves on the wrong side of a perfect game for the first six innings in Chattanooga before losing 5-1 to the Lookouts (18-13) on Thursday evening in Chattanooga.
Chattanooga jumped out to an early 2-0 lead in the first inning. Jose Siri dashed to second base in a steal attempt which gave T.J. Friedl the green light at third to steal home after Smokies catcher Jhonny Pereda tried to cut Siri down stealing second. The 1-0 lead was doubled two batters later when Ibandel Isabel singled off Cory Abbott (L, 2-3) to score Siri.
All eyes were on RHP Tejay Antone (W, 4-2) through the first six innings as he sat down 18 straight Smokies batters. His perfect game bid would be cut short not by a bat, but from Chattanooga manager Pat Kelly who went to the bullpen heading into the seventh inning.
Moving into the top of the seventh inning, the perfect game bid ended when Joel Kuhnel came in. The first batter of the inning, Roberto Caro, homered to right field. Caro's home run would end up being the lone hit of the game for the Smokies, a season low.
Chattanooga added two insurance runs in the bottom of the seventh off a Tyler Stephenson two-run single to extend their lead to 4-1.
After going 3-for-3 with two RBIs in yesterdays win, Friedl's sacrifice fly tacked on the final run in the eighth to run the final score to 5-1.
RHP Oscar De La Cruz (0-1, 1.80 ERA) starts for the Smokies in the series finale tomorrow night. Chattanooga gives the ball to RHP Tony Santillan (0-1, 4.03 ERA) with first pitch set for 7:15 pm ET at AT&T Field in Chattanooga.