New age of Indians led by Jones, Bradley
Slugging duo paving way for tomorrow's stars in Cleveland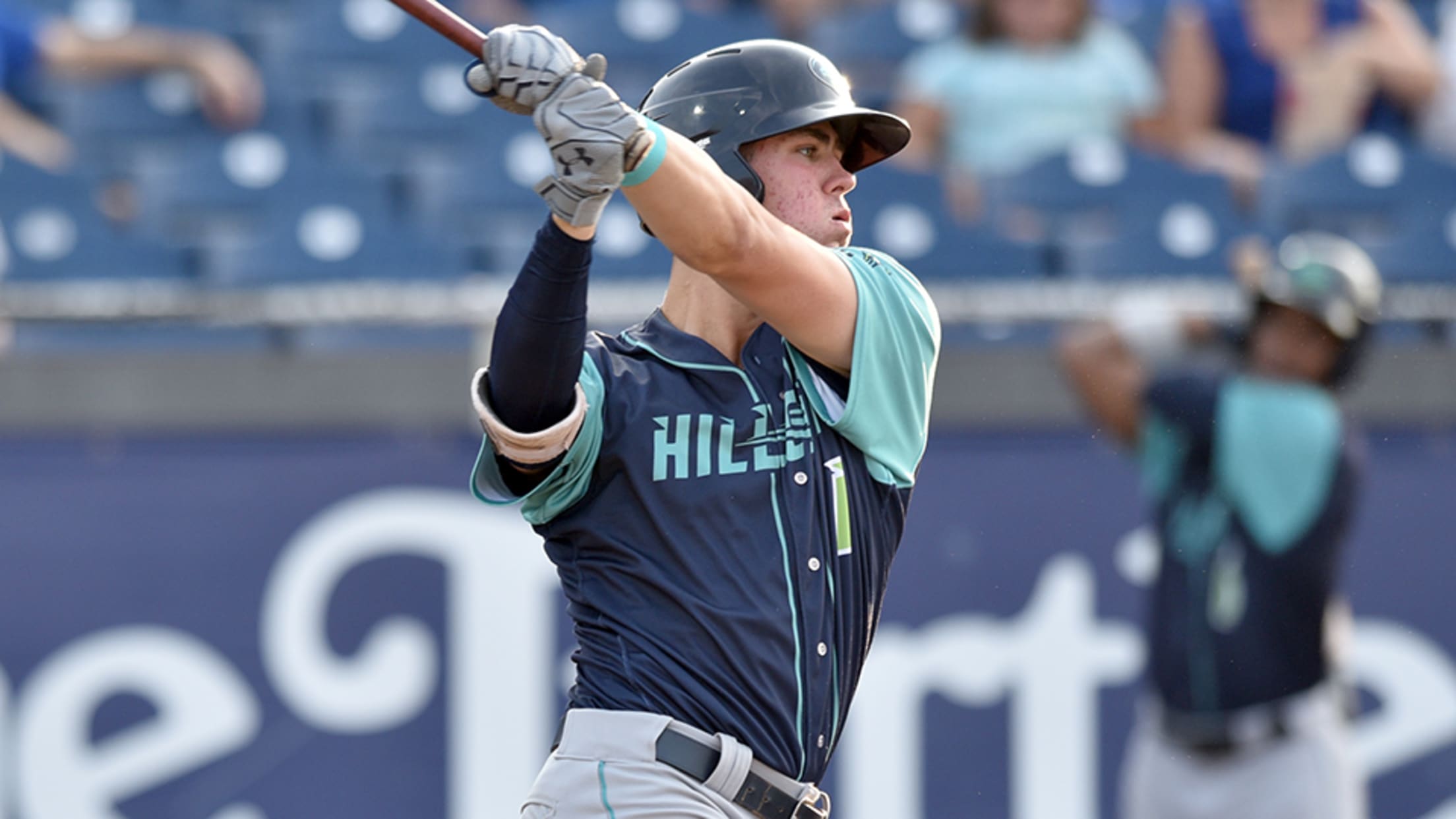 Nolan Jones hit 19 homers and posted an .871 OPS across two levels during his first full-season campaign. (Ken Inness/MiLB.com)
Each offseason, MiLB.com goes position by position across each system and honors the players -- regardless of age or prospect status -- who had the best seasons in their organization. Click here to locate your favorite club.In an era in which developing homegrown talent has become paramount to Major League
Each offseason, MiLB.com goes position by position across each system and honors the players -- regardless of age or prospect status -- who had the best seasons in their organization. Click here to locate your favorite club.
In an era in which developing homegrown talent has become paramount to Major League success, few teams have done so with as much consistency as the Indians. Winners of three straight American League Central Division titles and one pennant during a run of six straight winning seasons, Cleveland has mastered the art of drafting, developing and graduating to create a team built largely from within. The Opening Day roster featured 10 homegrown players.
Even with many former prospects helping in the Majors, the Indians' pipeline is far from dry. Six of their seven Minor League affiliates finished with winning records and five reached the postseason, including both entries in the Rookie-level Arizona League. The seven teams posted a cumulative .529 winning percentage, which represented the seventh-highest figure in baseball.
The departure of Top-100 prospect Francisco Mejía in a trade with San Diego eliminated one of the Indians' brightest up-and-comers. But top prospectTriston McKenzie and second-ranked Nolan Jones remain, providing a strong foundation for an organization that has become one of the game's best.
Indians Organization All-Stars
Catcher --
Eric Haase
,
Columbus (120 games), Cleveland (nine games):
Perhaps no one benefits more from the departure of Mejia than Haase, who made his Major League debut after reaching the 20-homer mark for the second season in a row. The club's No. 24 prospect is a backstop through and through, having made 476 of 477 defensive appearances as a catcher. He threw out a career-best 48.5 percent of would-be basestealers in 2018 and owns a 34.8 percent career mark.
"It's easy to look at Eric's power and forget that he's a pretty darn good catcher," Indians director of player development James Harris said. "He handles pitchers well, he's a leader and works extremely hard. He's a great teammate and a calming presence for our pitchers. We had him repeat several levels early on in his career, but he's kept driving forward and it's beginning to pay off for him."
First baseman -- Bobby Bradley, Akron (97 games), Columbus (32 games): The seventh-ranked prospect in the system makes his second straight Organization All-Star appearance after collecting 58 extra-base hits, 27 homers and 83 RBIs with Triple-A Columbus and Double-A Akron. It's been a continuous theme for the 6-foot-1, 225-pounder, who began his professional career by winning the Triple Crown in the Rookie-level Arizona League in 2014 as well as MVP honors. Bradley secured his second MVP two years later with a career-high 29 homers for Class A Advanced Lynchburg in the Carolina League. He's hit at least 23 roundtrippers in each of his four full seasons.
"I think people sometimes forget how young Bobby is," Harris said of the 22-year-old. "He made it to Triple-A this past season and continued to show his power. An offseason regimen [last year] helped him lose 20 pounds and contributed to better defense at first and more of an athletic showing in all aspects of his game. He's just a kid, so he's got plenty of time. We're confident he'll become an all-around better player."
Second baseman -- Mark Mathias, Akron (117 games): A former third-round pick who notched a career-high 40 doubles in 2016, Mathias was limited to 35 games the following year by a pair of shoulder injuries. He spent all of 2018 in the Eastern League and stayed healthy, collecting 36 extra-base hits and scoring 65 runs in 117 games. While his offensive game remained inconsistent, the 23-year-old produced a Range Factor of 4.46 during his 105 contests at second base. As a point of reference, Reds All-Star Scooter Gennett led Major League second baseman with a 4.61 Range Factor.
Organization All-Stars by MLB affiliate »
Third baseman -- Nolan Jones, Lake County (90 games), Lynchburg (30 games): Jones began 2018 -- his first full season -- as a 19-year-old with Class A Lake County. He ended the year with Lynchburg and production to match the growing hype. The 2016 second-round pick batted .283/.405/.466 with 19 homers, 89 walks and 66 RBIs in 120 games, helping cement his status as MLB.com's No. 84 overall prospect.
"Nolan was a shortstop [in high school in Pennsylvania], but we switched him over to third after drafting him," Harris said. "He's a big guy [6-foot-4, 185 pounds] who is still filling out and has already added some bulk to his frame. He's a former hockey player who did a lot of work to shift his body type so he could handle the daily grind of being a third baseman. He had a great year and showed that he belongs in the discussion among some of the game's top prospects."
Shortstop -- Yu Chang, Columbus (127 games): One year after he hit a career-high 24 homers at Double-A -- four fewer than his career total entering 2017 -- Chang slugged 13 in his first stint at Triple-A. Despite the dip in power, the 23-year-old raised his average 36 points to .256 while totaling 43 extra-base hits. In the field, the sure-handed Chang provided solid, if not superb defense. The Taiwan native committed nine errors in 94 games across more than 800 innings at short, good for a .975 fielding percentage.
Outfielders
Brandon Barnes, Columbus (132 games), Cleveland (19 games): A veteran of 484 Major League games -- he spent all of 2013-14 in the bigs with Houston and Colorado -- Barnes provided valuable insurance for Cleveland with one of his best all-around seasons as a Minor Leaguer. Houston's sixth-round pick in the 2005 Draft ended his 14th professional season with a .273/.347/.444 slash line, 55 extra-base hits, 81 RBIs and 75 runs scored in 132 games. The 32-year-old returned to the Majors in September for the first time since 2016.
Connor Marabell, Akron (89 games), Columbus (31 games): Although he struggled after a late-season promotion to Triple-A, that did little to damper a strong overall season for the 24-year-old. After hitting .213 across three levels in 2017, Marabell began the year in Double-A and earned a spot at the Eastern League All-Star Game. The Jacksonville, Florida, native batted .296/.341/.481 with 38 extra-base hits and 64 RBIs in 89 games with Akron and ended the season batting .275 while driving in a career-best 73 runs.
Oscar Gonzalez, Lake County (114 games): Only 20 years old on Opening Day, Gonzalez turned himself into a player to watch with a strong full-season debut in the Midwest League. Batting .224 as late as May 16, the Indians' 20th-ranked prospect rebounded to hit .292/.310/.435 with 13 homers and 52 RBIs in 114 games with the Captains. A native of the Dominican Republic, he batted .314 in the second half, when many youngsters fade, and sliced his strikeout rate from 1.10 per game in the first half to 0.75 after the break.
"One of those guys who people weren't talking about very much," Harris said. "He plays all three outfield spots, he's athletic and he ended the year with some very good numbers. People are talking about him now and we're very excited to watch him grow."
Utility player -- Tyler Freeman, Mahoning Valley (72 games): The Indians have been patient with the 19-year-old shortstop who they drafted with the 71st overall pick in 2017. A strong showing in the Arizona League last year prompted a promotion to the Class A Short Season New York-Penn League, where Freeman shined. Cleveland's No. 19 prospect put together a monster year, leading or sharing the lead in eight offensive categories, highlighted by a NYPL-best .352 average.
"Tyler is a classic example of a guy playing the game the way it's supposed to be played," Harris said. "He can put the bat on the ball, play good defense and is a very hard worker. He's so young, but you can't tell that by the way he approaches the game. He'll be one to keep an eye on next year as he presumably moves into full-season competition."
Right-handed starter -- Eli Morgan, Lynchburg (19 starts), Lake County (8 starts): The 22-year-old made the transition to full-season competition look easy this year after a strong debut with Class A Short Season Mahoning Valley in 2017. A late-season slump put a minor blemish on his overall numbers, but the Tribe's No. 15 prospect went 9-7 with a 3.21 ERA, 1.10 WHIP and 156 strikeouts across two levels.
"Eli is one of those pitchers who gets a lot of swings and misses with his changeup," Harris said. "It's a real weapon for him and he isn't shy about using it. The challenge for him will be continuing that success as he moves through the higher levels. We feel he's a starter and that's how we'll approach things with him moving forward, but he's certainly rising up our board quickly."
Left-handed starter -- Sam Hentges, Lynchburg (23 starts): Nearly two years removed from Tommy John surgery, Hentges flashed the potential the organization envisioned when it selected him in the fourth round of the 2014 Draft. The eighth-ranked Indians prospect made 11 starts in 2017 in his comeback from surgery and followed that by making a career-high 23 starts and going 6-6 with a 3.27 ERA and 122 strikeouts over 118 1/3 innings this season.
"A big lefty who performed very well for us," Harris said of Hentges, who's 6-foot-6 and weighs 245 pounds. "He added a cut fastball to his arsenal this year and it really played well in the Carolina League. His size lends itself to someone we believe will be a durable and reliable starter for us as he continues to mature. We have high hopes for Sam."
Relief pitcher -- Kyle Nelson, Lake County (25 games), Lynchburg (10 games): Relievers rarely find themselves on top prospect lists, but Nelson's 2018 performance puts him in the discussion. A year after Cleveland took him in the 15th round of the Draft, the 22-year-old dominated to the tune of a 1.58 ERA, 1.01 WHIP and 67 strikeouts against nine walks over 45 2/3 innings. Nelson won six games, saved six more and did not allow a home run while holding opponents to a .218 average in 35 appearances.