New Hampshire comeback runs out of juice
Fisher Cats nearly complete rally from six-run deficit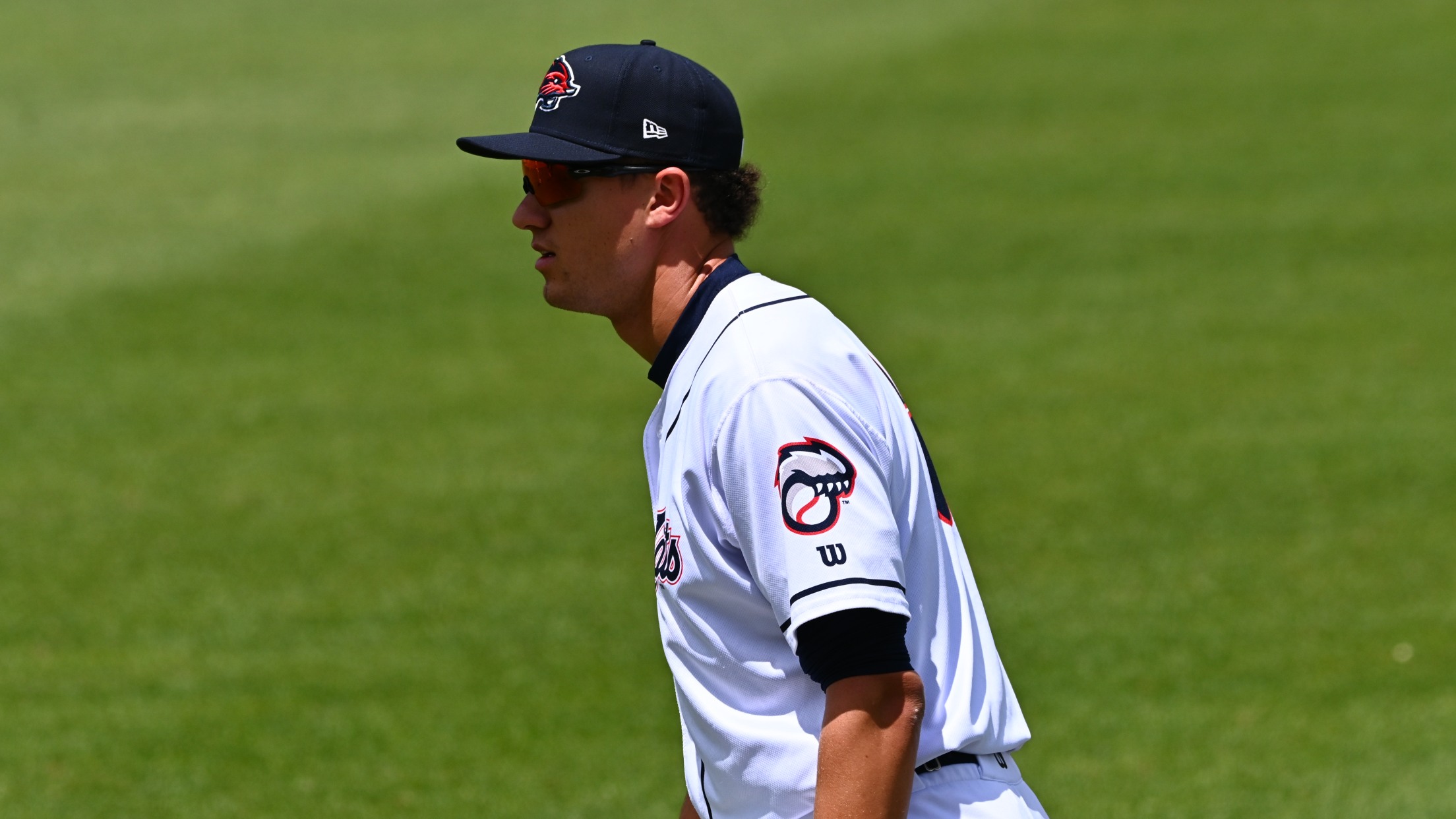 (Photo courtesy of Cindy Lavigne)
Manchester, N.H. – After falling behind, 6-0, to the Somerset Patriots (New York Yankees, 36-21), the New Hampshire Fisher Cats (27-30) rallied but eventually lost, 6-5, on Tuesday night at Delta Dental Stadium. Cam Eden sparked the comeback with a 3-RBI double, but Somerset held on for the win in
Manchester, N.H. – After falling behind, 6-0, to the Somerset Patriots (New York Yankees, 36-21), the New Hampshire Fisher Cats (27-30) rallied but eventually lost, 6-5, on Tuesday night at Delta Dental Stadium. Cam Eden sparked the comeback with a 3-RBI double, but Somerset held on for the win in the series opener.
After giving up six runs across the fifth and sixth innings, New Hampshire responded with a four-run bottom of the sixth to get back in the game. Phil Clarke brought the Fisher Cats' first run home with a RBI single into right field, and Zac Cook worked a walk to load the bases with two outs.
Up stepped Cam Eden, New Hampshire's nine hitter who was promoted from High-A Vancouver on May 31. Eden swung at a first-pitch fastball from Somerset reliever Steven Jennings, and he crushed it into left field for a bases-clearing double. The three RBIs brought New Hampshire within two, 6-4. Eden finished 2-for-5, and he is 6-for-18 (.333) over his last five games.
New Hampshire added another run on a LJ Talley sacrifice fly in the seventh, but they were held off the board in the final two innings, striking out five times.
Four Fisher Cats had multiple hits and combined for all of New Hampshire's nine hits. Spencer Horwitz went 3-for-5 with a double and extended his hit streak to 10 games, tied for the longest hit streak for New Hampshire this season. Orelvis Martinez was 2-for-4 with two doubles, and Clarke finished 2-for-4 with an RBI.
On the mound, Luis Quinones turned in season-highs in innings pitched and strikeouts with New Hampshire this season. The right-hander from Puetro Rico went 4.0 shutout innings and allowed just one hit, walking three and striking out five. Quinones was activated from the seven-day injured list on May 25.
Reliever Gabriel Ponce turned in his fourth straight shutout outing. He threw 3.0 innings and allowed one hit with no walks and three strikeouts. He has not allowed an earned run in his last 17.0 innings on the mound, dating back to May 14.
The Fisher Cats continue their 13-game homestand with a doubleheader against the Somerset Patriots (New York Yankees) tomorrow starting at 5:05 p.m. Tickets can be found at NHFisherCats.com, via email at [email protected], over the phone at (603) 641-2005, or in-person at the Fisher Cats box office at 1 Line Drive in Manchester.