Syndergaard sizzles in Cyclones' rehab
Mets ace fans seven over five innings in first game since May 25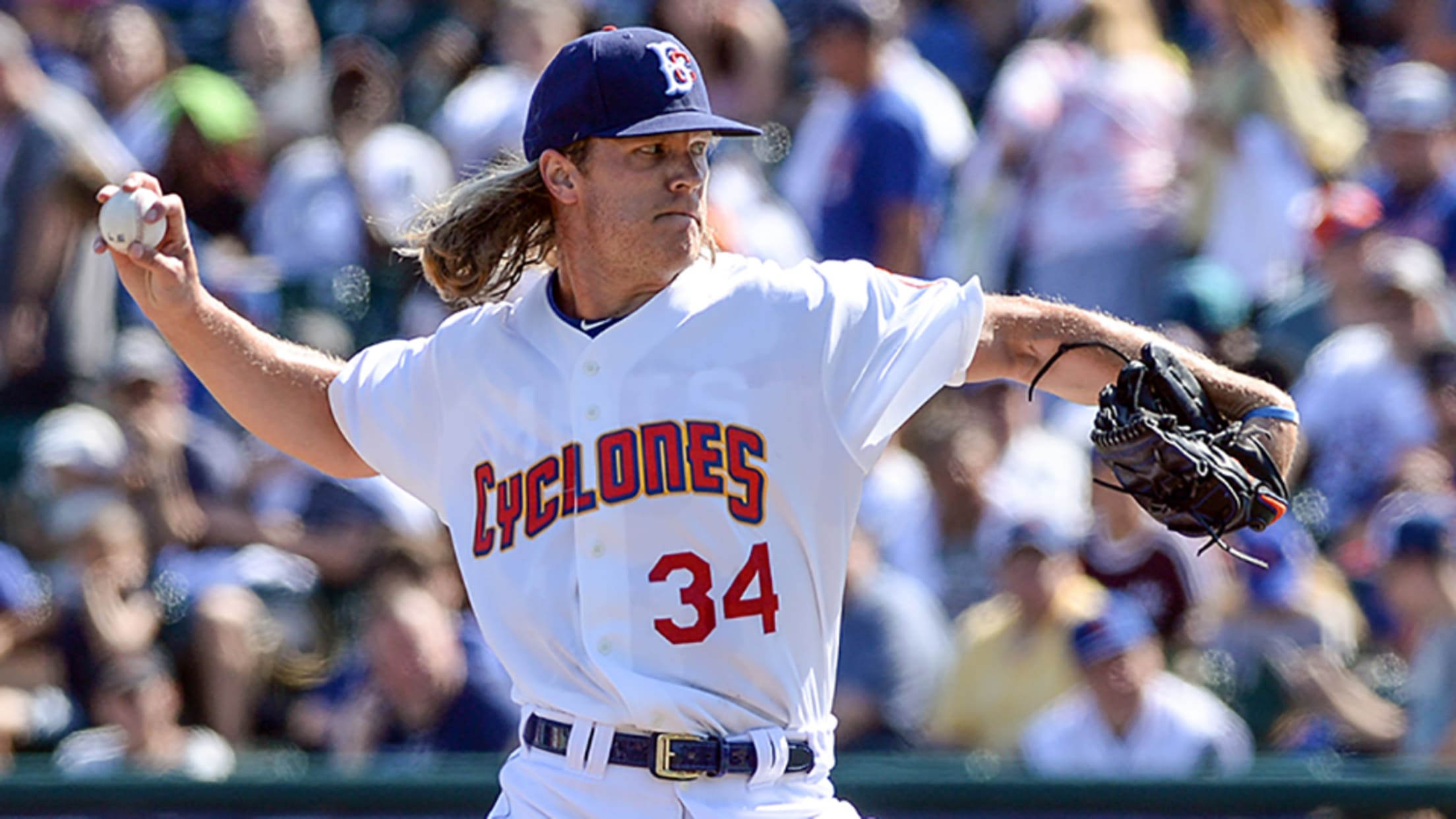 Noah Syndergaard had not pitched since straining his right index finger in a start on May 25. (Ashley Marshall)
The beleaguered Mets got some good news for a change Sunday.Ace right-hander Noah Syndergaard, out of action since May 25 because of a strained ligament in his right index finger, returned to the mound with five strong innings in Class A Short Season Brooklyn's 2-1 win over Staten Island. He
The beleaguered Mets got some good news for a change Sunday.
Ace right-hander Noah Syndergaard, out of action since May 25 because of a strained ligament in his right index finger, returned to the mound with five strong innings in Class A Short Season Brooklyn's 2-1 win over Staten Island. He struck out seven while allowing one run on two hits over five frames.
"It was great, still had those first-time jitters, always do," he told reporters. "Didn't think I was going to throw strikes in that first inning, but the mound wasn't the easiest to pitch off of."
Gameday box score
The 6-foot-6 right-hander threw two wild pitches, but settled down after a bumpy start. Syndergaard walked Alex Junior to start the game, and following a flyout by Mike Ford, gave up a single to Yankees' 2018 second-round pick Josh Breaux.
After striking out Andres Chaparro, the 25-year-old Texas native uncorked a wild pitch which allowed Junior to cross the plate. He gave up just one more hit to Frederick Cuevas in the fourth, although Eduardo Torrealba reached on a throwing error by shortstop Manny Rodriuez in the second. Syndergaard capped his outing by striking out three of his final five batters.
"Overall, the finger was holding up nice, feels good and I can't wait to get back out there in a big league setting," he said afterward.
The 2010 supplemental first-round pick threw 46 of 71 pitches for strikes and reportedly reached 98 mph in the first inning. Three runners stole second off him.
"Ah yes, my Achilles heel of stolen bases," he said. "My first time in a competition setting, I wasn't too focused on what the runners were doing. I was just wanted to get comfortable with my delivery."
Although he obviously can't wait to get back to the Majors, Syndergaard said his next step remains unclear.
"I don't know the answer to that right now. I'm going to go to the ballpark [Monday] and re-evaluate where we are," he said.
Syndergaard reported feeling pain in his finger after his start on May 25 and was put on the 10-day disabled list. He was expected to return to the rotation against the Yankees on June 10, but the Mets scratched that plan after the righty felt pain and swelling when he played catch before that series began.
He is 4-1 with a 3.06 ERA and 76 strikeouts in 11 starts spanning 64 2/3 innings for New York this season. But since he went on the DL, the Mets have gone 10-28, leaving them mired near the basement in the National League East, and prompting rumors that he might be a candidate for a trade. For his part, Syndergaard said he hadn't heard anything about a possible deal.
"Not really, I've been kind of unplugged recently," he said. "I don't think much of it because I have zero control over it. So I'm not going to waste much energy on something that may or may not happen."
Vince Lara-Cinisomo is a contributor to MiLB.com. Follow him on Twitter @vincelara.