Oswalt caps whirlwind week with gem
Mets No. 16 prospect blanks Chihuahuas on one hit over five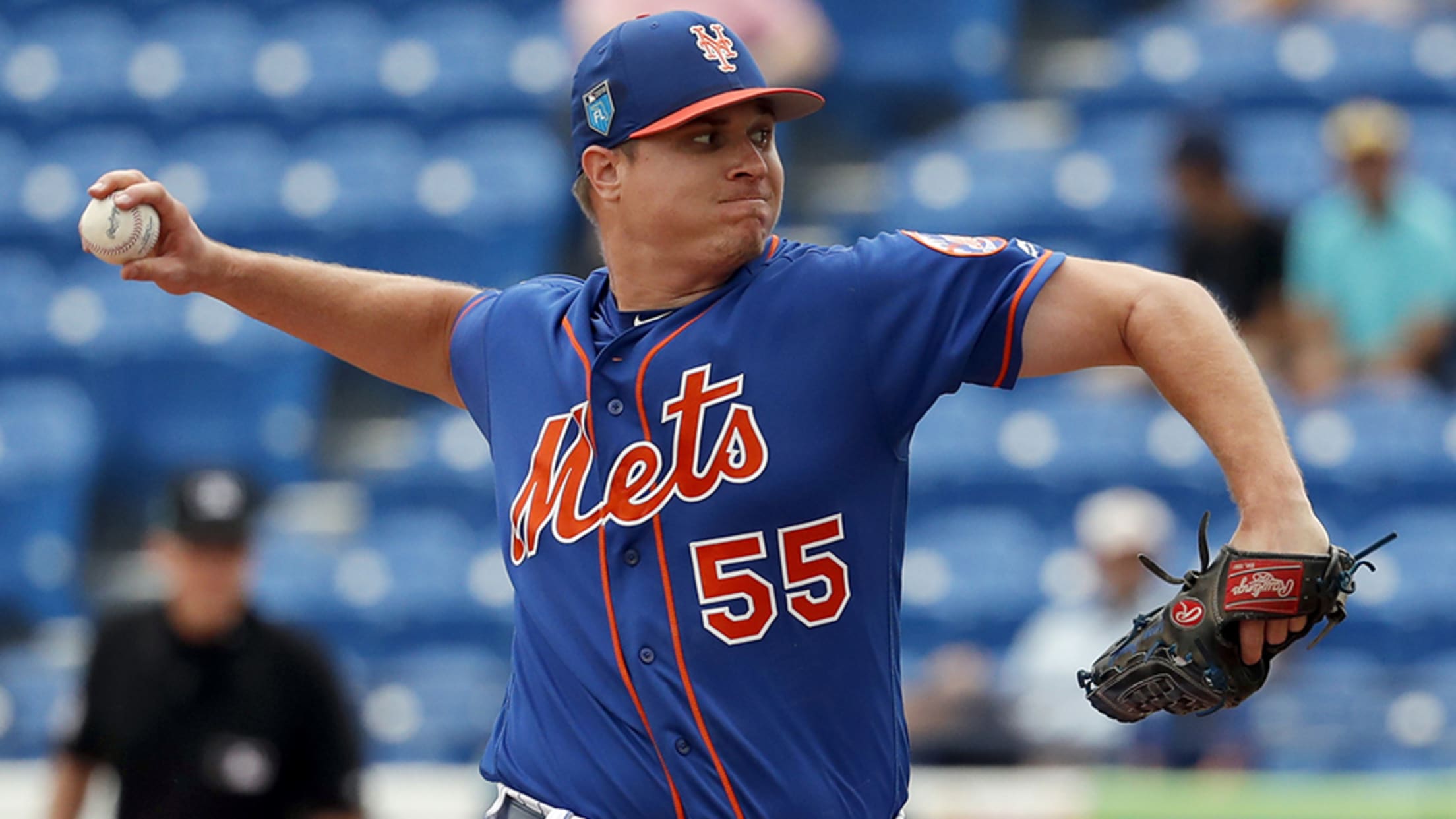 Corey Oswalt has been recalled three times by the Mets this season and has one career Major League appearance. (Jeff Roberson/AP)
It's been a whirlwind week for Corey Oswalt, but that didn't seem to affect him Friday night.The Mets' No. 16 prospect -- who was called up by the big league club and warmed up without appearing in a game -- allowed one hit over five scoreless innings as Triple-A Las
It's been a whirlwind week for Corey Oswalt, but that didn't seem to affect him Friday night.
The Mets' No. 16 prospect -- who was called up by the big league club and warmed up without appearing in a game -- allowed one hit over five scoreless innings as Triple-A Las Vegas topped El Paso, 7-1, at Southwest University Park.
After he traveled from Nevada to Miami and back in a two-day span, Oswalt found some stability in facing the Chihuahuas again, the team he pitched against in his Triple-A debut.
"It was a crazy week, but I faced this team in my last start, so I had good idea going into it," he said. "I just wanted to work fastball to both sides and keep it simple. My catcher [Colton Plaia] had a good game plan. The key was the fastball, controlling it in and out."
Oswalt, a 2012 seventh-round pick out of a San Diego high school, went 12-5 with a 2.68 ERA last year in 24 starts with Double-A Binghamton and was named Eastern League Pitcher of the Year.
Gameday box score
The 24-year-old made his Triple-A debut on April 5, allowing three runs over four innings, then was called up to New York on Tuesday as the big league club looked for bullpen depth. He warmed up against the Marlins but didn't get in the game and was returned to Las Vegas the next day.
Despite the quick return to the Minors, Oswalt was thrilled to get a shot, even if he didn't pitch.
"I was very fortunate to be called up to help the team," he said. "But that's how the game went; I can't control that. But I'm ready to get back there."
Oswalt (1-0) gave up just a single to Nick Schulz leading off the second, although he issued three walks that helped push his pitch count to 91. He fanned seven and threw 53 pitches for strikes. Corey Taylor, Kyle Regnault and Logan Taylor finished off the two-hitter.
The 51s gave Oswalt a quick lead as Ty Kelly doubled in the first and scored on an infield hit by Bryce Brentz. No. 22 prospect David Thompson later singled home Zach Borenstein, who walked, to make it 2-0.
Las Vegas added a run in the fifth when Colton Plaia doubled and scored on a wild pitch by reliever Chris Huffman. The 51s pulled away with four in the ninth as Gavin Cecchini and Matt den Dekker singled in runs and Kelly plated two with another base hit.
Brett Nicholas' groundout in the eighth scored the Chihuahuas' lone run.
The Mets gave Oswalt a $475,000 bonus in 2012 to persuade him to pass on a UC Santa Barbara commitment. A position player in high school, he has a fresh arm and good mechanics, which allow for repeatability.
Oswalt's fastball ranges between 90-94 mph, but his control is considered above-average and he uses a split-changeup that is effective against left-handed hitters. He was added to the 40-man roster in November after leading the Eastern League in ERA in 2017.
His first foray to the bigs was brief -- he can't wait to get back.
"It was cool, [but] baseball is baseball. The game doesn't change," he said. "Whatever the team needs [starter or reliever], I'll execute my pitches and, hopefully, contribute to a win."
Vince Lara-Cinisomo is a contributor to MiLB.com. Follow him on Twitter @vincelara.