PCL notes: Thompson takes on challenges
Mets third-base prospect adapting to competition in 51s debut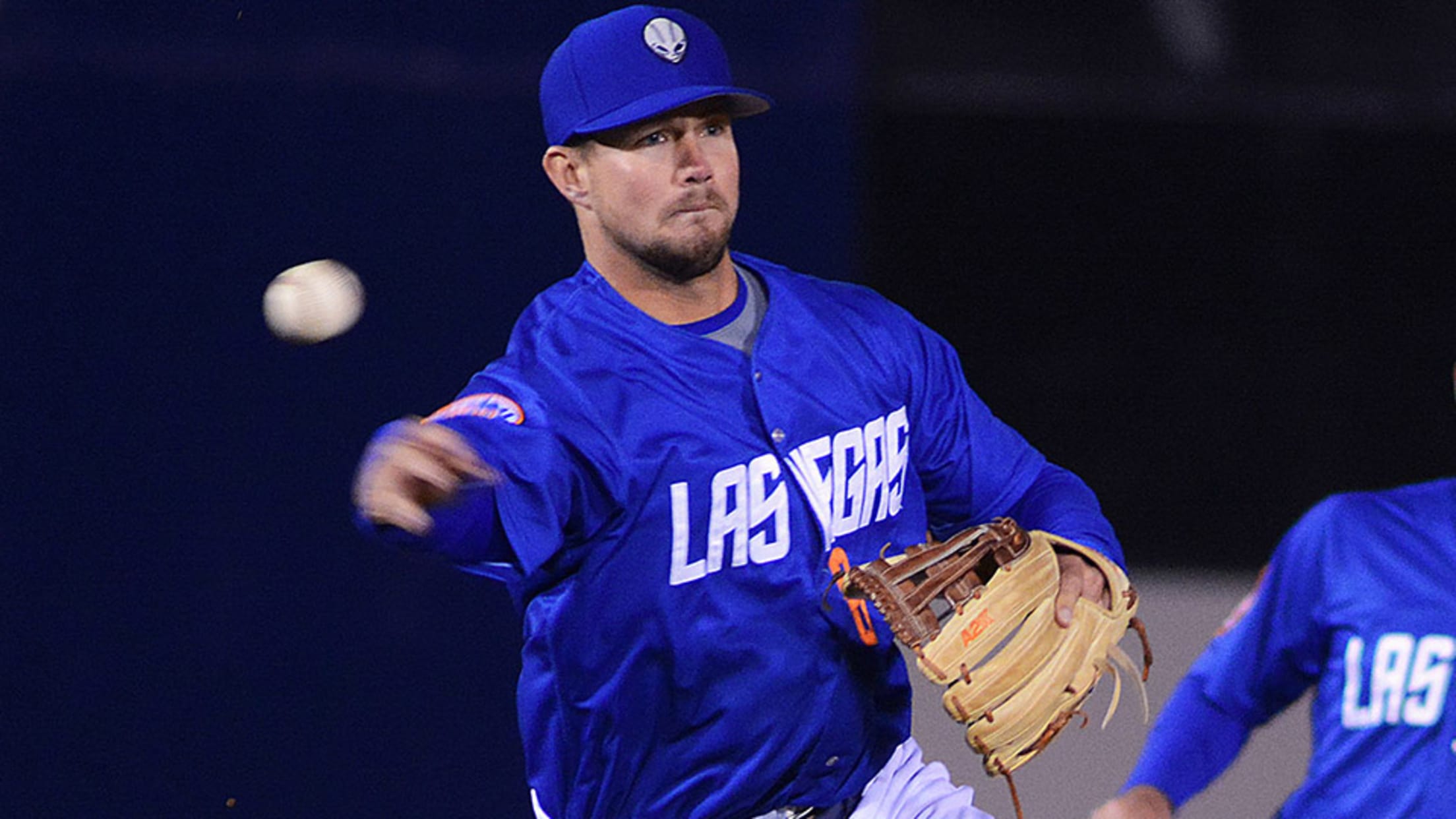 A fourth-round pick in 2015, David Thompson is hitting .258 with a homer and five RBIs in his first 22 Triple-A games. (Steve Spatafore)
A slow start is nothing to worry about for Las Vegas 51s third baseman David Thompson.After all, the New York Mets' No. 22-ranked prospect has dealt with a lot more adversity than that in the past."The beginning of the year is always tougher, just trying to see more pitching and
A slow start is nothing to worry about for Las Vegas 51s third baseman David Thompson.
After all, the New York Mets' No. 22-ranked prospect has dealt with a lot more adversity than that in the past.
"The beginning of the year is always tougher, just trying to see more pitching and get consistent at-bats," Thompson said.
Thompson had two shoulder surgeries and thoracic outlet surgery while playing for the University of Miami, missing most of his freshman and sophomore years. There is a visible scar on his chest from one of the surgeries, just below the neckline. Thompson stayed healthy and played well enough as a junior to be drafted in the fourth round by the Mets in 2015.
"I love the Mets organization; they've treated me great," he said. "They're always lifting us up."
So far this year, Thompson has hit .262/.324/.385 with one home run and five RBIs in 21 games, striking out 20 times in 65 at-bats.
"It's going pretty well, [but] it's definitely an adjustment," he said. "Being around the best competition I've ever played against, obviously, a lot of good arms. It's an OK start, I just hope to improve, get to where I want to be."
Thompson's manager agreed with his assessment.
"I think right now he's just trying to get his feet wet in Triple-A, get adjusted to some of these pitchers," Las Vegas manager Tony DeFrancesco said. "But definitely I think [with] his makeup, I think he's a plus defender. With the bat, he does have some power; we're waiting for it to come around."
DeFrancesco is a veteran of the Pacific Coast League, and he said sometimes even the prospects take a little longer to adjust to the final stop before the Majors.
"We have two young kids, [Luis] Guillorme is a young kid, [Thompson] is a young kid getting that first shot at Triple-A," DeFrancesco said. "I've been doing this for a while now. They're going to have to make some adjustments to the selectivity, chasing breaking balls. The pitchers in this league are going to pitch backwards -- they're going to throw more strikes. Most of the time he's getting himself out, chasing balls out of the zone."
Thompson got off to a slow start last season as well, hitting just .193 with two home runs in 31 games through May 15. He then hit .286/.350/.479 with 14 home runs in his last 102 games.
"I'm definitely off to a better start this year than last year," Thompson said.
The adjustments defensively have come easier for Thompson.
"That's pretty much the same thing wherever you go, just catch and throw," he said. "The pitchers here pitch a lot differently. I'm getting better scouting reports on them, but they're getting better scouting reports on me."
In recent seasons, the Mets have dealt with a lot of injuries on the infield, which could open the door for Thompson down the line.
"You never wish an injury on anybody, so I'm just trying to do the best I can and hopefully get a shot one day," he said.

In brief
Patience is a virtue:
Padres No. 3 prospect
Luis Urías
remains one of the most patient hitters in the Minors even as he adjusts to life in El Paso. The second baseman has hit .265/.367/.368 with two home runs for the Chihuahuas, drawing 10 walks versus 15 strikeouts, though that is down from his career ratio of 153 walks to 135 strikeouts entering the season.
Sounds of silence:
Two of the Athletics' top prospects are off to slow starts at Nashville. No. 4 prospect
Jorge Mateo
has hit .165/.212/.215, while No. 11 prospect
Sheldon Neuse
is batting just .143/.235/.171.
Chasing a new role:
The Royals shifted No. 11 prospect
Josh Staumont
to the bullpen this year and so far, the move is paying off. After being sent from Omaha to Double-A Northwest Arkansas last season, Staumont has returned to the Storm Chasers and posted a 1.04 ERA in seven appearances, striking out 17 batters in 8 2 /3 innings.
Chris Jackson is a contributor to MiLB.com.