Ponies' Conlon rides to third shutout of year
Mets No. 20 prospect tosses a three-hitter, strikes out eight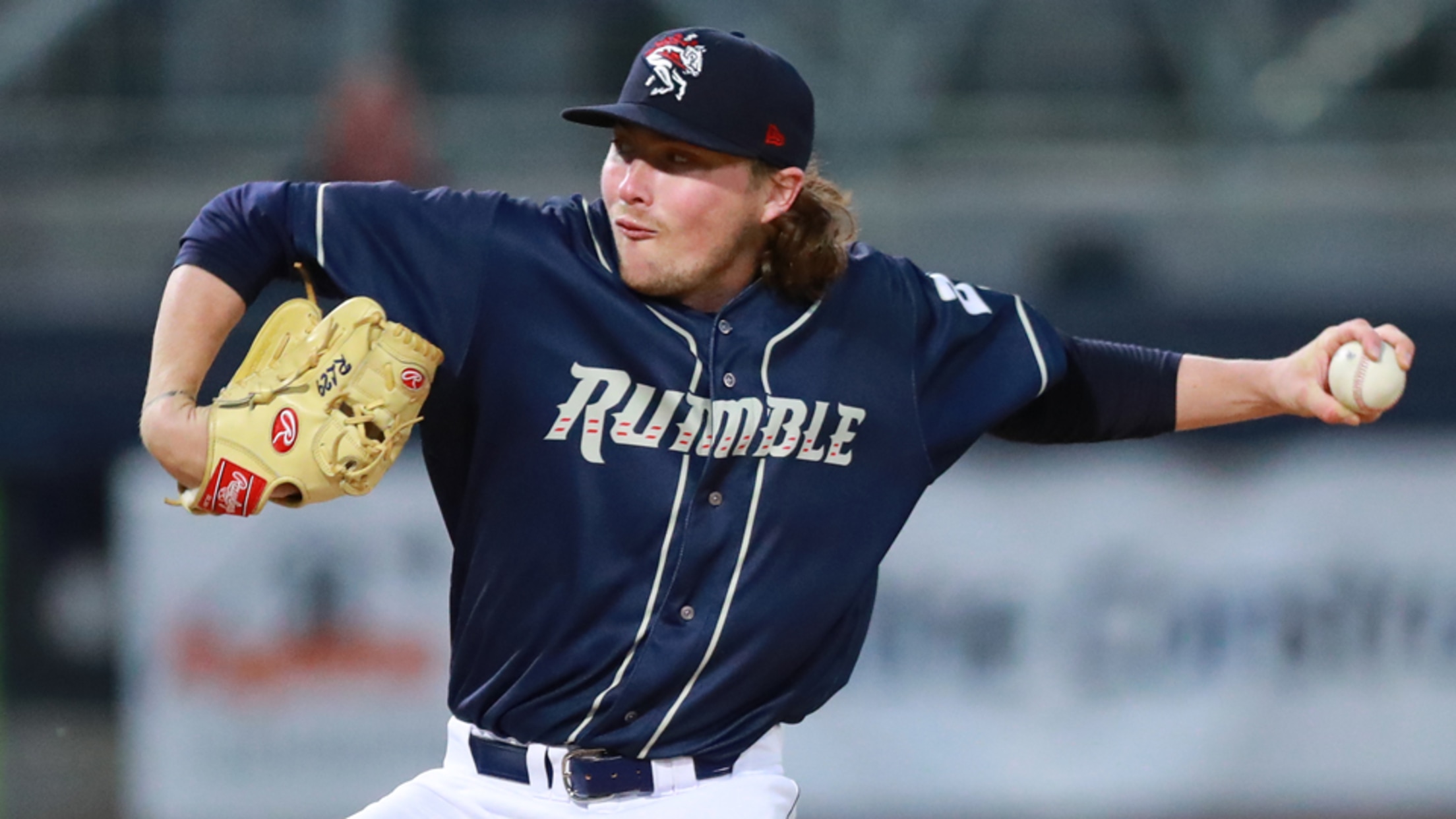 P.J. Conlon had not thrown a complete game across three professional levels before reaching Double-A this year. (Gordon Donovan/MiLB.com)
A little rest in the middle of the long Minor League season can make a big difference. P.J. Conlon knows just how big."I kind of had a rough last month or so," the Mets' No. 20 prospect said. "Everything felt a little different coming out [tonight], especially my fastball. It
A little rest in the middle of the long Minor League season can make a big difference. P.J. Conlon knows just how big.
"I kind of had a rough last month or so," the Mets' No. 20 prospect said. "Everything felt a little different coming out [tonight], especially my fastball. It was smoother, stronger. That was a big thing, being fresh coming in. Today was the best I've felt in a long time."
Making his first start since July 7, Conlon recorded his third seven-inning shutout of the season, allowing three hits and two walks while striking out eight, as Double-A Binghamton crushed visiting Akron, 13-0, in the second game of Tuesday's doubleheader.
Gameday box score
"The little break during the All-Star Game and they put me in toward the back of the rotation to give me a little extra rest ... that paid off a lot," the 23-year-old left-hander said.
The whitewash matched the club record for most lopsided shutout win, set on July 29, 1995 against Norwich. Conlon, who lowered his ERA to 3.81, is the first Binghamton hurler to throw three shutouts in a season since Denny Harriger in 1993. The franchise record for most in one year is four, established a year earlier by Bobby Jones.
"I didn't even know that, but hopefully, [I can match or break it]. If it happens again, that means something good is happening for me," Conlon said. "I just have to go out and try to do what I did today, which is mix speeds and throw the fastball where I want it."
The RubberDucks' Eric Haase logged the first hit against the 2015 third-round pick, a ground rule double with two outs in the second, but Conlon struck out the next batter, then shrugged off a third-inning single by seventh-ranked Indians prospectGreg Allen.
"I was more aggressive with the fastball because of my arm feeling the way it did," the University of San Diego product said. "Early on, I noticed I was spotting it well and that gave me confidence in the middle of game, the second time through [the lineup], that I could keep throwing it as long as I commanded it like I was early. That was huge for me."
He also enjoyed a five-run second by the Rumble Ponies, who extended the lead by one in the fourth.
"You feel a lot looser with a comfortable lead," he said. "Every time, your job is to put your team in position to win, so if they're scoring a lot of runs, that makes that job a lot easier. I felt like I could attack a little more freely."
After retiring 11 in a row, Conlon (6-7) had to sit through a bottom of the sixth in which Binghamton sent 11 men to the plate and scored seven more times. Despite the long wait, he didn't worry about having to turn the ball over to the bullpen in the seventh.
"No one really came up to me and said anything like that," he said. "It didn't really cross my mind that they wouldn't let me go back out, but it was a long inning. I just had to make sure I stayed loose."
There was trouble when he finally got back to the bump. Bobby Bradley, MLB.com's No. 80 overall prospect, scorched a leadoff knock up the middle and Indians No. 9 prospectYu-Cheng Chang walked.
"My fastball command wasn't as good as it was all game and my slider as well. I was missing down. The single was 109 [mph] off the bat and then the walk ... " Conlon said. "[Catcher Tomás Nido] came out and it was like, 'All right, I've got to get back to what I was doing, just get a ground ball or something and get out of it.'"
He fanned Haase and induced two straight groundouts, finishing the nightcap in two hours and seven minutes. He threw 71 of 106 pitches for strikes.
Nido, the Mets' No. 9 prospect, was 3-for-4 with a double, two RBIs and two runs scored.
The RubberDucks won the opener, 6-3, getting a complete game from Thomas Pannone and two hits from Bradley.
Josh Jackson is a contributor to MiLB.com. Follow and interact with him on Twitter, @JoshJacksonMiLB.