51s' Conlon overcomes rough stretch
Mets No. 24 prospect fans three over 6 2/3 scoreless frames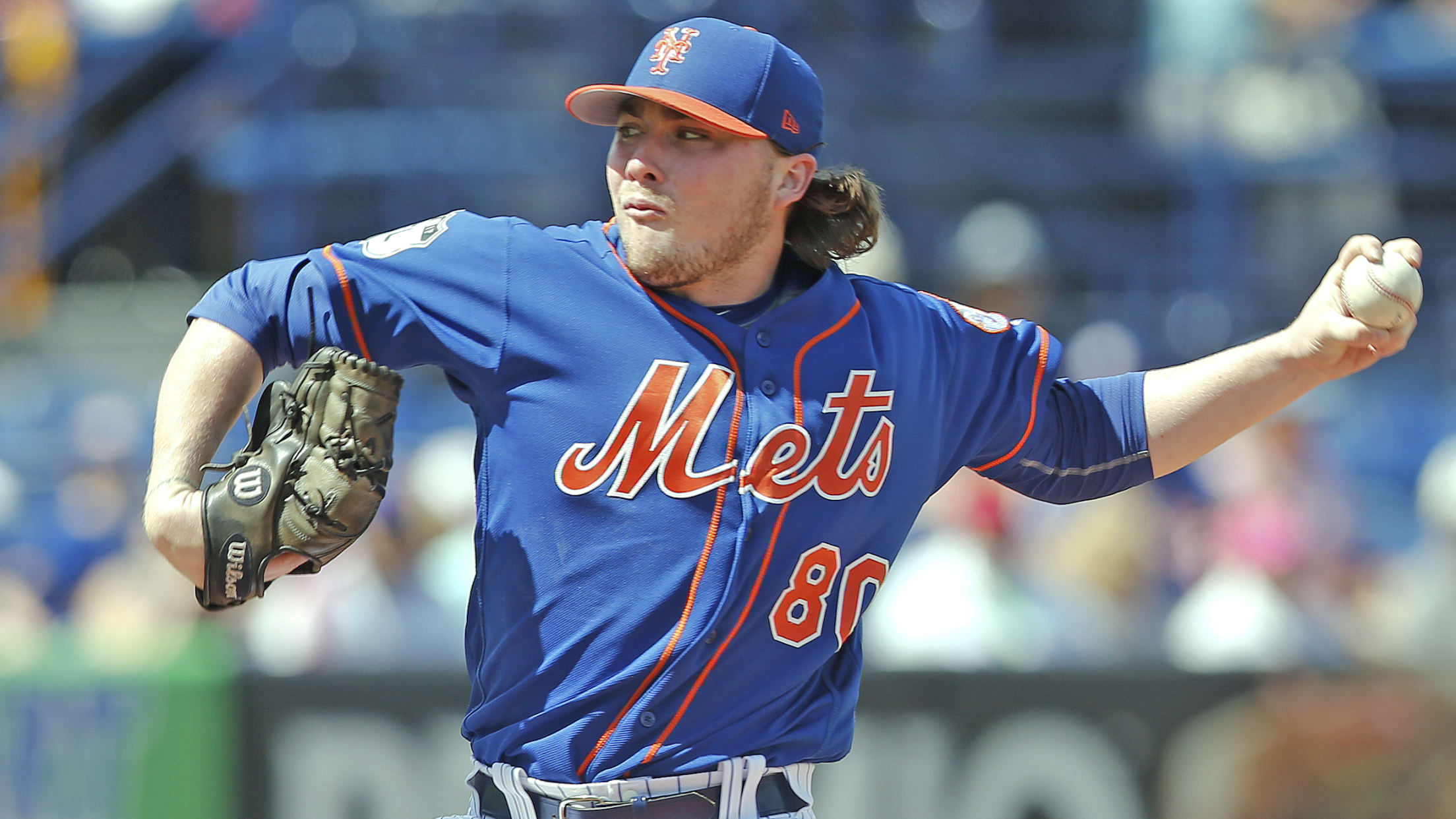 P.J. Conlon struck out nine over six innings in his Pacific Coast League debut on April 8. (John Bazemore/AP)
It took only three starts with Triple-A Las Vegas for P.J. Conlon to see the ugly side of a pitcher's life in the Pacific Coast League. But a trip to Albuquerque on Tuesday night produced some positives for the Mets' 24th-ranked prospect.Conlon scattered six hits and a pair of walks
It took only three starts with Triple-A Las Vegas for P.J. Conlon to see the ugly side of a pitcher's life in the Pacific Coast League. But a trip to Albuquerque on Tuesday night produced some positives for the Mets' 24th-ranked prospect.
Conlon scattered six hits and a pair of walks but kept Albuquerque off the scoreboard for 6 2/3 innings in the 51s' 7-0 victory at Isotopes Park. The left-hander struck out three and trimmed his ERA to 6.63 in his first 19 innings at the Triple-A level.
"I think I just came back to being aggressive," he said. "Tonight, I felt like I was just trying to attack guys from the first pitch and just be aggressive. Sometimes I try to get a little too tricky on the mound and then I find myself in all these 2-1 or 2-0 counts, and then that's when guys do damage."
Named the Mets' Minor League Pitcher of the Year in 2016, Conlon made 28 appearances, including 22 starts, with Double-A Binghamton last season. He went 8-9 with a 3.38 ERA and 108 strikeouts in 136 innings, tossing three complete-game shutouts.
"I saw guys in Double-A had a pretty good plan at the plate and it just seems like [Triple-A batters] are even more locked in, even more well-prepared," Conlon said. "It's harder to get guys to chase because they're kind of locked in and they know what they want to swing at and a lot of guys don't really get away from their plans."
His welcome to the PCL was a warm one -- he struck out nine and allowed one run over six frames against El Paso on April 8. In his next two starts, however, he surrendered 14 runs on 15 hits over 6 1/3 innings and saw his ERA balloon to 10.22.
Gameday box score
"I think the last couple starts I've got a little nit-picky and tried to nibble and found myself behind counts," the 24-year-old said. "I think anytime you go to a new league, there's a little bit of a learning period. ... You always hear about the elevation and the way the ball flies in the PCL and, I mean, it's just kind of how it goes.
"You just got to work with it and not try to think about it. ... It's just the same game."
The native of Belfast, Northern Ireland, pitched around a single and a walk in the first inning Tuesday before throwing six pitches in a perfect second, aided by Bryce Brentz's diving catch in right. Raimel Tapia connected on a one-out single in the third before moving into scoring position on a passed ball by Johnny Monell. Conlon got some more help from his defense after Mike Tauchman lined a single to Brentz, who made a perfect throw to cut down Tapia at the plate.
"You get an energy boost from stuff like that. It just changes the game," Conlon said. "If that run scores there, it's 1-1 and then it's a completely different ballgame. Those plays are huge, just for momentum and getting the team up and fired up and ready to go. They were unreal tonight behind me."
Las Vegas second baseman Phillip Evans mishandled Drew Weeks' grounder with two outs in the fourth and Elliot Soto followed with a single to center before Conlon recorded nine consecutive outs. He retired the side in order in the fifth and benefited from another outfield assist, with left fielder Zach Borenstein nailing Rockies No. 11 prospect Tom Murphy trying to stretch a single to end the sixth.
The 13th-round pick out of the University of San Diego got a pair of quick outs in the seventh but gave way to reliever Matt Purke after Daniel Castro singled and Stephen Cardullo walked. Purke got Tapia to bounce to second to wrap up the frame.
Conlon (1-1) threw 59 of 86 pitches for strikes and said he looks forward to putting the confidence he's gained into his next start.
"It's just always a learning process, no matter what the result is," he said. "To go through adversity and go back and look at film and go over what you could have done better and go out and then go out the next time and execute that plan and see those things that you worked on are actually paying off, that's big for moving forward."
Purke and Drew Smith worked the final 2 1/3 innings for Las Vegas' first shutout of the season.
Conlon pitched with the lead from the moment he took the mound after Brentz doubled home Borenstein in the first. The 51s broke it open with a six-run eighth, powered by Borenstein's two-run homer and a three-run shot by Ty Kelly.
Gerard Gilberto is a contributor to MiLB.com. Follow and interact with him on Twitter, @GerardGilberto4.