FSL notes: Mazeika catching up on defense
Mets backstop thriving at the plate while improving skills behind it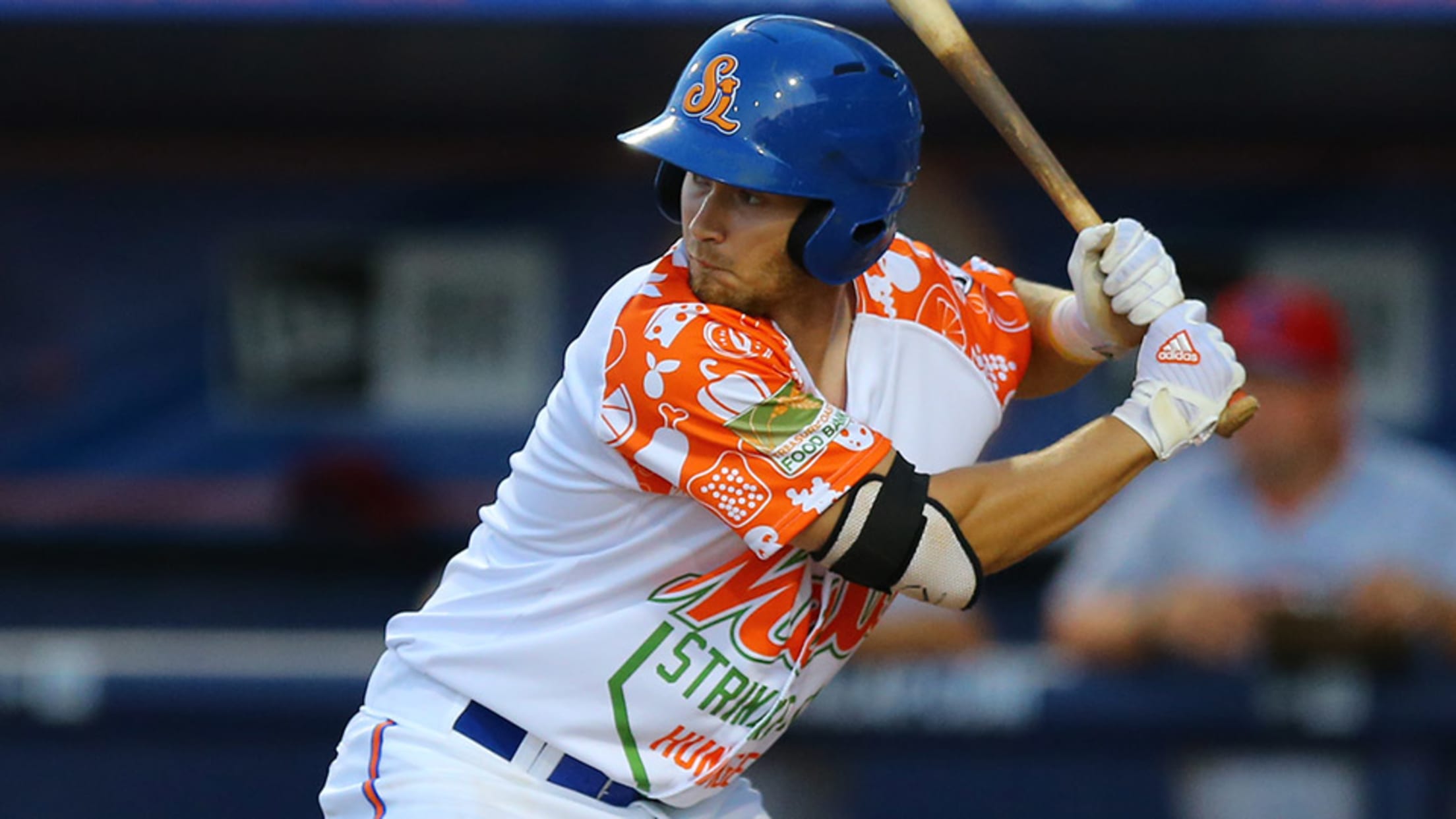 Patrick Mazeika is batting .343 with 32 RBIs through his first 38 games in the Florida State League. (Gordon Donovan/MiLB.com)
Patrick Mazeika set the bar high at the plate coming into this season, but the New York Mets catching prospect has exceeded it so far with Class A Advanced St. Lucie.A .329 hitter after his first two seasons, Mazeika is batting .343 with 32 RBIs through 38 games despite moving
Patrick Mazeika set the bar high at the plate coming into this season, but the New York Mets catching prospect has exceeded it so far with Class A Advanced St. Lucie.
A .329 hitter after his first two seasons, Mazeika is batting .343 with 32 RBIs through 38 games despite moving up to the pitcher-friendly Florida State League.
Mazeika, 23, has also shown power with six homers while striking out only 14 times in 132 at-bats and compiling a .429 on-base percentage and .569 slugging mark. Impressive as those numbers are, though, the most encouraging part of Mazeika's early time at St. Lucie may be the strides he's starting to take behind the plate.
"I was always more of a hitter than a catcher," the New England native said.
To make it to New York, Mazeika has to be both, of course.
Trying to help him get there is first-year St. Lucie manager Chad Kreuter, a 16-year Major League backstop.
"It's been great to get an opportunity to play for someone with all that experience," Mazeika said. "There isn't anything he can't help me with. And he's matching every pitch, so he doesn't miss a thing. I'm just trying to take advantage of all of it."
If Mazeika can polish his catching skills, his prospect ranking with the Mets -- No. 26 right now -- could rise dramatically. His Major League potential at the plate isn't questioned.
The left-handed hitter batted .354 in 2015 for Kingsport in the Rookie Appalachian League, then .305 last season with Columbia in the Class A South Atlantic League. Mazeika got a late start at Columbia, though, because of an elbow injury -- and his arm was already fringy in the view of scouts.
"I've been working hard to catch up with my defense," Mazeika said. "My arm is coming along, and I think I'm getting a little bit better at everything."
There has been no need to change anything with his approach at the plate.
Mazeika has just two more career strikeouts than walks and has been a doubles machine, with 54 in 602 at-bats. His OPS this season is .998.
Most of Mazeika's numbers are as good or better than those he put up at Stetson University, where he was named a Freshman All-American in 2013 after batting .382 and just missing out on the Atlantic Sun batting title won by Chicago Cubs prospect Chesney Young.
Two more seasons as an All-Atlantic Sun selection followed before the Mets took Mazeika in the eighth round of the 2015 Draft.
Mazeika headed to Florida to play for Stetson from the prestigious Salisbury School in rural Connecticut. The all-male institution is known for its athletics as well as academics, but a large part of that is because of hockey.
Only one Salisbury graduate has made the Majors, Chris Dwyer, who pitched in just two games for Kansas City in 2013 before returning to the Minors.
Mazeika wants to be the second and then stick around a lot longer.
It looks like his bat will be worthy. His defense is the question.
Mazeika has played first base when not catching this year, but that's because St. Lucie was left with a hole there when Peter Alonso, the Mets' No. 9 prospect and a second-round pick last year, broke his wrist.
A catcher who can hit is much more in demand than a first baseman who can.
"My approach at the plate has worked, so I haven't had to make a lot of adjustments there yet," Mazeika said. "But I know I have to get better defensively to keep moving up. That's what I'll keep working on."
Kreuter is there to help.

In brief
Nice start:
Lakeland right-hander
Kyle Funkhouser
, Detroit's No. 6 prospect, had an impressive debut after being promoted from Class A West Michigan. The former University of Louisville standout struck out 10 and walked none over 7 2/3 innings against Clearwater, giving up three hits and two runs in a no-decision. Funkhouser, 23, was 4-1 with a 3.00 ERA and 59 strikeouts in 39 innings in the Midwest League prior to the promotion. He was taken in the fourth round of the 2016 Draft by the Tigers after not signing with the Los Angeles Dodgers as the No. 35 overall pick the previous year.
Moving up:
Catcher
Danny Jansen
was leading the Florida State League with a .369 average in 31 games when promoted from Dunedin to Double-A New Hampshire. Toronto's No. 22 prospect struck out just 14 times in 122 at-bats with Dunedin, compiling a .422 on-base percentage and .541 slugging mark with five homers and 18 RBIs. Jansen, 22, was a 16th-round pick in 2013 Draft and had been held back by injuries before this year. He missed two months with a broken hamate in 2016 and hit .218 with Dunedin.
A little time off:
Alex Jackson
's encouraging first season in the Atlanta organization was interrupted when the Fire Frogs catcher went on the disabled list because of a sore left wrist. The Braves didn't expect their No. 23 prospect to be sidelined long. Jackson, 21, was hitting .297 with 10 homers and 30 RBIs in 39 games as he made the conversion from the outfield to behind the plate. He was obtained by the Braves in a winter trade with Seattle after being the No. 6 overall pick in the 2014 Draft.
Power surge:
Bradenton left fielder
Logan Hill
went deep in three out of four games and led the Florida State League with 12 home runs and 34 RBIs in 41 games. A 25th-round pick by Pittsburgh in the 2014 Draft out of Troy University, Hill also led the league with a .588 slugging mark and was hitting .281 with a .359 on-base percentage. The 23-year-old hit 13 homers in 110 games between Bradenton and Class A West Virginia last season.
Guy Curtright is a contributor to MiLB.com.