Fireflies' Peterson fans career-high 10
Mets No. 2 prospect tosses eight innings, surrenders one run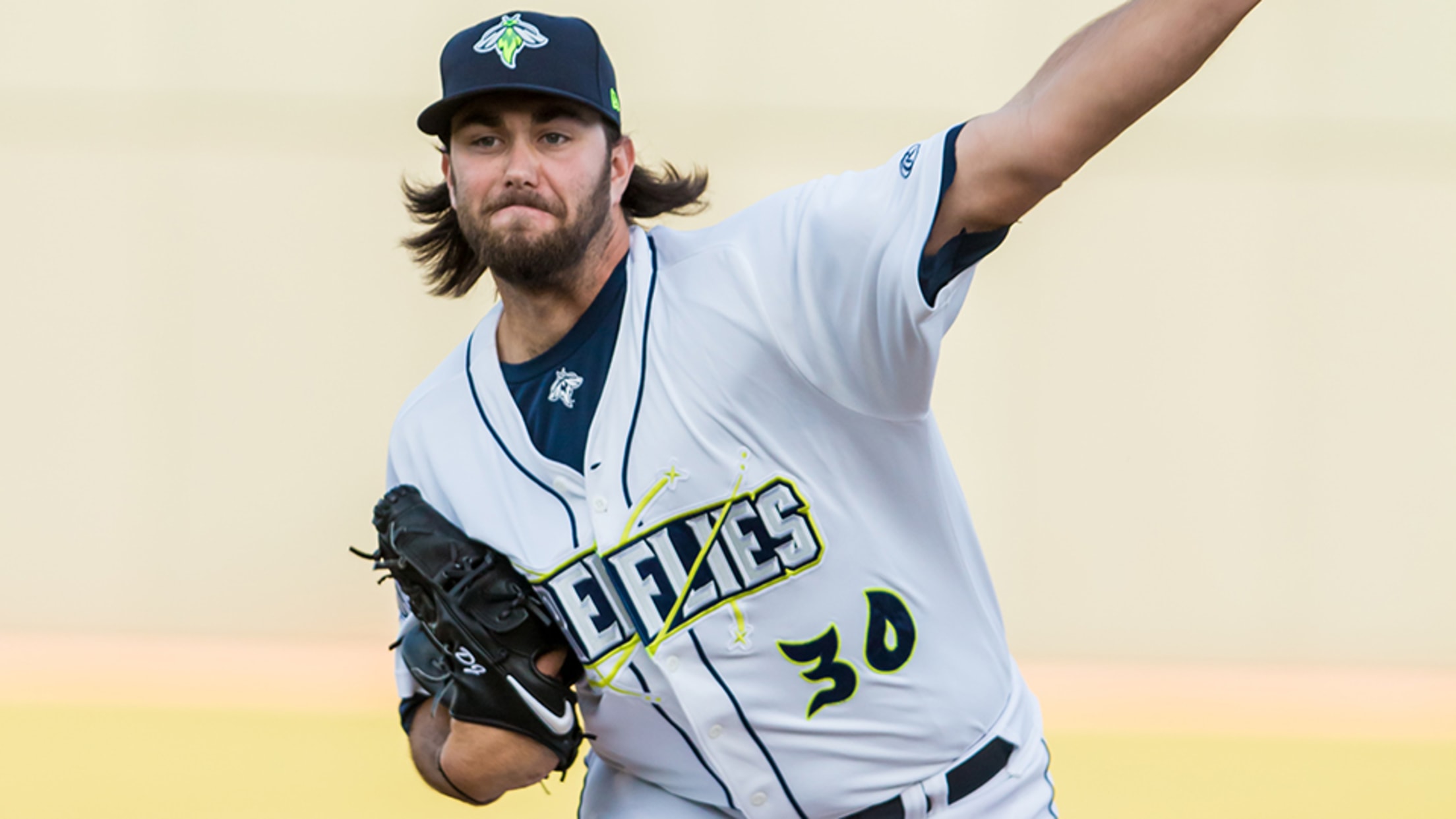 David Peterson moved into fourth place in the South Atlantic League with a 1.82 ERA.
In April of his junior year at the University of Oregon, David Peterson recorded an eye-popping 20 strikeouts in a complete-game win against Arizona State. On Saturday night, in his 12th start as a professional, the Mets' second-ranked prospect eclipsed the double-digit mark.
In April of his junior year at the University of Oregon, David Peterson recorded an eye-popping 20 strikeouts in a complete-game win against Arizona State.
On Saturday night, in his 12th start as a professional, the Mets' second-ranked prospect eclipsed the double-digit mark.
Gameday box score
Peterson fanned 10 over a career-best eight innings, yielding a run on six hits, as Class A Columbia walked off with a 2-1, 10-inning win over Augusta at Spirit Communications Park.
In reflecting on his career night on the mound, Peterson said going eight innings, a sign of his recent efficency, meant more than the number of strikeouts. In less than a year as a professional, he's learned that high strikeout counts don't always indicate a stellar start.
"If the strikeouts come, they come, but I really want to be efficient and keep my pitch count down to help my team," he said. "Getting to 10 is a milestone, but it's also just a stepping stone for getting better. It gives me confidence to go deep like I did. When a guy steps up, I'm thinking, 'How can I get him out in three pitches or less' and let my defense work for me and see how it plays out.
"In my experience, when you try to strike guys out, you end up throwing more pitches than you need to, so however I can get three outs in an inning as quickly as possible, I'll do it."
Peterson threw 70 of 95 pitches for strikes. His high strike percentage of late has helped keep baserunners to a minimum. Over his last 31 2/3 innings, he hasn't issued a single walk. He said his fastball command has steadily improved in his first full Minor League season, the biggest key in getting on top of batters early and keeping them in a hole.
"If I can get two of the first three to be strikes, I know I'm in a good position," he said. "I take a lot of pride in not giving up free bases. If someone is going to get runs or hits, they're going to have to earn everything they get. I've put a lot of attention into not giving up free passes."
The left-hander managed to weather the first inning, in which he gave up half of his six hits. Top Giants prospect Heliot Ramos started the game with a single to right field, but Peterson followed fanning Logan Baldwin. Orlando Garcia followed with a comebacker at Peterson, who said he made a poor throw to second baseman Blake Tiberi in hopes of turning the inning-ending double play. Instead, only Ramos was out at second, and the frame continued.
Giants No. 11 prospect Jacob Gonzalez followed two batters later with another knock to right. With two outs, Peterson allowed an RBI single to Manuel Geraldo, but right fielder Raphael Gladu threw out Geraldo as he tried to stretch it into a double.
"Personally, I don't think they should have even been able to score tonight," Peterson said. "We could have gotten that final out if I'd made a good throw, but I had to acknowledge the hits and the run and let it go and keep them there so our team could get runs on the board.
"Tonight, I think I did a good job letting go and focusing on the rest."
Peterson retired the next five batters on ground balls before Baldwin legged out an infield single, but the 20th overall pick in last year's Draft squelched any hope for a rally with his second strikeout of the game to end the third.
Peterson escaped trouble in the fourth after Geraldo singled. Ryan Kirby bounced out and Geraldo took third on a balk, but the 22-year-old hunkered down, making Shane Matheny his fourth strikeout victim of the evening. Baldwin reached on a bunt single leading off the sixth, but he was the GreenJackets' last baserunner against Peterson, who overthrew first baseman Jeremy Vasquez, allowing Baldwin to take second. The miscue seemed to spark Peterson, who set down his final nine batters, fanning four.
"As a pitcher, I take pride in being able to make plays when people hit the ball to me or bunt it," he said. "And that did kinda fire me up. That throw got away and got mixed up with the runner, but once he's on, it's my job to leave him there."
It was his seventh consecutive start giving up two runs or fewer, helping lower his ERA to 1.82, fourth-best in the South Atlantic League. Peterson said he's keeping himself from looking down the road at his next landing spot, even after the Mets recently bumped No. 3 prospect Justin Dunn up to Double-A Binghampton from Class A Advanced St. Lucie.
"It's something I can't control. I can't go into the manager's office and say that I'm going to up High-A tomorrow," he said. "The only thing I can do is control how I pitch and go about my business and let the decision makers make the decisions."
The Fireflies tied it in the fifth as Ali Sanchez doubled home Tiberi, who singled. Things stayed knotted into the 10th, when Columbia loaded the bases with nobody out. After reliever Olbis Parra fanned Scott Manea, he walked Quinn Brodey to force home the winning run.
Trey Cobb (3-1) picked up the win, punching out two in two hitless innings. Raphael Gladu extended his 23-game hitting streak with a single in the seventh, continuing to stretch the longest stretch in team history.
Nathan Brown is a contributor to MiLB.com. Follow him on Twitter @NathanBrownNYC.