Lindsay getting back on track for Fireflies
Mets No. 5 prospect homers again on season-high three-hit night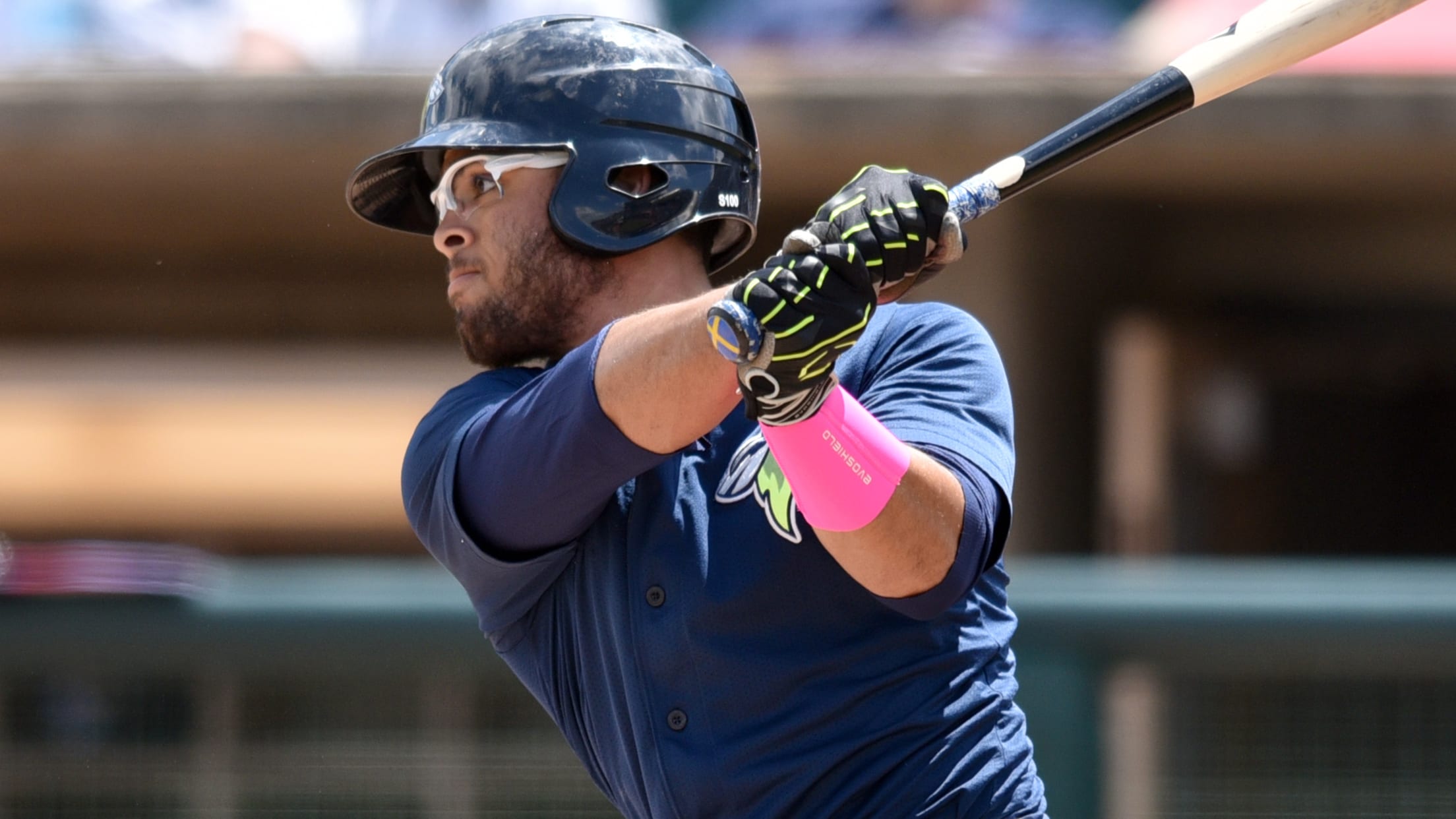 Desmond Lindsay also homered for Columbia in back-to-back games on April 27-28. (Ken Inness/MiLB.com)
Desmond Lindsay tried wearing his pants high, low and somehwere in between, but no supersition was going to get him out of his two-month slump. "I definitely went through a few weeks where I went through all that stuff," he said. "And then I was with [Tim] Tebow and we were
Desmond Lindsay tried wearing his pants high, low and somehwere in between, but no supersition was going to get him out of his two-month slump.
"I definitely went through a few weeks where I went through all that stuff," he said. "And then I was with [Tim] Tebow and we were just talking about it and he's not a superstitious guy at all. I realized it was one of those things when you're in a slump, obviously, it's wearing your pants up one day and you get a hit and then you kind of get caught up with stuff like that."
The Mets' fifth-ranked prospect believed that maintaining his approach at the plate would eventually pay off and, two games into June, it is.
Lindsay homered for the second straight game, doubled, singled and scored three runs as Class A Columbia topped Hagerstown, 8-7, in 10 innings on Friday night at Municipal Stadium.
Box score
"I've been starting to click," Lindsay said. "It was definitely a tough stretch at the beginning of the season. The biggest thing for me was to not really change too much with my swing. I just went out there and I've been working on the little stuff because I've been pulling off the ball and all that for the most part. I was confident I could go out there with the same swing I've always had and eventually it would start working for me."
The 2015 second-round pick finished April with a .194 average and totaled six hits in 22 games in May. But Lindsay is 5-for-7 since the calendar flipped, raising his batting average 28 points to .178. He remains his own toughest critic, despite the recent success.
"Even though I have however many hits in the last couple of days, I'm still not doing that great," he said. "So I just want to keep doing what I've been doing and hopefully finish the season strong."
With one out in the second inning, Lindsay lined the second offering from James Bourque into right field for a double. Two batters later, he trotted home when Milton Ramos clubbed his own double to right.
After a groundout in the fourth, the Florida native came up in the seventh and smacked a 3-1 pitch from reliever Steven Fuentes over the left-center field wall for a solo homer.
"We were down one run and I was leading off the inning," Lindsay said. "I was pretty confident I was going to get something to hit, they didn't want to walk me. It was just one of those at-bats where you're sitting dead-red fastball, and he threw me a fastball that I could handle."
Lindsay led off the ninth with a single to left off Tommy Peterson and scored three batters later after Luis Carpio lined into a double play. Peterson got a measure of revenge when he fanned the 20-year-old in the 10th.
It was Lindsay's first three-hit effort since Aug. 31 with Class A Short Season Brooklyn. In 32 games with the Cyclones, he compiled a .297/.418/.450 slash line with four homers and 17 RBIs. Lindsay said he hopes with a consistent mindset that he'll work his way back to those numbers by the end of the South Atlantic League campaign.
"Obviously, I feel a lot better at the plate, but I'm not trying not to think [too positively], just because I don't want to get too relaxed and fall back into the old stuff that I was doing," he added. "So I just want to keep doing what I'm doing, and there's still a lot of work to make up."
Hagerstown scored three times in the ninth to force extra innings, but Brandon Brosher put Columbia ahead for good with a solo homer in the 10th. Michael Paez added three hits and two RBIs for the Fireflies.
For the Suns, Nationals No. 26 prospectTelmito Agustin went 3-for-5 with an RBI and two runs scored, while 27th-ranked Daniel Johnson chipped in two hits.
Andrew Battifarano is a contributor to MiLB.com. Follow him on Twitter, @AndrewAtBatt.