Mets' Toffey not on thin ice at Double-A
Recently acquired prospect could have chosen college hockey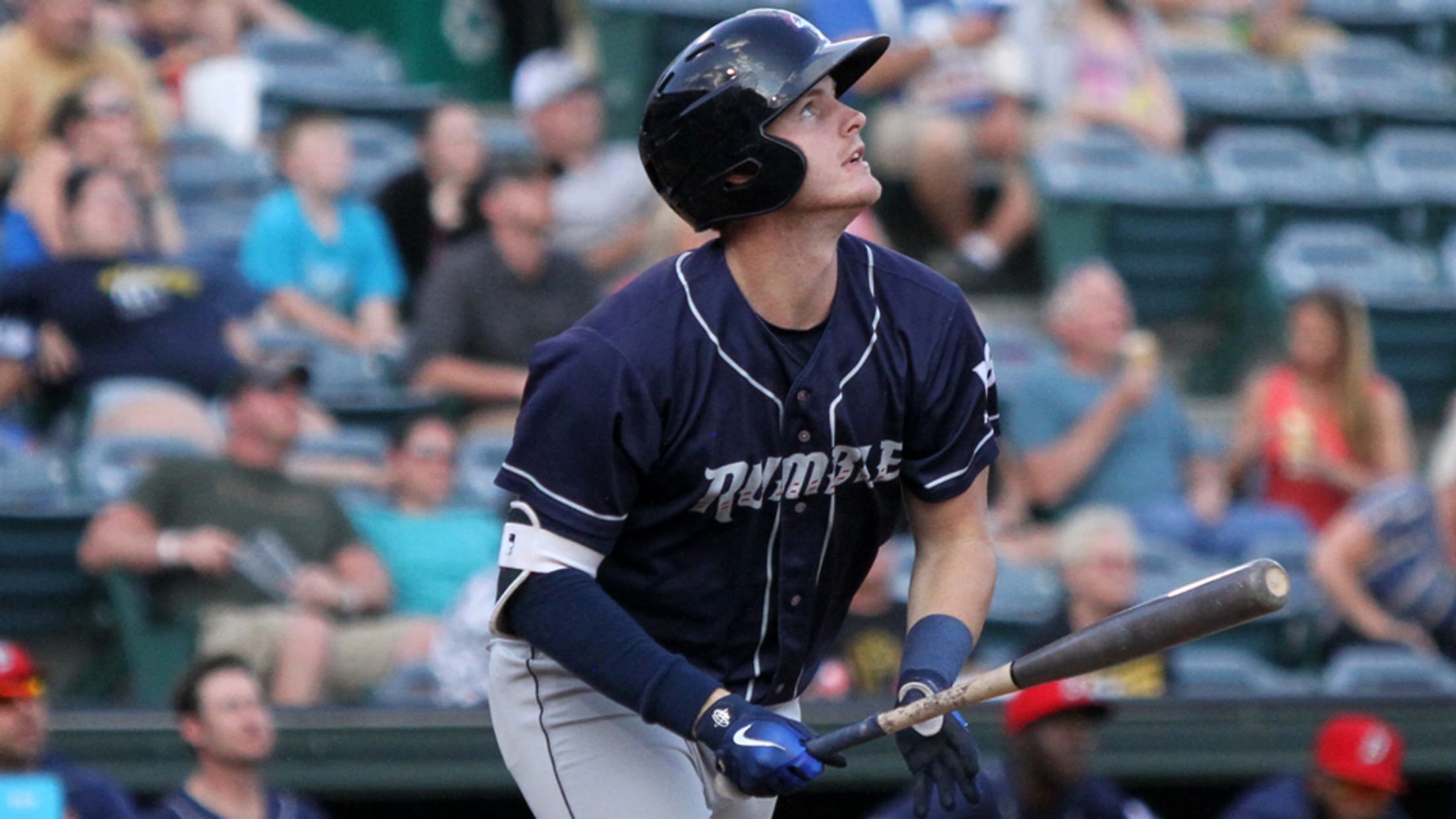 Will Toffey's strongest tools are on defense, but he's posted a .376 on-base percentage through 119 pro games. (Mark Olson/MiLB.com)
Moving from one organization to another can be a challenge for any prospect, but changing trajectories is nothing new for Will Toffey.The Massachusetts native rose to become a top prospect in the Athletics system before being shipped to the Mets in the July 21 Jeurys Familia trade. Hitting .295 through
Moving from one organization to another can be a challenge for any prospect, but changing trajectories is nothing new for Will Toffey.
The Massachusetts native rose to become a top prospect in the Athletics system before being shipped to the Mets in the July 21 Jeurys Familia trade. Hitting .295 through his first 14 games at the Double-A level and .255 over 62 games this year, Toffey is creating a good blueprint for a long baseball career.
A natural fit as Binghamton's third baseman and the Mets' No. 25 prospect, Toffey once seemed just as likely to make a go of a pro career on the ice.
"It's been kind of a wild ride," he said. "If I go all the way back to high school, I was deciding between hockey and baseball. Back when I was 16 or 17, I had no idea where I would be playing, whether it [would] be hockey or baseball. I wouldn't have it any other way. I've enjoyed my journey so far."
Formerly an elite prospect scouted by at least a dozen pro teams, Toffey had offers to play hockey for Ivy League and other Division I programs. As the top defender at a Connecticut prep school, he had unlimited options and potential to make it to the NHL.
But the love of a different game happened to get in the way. The chance to put on spikes at Vanderbilt -- one of the best baseball schools in the country -- was too much to pass up.
"My junior year summer, I was kind of getting to the point where I had to make a final decision going into my senior year," Toffey said. "I played travel baseball over the summer and traveled to the South and was recruited a little more heavily. My brother played both [hockey and baseball] in college, and he told me to pick one and go with it and be fully committed to that. I felt baseball was the one for me.
"I always enjoyed showing up to the ballpark and spending the whole day here over the whole day at the rink."
Still, it wasn't easy for Toffey to hang up his skates before college.
"I thought about it," he said. "My brother and dad talked to me at lengths about it. It would have been tough, with the places I was looking, to do both sports. ... School on top of it as well at an elite academic university, that's where I stepped back and told myself it was going to be real hard to do school, hockey and baseball and give it my all."
There were also plenty of obstacles to a baseball career that would have made hockey a more traditional path -- not to say an easier one. With access to rinks aplenty throughout the year, Toffey wouldn't have had any trouble finding a place to grow as a hockey player. On the other hand, the lack of available baseball facilities in cold New England winters could have easily slowed down his development.
Instead, he learned to translate some of his hockey skills and strengths to improve on the diamond.
"I was active the entire year," he said. "It's a four-season area. The fall and winter are a little harder to get outside and play baseball, but that's when I played hockey. Playing two sports, for me, helped me excel once I reached college and could spend the whole year focusing on baseball. Once I put the stakes down and just made [baseball] my focus, I think I did a lot better."
Toffey surged in his junior season with the Commodores after a stellar Cape Cod League season with close-to-home Yarmouth-Dennis. He boosted himself up Draft boards to be a fourth-round selection by Oakland last year.
Debuting with Class A Short Season Vermont, he batted .263/.377/.349. He opened this year with Class A Advanced Stockton in the California League, and the trade to the Mets brought him not only a bump to Double-A but a chance to play closer to home again.
"It's nice knowing I'm back near some family," he said. "My parents are pretty excited about it. Now they can catch games, where in California the trek was a bit of a haul."
He's also been able to connect with Rumble Ponies teammates from New England. Former Nashua (New Hampshire) High School hockey player Kevin McGowan and Connecticut native Joe Zanghi are on the Binghamton pitching staff. Catcher Patrick Mazeika was a high school teammate of Toffey's.
"I came from one side of the country to the other, so that was a lot," he said. "Everyone here was pretty welcoming. I had a couple kids I played with and against in high school on the team, and that made the transition pretty easy on me."
Having reached Double-A in just over a year since he was drafted, Toffey is finding his footing with the Rumble Ponies. The 23-year-old hasn't forgotten his hockey days entirely, but his focus is squarely on climbing through the Mets system and adapting to new challenges along the way.
"Baseball is still baseball to me," he said. "Moving up levels, there's a reason why some levels are higher than others. You have to be ready to come to the field and compete every day. There's more consistency with the opposition. It's just a mindset of being locked in. At the end of the day, with all this, the baseball is still coming at you and you still have to hit it."
Marisa Ingemi is a contributor to MiLB.com. Follow her on Twitter @Marisa_Ingemi.