All-Star Tebow begins to hit stride
Mets outfielder batted .301 in June to earn Eastern League honor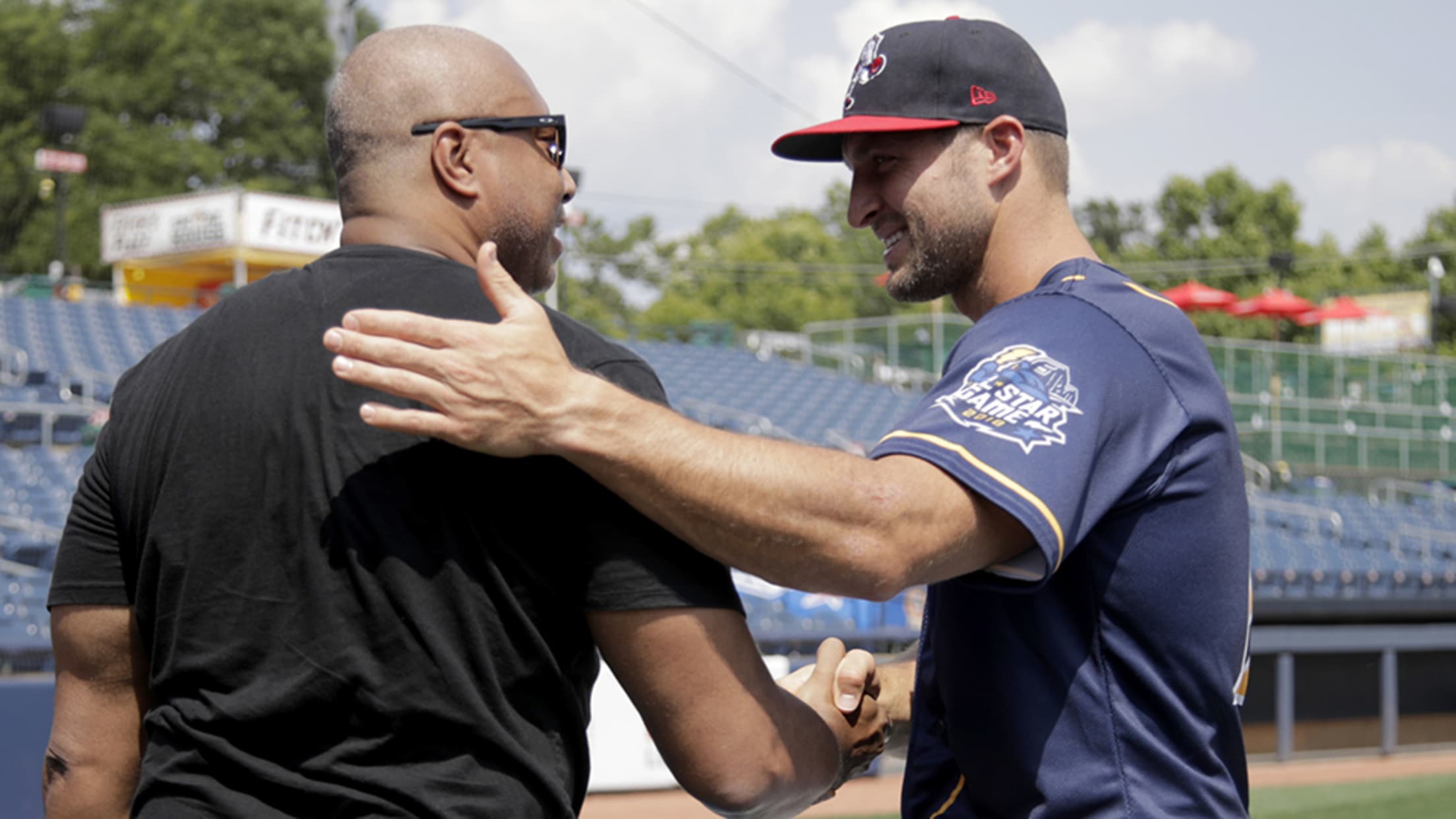 Tim Tebow chats with former Yankees center fielder Bernie Williams prior to the Eastern League All-Star Game. (Julio Cortez/AP)
TRENTON, N.J. -- Tim Tebow thought about what's been going so well for him at the plate, what's boosted his batting average 36 points since the beginning of June. To put it simply, what made him an Eastern League All-Star.After rattling off a couple of little things about fundamentals, he
TRENTON, N.J. -- Tim Tebow thought about what's been going so well for him at the plate, what's boosted his batting average 36 points since the beginning of June. To put it simply, what made him an Eastern League All-Star.
After rattling off a couple of little things about fundamentals, he stopped himself.
"I don't need to be too specific because we don't want to give it away to pitchers." he said with a smile.
No matter the sport, Tebow is a competitor first. Following his much-heralded college football career and considerably less heralded stint in the National Football League, the University of Florida product hasn't lost that drive.
"He's highly competitive, he's a skilled athlete and so it's no doubt that he's done some really good things," said Trenton skipper Jay Bell, who's managing Tebow on the Eastern Division squad.
Following a first pro season in which he hit .226/.309/.347 with eight homers between Class A Columbia and Class A Advanced St. Lucie, Tebow focused on his swing over the offseason. Working with "several" coaches and Mets star Yoenis Céspedes, the 30-year-old came into his sophomore campaign with a more compact approach.
Rodriguez, Craig blast way to All-Star win
Bell, who was with Class A Advanced Tampa last season, has had the opportunity to watch Tebow progress from opposing dugouts. He got to share one on Wednesday.
"He did a great job actually last year, making some adjustments. It was a little bit of a slow process but made some adjustments offensively. This year to see him, the adjustments that he's made to this level has been extraordinary. He's done a great job, worked extremely hard," said Bell, who spent 18 years in the big leagues. "There's still some things that he can improve upon, but from an offensive standpoint, he's done a phenomenal job."
With the new swing, Tebow went yard on the first pitch of Opening Day. There was an adjustment to Double-A, however, as the outfielder hit .234 across April and May. As he gained more Double-A experience, he began to reduce his strikeouts. Battling through at-bats, Tebow has dropped his strikeout rate from 44.3 in April to 35.6 at the All-Star Break.
Opposing catcher and fellow Gator Taylor Gushue of the Harrisburg Senators has taken notice.
"Honestly, the improvement, it seems like it's happening faster than a person would expect for a person who hasn't played baseball in that amount of time," the Nationals' No. 29 prospect said. "And the learning curve, I think he's doing a good job with the learning curve because it's hard to hit at Double-A and he seems to be doing a really good job of it. And it's a credit, too, to the guys who have been coaching him as well as all the hard work he puts in."
Rumble Ponies third baseman Levi Michael has enjoyed having Tebow in Binghamton. The 2011 first-rounder said the left-handed hitter asks questions and tries to absorb what he can from his teammates.
"He's been very impressive in my opinion all year. He's been willing to compete day in and day out, taking good at-bats every day and grinding through some tough at-bats," Michael said. "I think he's leading our team right now in RBIs [among active players], so he's come through in clutch situations, so we can't ask any more from him."
All of that hard work and minor hand and foot adjustments led to a very productive June. Tebow batted .301/.338/.425 with seven extra-base hits and 11 RBIs in 24 games. Not only has he been asking questions of teammates, the former Heisman Trophy winner is talking to opponents.
On the bus ride to Arm & Hammer Park on Wednesday, he asked one Eastern Division southpaw how the hurler is making adjustments against him. In turn, the Philippines-born Minor Leaguer is making his own modifications.
"[The biggest challenge is] probably adapting from game to game, series to series with the pitchers and [seeing] how much they change," Tebow said. "You'll see that there might be a team that throws you a certain way, and it works and they stay on it or it's not working and they adjust and you have to adjust."
Following the hot June, which led to his first career All-Star honor, Tebow has kept it going in July -- he's batting .391 (9-for-23) in seven games.
Grullon dedicates Derby win to dad
"I think it's remarkable. … The fact that he is working his way up [is great]," said former Yankees outfielder Bernie Williams, who performed the national anthem on Wednesday. "The thing that makes it harder for him is every move that he makes is covered by everybody. I don't think he has an opportunity like every other player in his level to grow through his pains and make adjustments and struggle a little bit. Everyone is expecting him to be a superstar that he was at the college level in football, and baseball is going to take more time. People that are pulling for him are going to have to be a little bit patient with that process."
Tebow said he's honored by the All-Star selection and happy to be able to get to connect with guys he's played against all season. One player who's particularly happy to join Tebow is Cavan Biggio. The Blue Jays' No. 19 prospect admitted he had a poster of the former quarterback on his wall in middle school.
Biggio is no stranger to media frenzies, having played alongside Vladimir Guerrero Jr. in New Hampshire. The second baseman thought about how the attention given to MLB.com's top overall prospect compares with what Tebow has received.
"I'd say it's similar yet different. I think Vladdy is a freak of baseball and Tebow, he's a very special person in general," Biggio said. "To be able to do what he did in football field and now, being able to prove himself on the baseball field, making this team. So, yeah, I think the media is similar but a little bit different"
While Tebow was all smiles as he chatted with reporters, his All-Star teammates and coaches and his favorite bat boy, his mind already is drifting back to the regular season.
"This is a great honor and it means a lot," he said. "But we'll still have to get ready for a series against Akron starting [Thursday]. I know they'll be throwing a lot of good pitchers against us."
Kelsie Heneghan is a contributor to MiLB.com. Follow her on Twitter @Kelsie_Heneghan.