Thunder's Keller flirts with no-hitter
Yankees prospect allows one hit over season-high eight innings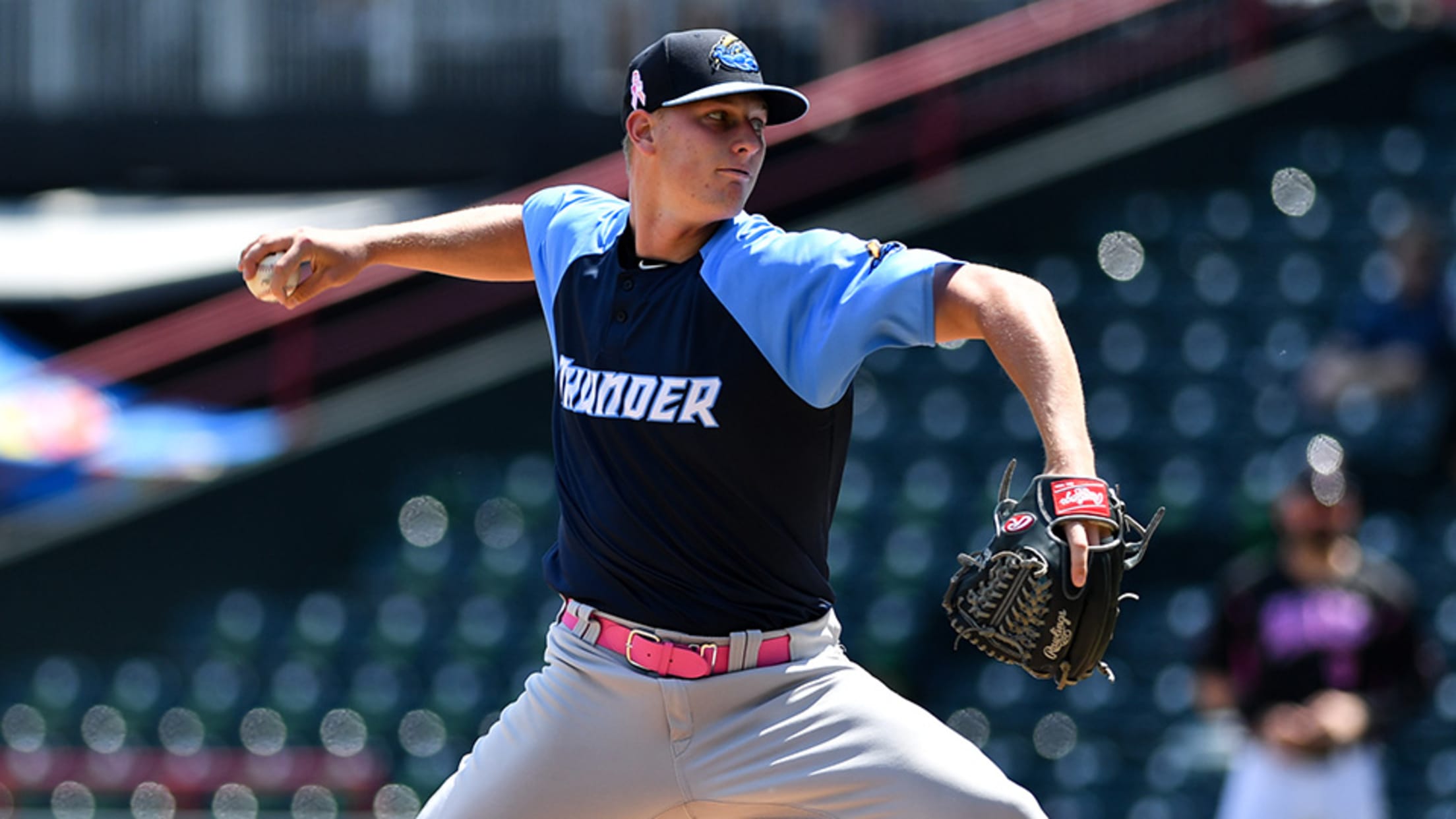 Brian Keller has pitched into the sixth inning in each of his last three starts. (Terrance Williams/MiLB.com)
Coming off his longest start of the season, Brian Keller one-upped himself Friday night, but he deflected any praise to his teammates."The defense was great," he said. "I could throw whatever I wanted up, down, in-and-out and I knew I had a good defense behind me."Keller yielded one hit over
Coming off his longest start of the season, Brian Keller one-upped himself Friday night, but he deflected any praise to his teammates.
"The defense was great," he said. "I could throw whatever I wanted up, down, in-and-out and I knew I had a good defense behind me."
Keller yielded one hit over a season-high eight innings, striking out four and walking two, to lead Double-A Trenton to a 2-0 blanking of Bowie at Arm & Hammer Park. It was his longest start since he pitched a nine-inning shutout for Class A Advanced Tampa last July 28.
"It took me a few innings to get comfortable out there and really find the zone," Keller said. "But credit to the defense behind me, they were making plays and making my life a lot easier. ... The most important thing for me out there tonight was how good the defense was and that was really the key."
After going 11-8 with a 3.13 ERA and 1.14 WHIP across the Class A South Atlantic and Florida State leagues last season, the right-hander was 3-2 with a 4.18 and 1.48 WHIP across 32 1/3 innings in six starts for the Thunder. Keller (4-2) has won three straight outings and lowered that ERA to 3.35 and WHIP to 1.26 on Friday.
Gameday box score
The 23-year-old matched a season high with 101 pitches, throwing 64 for strikes and limiting hard contact by inducing 12 ground-ball outs to only four in the air.
Working with catcher Chace Numata, the battery developed a cohesive game plan for the Baysox, who ranked second in the Eastern League with 346 hits while striking out the fewest times (262). Aside from some hiccups, Keller said the start couldn't have gone much smoother.
"Me and [Numata] were on the same page back there," the Thunder starter said. "We were in a good rhythm and we were able to use all of my pitches. It was inside, outside, up, down and it really just kept [Bowie] off-balance."
After Jhalan Jacksondenied sixth-ranked Orioles prospect Cedric Mullins with a driving grab in left to start the game, Keller worked around walks in the first and third innings but found a little more trouble in the fourth. With two outs, top O's prospect Austin Hays reached on an error by third baseman Mandy Alvarez and stole second to give Bowie its first runner in scoring position. But the 2016 39th-round pick avoided further trouble by striking out 24th-ranked Ademar Rifaela.
"You've just got to refocus and lock back in and make sure you make some really quality pitches," Keller said of the fourth inning. "It's just to make sure you can keep it rolling, and that's really the key."
Following Keller's clean fifth, Mullins led off the sixth with a ground ball to the right side that took a tricky bounce off the lip of the infield grass and rolled into right field for the Baysox's first hit of the night. But he was the last runner to reach against the University of Wisconsin-Milwaukee product, who set down the next eight batters, punctuating his night with a punchout of Erick Salcedo.
Despite the fluky hop that might have cost him a shot at history, Keller was proud of the effort he and Trenton put together.
"I knew [the no-hitter] was on my mind, but I tried not thinking about it," he said. "But it is what it is and you've just got to keep it locked in and just move forward and get guys out one at a time. ... [The key was] to get out early. Get them to swing at good pitches and get some weak contact and get out of the inning as fast as you can, pretty much."
Jordan Foley worked around two walks in the ninth to preserve Trenton's league-leading fifth shutout and pick up his seventh save.
On the offensive side, rehabbing Yankees first baseman Greg Bird crushed an eighth-inning solo homer after Jeff Hendrix delivered an RBI single in the fourth.
Andrew Battifarano is a contributor to MiLB.com. Follow him on Twitter, @AndrewAtBatt.