RiverDogs' Perez finishes May with flourish
Yankees No. 26 prospect hurls season-high six scoreless frames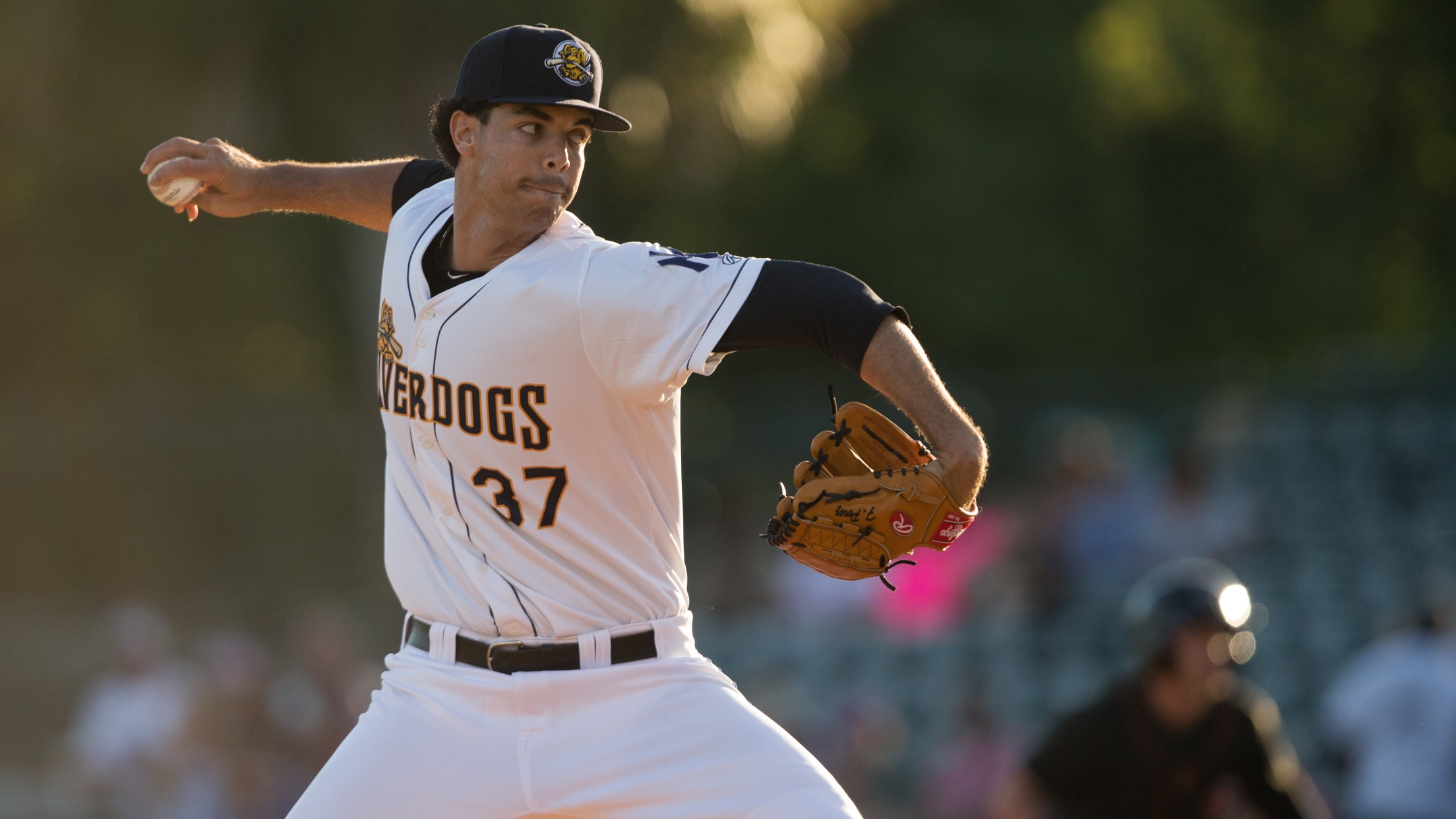 Freicer Perez has allowed one run on nine hits with 13 strikeouts over 11 2/3 innings in his last two starts. (Zach Bland/Charleston RiverDogs)
Freicer Perez already had a solid repertoire, but he's recently added a new weapon to his arsenal. And if the results of his last two starts are any indication, the Yankees 26th-ranked prospect and his slider are posing problems for South Atlantic League hitters.After recording a career-high eight strikeouts his last
Freicer Perez already had a solid repertoire, but he's recently added a new weapon to his arsenal. And if the results of his last two starts are any indication, the Yankees 26th-ranked prospect and his slider are posing problems for South Atlantic League hitters.
After recording a career-high eight strikeouts his last time out, Perez blanked Greenville for a season-high six innings on Saturday as Class A Charleston held on for a 1-0 win on Saturday at Joseph P. Riley Jr. Ballpark. He gave up four hits and a walk while fanning five.
Gameday box score
"He's doing a really good job of staying under control in his delivery," RiverDogs pitching coach Justin Pope said. "He's not trying to overthrow. He's doing a really good job of staying within himself. And he did a really good job of just throwing up the strikes tonight.
"He was using [the slider] again. It's a pretty good pitch. It's a pitch that he can just kind of grip it and rip it, so it's not necessarily a feel pitch for him. He was mixing in everything. He threw a couple of curveballs early in the count, he threw some really good changeups."
The 21-year-old finished April with a 5.79 ERA and never went deeper than 4 2/3 innings in an outing. Perez has pitched into the sixth in his last two starts while reducing his ERA to 4.28.
"He's working hard in between starts," Pope said. "The biggest thing for him is being consistent in his delivery, repeating it, throwing it over the plate. When he does that, he's going to put himself in a situation to be successful. The past two outings, that's what he's done."
Perez came out firing and retired the first 10 batters on 36 pitches. Santiago Espinal ended the streak with a one-out single in the fourth, but the 6-foot-8 right-hander got Ryan Scott to fly to right and Tyler Hill to ground to shortstop to end the inning.
Perez faced a little more trouble in the fifth when Mitchell Gunsolus reached second with two outs on a single and an error by right fielder Isiah Gilliam. But with Nick Sciortino at the plate, catcher Eduardo Navas picked off Gunsolus at second.
In the sixth, the native of the Dominican Republic fanned Sciortino and Steven Reveles before Lorenzo Cedrola reached on an infield single. But Espinal to grounded out to third to end the threat.
"He looked strong the whole game," Pope said. "From inning one to inning six, he looked strong, in control of the game. He didn't really throw any stressful pitches. He looked strong. He was very pitch-efficient as well, so it wasn't like after the sixth that it was like, 'Man, it looks like he's kind of tiring, we need to maybe get someone in there.' It wasn't that case."
With the game scoreless, Perez came back out for the seventh with his pitch count at 70. He walked Scott and Hill followed with a single. Christian Morris (2-1) came on and stranded the runners to keep the game tied.
"[Perez] started getting a little more scattered in the seventh inning," Pope said. "I don't know if he was changing his approach, mindset, whatever it was. He wasn't as aggressive in the zone with all of his pitches. I don't know if he was trying to do too much. He was getting the lineup coming around again. I'll talk with him more about it [Sunday]."
The RiverDogs broke through in the bottom of the seventh when Ben Ruta singled home Angel Aguilar.
Morris and Trevor Lane combined for two more scoreless innings to preserve the win, with Lane getting the last three outs for his SAL save.
While he did not factor in the decision, Perez lowered his May ERA to 3.20 and his WHIP to 1.17. According to Pope, his recent success is important for the prospect, who is pitching in his first full season.
"When you're on that mound, a lot of how you do, how you execute pitches, how you throw pitches is based on confidence, so that's huge for him to be able to see some success and build that confidence," Pope said. "At the same time, enjoy this, enjoy this performance. Then tomorrow, when he comes to the ballpark, get ready to work again because we start all over and have to keep working, keep getting better."
Andrew Battifarano is a contributor to MiLB.com. Follow him on Twitter, @AndrewAtBatt.