Yanks' Cave leads Offensive Players of the Week
Outfielder boosts resume by going 15-for-26 (.577) for RailRiders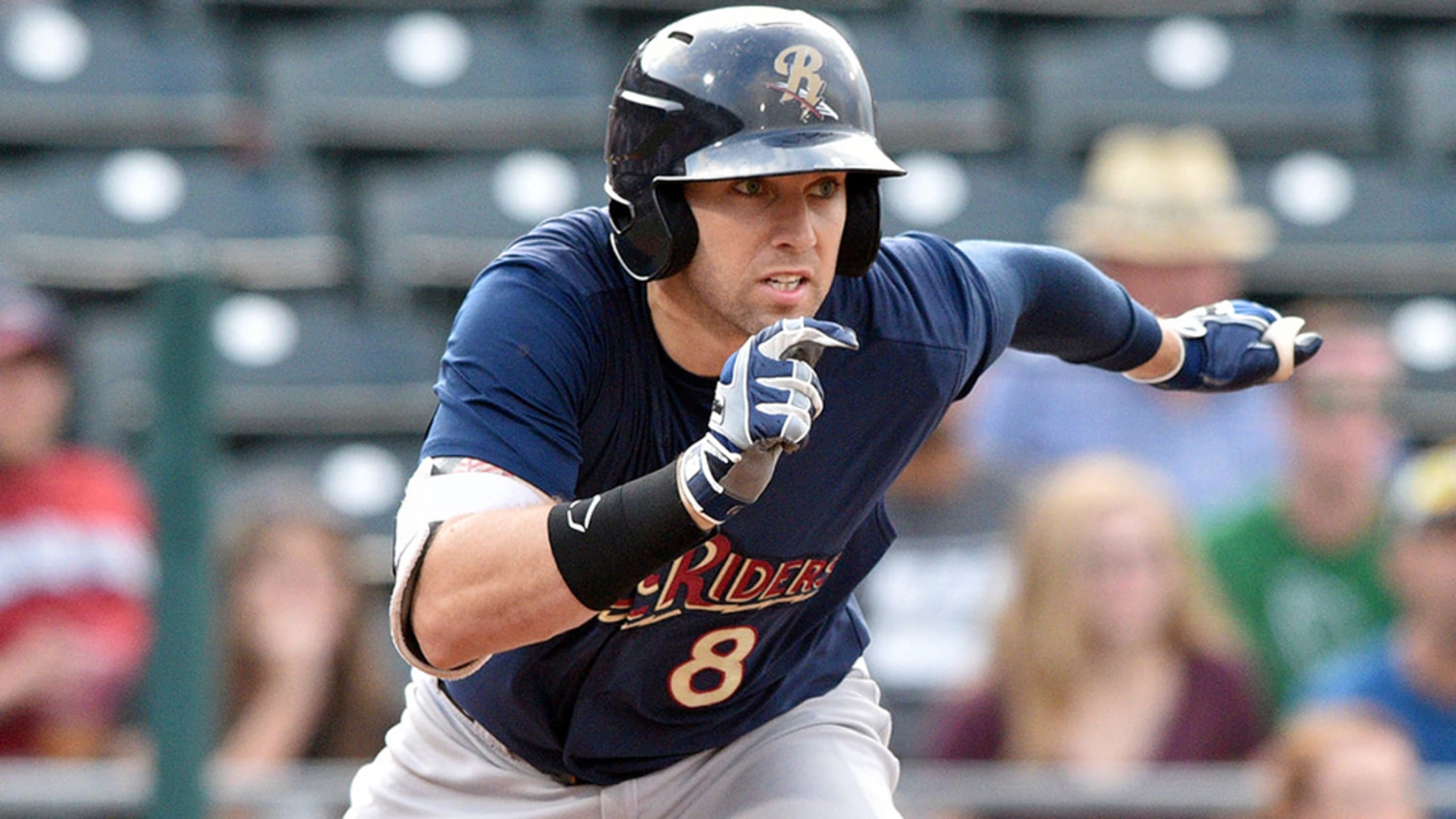 Jake Cave owns a .301/.360/.483 line over 130 games at Triple-A Scranton/Wilkes-Barre. (Ken Inness/MiLB.com)
Jake Cave has seen former teammates Aaron Judge and Clint Frazier take off as rookies in the Bronx. He's seen good friend and former pinstriped prospect Ben Gamel prove to be an impressive Major League hitter in Seattle. After some mechanical adjustments and changes to his approach, Cave is heating
Jake Cave has seen former teammates Aaron Judge and Clint Frazier take off as rookies in the Bronx. He's seen good friend and former pinstriped prospect Ben Gamel prove to be an impressive Major League hitter in Seattle. After some mechanical adjustments and changes to his approach, Cave is heating up and hoping his chance is next.
The Yankees' No. 29 prospect was named International League Offensive Player of the Week after going 15-for-26 (.577) with two homers, two doubles and eight RBIs over a seven-game stretch for Triple-A Scranton/Wilkes-Barre. His .607 on-base percentage last week was tops among hitters on the circuit, while his 15 hits were tied for the most among all Minor Leaguers.
The 24-year-old outfielder cited his team's June 26-28 series in Syracuse as a turning point. Working with RailRiders hitting coach P.J. Pilittere, who was with Cave in 2014 at Class A Advanced Tampa and the last two seasons at Double-A Trenton, Cave made an adjustment that he says felt comfortable almost immediately.
"It was just some stuff about getting into my back leg and my backside earlier and staying there," the Hampton, Virginia, native said. "It calmed down a lot of the movement and has allowed me to see the ball longer, and that's meant I've been able to drive the ball deeper. ... Even initially when I wasn't getting three hits a game like now, I could feel myself hitting the ball to all fields, taking pitches I needed to take, swinging at the good pitches more. After Pawtucket [from June 30-July 3], I took it home, and ever since, the results have really been coming."
• View the Pitcher of the Week winners »
Cave has hits in 19 of his last 21 games since that Syracuse series, producing a .400/.448/.650 line with five homers, five doubles and 18 RBIs. No IL batter is hitting higher than .380 or has an OPS higher than Cave's 1.098 OPS during that stretch.
Even before these latest changes, the left-handed hitter had made gains in another part of his offensive game: his power. His 14 homers over 65 games between Scranton/Wilkes-Barre and Trenton -- he was promoted on June 16 -- are already a career high, nearly doubling the previous mark of eight he set last season between those same two stops. Those 14 blasts trail only Mike Ford's 15 for the Yankees' Minor League lead, and Cave's .268 isolated slugging percentage is nearly double his career mark of .135.
"It's something I always thought I had," said Cave, who was taken by the Reds in the Rule 5 Draft this offseason but returned to the Yankees on April 5. "I wanted to incorporate some more power entering the season, and it became more of an approach thing. I didn't want to make any drastic changes. But, say, with nobody on and two outs, I'm trying to drive it to the gap more. A single won't help the team. But a double or a home run will. I'm not just gonna try to poke it around the field in that situation any more. Because I'm looking for something to drive, I'm producing more walks too, because I'm getting deeper into counts looking for that pitch."
Of course, outfield spots with the Yankees are scarce with Frazier, Judge, Brett Gardner, Jacoby Ellsbury all on the MLB roster, and the system's depth at the position allowed for Gamel's trade to the Mariners last August. Cave is aware it might take a deal for his hot bat to make the Majors this season, even if he'd prefer for his first big league uniform to be with the organization that took him in the sixth round in 2011.
"I hope the organization is watching, and I'm pretty sure they are," he said. "I can only worry about what I have to worry about in front of me, and that's being here. If a spot opens up, I'd love to go there. I'd love to make an impact in the Majors. Like I said, I only want to get to the big leagues first. If that's in the Bronx, that'd be great. If that's somewhere else, that's fine, too. Everything I'm working on is with that goal in mind.
"My ultimate goal is to get to the big leagues, obviously," he said. "I just wanna get there. I feel like I've played well for most of my career, but I've always felt like I had a little bit more in the tank. I just didn't know how quite to unlock it. I am a Major League hitter though. I've always believed that, and now, I think I'm showing it."
Below is the complete list of Minor League Offensive Players of the Week for July 17-23:

Pitchers of the Week
Sam Dykstra is a reporter for MiLB.com. Follow and interact with him on Twitter, @SamDykstraMiLB.