RiverDogs' Nelson puts up seven zeros
Yankees No. 27 prospect strikes out five, scatters two hits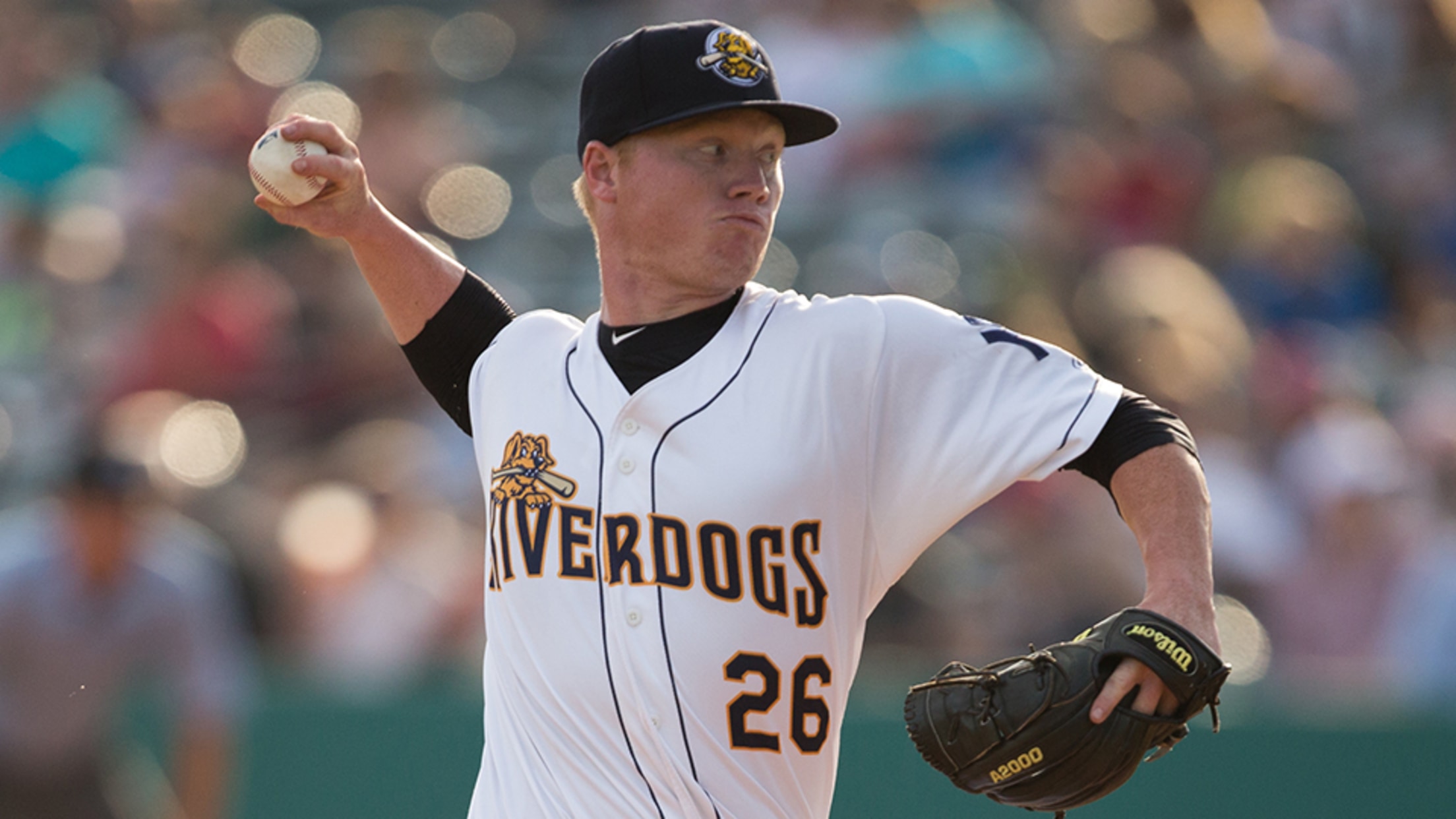 Nick Nelson extended his scoreless streak to 13 innings and moved into third place in the league in strikeouts. (Zach Bland/MiLB.com)
It may not show up as perfect in the box score, but Nick Nelson faced the minimum through seven scoreless innings Sunday for Class A Charleston.The 27th-ranked Yankees prospect allowed two hits and struck out five without issuing a walk before the RiverDogs dropped a 2-0 decision to Greenville at Fluor
It may not show up as perfect in the box score, but Nick Nelson faced the minimum through seven scoreless innings Sunday for Class A Charleston.
The 27th-ranked Yankees prospect allowed two hits and struck out five without issuing a walk before the RiverDogs dropped a 2-0 decision to Greenville at Fluor Field at the West End.
"[The key was] just commanding the fastball, trying to attack the zone," Nelson said. "I was throwing my curveball for strikes earlier in the game. Also, I was throwing my changeup more than I think that I've thrown it in a while. Everything just played up."
The 22-year-old retired the first eight hitters he faced, striking out three while getting a pair of assists from his catcher, Jason Lopez. After Ricardo Cubillan became the first Drive hitter to reach base with a two-out single through the right side of the infield, Lopez promptly threw him out trying to steal second, ending the third inning.
When Lorenzo Cedrola led off the fourth with a line-drive single to right, he suffered a similar fate as Lopez cut him down attempting to swipe second. From there, Nelson sat down eight in a row, a streak that ended when he plunked Cedrola to lead off the seventh. Lopez again came to his pitcher's aid by picking off Cedrola at first.
Gameday box score
"I think he just caught him sleeping, because the guy at the plate, he was trying to bunt and he pulled back," Nelson said of Lopez's throw behind the runner. "The dude was just leaning. [Lopez] threw over there and he was out by a mile.
"The two dudes he threw out at second base, he helped me out big time. It piles on, just knowing that if a dude tries to steal, he's got your back. He's gonna get them out, especially the back-pick. The back-pick I was really impressed with. That was awesome. That was cool to watch."
The 2016 fourth-round pick coaxed a popup from Victor Acosta and struck out Pedro Castellanos on three pitches to get through the seventh. At 94 pitches -- 59 for strikes -- Nelson's day was over.
"I wanted to go the whole game," he admitted. "I wanted to go back out there so bad."
Nelson said he knows the pitch count in place is in place to protect Minor League pitchers.
"You can't really argue with it," the Panama City, Florida native said. "You can't get mad when you get taken out because of it. It's in our best interest. It's definitely frustrating not going back out there, but you got to understand the risk."
For the first time this season, Nelson did not walk a batter. After issuing free passes to 50 hitters over 100 2/3 innings in South Atlantic League play in 2017, the right-hander entered this season with a goal of cutting down on walks.
"That was a big thing [Sunday]," he said. "I've been working on that. I know last year I had a bunch of walks. Limiting walks, it's helped me develop. It's kind of cool coming from last year, walking a lot of people, to actually hitting my spots. ... It builds confidence for sure, going back out there for the next outing."
Going forward, Nelson will focus on finishing hitters and using his curveball as a put-away pitch more consistently. Too often against Greenville, the Gulf Coast Community College product said, he'd find himself ahead in the count, but spike a curveball in the dirt for an obvious ball instead of throwing a competitive pitch.
"Toward the end of the game, I wasn't really able to get my curveball in the zone," Nelson said. "With the fastball, everybody can time up a fastball. I was just trying a little extra hard to hit my spots."
In his first start of the season on April 8, Lexington tagged Nelson for seven earned runs over 1 2/3 innings.
"After that first start, I was like, 'This isn't the start I wanted,'" the 6-foot-1, 195-pound prospect said.
Nelson has rebounded since, allowing four earned runs over his next four starts spanning 23 innings.
After he exited, RiverDogs right-handed reliever Kyle Zurak surrendered two runs in the eighth.
Kutter Crawford, Angel Padron (1-0) and Devon Fisher combined on a seven-hit shutout for the Drive with Fisher working around two walks in the ninth for his first save of the season.
Chris Bumbaca is a contributor for MiLB.com based in New York. Follow him on Twitter @BOOMbaca.