Adams unhittable in 2017 debut with Thunder
Yankees' No. 8 prospect fans five, walks four in 5 2/3 innings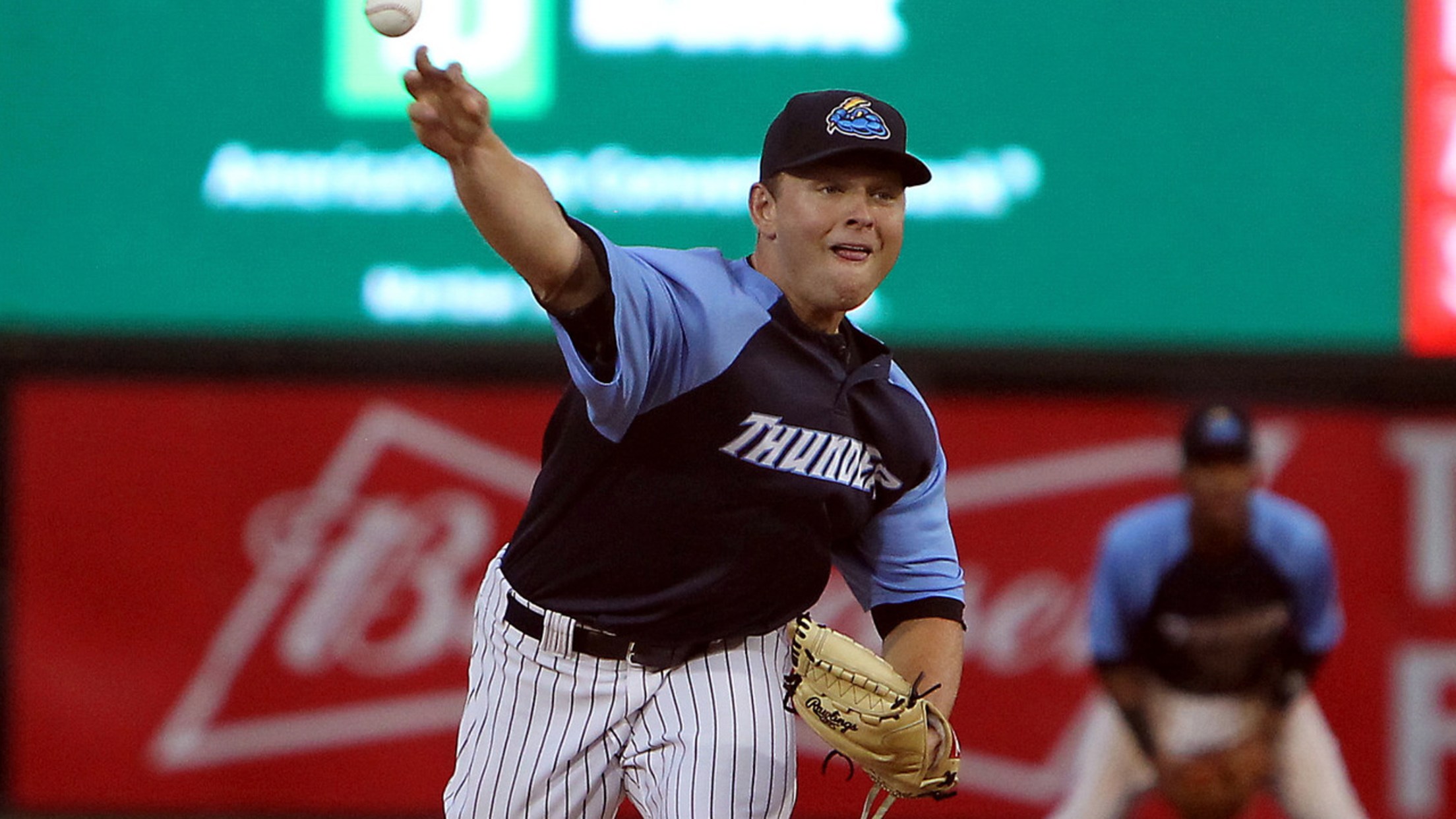 Chance Adams went 13-1 with a 2.33 ERA last year for Class A Advanced Tampa and Trenton. (Rudy C. Jones/MiLB.com)
From the box score, the thing that stood out most in Chance Adams' 2017 debut was the zero in the hit column. He would've given that up to feel a little better about what was a strong outing overall.The Yankees' No. 8 prospect tossed 5 2/3 hitless innings, walking four and striking
From the box score, the thing that stood out most in Chance Adams' 2017 debut was the zero in the hit column. He would've given that up to feel a little better about what was a strong outing overall.
The Yankees' No. 8 prospect tossed 5 2/3 hitless innings, walking four and striking out five, as Double-A Trenton won its weather-delayed season opener, 6-2 over Erie on Saturday afternoon.
"I'll just come out and try and do better next time. It was OK," Adams said after the win. "I would've traded two walks for two hits in a heartbeat, but it was OK."
Box score
The free passes were the only blemishes on Adams' otherwise impressive season bow. The right-hander walked two in the second inning and one each in the fifth and sixth. While recording five strikeouts, Adams (1-0) also kept the ball on the ground when the SeaWolves put it in play, getting six groundouts against two in the air.
"I was locating [the fastball] but had trouble locating on off-speed a little bit, so I just kind of got ahead with the fastball," the 22-year-old said. "It was working for me. I did a lot of good, but I just walked one too many people, and I've got to clean that up a little bit."
Adams retired Jason Krizan and Jeff McVaney to open the sixth before issuing his final walk to Logan Watkins. Trenton turned to reliever Caleb Frare, although the starter wasn't mindful of the no-hit bid.
"I was just trying to get my work in," Adams said. "They hit a few balls hard, got lucky -- they kind of went at my players who made some plays. I wasn't really thinking about that at all."
Frare got the final out in the sixth and worked a perfect seventh. In the eighth, he issued two walks before Krizan broke up the no-hitter with a one-out single. J.P. Feyereisen allowed two runs charged to Frare but closed out the win for his first save.
"They went out and did their jobs," Adams said. "They pitched well and helped us."
Trenton broke open a scoreless game in the sixth with four hits, including a single from Gleyber Torres, MLB.com's No. 3 overall prospect. Mike Ford hit a two-run double to center field and Dante Bichette capped the frame with a two-run homer to right-center.
Torres, the Yankees' top prospect, notched his first Double-A hit with a first-inning double and walked in the ninth.
"It's great, especially having him behind you in the field," Adams said. "He's got really smooth hands, and at the plate, he's definitely the person you want up with runners in scoring position. It's real nice that we have him up here in Double-A this year. I was pretty excited to see him in the lineup and behind me."
Last season, Adams led the Minor Leagues in winning percentage (.929) and opponents' average (.169) while finishing second in WHIP (0.90) across two levels. On his first day of the 2017 campaign, the Dallas Baptist product was the same dominant presence but still found facets of his game that need improvement.
"The next start, I'm going to once again focus on command and try to locate my pitches, try to walk fewer people," Adams said. "That's pretty much the goal, just commanding my pitches, because you really need that."
Tyler Maun is a contributor to MiLB.com. Follow him on Twitter @TylerMaun.