Luck goes a long way for Biscuits' Ciuffo
Rays No. 25 prospect enjoys career night at plate with five hits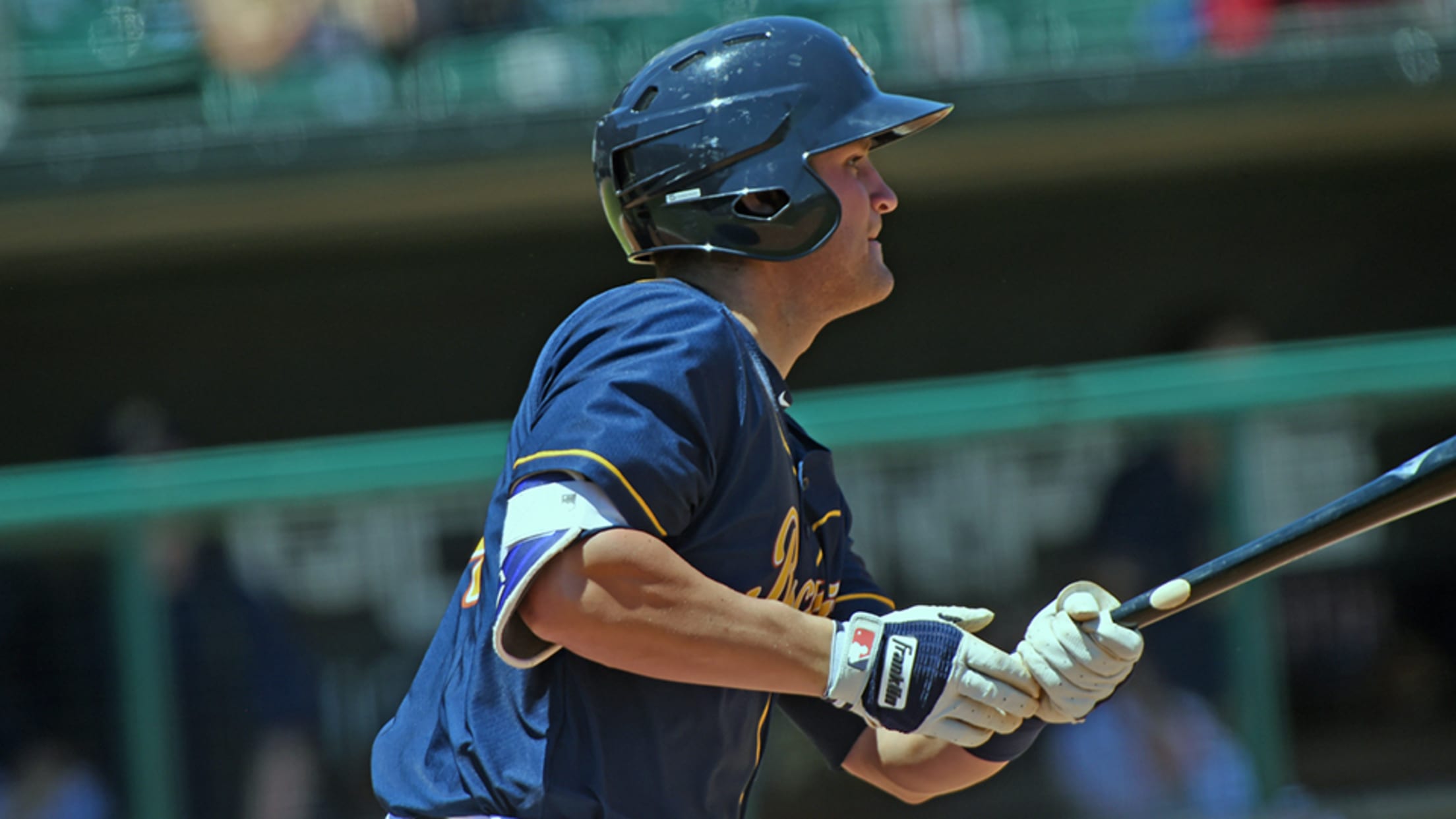 Nick Ciuffo is hitting .292 with 11 extra-base hits and 17 RBIs in 26 games since July 1. (Brian McLeod/MiLB.com)
Nick Ciuffo has played baseball long enough to know a good night at the plate takes a little more than just skill.That's not to say that the 22-year-old isn't proud of the first-five hit night of his career, he just understands Lady Luck was on his side, no matter how
Nick Ciuffo has played baseball long enough to know a good night at the plate takes a little more than just skill.
That's not to say that the 22-year-old isn't proud of the first-five hit night of his career, he just understands Lady Luck was on his side, no matter how great he felt at the dish.
Ciuffo went 5-for-5 with a double, three runs scored and two RBIs as Double-A Montgomery outlasted Mobile, 8-7, in 11 innings Monday night at Hank Aaron Stadium.
Dalton Kelly collected the Biscuits' other five-hit game on July 1 against the Blue Wahoos.
It marked the fifth multi-hit effort in the last 11 games for Ciuffo, who had the only four-hit game of his career on May 25, 2016 with Class A Advanced Charlotte. The Rays No. 25 prospect has batted .367 over his last 18 games to raise his average from a season-low .202 up to .245.
Gameday box score
"The funny thing about tonight was during front toss before the game, I told [Montgomery hitting coach Dan DeMent], who has put up with hours and hours of me, that I felt really good," the South Carolina native said. "When I got on the field and took [batting practice], I said, 'That's the best BP session I've taken all year. Today's going to be a good day.' And that's exactly what ended up happening.
"At the same time, you don't go 5-for-5 without a little luck. I had a few hits that fell in which makes the line look much prettier. But overall, I feel like I've been seeing the ball well for the last several weeks, and tonight, it just came together for me."
Ciuffo turned around an early 1-0 deficit in the third with a two-run double to center field. He took third on the throw home and scored on Nathan Lukes' sacrifice fly. Ciuffo singled to left and scored in his next two at-bats, giving him his third three-hit contest of the season. He tied his career high with his fourth hit, an infield single with two outs in the seventh. He singled to left to lead off the 10th, but was picked off by reliever Greg Mahle.
"I had a leg kick that really worked well for me the first month," Ciuffo said. "But being a catcher and with some fatigue that set in, it really began to cause me some issues. It took a lot of work off the field to find a nice balance between a kick and something shorter. I watched a lot of video to get a feel for what would work.
"I hit a backside homer against Jackson [on July 13], which is when things sort of clicked. Confidence is such a big part of it too. When I was struggling, if I was 0-for-1 or 0-for-2, I'd get really down on myself. I'd feel like I needed to get four hits in a single at-bat. When you have confidence up there, it makes such a huge difference in your approach and in your results."
• Get tickets to a Biscuits game »
Montgomery took a one-run lead into the ninth, but Mobile evened the score on Matt Thaiss' RBI single. The third-ranked Angels prospect doubled and walked. He's hitting .320 over his first 26 Double-A games.
Rays No. 18 prospect Brandon Lowe's leadoff homer in the 11th proved to be the game-winner.
Eleventh-ranked Angels prospect Taylor Ward had two hits, including his second Southern League home run in 14 games.