Red Wings' Gordon smacks first IL homer
Twins second-ranked prospect caps late rally with three-run blast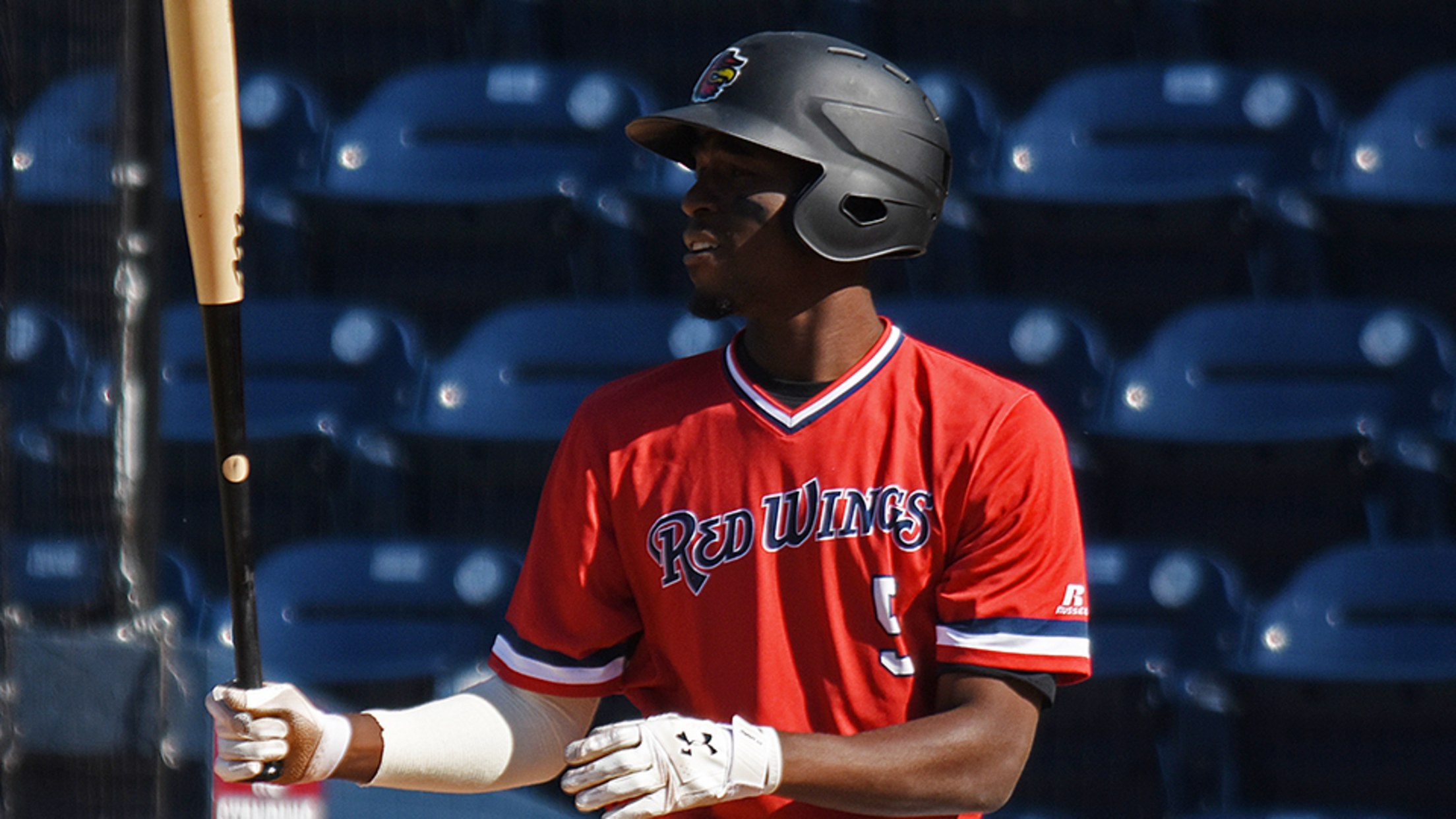 Nick Gordon has 11 extra-base hits since being promoted to the International League in May. (Stephen Pellegrino/MiLB.com)
Sandwiched in the lineup between Byron Buxton and Jorge Polanco -- two players with plenty of Major League experience under their belts, Nick Gordon understood he'd eventually get some pitches to hit. He took advantage of a golden opportunity in a key moment Thursday night.The second-ranked Twins prospect cranked a
Sandwiched in the lineup between Byron Buxton and Jorge Polanco -- two players with plenty of Major League experience under their belts, Nick Gordon understood he'd eventually get some pitches to hit. He took advantage of a golden opportunity in a key moment Thursday night.
The second-ranked Twins prospect cranked a go-ahead three-run shot for his first Triple-A homer in the seventh inning of the Red Wings' come-from-behind 7-5 victory over the Chiefs in the second game of their doubleheader at NBT Bank Stadium.
"It was pretty much a battle," Gordon said of his last at-bat. "[Wander Suero] was coming in on me a lot and I was fighting some good pitches. I just happened to get a pitch that got a little more of the plate and I put a good swing on it."
MLB.com's No. 68 overall prospect didn't take for granted the fact that he was hitting with two guys who have played a combined 547 games in the Majors. Although his family has plenty big league experience between his father, Tom, and brother, Dee, the younger Gordon appreciated having Buxton and Polanco around the club.
"It was pretty cool, definitely two big leaguers that know what they're doing," the 22-year-old said. "They've got an approach, they've got a plan at the plate. It's definitely cool to hit between those guys and see how pitchers throw you when you're hitting between those guys. Buxton's definitely a guy you don't want to let get on base and Polanco is a guy that can definitely drive both of us in."
Playing three-and-a-half seasons before getting his first crack with the Twins, Buxton had plenty of attention surrounding him as he went through the Minors as one of baseball's top prospects. Gordon said he and the outfielder love talking about different aspects of the game when they are in each other's presence, and that has been the case during Buxton's recent rehab stint.
"He's a good guy," Gordon said. "We keep in contact even when he's not here and when he's in Minnesota. Things like Spring Training, we hang out a lot. He's a good dude, and he just told me to kind of have fun with it and take it for what it is and enjoy every place that you play at."
The No. 2 Twins prospect laced an RBI single to right field in the third inning during the Red Wings' 2-1 victory in the opener, but remained hitless for the rest of the twinbill until the seventh frame of Game 2.
With Rochester down 5-3 in the final frame, No. 25 Twins prospect Zack Granite brought in a run with an RBI groundout before Gregorio Petit and Juan Graterol ripped back-to-back singles. Buxton whiffed for the second out, but Gordon stepped in with a chance to put the Red Wings in the lead.
Gameday box score
Down to his last strike in a 2-2 count against Suero, the Florida native slammed a hanging breaking ball on the sixth pitch of the at-bat over the right-field wall. It marked Gordon's sixth roundtripper of the season and his first since May 21 with Double-A Chattanooga.
"It was a breaking ball, but to be honest, I don't exactly remember where the pitch was because it all happened so fast," he said. "I know it definitely caught a little bit more the plate than the ones before -- he was throwing cutters in. I got a good swing on it and good things happened.
"My team has been supporting me the whole way, they've been saying stuff like, 'Man, you need to get the first one out of the way.' That's how baseball is, when you're not trying, that's what happens."
The 2014 first-round pick raked after beginning the year with a second stint in the Southern League, putting together a .333/.381/.525 slash line with 18 extra-base hits in 42 games. Since being promoted on May 22, Gordon has hit .262 with a .657 OPS through 37 games on the circuit.
Like any other promotion to a higher level, Gordon admits there's been an adjustment period. In gaining more experience in the International League, he said he's getting more comfortable each day.
"It's a lot of guys I haven't played against, haven't faced and even some guys I haven't played with," Gordon said. "But it's all a challenge and you take it all in and make the best out of it."
Buxton, who has been on the disabled list since May 30 with a left toe fracture, finished 2-for-8 over the doubleheader. He played all seven innings in center field in the opener before slotting in as the designated hitter in the nightcap.
Having been suspended 80 games under the league's Joint Drug Prevention and Treatment Program while dealing with a finger injury, Polanco joined Rochester on Tuesday after playing two rehab games with Class A Advanced Fort Myers. He collected four hits in the two games and played all seven innings at shortstop in Game 2.
Andrew Battifarano is a contributor to MiLB.com. Follow him on Twitter, @AndrewAtBatt.