Longhi keeps thriving for Sea Dogs in May
No. 9 Red Sox prospect plates three runs, Tobias adds three hits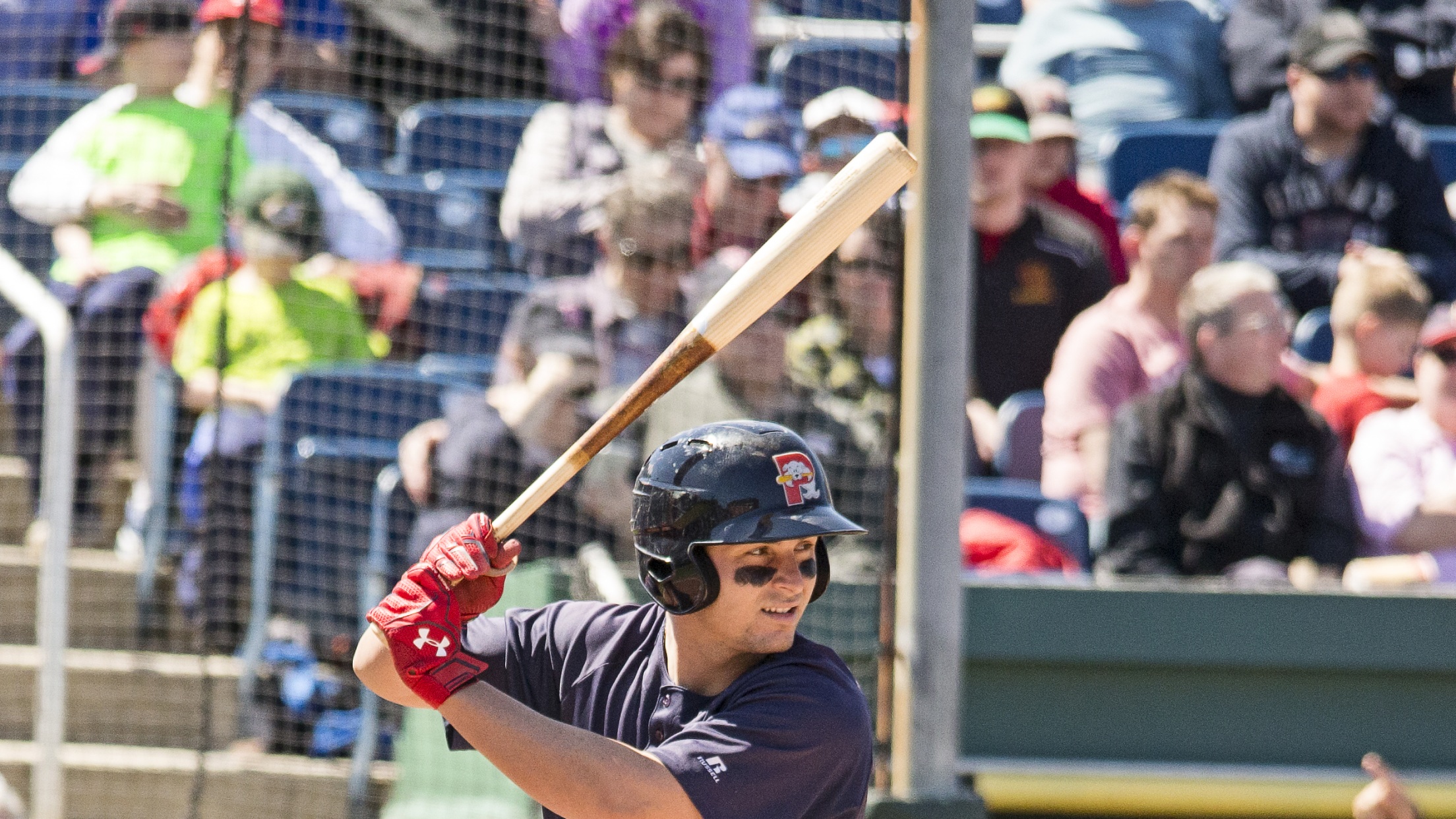 Nick Longhi has a slash line of .444/.512/.556 in 10 Eastern League games this month. (Portland Sea Dogs)
After a rough April, Nick Longhi appears to have turned things around in May. Boston's No. 9 prospect drove in three runs and extended his on-base streak to 10 games with a three-hit performance as Double-A Portland defeated Reading, 5-0, on Thursday.After posting a .182 average in 17 games last month, Longhi is hitting
After a rough April, Nick Longhi appears to have turned things around in May.
Boston's No. 9 prospect drove in three runs and extended his on-base streak to 10 games with a three-hit performance as Double-A Portland defeated Reading, 5-0, on Thursday.
After posting a .182 average in 17 games last month, Longhi is hitting .444 through 10 games in May.
"Lately, I've been focusing less on the result of something and more on doing a job for my team," the Springfield, Massachusetts native said. "Whether it be moving guys or trying to drive them in, that's what I'm focused on and letting the rest take care of itself."
May also has been kind to Josh Tobias.
After posting a .907 OPS in 21 games with Class A Advanced Salem, Boston's No. 22 prospect is hitting .316/.341/.368 with six RBIs in nine games since being promoted on May 1.
Gameday box score
"It was awesome to get the call," Tobias said. "It was my day off and [Salem manager] Joe Oliver came up to me and told me I had been playing really hard and it has paid off. I'm just another step closer to my dream, so this is an exciting time for me and my family."
Longhi and Tobias collected singles in the first inning, and Longhi added another in the third.
In the fifth, Tobias reached on a bunt single with Danny Mars taking second. Both runners moved up on a wild pitch by Shane Watson. Longhi grounded out to second, scoring Mars, and Tobias came home on a single by Cole Sturgeon.
Tobias notched his third hit, a one-out double to right field in the seventh, off reliever Mario Hollands.
"I knew his two-seam was tailing away, so I looked middle-away and I tried to hit to right-center. I got just enough of it to send it down the line for the double," the Greensboro, North Carolina native said.
Following a walk to MLB.com's No. 14 overall prospect Rafael Devers and a wild pitch, Longhi delivered a two-run single to center.
"I was trying to focus on getting some through with the infield in," the 30th-round pick in 2013 said. "That's all that at-bat really boiled down to. I was just trying to get a run in and it happened that I got them both in."
Longhi, who has nine hits in his last 14 at-bats, sports a slash line of .275/.315/.382 with two homers and 14 RBIs in 28 games.
"It's baseball, sometimes they fall and others they don't," he said. "No matter how long I play this game or no matter whoever plays this game, there will be streaks where you're 0-for-40 and streaks where you're 15-for-20. It's an odd thing."
Devers broke out of a 2-for-14 slump with a pair of doubles and a walk. The third baseman has a .313/.382/.566 slash line with six homers and 18 RBIs in 27 games this season.
"Batting behind Devers, I always feel like he's going to be on base in front of me," Longhi said. "He can just play the game. He's got incredible tools and what you see is what you get. He's already a great player and he's going to be even better in the years to come."
Jalen Beeks (5-1) extended his scoreless-inning streak to 24 after allowing two hits over five innings for Portland. The 24-year-old is tied with Bowie's David Hess for the most wins in the Eastern League, and he has a 1.38 ERA in 32 2/3 innings.
"He's been throwing the ball incredibly well. It's fun to see a guy, for lack of a better word, be dominant like that," Longhi said. "It's fun to be around that level of baseball and watch him control a game."
Watson (2-2) was tagged for a season-high 10 hits and three runs over six innings.
Michael Leboff is a contributor to MiLB.com.