Decolati powers Rockies into Finals
Grand Junction to play for first-ever Pioneer League crown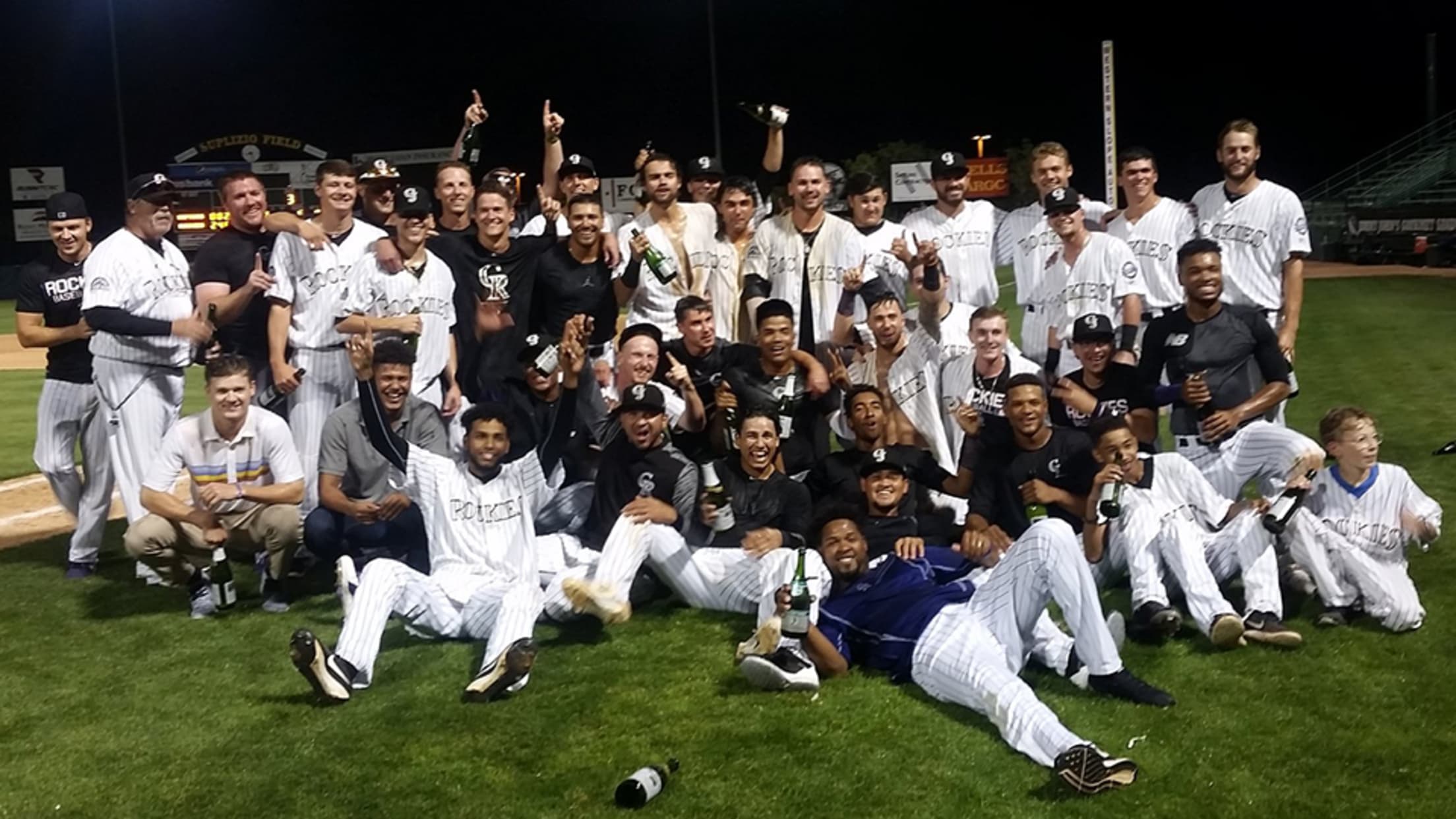 The Rockies celebrate the first playoff series win in their seven-year history. (Jarah Wright/Grand Junction Rockies)
Niko Decolati has been a member of the Rockies organization for just over three months, but he knew the significance of what happened Sunday night. "It's the first time in franchise history," Decolati said after collecting three RBIs to lead Grand Junction to a 6-5 victory over Ogden and its first-ever
Niko Decolati has been a member of the Rockies organization for just over three months, but he knew the significance of what happened Sunday night.
"It's the first time in franchise history," Decolati said after collecting three RBIs to lead Grand Junction to a 6-5 victory over Ogden and its first-ever berth in the Pioneer League Championship Series. The Rockies won the best-of-3 South Division Finals, 2-1, and will face Great Falls for the championship, beginning Tuesday
Gameday box score
"The guys are awesome to be around, and I think that's one of the main things about this team is the chemistry and how well we get along with the clubhouse atmosphere," said Decolati, a sixth-round pick in the June Draft out of Loyola Marymount. "That just carries out on to the field. We have a lot of talent, and right now things are just working out. We're doing everything together and just passing it on to the next guy. One thing after another, good things are going."
Decolati put Grand Junction ahead for good in the opening inning when he singled home Will Golsan and eighth-ranked Rockies prospect Grant Lavigne with two outs.
"In the first inning on defense I had a diving play and got shaken up a little bit," he said. "I was on deck and Grant Lavigne got a double to make it second and third with two outs. It wasn't that I was dazed, but it was a big spot, but I was able to just simplify everything and take out the situation. On the first pitch, I swung over a slider and thought he would come back with a fastball. I got the pitch I was looking for and hit it up the middle, and it went my way."
• Complete postseason coverage »
The Rockies extended their lead with a four-run second as John Cresto slugged a two-run homer, Lavigne drew a bases-loaded walk and Decolati drove in Hunter Stovall with a fielder's choice.
"It's always nice to score first, especially against a team like Ogden that hits the ball pretty well," Decolati said. "They have in the past killed us with home runs, so getting out to an early lead with them is a big momentum swing."
The Raptors did not go quietly, scoring twice in the third and climbing within 6-3 in the fifth on a solo homer by Moises Perez. Dodgers No. 22 prospectRonny Brito sliced the deficit to 6-5 with a two-run shot in the sixth.
But Jacob Bird, Colton Harlow, Aneudy Duarte and Alexander Martinez allowed only two baserunners the rest of the way. Duarte (1-0) struck out three over 1 1/3 innings for the win and Martinez fanned one in a perfect ninth for his second save of the series.
"We can't tip our cap to them enough," Decolati said. "They held Ogden to five runs and it was one guy after another, it wasn't just one dude who had a good outing. They did their job taking it one at-bat at a time and, like I said, when things are going good, they're going good."
Rockies No. 6 prospect Ryan Rolison started for Grand Junction and matched his career high with six strikeouts over three innings, allowing two runs -- one earned -- on three hits.
After a back-and-forth semifinal, Decolati and the Rockies are confident heading into their matchup with Great Falls.
"We can keep playing the way we played all year," he said. "We don't have to be anything extra."
Marisa Ingemi is a contributor to MiLB.com. Follow her on Twitter @Marisa_Ingemi.