Nine-Run Ninth Gives 'Caps Series Win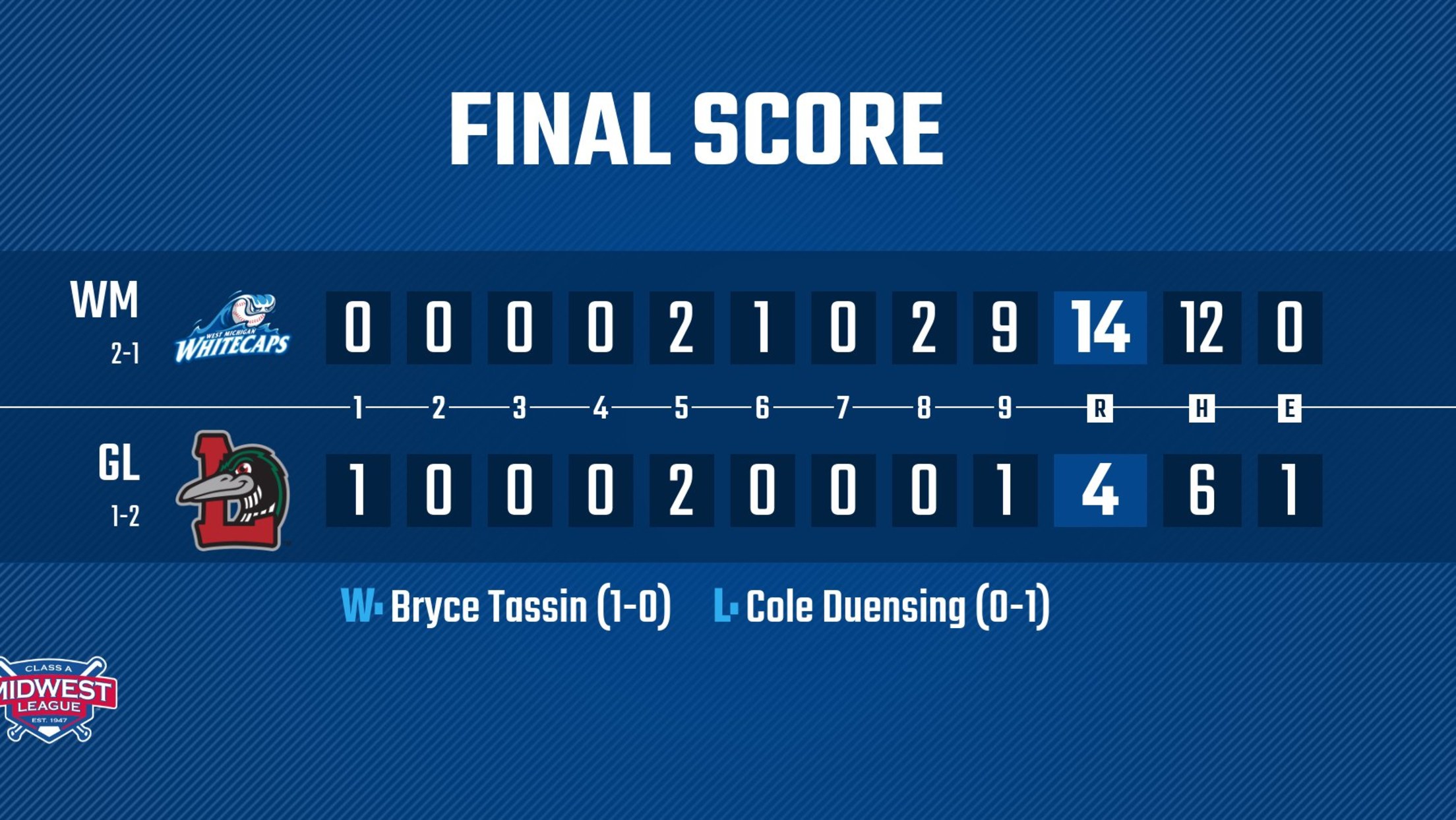 MIDLAND, MI – The West Michigan Whitecaps enjoyed a nine-run ninth inning as two-run homers from Eliezer Alfonzo and Parker Meadows in a 14-4 victory over the Great Lakes Loons in front of 1,118 fans at Dow Diamond on Sunday afternoon. Meadows' blast was his second of the season and
MIDLAND, MI – The West Michigan Whitecaps enjoyed a nine-run ninth inning as two-run homers from Eliezer Alfonzo and Parker Meadows in a 14-4 victory over the Great Lakes Loons in front of 1,118 fans at Dow Diamond on Sunday afternoon.
Meadows' blast was his second of the season and second homer to occur in the ninth inning during the season-opening three-game series in Midland. Alfonzo's blast was his first of the season, just three games into the year after hitting his only 2021 Whitecaps homer in the season's final at-bat last September.
Sunday watched the Loons jump out to a 1-0 lead thanks to a leadoff home run by outfielder Johnny DeLuca in the first inning. The blast was his third homer in the past two games against West Michigan. The score remained the same until the fifth when Eliezer Alfonzo launched a go-ahead, two-run shot to give the 'Caps a 2-1 lead. The lead was short-lived as run-scoring singles from Kekai Rios, and DeLuca in the bottom of the frame returned the advantage to the Loons. Austin Schultz knotted the contest at three in the sixth with an RBI-groundout before the floodgates opened in the final innings. The eighth inning saw the 'Caps push across a pair of runs to take the lead when Andrew Navigato lined a run-scoring triple to score Austin Murr. The ninth inning saw nine more runs for the Whitecaps in their biggest offensive inning in almost three years. Two-run doubles from Colt Keith and Jake Holton preceded a Parker Meadows two-run homer to turn the contest into a blowout.
Detroit Tigers Top-10 prospect Ty Madden started and tossed four innings of one-run baseball while striking out six batters. West Michigan reliever Bryce Tassin (1-0) tossed two scoreless frames out of the bullpen to collect his first victory of 2022, while the Loons Cole Duensing (0-1) gave up a pair of runs in the eighth to suffer his first loss of the year. The huge ninth inning marked the biggest offensive output for West Michigan since May 1, 2019, when the 'Caps scored nine runs in the same inning against the Clinton LumberKings at LMCU Ballpark. West Michigan returns home with a record of 2-1, while the Loons fall to 1-2.